World's tallest Lego tower built in Budapest
June 13, 2014 -- Updated 0817 GMT (1617 HKT)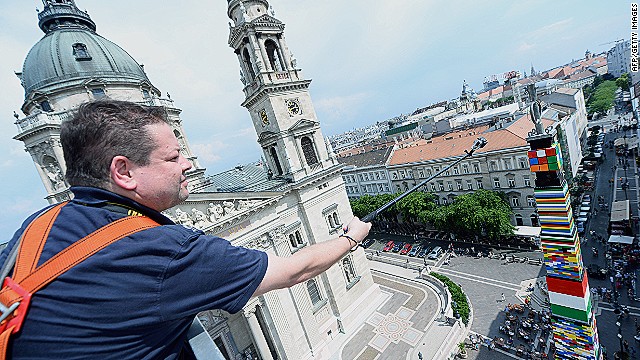 A world record breaking Lego tower has been constructed in Budapest with the help of local primary school children.
The tower was completed on May 25. Officials from the Guinness Book of World Records were called in to verify the height.
The Lego tower featured images from computer games and contained hundreds of thousands of plastic bricks.
The tower was confirmed at 34.76 meters, beating the previous record of 34.43 meters held by students of Dickinson High School in Milltown, Delaware.
The completion tower was said to be timed to coincide with Children's day in Hungary.
Guinness World Records said the tower is officially the "tallest structure built with interlocking plastic bricks."
The tower was crowned by a Rubik's cube -- a puzzle created 40 years ago by Hungarian inventor Erno Rubik.
Record breaking Lego tower built in Hungary
Five-day constrcution project
Pac-Man portrait
Guinness confirms record
Children's day
'Interlocking plastic bricks'
Rubik's cube crown
STORY HIGHLIGHTS
Lego tower in Budapest confirmed as world's tallest by Guinness World Records
Tower reaches 34 meters over city's St. Stephen's Basilica
Local school children helped build the structure, which was topped by a Rubik's cube -- a Hungarian invention
(CNN) -- Imagine the size of the box this one came in -- a Lego tower stretching 36 meters into the sky above the Hungarian capital Budapest.
The 34.76- meter (114 feet) tower, which was completed on Sunday, has been certified as the world's tallest toy brick structure by Guinness World Records.
It beat the previous record holder, a 34.4-meter structure constructed last year with the help of U.S. students from a school in Delaware.
A spokesman for Guinness World Records confirmed that the tower qualified as the "tallest structure built with interlocking plastic bricks."
He said the record was officially registered to Lego Store Budapest on May 25.
The Budapest tower, topped by a Rubik's cube -- a Hungarian invention -- was also built with the help of Hungarian primary school children, according to local news websites.
The structure, built in front of the city's St. Stephen's Basilica, used hundreds of thousands of blocks.
MORE: Budapest's escape games go global
CNN Travel's series often carry sponsorship originating from the countries and regions we profile. However, CNN retains full editorial control over all of its reports. Read the policy.

Today's five most popular stories
Part of complete coverage on
Hungary
June 24, 2014 -- Updated 0559 GMT (1359 HKT)

Churches, hospitals and Cold War bunkers can all be found in rocks beneath the city.
June 19, 2014 -- Updated 1559 GMT (2359 HKT)

In Hungary's second city, locals are used to having to make a noise to get heard.
June 13, 2014 -- Updated 0840 GMT (1640 HKT)

Hungarian capital's taste for new wave roasts challenges traditional coffee culture.
June 13, 2014 -- Updated 0817 GMT (1617 HKT)

Toy brick structure reaches 34.76 meters over Hungarian capital to beat previous record holder.
June 13, 2014 -- Updated 0818 GMT (1618 HKT)

Eger's "bull's blood" vintages are said to offer supernatural powers. They also go well with pancakes.
June 13, 2014 -- Updated 0819 GMT (1619 HKT)

Stock herders and csikos horsemen -- Hungarian cowboys -- corral unusual beasts in Europe's largest natural grassland.
November 22, 2013 -- Updated 0526 GMT (1326 HKT)

Hungarian food is abundant and cheap, making this the last place you should try to diet.
May 22, 2014 -- Updated 0329 GMT (1129 HKT)

Visitors to the Hungarian capital are paying to be locked in its cold, damp cellars. Here's why.
December 9, 2013 -- Updated 1633 GMT (0033 HKT)

Luckily the Hungarian capital just managed to avoid being called 'Pestbuda.'
November 24, 2013 -- Updated 0504 GMT (1304 HKT)

The land of Nobel prize recipients and Olympic champions is awash in smart superlatives. Here are the essentials.

You've seen elephants, hippos and bears, but never in a setting like the Budapest Zoo.
November 29, 2013 -- Updated 0911 GMT (1711 HKT)

Want to understand Hungarians? Get to know their favorite ingredient.
November 27, 2013 -- Updated 2327 GMT (0727 HKT)

"Paris of the East"? The grand old dame on the Danube needs no such comparison.