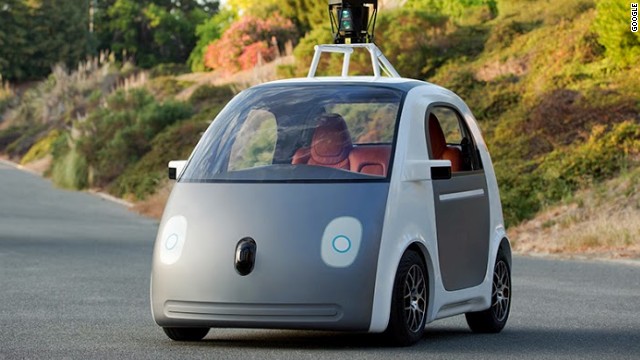 Google unveiled this self-driving car prototype Tuesday in California. The car doesn't have a steering wheel or pedals because, Google says, "it doesn't need them."
Google's new self-driving car prototype seats only two people, and its interior is simple.
Google has logged over 300,000 miles testing driverless cars
around the United States. Pictured here is its Lexus RX 450H self-driving car parked on a street in Washington, D.C., in April 2014.
An earlier version of a Google self-driving car
-- an adapted Toyota Prius hybrid -- was shown in 2012 at Google headquarters in Mountain View, California.
A Range Rover Evoque equipped with Valeo self-parking technology backs into a parking spot during a
The Valeo driverless parking is initiated with an iPhone app. The car is equipped with 12 ultrasonic sensors, six in the back and six in the front, a laser scanner mounted in the grille, and four cameras.
An electric driverless car called Citymobil was introduced in French town of La Rochelle in 2011 as part of a program aiming at reducing both traffic and pollution.
This autonomous Audi TTS Pikes Peak was unveiled in 2010. The vehicle features a pair of trunk-located computers that allow it to drive on the outer edges of its speed and handling limits without a driver.
London Heathrow Airport
. The pod can carry four passengers with their luggage and can travel at up to 25 mph.
This driverless vehicle, shown in 2009, is part of a 21-strong fleet operating at
"The Boss," a driverless automobile, won the prestigious DARPA Urban Challenge, a competition by the U.S. Defense Department, in 2007.
Another DARPA Urban Challenge driverless car, the Volkswagen Passat 2.0 TDI, is showcased at the Science Museum in London in 2007. The car is guided by a system of laser sensors and computers.
The evolution of a driverless car
Evolution of the driverless car
The evolution of a driverless car
The evolution of a driverless car
The evolution of a driverless car
The evolution of a driverless car
The evolution of a driverless car
The evolution of a driverless car
The evolution of a driverless car
The evolution of a driverless car
The evolution of a driverless car