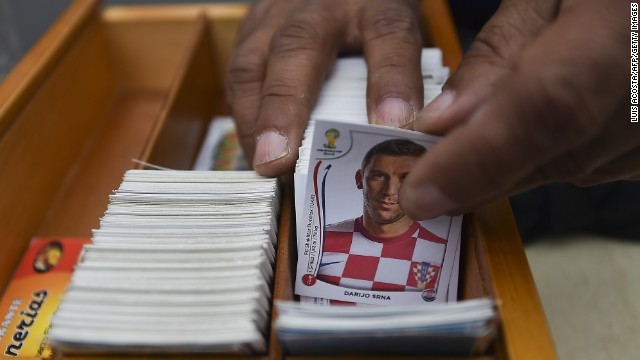 Italian company Panini has been producing World Cup stickers since 1970. They are hugely popular across the world with fans of all ages.
Established in Modena in 1961, Panini now has branches all over the world. The stickers are sold in 100 countries.
Panini says that if it lined up every single World Cup sticker produced for the 2014 World Cup then it would stretch 239,000 kilometers -- a distance which would reach the moon.
Panini has to guess which players will be included in the World Cup squads because of its production schedule. It often means that some players who are in the sticker book do not actually take part in the tournament.
Panini can produce over 25 million packets of stickers a day; that's over 750 million individual stickers a week.
The capacity of Panini's Brazilian factory was doubled in readiness for World Cup requirements making it the world's second largest facility.
Sticker aficionados often hold swapping sessions to help complete their collections. This can be done anywhere -- in the classroom, the local bar, petrol station or on the beach.
Each packet contains five stickers. Stickers are randomly selected and not marketed to a specific region.
It doesn't matter if you're old or young, World Cup stickers attract a wide-ranging audience. Panini claims some markets can sell up to eight packets per head of population.
Some stickers are more difficult to collect than others. It often leads to frustration for those who are seeking to complete their album.
Panini released a sticker collection for the Women's World Cup in 2011 -- a sign of just how popular sticker collecting has become.
English, Spanish, German -- different languages but one common goal. The sticker market is worth millions to Panini.
In Montevideo, Uruguay, collectors are just as keen with Luis Suarez the prized sticker. Four years ago, Uruguay reached the semifinals of the World Cup.
Protesters in Brazil have taken to burning sticker albums to show their frustration at FIFA and the country's government in hosting the World Cup.
Got, Got, Need
Got, Got, Need
Got, Got, Need
Got, Got, Need
Got, Got, Need
Got, Got, Need
Got, Got, Need
Got, Got, Need
Got, Got, Need
Got, Got, Need
Got, Got, Need
Got, Got, Need
Got, Got, Need
Got, Got, Need
STORY HIGHLIGHTS
Panini World Cup stickers have taken the football world by storm
People of all ages engaged in World Cup tradition
Produces 25 million packets of stickers a day -- 750 million stickers a week
Makes enough stickers to stretch to the Moon
Join the World Cup conversation at CNN Facebook Pulse
(CNN) -- Obsession often brings joy and sorrow in equal measure.
Inside that thin, shiny packet giving off a mystical glow sits five stickers -- five faces of five men whose very presence can turn lives upside down.
Welcome to the world of World Cup sticker collecting.
"My girlfriend gave me an ultimatum the other day, her or the football stickers? Shame really, I thought she was the one," Daniel Blazer, a British collector, told CNN.
While most relationships survive the sticker phase, Blazer is not alone in his infatuation with the shiny adhesives which smile back at those dreaming of the holy grail -- the full sticker album.
Some are relentless in their pursuit of that holy grail, setting up spreadsheets and even calling in their spouse to increase the odds of successful swapping.
"My husband, Stephen, is obsessed with his sticker album," Emma Conway, who blogs under the name of brummymummyof2, told CNN.
"He has his own spreadsheet so he knows what he needs and what he doesn't. It does get annoying.
"Every time I go near a shop I have to get my three-year-old daughter some stickers and then get some for my 31-year-old husband.
"He's a fantastic dad to our two children but I think the opportunity to collect stickers reminds him and his friends of being kids.
"When I go to work, he gives me his swaps, and I swap them with my colleagues and then bring them back.
"I'm like a drug dealer...but with stickers."
Panini, the Italian company which creates the stickers, has been producing the iconic adhesives for the world's biggest football tournament since 1970.
Based in Modena, but with subsidiaries across the globe, Panini can produce over 25 million packets of stickers a day -- that's over 750 million individual stickers.
The company, which has a partnership with FIFA, the world's governing body, has exclusive rights to create products for the tournament.
Sold in 100 countries worldwide, the phenomenon has become synonymous with the World Cup, which is held every four years.
"I was very addicted when I was younger," Gabriel Perlaza, from Austin, Texas, told CNN, of his sticker obsession.
"All we would do in recess was trade stickers. I'd also go downtown to the street vendors with my father or grandfather. They had drawers full of stickers and would sell them for different prices individually.
"Looking back, it's just crazy how stickers would just take over and be all that mattered for those couple of months leading up to the World Cup.
"Even now, at the age of 32, when I stop by the store and buy five packets, I can't wait to get home and open them up," added Perlaza.
A quick glance at Twitter, Gumtree and other social media sites, provides a glimpse into the level of addiction that is currently gripping the world.
The hashtag #gotgotneed -- named after the phrase "got, got need" -- is usually uttered during a sticker swapping session and it's now one of the most prevalent on Twitter.
Be it on street corners or pubs and cafes, collectors trade at every opportunity, holding swapping sessions and allowing doubles to be discarded for the stickers which have so far proved elusive.
"I'm not at peace with myself if I can't get my hands on a Panini album before the World Cup," said Bernt-Erik Haaland, who lives in Norway.
"It's a really important part of the whole experience, especially the 'getting ready' and build up part to the tournament.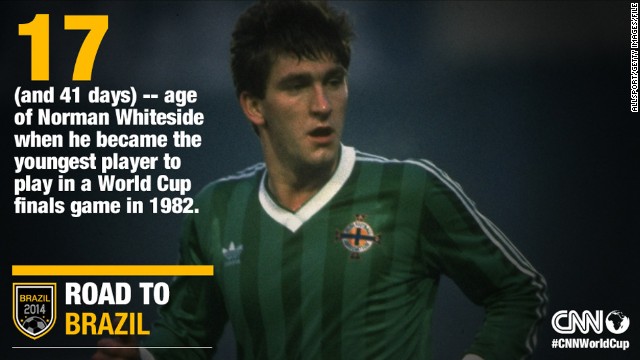 Norman Whiteside, pictured, became the youngest player to participate in a World Cup when he debuted for Northern Ireland in 1982 aged 17 years and 42 days. The record has previously been held by Brazil's Pele.
The 2002 World Cup saw South Korea and Japan co-host the competition. South Korea's Ahn Jung-Hwan, pictured, scored the deciding goal in the country's Round of 16 clash against Italy on June 18, 2002. The "Taeguk Warriors" went on to reach the final four making them the most successful Asian side in World Cup history.
Brazil are the only team to participate in every World Cup to date. This year's tournament will be the 20th FIFA World Cup.
The United States hosted the World Cup for the first time in 1994. In the final, this year's host Brazil beat Italy in a dramatic penalty shootout.
On June 21, 1970, the stage was set for an epic showdown as Brazil faced Italy in the World Cup final held in Mexico City. FIFA had announced the first team to win the title three times would take permanent possession of the Jules Rimet trophy. With both sides having previously won twice -- Italy in '34 and '38 while Brazil took the honors in '58 and '62 -- there was all to play for. Pele, pictured celebrating after the game, scored Brazil's 100th World Cup goal in the 18th minute in a resounding 4-1 victory for the South Americans.
At the 1986 quarterfinals in Mexico City, Diego Maradona scored arguably the most controversial goal in football history on June 22. In the 51st minute, Argentina's captain punched the ball over goalkeeper Peter Shilton. To the dismay of the England team, Tunisian referee Ali Bennaceur allowed the goal to stand, believing Maradona had headed the ball. He then scored one of the greatest goals in World Cup history as Argentina won 2-1 and went on to lift the trophy for the second time.
Part of the West Germany squad that went on to win Italia '90, Illgner became the first goalkeeper to keep a clean sheet in a World Cup final when they beat Argentina 1-0.
Joao Havelange, pictured with his successor Sepp Blatter (L), served as FIFA president for 24 years starting in 1974 before stepping down in 1998.
German footballing legend Lothar Matthaus has a fair few records under his belt. He's participated in five World Cups (1982, 1986, 1990, 1994, 1998), captained West Germany to glory at the 1990 tournament and continues to hold the record for the most World Cup games played (25).
An incredible performance from Argentina on June 16 2006, saw the "Albicelestes" in fine form against Serbia and Montenegro. But it was Cambiasso's goal in the 31st minute that has gone down in World Cup history.
The 1950s was a golden time for the Hungary national football team, pictured lining up in a first round 1954 World Cup. Nicknamed the "Mighty Magyars," between 1950 and 1956 the team embarked on an incredible run winning 42 matches, seven draws and just one loss. To date, the team remains the highest-ranked national squad of all-time according to the World Football Elo Ratings system (2166 points).
A golden era for Hungarian football, the team entered the 1954 World Cup having previously played 28 games without a loss. Hungary would continue their march to victory throughout the tournament including setting the record for the most goals scored (27). But the streak came to an end in the final on July 4. Known as "The Miracle at Bern," the match saw West Germany win 3-2. Max Morlock, pictured, of West Germany scores the first goal of the 1954 final in Bern, Switzerland.
Heavy favorites England had a short-lived World Cup debut when they were knocked out of the tournament in the first round by the USA in 1950. Here the captains of England and USA, Billy Wright and Ed McIlvenny, right, exchange souvenirs at the start of their match on June 29, 1950 in Belo Horizonte, Brazil.
Uruguay became the first ever World Cup champions after hosting the inaugural tournament in 1930.
Starting on June 12, the 2014 FIFA World Cup will span 31 days with 64 matches culminating in the final at the open-air Maracana Stadium in the country's capital on July 13.
When the World Cup was established in 1930, only 13 teams participated. Teams able to qualify for the international event expanded to 24 teams in 1982 and then increased again to the now-familiar 32 teams in 1998.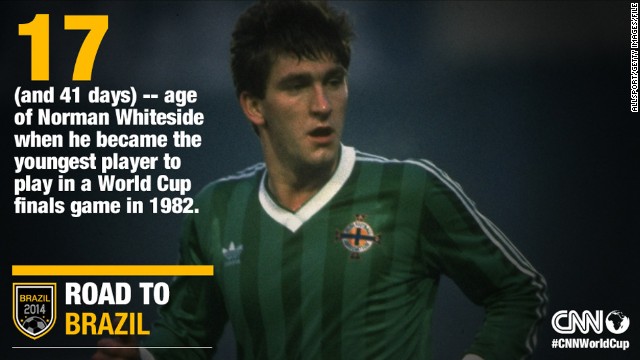 The road to Rio: Countdown to the World Cup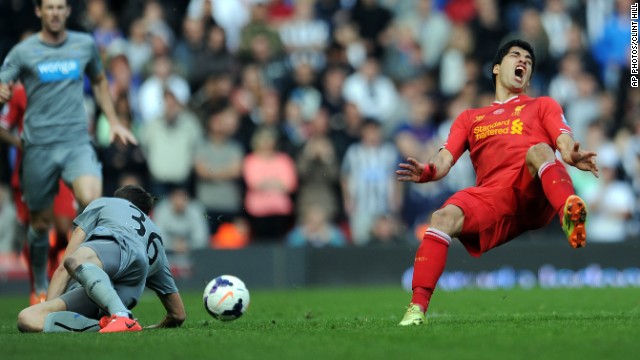 Liverpool striker Luis Suarez suffered a knee injury during his side's final-day victory over Newcastle. The Uruguay forward, who has had surgery in his homeland, is facing a race against time to be fit for the World Cup.
Suarez is Uruguay's all-time leading goalscorer with 38 goals in 77 appearances. His partnership with Paris Saint-Germain star Edinson Cavani is one of the most potent in international football.
Suarez achieved notoriety at the 2010 World Cup in South Africa when he handled the ball on the goal line during his side's quarterfinal tie with Ghana. The forward was sent off but Ghana missed the ensuing spot kick in extra time. Uruguay went on to clinch a place in the last four after a penalty shootout
Suarez helped Uruguay win its 15th Copa America title in 2011 following a 3-0 win over Paraguay in the final. No other country has won the competition more times.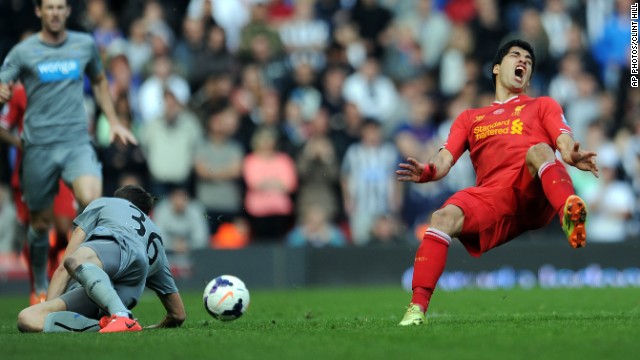 Luis Suarez injury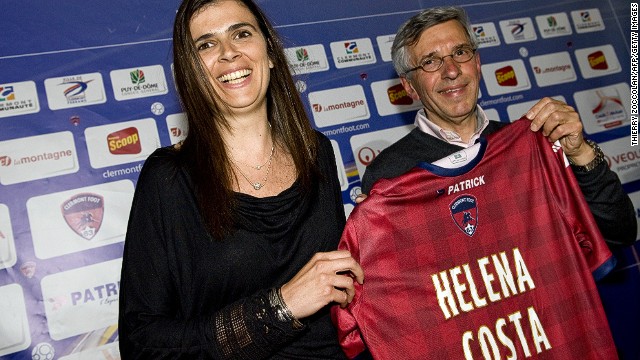 Helena Costa meets the media after becoming France's first ever professional female coach for a male team after her appointment at Clermont Foot.
The Portuguese coach said: "We are in 2014 so I understand your surprise and the quantity of press and the impact but it should be a normal thing."
Costa has previously worked with the Iran and Qatar women's national teams, while she also led Benfica's male youth team to two World Youth titles.
The 36-year-old's appointment represents the first time a team in the top two divisions of one of Europe's big five leagues -- Spain, Germany, England, Italy and France -- has hired a woman manager.
Pia Sundhage is currently in charge of the Sweden women's team, but the former player really made her name as a coach with the U.S. Sundhage led the side to back-to-back Olympic gold medals in 2008 and 2012, while she was also named FIFA World Coach of the Year in 2012.
Silvia Neid, a former German international, is the current coach of the Germany women's team. She has guided the side to World Cup glory as well as two European Championships. Neid has also twice won FIFA's World Coach of the Year award.
Carolina Morace took charge of male Italian Serie C1 team Viterbese for two matches in 1999. The former Italian international has also coached the Italy and Canada women's teams.
Hope Powell was appointed as the first ever female coach of the England women's team in 1998. During her 15-year reign, she guided the side to qualification for two World Cups and four European Championships. Powell also coached Great Britain at the 2012 Olympics.
Eva Carneiro currently works for Chelsea as the club's first-team doctor. Carneiro joined the Blues in 2009, initially working with the reserves, before being promoted in 2011.
Karren Brady is the vice chairman at English Premier League club West Ham, arriving at the club in 2010. Brady, who is helping to oversee West Ham's move to London's Olympic Stadium in 2016, is a former managing director of Birmingham City.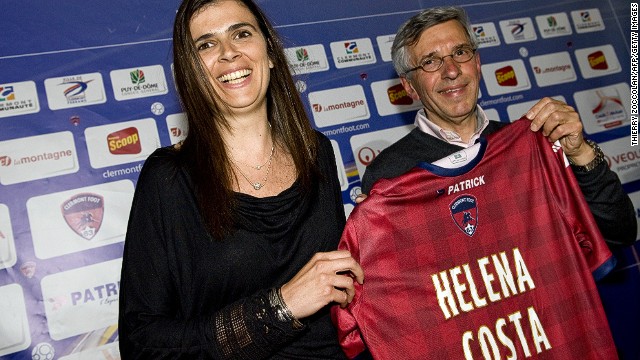 Women in football
"It's also a really sociable thing to do because you can swap stickers with your friends."
The internet has provided a whole new dimension to the World Cup sticker craze.
Stickermanager.com is just one website which collectors can turn to in an effort to find each and every one of the 640 stickers.
Created for the 2006 World Cup in Germany, it now boasts 140,000 registered members who swap stickers online with fellow collectors around the world.
But swapping stickers in the post can be treacherous -- corners can get folded, faces can be blemished and your reputation can be ruined.
Even within the safety of the home, keeping stickers in perfect condition can be hazardous.
"We have a three-year-old girl and a one-year-old boy at home," Conway said.
"My daughter loves the stickers and is always trying to peel them out of the book.
"My husband is a very mild mannered man but if the kids go near the stickers then he'll raise his voice. He's very protective."
Keeping your stickers in mint condition is crucial in maximizing your ability to swap.
According to Stickermanager, the most popular sticker people are looking to collect is Jordi Alba, the Spain and Barcelona defender along with the German national logo in all its shiny glory.
But forget about swapping Gianluigi Buffon -- everybody appears to have the Juventus and Italian goalkeeper in their collection.
Every collector has a nemesis -- just ask Phil Smith, an avid collector from Sunderland. He is starting to feel he is being stalked by Cameroon's Alex Song.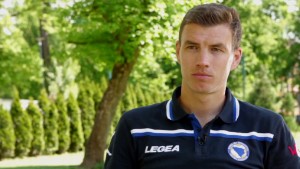 Football star: Bosnia needs world's help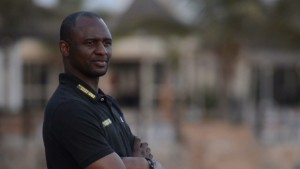 Patrick Vieira: How to win a World Cup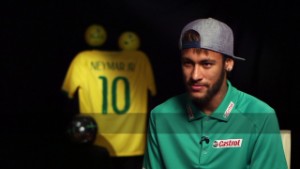 Neymar: Protests must be peaceful
"Song has swiftly become the scourge of my existence," said Smith.
"Collecting stickers was an attempt to try and reconnect with my childhood and an innocent love of the game.
"Alex has totally sucked the whole fun out of the whole process, though. I have five of him now, and there appears to be no end in sight
"The prospect of swapping him for someone exotic or essential to my collection is long gone. His five faces are destined to sit on top of my record player for eternity, symbolically gathering dust.
"For many, 2014 will be the summer of Samba, football, flair and joy. For me, it will be the summer of Alex Song."
One man took his love for stickers to a whole new level.
Adam Caroll-Smith, a Portsmouth fan, stumbled upon his 1996 Premier League sticker album in 2012 and was left devastated to find he was still missing six players.
The 29-year-old, who chronicles his quest to complete his collection in his book, "Six Stickers: A journey to complete an old sticker album", traveled far and wide to meet the players who he had failed to find in those hundreds of packets.
His journey proved successful, meeting the six former Premier League footballers and completing the book, before tossing the album into the sea in an act he describes as "cathartic."
"At the time, I was coming up to 30, getting married, having a child and it felt like a natural point to take stock of my life," Carroll-Smith told CNN.
"I think for a lot of people, that plays a part in the obsession. It allows them the opportunity to wallow in the excitement of their childhood.
"I think stickers are a metaphor for that -- they are something with a beautiful simplicity.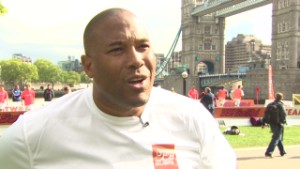 Barnes: Only education will stop racism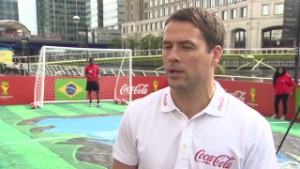 Owen: Van Gaal perfect for United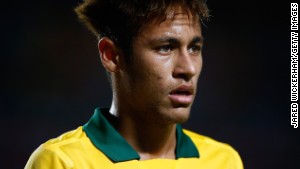 Neymar frustrated with Santos transfer
"When you're a kid, it's a chance to flash your football allegiance and gives you tangible proof to show how into football you are.
"Now, it gives a bizarre and nostalgic feel. I guess it's because it's something rooted in a particular era and has a timeless quality about it."
Such is the universal appeal of the product that Panini says in total it will sell 239,000 km of stickers - enough to stretch into space.
"Panini has the ability to create nostalgia galore amongst our 'second generation' collectors," Jessica Tadmor, head of marketing at Panini UK, told CNN.
"The media plays a large part. We've had radio DJ's collecting live on air, TV programs featuring the collection, and Twitter going sticker crazy.
"There have even been secret midnight swapping conventions in London aided by a beer or two."
Even the players are at it -- Costa Rica striker Joel Campbell, who was so desperate to find a sticker of himself that he bought a hundred packets.
But after opening each packet, he was left seething after failing to collect his own picture -- unlike his Costa Rica teammate, Bryan Ruiz.
The craze is set to continue when the tournament kicks off in Sao Paulo on June 12 with Brazil hosting Croatia in the opening fixture.
Conway is already resigned to losing the attention of her husband, Stephen, for the duration of the tournament -- even if he's finished his sticker album by then.
"I won't exist once it all starts," she jokes.
"We've been together 10 years so I know exactly what to expect and I'm sure he'll try to get the kids watching with him.
"His brother is going to Brazil so he's got a bit of envy but he'll be watching all the games.
"And he'll be making sure the kids don't go anywhere near the stickers too!"