Discover the solar-powered helicopter that flies itself
STORY HIGHLIGHTS
The Fly Citycopter is designed to ease commuting woes and tackle urban pollution
Creator Eduardo Galvani says the concept vehicle would be powered by electric motors
The superlight helicopter would fly two people at a maximum speed of 130 miles per hour
Editor's note: On The Move explores the world of future personal transport looking at the latest trends and tech innovations that shape global travel. Viewing this from mobile? Click here
(CNN) -- It's happened to all of us. You wake up, have a bite, sip your coffee and then, full of energy and renewed optimism, you set off convinced that today will finally be your most productive day ever.
And then commuting happens. Delayed trains, crammed buses, gridlock traffic -- they're all there to drain out your energy and hold you back from that promotion you feel you righteously deserve.
But what if you could avoid crowded streets and ill-tempered drivers once and for all by simply taking to the skies in less than 60 seconds?
That's the proposal put forward by Eduardo Galvani, a Brazilian visual artist and creator of the Fly Citycopter, an urban aerial vehicle concept designed to help commuters whizz around easier and in a more green way.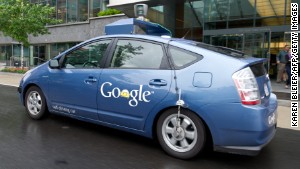 Driverless cars could let you sleep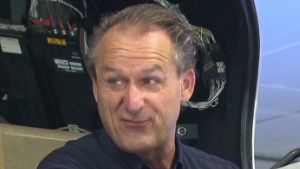 Where does pilot go to the bathroom?
Galvani's futuristic vision calls for a superlight personal helicopter that would be able to take off, fly and land while in autopilot mode. Made from carbon, aluminum and titanium, the Citycopter would use a combination of fans and electricity-powered motors to fly two people at a maximum speed of 130 miles per hour. In addition, solar cells embedded on the aircraft's exterior would allow it to generate energy during the flight and help it reduce urban pollution.
"For most humans, a personal aerial vehicle is still just like a distant dream," says Galvani, 36. "But when you think about this, and mentally join some pieces, you can realize that the actual available materials and technologies can make possible for us to create this new reality, where a personal helicopter can be most efficient, economic, safer and easy to pilot than a common helicopter, and a smart way of transportation."
True, there are still many practical issues that need to be resolved before we can fly our commuting blues away. Yet, Galvani says, he hopes his concept would inspire creative people to come together and develop cleaner -- and more exciting -- ways of urban transportation.
Click on the points on the image above to find out more about the Fly Citycopter.
(Top image courtesy of Eduardo Galvani).

Today's five most popular stories
Part of complete coverage on
June 26, 2014 -- Updated 1345 GMT (2145 HKT)

It seats two people, has a sleek retractable roof and runs on electric power. And its body can be 3D printed in a single piece.
May 29, 2014 -- Updated 1307 GMT (2107 HKT)

It's happened to all of us. You wake up, have a bite, sip your coffee and then, full of energy and renewed optimism, you set off convinced that today will finally be your most productive day ever.
September 18, 2014 -- Updated 1054 GMT (1854 HKT)

Founders of the Solar Roadways project want to cover every highway in thick, LED-lit glass to power electric cars. The invention could cut U.S. emissions by up to 75%.
May 2, 2014 -- Updated 1244 GMT (2044 HKT)

For decades, skyscrapers have served as iconic symbols of national pride. Perhaps in the future, these superstructures could help revolutionize the way we travel.
April 15, 2014 -- Updated 1509 GMT (2309 HKT)

A pair of Swiss flight pioneers have unveiled a new plane that will aim to make the first round-the-world solar flight without a drop of fuel.
July 3, 2014 -- Updated 1657 GMT (0057 HKT)

From holographic airport staff to smooth check-ins, air travel in 2024 "will be almost unrecognizable" from the stressful experience of today, a new report says.
April 7, 2014 -- Updated 1234 GMT (2034 HKT)

By 2025, you could be commuting to work in this flying car that takes off and lands like a helicopter. No pilot's license needed -- just five hours of flight training.
June 16, 2014 -- Updated 1237 GMT (2037 HKT)

We're often told that sharing our feelings could save our relationships from sliding into emotional breakdowns -- perhaps talking it out could also shield us from the traveling blues too.
December 17, 2013 -- Updated 1645 GMT (0045 HKT)

Two Canadian aerospace engineers have pushed the boundaries of what's possible by building a human-powered helicopter that claimed a $250,000 prize.
August 13, 2013 -- Updated 2036 GMT (0436 HKT)

Just how fast would the Hyperloop transportation system envisioned by entrepreneur Elon Musk have to be?
April 7, 2014 -- Updated 1250 GMT (2050 HKT)

For six decades Luigi Colani has created beautiful, pioneering design -- a perfect marriage of form and function.