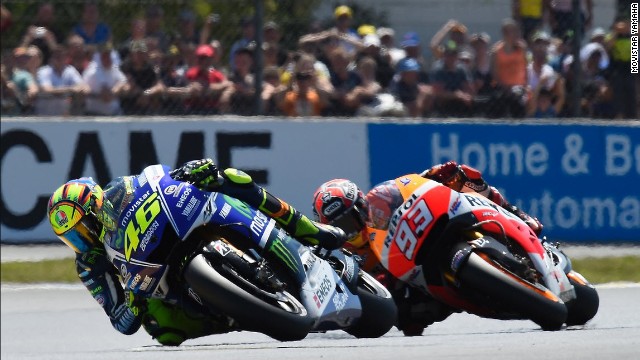 Introducing "The Doctor" of MotoGP -- Valentino Rossi briefly leads Marc Marquez at the French MotoGP on 18 May 2014.
Rossi is a hero in his native Italy and particularly in the Marche region where he was born and still lives. In recognition of his achievements he received an honorary degree in 2005 from the famous university at Urbino.
Rossi's last MotoGP title came back in 2009 with Yamaha -- his seventh at the highest level of motorcycling.
Rossi is on the receiving end of the champagne as compatriot Max Biaggi toasts him after wrapping up a third straight world title in Malaysia in 2003.
Rossi performs a wheelie after taking pole position on his Honda at the MotoGP in South Africa in 2002.
Rossi has also turned his hand to four wheels and drove for Peugeot in the 2002 Rally of Wales GB.
Ever the showman. Rossi produces a sea of burning tire smoke as he celebrates yet another MotoGP victory.
Rossi jokes with a grid girl before the U.S. MotoGP in Indianapolis in 2009.
Rossi's fanatical fans celebrate his 100th grand prix win at the Dutch MotoGP at Assen in the Netherlands in 2009.
Colin Edwards takes press questions in Austin, Texas flanked by former team mate Valentino Rossi.
Marc Marquez celebrates his fifth consecutive MotoGP win at Le Mans with his team.
300-up for MotoGP legend Rossi
300-up for MotoGP legend Rossi
300-up for MotoGP legend Rossi
300-up for MotoGP legend Rossi
300-up for MotoGP legend Rossi
300-up for MotoGP legend Rossi
300-up for MotoGP legend Rossi
300-up for MotoGP legend Rossi
300-up for MotoGP legend Rossi
300-up for MotoGP legend Rossi
300-up for MotoGP legend Rossi
STORY HIGHLIGHTS
Valentino Rossi all set for his 300th MotoGP
Rossi has won nine world titles
Mugello hosts Italian GP Sunday
Marc Marquez has won five races from five pole positions
Follow us at @WorldSportCNN and like us on Facebook
(CNN) -- Spain may be motorcycling's beating heart, but the sport's soul probably lies a little further east, in Italy.
On Sunday one of Italy's greatest sons Valentino Rossi celebrates a special anniversary as the man known to all on two wheels as "The Doctor" lines up for his 300th MotoGP race.
And what a special stage for such a special day.
Coiled like a basking viper in the Tuscan hills lays Mugello, the Ferrari-owned circuit that may be both MotoGP's most evocative and beautiful.
"Mugello is incredibly special," British TV commentator Julian Ryder told CNN. "It is frighteningly fast, with a long straight and lots of very high speed 'S' bends."
Bedded into an undulating valley, its topography gives the thousands of spectators that will throng here this weekend a near perfect view of the track.
Read: Rossi disappoints as Marquez on Mugello pole
"It's one of the longest races on the calendar, and it's got everything," added former MotoGP rider and double World Superbike champion James Toseland.
"You hit 215mph at the end of the Mugello Straight, and carving through the valley at that speed is pretty incredible.
"Phillip Island (in Australia) maybe shades it for the view you get of the ocean, but it's a beautiful place."
"All the riders really enjoy the event. The support, the camping, the scenery, it's like a mini-festival."
On Sunday you can expect the grandstands to be a sea of fluorescent yellow, the color worn by Rossi's army of fans.
The 35-year-old, with nine world titles to his name, has a formidable record here, winning an astonishing seven consecutive premier-class wins at the track between 2002 and 2008.
Read: Rossi chases home Marquez in Qatar
His powers may be waning, but there is a palpable sense that the man from Urbino can add another victory this weekend despite the dominance at Mugello in recent years by his Yamaha teammate Jorge Lorenzo.
"There are always 25 points as the other races, but Mugello is a matter of honor," said Rossi in his pre-race statement, clearly enjoying his return to the Japanese manufacturer after two seasons in the wilderness with his home team Ducati.
Then when he celebrated a win with his fake sponsor, a guy in a chicken costume running on the track and jumping on the back of his bike, he got everyone's attention.
Carmelo Ezpeleta
"Jorge has won the last three years on the Yamaha, doing fantastic races, and this means that the M1 is very competitive on this track.
"It will be my 300th GP this weekend and for that I am not very happy because it means that I'm old, but I'm happy because I am in good shape and I can still be very fast!"
Standing in Rossi's way is, of course, world champion Marc Marquez, who has enjoyed a spotless start to the year.
Five wins, all from pole position, have led many to wonder if the young Honda rider can be beaten at all this season.
Even a mistake at the Le Mans circuit in France, which saw him fall back to 11th place, couldn't prevent him winning comfortably.
"I was pleased to see him slip up," says Toseland. "I thought, this will make a race of it; but after half a dozen laps he'd carved his way through, as if he was in a different class."
Read: Lorenzo welcomes rival Rossi back to Yamaha
The 21-year-old's peerless riding has left more experienced teammate Dani Pedrosa, who is second in the standings, already 42 points adrift.
"You look at Dani Pedrosa: he's a fantastic rider, and he's not even in a close second, so it's clearly not the bike," Toseland says. "He's just so much better than everyone else."
Last year Mugello marked a major stumble on Marquez's path to the title. He crashed four times, including a terrifying high-speed spill in practice and another in the race itself, when he was apparently cruising in second place.
"Mugello is a hard track -- perhaps one of the most difficult on the calendar -- and last year wasn't easy for us," Marquez told CNN.
"I had many crashes, but in the race I was able to run up front with Jorge and Dani, which is important."
MotoGP's youngest champion also acknowledges the strength of his rivals on the troublesome track.
"This year will be interesting," he says. "Jorge has won there the past few years and it's Valentino's home race -- and his 300th -- so I'm sure he'll be pushing hard. Also, Dani is so strong there so we'll have to wait and see."
Marquez says he is relaxed, and maintains that his focus will be on points if a win looks out of reach.
"We know it's been a dream start and it can't go on forever, but when that race comes -- that we can't win -- I'll have to be sure to take important points for the championship."
As soon as I saw Valentino in the 125 class, I saw something different; he had an aura about him.
Carmelo Ezpeleta
Before the start of this season, most predicted that Lorenzo would be the man leading the charge to take Marquez's crown.
Instead the two-time world champion has endured a series of disastrous showings, and looks a shadow of his former self.
Ryder is baffled. "It's a genuine shock. He seems to have completely lost his head."
The veteran commentator Ryder wonders if Lorenzo's resurgent teammate is partly to blame: "I'm not sure it's Marquez, I think it's Rossi.
"The first rule is always to beat your teammate, and this is the first time Rossi has been beating him every time on a level playing field."
Lorenzo is hoping that a return to Mugello -- previously a happy hunting ground for him -- will mark a change in fortunes.
"Now we are going to visit some special tracks for me and I think we can change some things to stay in front," the Spaniard said ahead of the race weekend.
"We need to try to fight for our first victory of the season."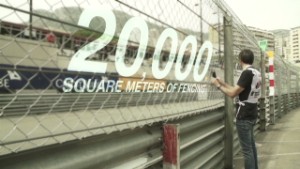 Monaco: From city centre to race track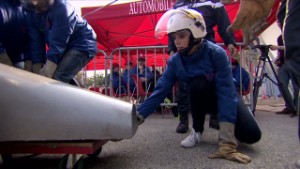 How safe is a Monaco F1 race?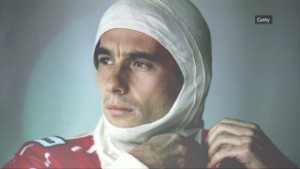 Paying tribute to Ayrton Senna
This year, MotoGP's supplier Bridgestone has developed a new tire with a special rim, designed to retain heat on its edges, which could be the root of Lorenzo's problem.
"If you have, say, a series of right-handers, followed by a left, that side of the tire can lose its heat, which can be dangerous and cause the bike to high side," said Toseland.
"The idea of these tires is that they lose the heat generated on the sides more slowly, but it also seems the compound is slightly harder, so some of that grip at full lean -- which is part of Lorenzo's style -- has gone."
Toseland believes Lorenzo, who has just one podium finish in 2014 and is 80 points behind Marquez, has let frustration overcome him.
"He's become master of that Yamaha for so many seasons, and he's had to unlearn everything. The tires are so fundamental to the setup of the bike, the suspension and so on, and all the things he's been trying just haven't worked.
"It's clearly got to him because he's making so many mistakes, which is so unlike him. He just needs to accept the situation and move on."
With Lorenzo bereft of form and Pedrosa struggling to match Marquez's pace, Rossi has been the champion's only real threat.
"If somebody can beat Marquez it is Valentino, says Hervé Poncharal, the Yamaha Tech3 team principal.
"We know there is extra motivation in Mugello; Valentino is very strong here in Mugello, but it will be hard."
Toseland too, has faith in Rossi's ability.
"I can see him winning it, definitely. The only question mark is whether Marquez has had to push himself so far this season, and maybe he hasn't needed to.
"But in an out and out race, on the last lap, in Mugello, if Rossi is there fighting for the win at that point I'd put my house on him."
Marquez's meteoric rise has so many echoes of Rossi's own sparkling early years.
"I think the only person right now that can beat Marquez is Marquez himself, so we might have to rewrite some things, but I think Rossi's record stands for itself, and that has to be beaten first, " said Colin Edwards, now with the NGM-Forward Mobile Racing team -- and in his final season in MotoGP.
The Texan memorably dubbed Rossi "The GOAT" -- the Greatest of all Time.
"You could just see the fight and the determination, and he really didn't like losing at all, so I think everyone knew pretty early that he was really talented," added Edwards, who laughs when he recalls life as Rossi's teammate.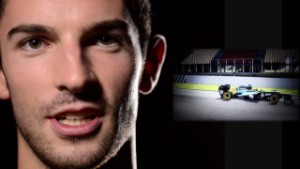 Racing on the Barcelona circuit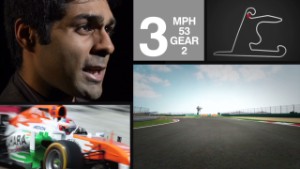 Racing on the Shanghai Circuit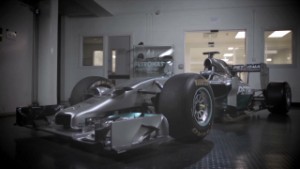 Inside the Mercedes engine
"Everybody wanted Valentino. I had already won a couple of world championships in World Superbikes, I was doing my job, and I knew what my job was, my job was harmony in the team, and if Valentino had a problem then I had to give everything I could to try and win a race.
"But it was just a pleasure. I mean the whole thing was just a pleasure to work with him.
" I'd walk out of the truck or the garage to go wherever to change, you'd open the door and everyone would be, 'Yeah!' thinking it was Valentino, and then they'd see it was me and be like, 'Oh.' "
Toseland, who was also part of the Yamaha family with Rossi for two years, is full of admiration.
"He's so down to earth, and he has a steely determination about him. He'd achieved so much that he wasn't afraid of anyone or anything, and it was great to be around that -- it taught me so much about having the right attitude to racing.
"He's a showman -- I loved all those antics after the race, the outfits and stunts. He turned MotoGP into a show; but it wasn't put on for the camera, it was genuine. He's the real deal."
Marquez, who grew up watching Rossi on television, is another fan.
"I love his overtaking, when he fought face to face with his main competitors, but overall, the show he always puts on."
"It's incredible for him to reach this milestone whilst still being competitive. I hope he enjoys the weekend and gets a good result."
Whatever happens on Sunday, Rossi's contribution to the sport is unmatched and indelible.
As Ryder says, "Motorcycle racing would still be here without him, but MotoGP wouldn't be the same."