STORY HIGHLIGHTS
Four more international monitors have gone missing, this time in Luhansk
President-elect Petro Poroshenko says he will punish those behind helicopter attack
Acting Ukraine defense minister says military operation will continue until east is stable
Separatist militants clash with National Guard unit in Luhansk region
Donetsk, Ukraine (CNN) -- Ukraine's President-elect Petro Poroshenko has vowed to punish the "bandits" who shot down a military helicopter as the government's efforts to rein in pro-Russia separatists continue.
"The deaths of the military troops in Slovyansk are pain our whole nation is feeling," Poroshenko posted on his Facebook page late Thursday.
"While mourning with rest of the Ukraine, I give my condolences to the families and loved ones of the fallen heroes. Crimes of the bandits will not be left unpunished."
Militants in the rebel stronghold of Slovyansk, in the Donetsk region, claimed responsibility for downing the helicopter, a spokesman for the separatists said. A dozen servicemen died, authorities said, including a general.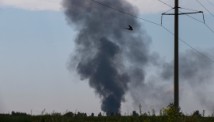 Smoke rises from a downed Ukrainian army helicopter outside Slovyansk on Thursday.
The separatist unrest that has gripped Ukraine in recent weeks has been centered in the eastern regions of Donetsk and Luhansk.
Acting Ukrainian Defense Minister Mikhail Koval said Friday that the military would continue its "anti-terrorism" operation until the east has been fully stabilized, Russia's state-run RIA Novosti news agency reported.
"We will work until this region starts living and functioning normally, and the people there feel safe," Koval is quoted as saying.
International monitors sent by the Organization for Security and Cooperation in Europe, at the invitation of Ukraine, have been surveying the situation on the ground -- but they appear increasingly at risk of being targeted by armed groups.
Four are said to be in the hands of pro-Russian separatists in Slovyansk, having gone missing Monday.
And Friday, the OSCE said it had also lost contact with some members of its Luhansk-based team as of the previous evening after armed men stopped them.
The team, which was in Severodonetsk, about 60 miles north of the city of Luhansk, consists of four international monitors and a Ukrainian translator, traveling in two vehicles, the OSCE statement said.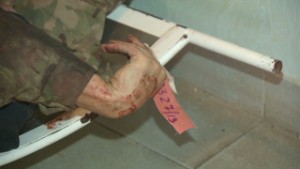 'I think Ukraine will be destroyed'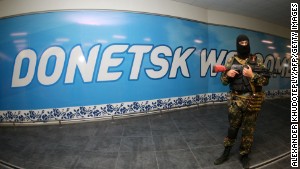 Russia: 'The problem is inside Ukraine'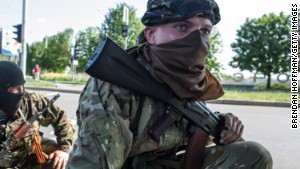 Overnight fighting closes Donetsk airport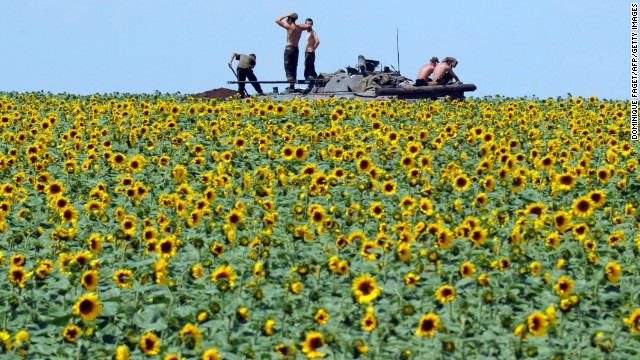 Ukrainian soldiers sit on an armored vehicle as they take up a position in a sunflower field near Donetsk, Ukraine, on Thursday, July 10. Here's a look at the upheaval that has persisted in eastern Ukraine since the election of President Petro Poroshenko.
A man rides a bike past the tail of a bombshell outside Slovyansk, Ukraine, on July 10.
Eugenia Gubareva cries on July 10 after finding clothes belonging to her parents, who were killed during a bomb shelling in Mikolaivka, Ukraine.
A man cleans up debris in his apartment after a shelling in Slovyansk on July 10.
People walk under a destroyed railroad bridge near the village of Novobakhmutivka on Monday, July 7.
A woman cries as her house burns after a bombing in Slovyansk on Monday, June 30.
People say goodbye to volunteer soldiers in Kiev, Ukraine, before they leave for the eastern part of the country to join the ranks of a special battalion on Monday, June 23.
People take refuge in a bomb shelter during clashes between Ukrainian troops and pro-Russia fighters in Slovyansk on Sunday, June 22.
Riot police surround the Kiev Pechersk Lavra, an Orthodox Christian monastery in Kiev where radical masked activists gather to protest against separatists on June 22.
Ukrainian President Petro Poroshenko awards wounded soldiers with state awards in a military hospital in Kiev on Saturday, June 21.
Debris lies scattered at an airport in Luhansk, Ukraine, on Saturday, June 14, after the crash of a Ukrainian Ilyushin-76 military transport plane. A military spokesman said the aircraft was shot down by pro-Russian separatists, killing all 49 aboard.
A pro-Russian fighter collects ammunition from the debris of the downed military aircraft on June 14.
Pro-Russian fighters walk past the wreckage of the downed aircraft.
A military vehicle was destroyed during a clash between Ukrainian troops and pro-Russian separatists Friday, June 13, in Mariupol, Ukraine.
Locals in Mariupol gather around a burning military vehicle at the site of a battle between Ukrainian troops and pro-Russian fighters on June 13.
A pro-Russian fighter in Slovyansk checks a woman's documents as she leaves the city on Thursday, June 12.
A pro-Russian fighter stands guard at a checkpoint in Slovyansk on June 12.
A girl looks out of a bus window as she leaves Slovyansk on Monday, June 9.
Poroshenko holds the ceremonial mace during his inauguration ceremony Saturday, June 7, in Kiev. Poroshenko was elected three months after the ouster of former President Viktor Yanukovych.
A Ukrainian tank opens fire during a battle with pro-Russian separatist fighters in Slovyansk on Friday, June 6.
A Ukrainian soldier prepares explosives during a battle with pro-Russian separatists in Slovyansk on June 6.
A Ukrainian soldier observes the road at a checkpoint outside of Amvrosiivka, Ukraine, on Thursday, June 5.
Ukrainian soldiers take position during a battle with pro-Russian separatists outside Slovyansk on June 5.
Pro-Russian militants stand guard at a barricade and checkpoint in Donetsk on Sunday, June 1.
A Ukrainian soldier shoots a grenade launcher during a battle with pro-Russian separatists in Slovyansk on Saturday, May 31.
A protester from Kiev's Independence Square gestures May 31 as fellow protesters burn tires to protect their barricades from being dismantled by communal services.
A Ukrainian armored personnel carrier takes position during a battle with pro-Russian separatist fighters May 31 in Slovyansk.
Ukrainian soldiers rest at a checkpoint outside Slovyansk on Thursday, May 29.
Smoke rises from a shot-down Ukrainian Army helicopter outside Slovyansk on May 29.
A man stands in front of a truck that was bombed by Ukrainian soldiers during clashes with armed rebels Tuesday, May 27, in Donetsk.
Medical staff prepare to clean the body of a pro-Russian militant at the Kalinina morgue in Donetsk on May 27.
The body of a pro-Russian militant lies on a stretcher at a morgue in Donetsk on May 27. He was killed in clashes around Donetsk's airport, which was seized by pro-Russian separatists a day earlier. Ukrainian forces moved in and reclaimed the facility.
Firefighters work on extinguishing a fire at a local sports hall in Donetsk on May 27.
People pile up sandbags to set up a shooting position on the road leading from the Donetsk airport on May 27.
A man dressed in a prisoner costume takes part in a protest against government corruption May 27 in Kiev.
Pro-Russian militants take position on the roof of Donetsk International Airport on Monday, May 26.
A pro-Russian militant takes position on the roof of the Donetsk airport on May 26.
A man runs for cover during fighting around the airport on May 26.
Smoke rises from the airport on May 26 after an airstrike by the Ukrainian military.
Pro-Russian gunmen take positions near the airport on May 26.
Men stand next to pro-Russian militants as a woman runs away during clashes near the airport on May 26.
A pro-Russian militant guards a checkpoint on May 26, blocking a highway that links the Ukrainian city of Kharkiv with Rostov-on-Don, Russia.
A pro-Russian militant teaches recruits how to use a machine gun in Senyonovka, Ukraine, on May 26.
A woman walks May 26 near barricades built by protesters in Kiev's Independence Square. Vitali Klitschko, Kiev's future mayor and a former boxing champion, promised to dismantle the iconic protest encampment that helped oust Yanukovych but now clogs traffic and draws public complaints.
Ukraine's newly elected president, Petro Poroshenko, talks alongside Klitschko, right, during a news conference in Kiev on May 26. Poroshenko, a billionaire candy tycoon known as the "Chocolate King," is a seasoned politician known for his pro-European Union views.
Election commission officials count ballots at a polling station in Kiev on Sunday, May 25.
Artist Ivan Voronov, 91, and his wife, Svetlana Samoilechenko, 86, cast votes from their Kiev home on May 25.
An elderly woman casts her vote May 25 as a mobile Ukrainian election committee visited Orane, a village north of Kiev.
A woman holds the hand of a pro-Russian gunman in Donetsk's Lenin Square on May 25. A large separatist rally was held in Donetsk around lunchtime. The protesters chanted pro-Russian slogans as they were addressed by separatist leaders.
A man prepares a ballot at a polling station in the eastern Ukrainian town of Dobropillya on May 25. See the crisis in Ukraine before the election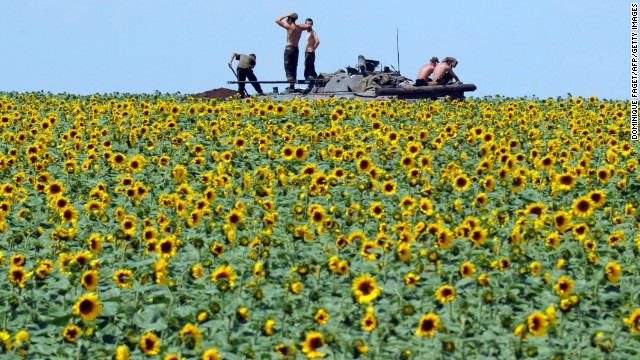 Photos: Ukraine after the election
Another 11 monitors were detained for several hours Wednesday after armed men stopped them in Marinka, west of the city of Donetsk, but were later released, according to the OSCE.
Several weeks ago, another OSCE team was taken captive by militant separatists in Slovyansk. Its members were freed a little more than a week later.
Grenade blast
Many are now looking at Poroshenko, whose inauguration is expected next week, to restore peace and stability to the divided nation.
Amid simmering tensions, heavily armed militants clashed with a National Guard unit Thursday in the town of Oleksandrivsk in the Luhansk region, the National Guard said on its website.
A grenade hit the unit's weapons depot, which exploded, destroying weapons and ammunition, the guard said. No casualties were reported.
On Monday, a Ukrainian military operation against pro-Russia militants who had seized a part of Donetsk International Airport resulted in as many as 70 deaths, according to the separatists, although local officials' estimates were lower.
At least 33 Russian citizens are among the militants killed, a spokesman for the self-declared Donetsk People's Republic told CNN. Their bodies are to be returned to Russia.
Kiev and the West have accused Russia of coordinating and supplying the separatists, an allegation Moscow has denied.
Russian troops 'pulling back'
On Thursday, a U.S. official with direct knowledge of the latest intelligence said 30,000 Russian troops that had been amassed along the Russia-Ukraine border have been moving back to their home bases over the past several days. About 10,000 troops -- mainly infantry -- remain along Russia's border with eastern Ukraine, the official said, and there are signs those troops will be pulling back as well.
NATO this week also reported that some Russian troops near Ukraine's eastern border may be preparing to pull back.
The United States has been using satellites to track Russian troop movements for weeks, and both the United States and NATO have released imagery to bolster their case that Russia had amassed tens of thousands of troops along the border.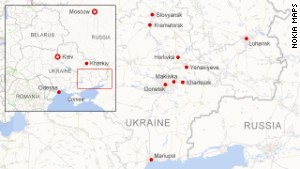 Where unrest has occurred in E. Ukraine
U.S. officials have said it appears the Russians have decided to try to work with the new Ukrainian government, but officials also point out that it wouldn't take much to bring a large number of Russian forces back to the border via transport aircraft at any time.
Diplomatic steps
Poroshenko has been invited by French President Francois Hollande to attend the 70th D-Day commemoration ceremonies on June 6, the Elysee Palace said.
Russian President Vladimir Putin is also invited to take part in the D-Day ceremonies, raising the prospect that the leaders could hold discussions then.
Even if international diplomatic efforts bear fruit, talks on the ground in Ukraine are complicated by divisions within the separatist movement.
Serhiy Taruta, the billionaire governor of Donetsk, told CNN Thursday he was in talks with pro-Russia separatist leaders in the region to try to calm the situation. But he suggested it was not proving easy.
"We are having dialogue, which is dragging out because they seem to have a constant rotation of their leaders, but I hope that in the final analysis we will reach an agreement and reconciliation to work together," he said.
Taruta has met with Poroshenko in Kiev, he said, adding that the President-elect will visit the Donetsk region "we hope in the first half of June."
The governor, speaking in Kiev, acknowledged that a Ukrainian military operation was under way in the Donetsk region, but he was unable to comment further.
Read: Ukrainian military helicopter shot down; 14 dead, president says
Read: Ukraine: Fierce fighting closes Donetsk airport, claims dozens of lives
Read: Opinion: Free elections good for Ukraine, but could be bad for Putin
CNN's Nick Paton Walsh reported from Donetsk, and Laura Smith-Spark wrote and reported in London. CNN's Barbara Starr, Hala Gorani and Boriana Milanova contributed to this report, as did journalist Francesca Humi.