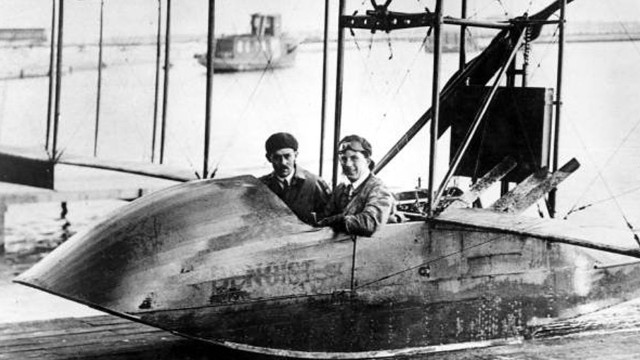 1914: On the morning of January 1, the first scheduled commercial airline flight took to the air. Taking off from St Petersburg, Florida, and flying to Tampa, the Benoist flying boat was piloted by Tony Jannus, with the former mayor of St Petersburg, Abram C Pheil, as the sole passenger.
1920: KLM operated its first flight, making it the oldest airline still in operation today. The following year it began scheduled flights between Amsterdam and London.
1935: The first trans-Pacific commercial flight left San Francisco bound for Manila. The Pan Am flight -- on a Martin M-130 China Clipper, like the one pictured -- took one week with numerous stops along the way.
1936: The Douglas DC-3 entered service with American Airlines with a flight from New York to Chicago. It became known as the "plane that changed the world" with its speed and range better than any other plane of the time. More than 10,000 were built.
1938: On August 11, a Lufthansa plane became the first non-stop land-based commercial aircraft to cross the Atlantic Ocean. It took off from Berlin and landed in Brooklyn, New York.
1952: The "de Havilland Comet," designed by British aviation pioneer Captain Sir Geoffrey de Havilland, was the first commercial jet airliner to go into production and made its commercial debut in 1952.
1959: The first jet bridge was used for passengers to board and disembark planes at San Francisco airport.
1970: The world's first wide-body aircraft, the Boeing 747, entered service with Pan Am on its New York to London route.
1971: Flyers are used to low-cost carriers today, but Southwest Airlines was the first of its kind that made established legacy carriers improve their competitiveness.
1973: Frontier Airlines was the first airline with a female pilot flying a scheduled route on a modern jet airliner -- Emily Howell Warner.
1976: Making its commercial debut in 1976, Concorde, a joint effort between the British and French governments, ushered in an era of supersonic travel, ferrying deep-pocketed passengers from London and Paris to New York (among other destinations) in less than half the time of other commercial aircrafts.
1981: American Airlines is recognized as being the first airline to offer the industry's first frequent flyer program with AAdvantage.
1997: The first of the Big Three airline alliances was founded. Star Alliance began with five airlines: Lufthansa, Scandinavian Airlines, Thai Airways, Air Canada and United Airlines. Other alliances, Oneworld and SkyTeam, soon followed.
1998: Commercial airlines were allowed to operate over the northern polar region. Cathay Pacific was the first to utilize the route flying from Hong Kong to New York non-stop in around 16 hours.
2007: The Airbus A380 "superjumbo" took the place of the Boeing 747 as the world's largest passenger jet, first entering commercial service with Singapore Airlines. With two full decks it can carry 853 passengers, depending on the seating configuration.
1914: First scheduled commercial flight
1920: Oldest airline takes to the skies
1935: Trans-Pacific flight
1936: Revolution in the air
1938: A transatlantic first
1952: First commercial jet airliner flight
1959: Walk this way
1970: Flying goes Jumbo
1971: Low-cost flying
1973: First female pilot
1976: Concorde's first flight
1981: Loyalty counts
1997: Strength in numbers
1998: Polar express
2007: Flying goes "super-sized"
STORY HIGHLIGHTS
Airlines make average of $5.42 profit per flight, says expert
Fuel prices and government surcharges and fees keep airfare high
The industry is still expected to make a post-tax profit of $18 billion this year
Predictions say airfares should drop 3.5% this year
CNN celebrates 100 years of commercial aviation with a week of programming presented by resident travel expert Richard Quest.
Doha, Qatar (CNN) -- The aviation industry thrives on big numbers.
A century after the first commercial flight took off, around $746 billion is expected to be spent this year on global air travel, a record 3.3 billion passenger journeys will be taken and 1,400 new aircraft help will whisk them across the skies.
But among these impressive figures there is a much smaller one that airlines are really taking note of: $5.42
That's the average profit made by airlines for each passenger they carry.
"With a net profit margin of just 2.4%, airlines only retain $5.42 per passenger carried," said Tony Tyler CEO of International Air Transport Association (IATA) at the group's 70th AGM in Doha, Qatar.
"There is a mismatch between the value that the industry contributes to economies and the rewards that it generates."
With a net profit margin of just 2.4%, airlines only retain $5.42 per passenger carried.
Tony Tyler, CEO of IATA
According to recent figures from IATA just two years ago the average post-tax profit per passenger was only $2.05, so things are improving for the industry.
The industry is expected to make a post-tax profit of $18 billion this year, up from $10.6 billion last year and a record amount.
However Brian Pearce, chief economist for IATA cautions that's because of the total revenue and not a record in terms of profit margin.
"It's always very cyclical," he says. "If you look at the last 20 years the average net profit margin for airlines in terms of revenue is zero."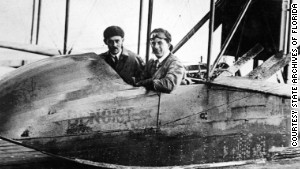 Aviation's risks and rewards
It's remarkable that the industry is making any profit at all, added Pearce, given record high fuel prices over the last few years.
"A 2.4% (profit margin) and people would laugh at you in other industries," says Willie Walsh of International Airline Group.
"There's something wrong with this industry where we as the providers of this service almost feel are embarrassed to talk about profitability and some people that buy our products don't believe we should be allowed to make a profit -- it's madness."
For others at the sharp end of the industry, the quest for profits is an ongoing battle.
We're the wrong part of the food chain
JetBlue Airways CEO David Barger
"We're the wrong part of the food chain," says JetBlue Airways CEO David Barger. "Airports and financiers, you look at the profit margins of them versus to airlines. But we recognize we're the wrong part and you have to be innovative."
Pearce suggests that if fuel prices -- one of the biggest costs to airlines -- were to fall, then because of the keenly competitive nature of the industry it would be the customer that would be the beneficiary.
Even with high fuel prices IATA forecasts that on average fares this year will fall by around 3.5%.
The profits the industry has made are mainly because of cost-cutting in the industry through improved efficiency and consolidation, plus the way that airlines package their products, most notably through giving passengers more choice in what kind of options they want with a flight.
That also gives airlines other ways to make a few dollars with ancillaries like baggage charges or seat preferences.
Yet the lament from Tyler and IATA remains that airlines and those in the commercial aviation industry are still hampered by high taxation and low profitability.
"Airlines can operate profitably and provide fantastic value of service. The one principle (that governments should have) is treat airlines like any other industry," says Tyler.
IATA is meeting 100 years after the first commercial flight that took place across Tampa Bay with just one passenger on board. It's not known how much profit the operator made on that flight.
Timeline: 100 years of commercial aviation
Read: Why it's high risk, high reward for airlines