STORY HIGHLIGHTS
NEW: Suspect is not a student at school
NEW: Police have not disclosed a motive
The gunman was tackled by a building monitor, police say
One person has died, hospital spokeswoman says
(CNN) -- A gunman opened fire Thursday at Seattle Pacific University, killing one person and wounding two before being tackled by a student security guard, Seattle police said.
The gunman was reloading a shotgun when the student, working as a building monitor, used pepper spray and knocked him down, Police Capt. Chris Fowler told reporters.
"Once on the ground, other students jumped on top of them and subdued the shooter," he said.
The suspect, a 26-year-old man who was not a student at the school, is in custody.
Authorities are withholding his name until he is formally charged. They believe he acted alone, but the investigation is going on. Police did not disclose a motive.
The man was armed with a shotgun, a knife and additional rounds of ammunition, said Seattle police Asst. Chief Paul McDonagh.
"This story is not about an evil act but about the people that actually lived through this scenario and assisted each other when things were pretty tragic."
Sounded like 'balloons popping'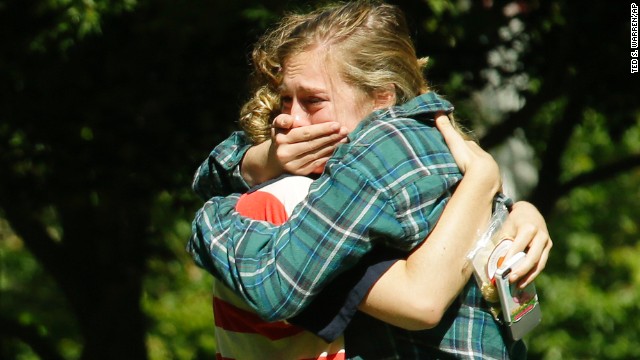 Two women embrace near a prayer circle Friday, June 6, on the campus of Seattle Pacific University. A day earlier, a gunman entered the school's science and engineering building, shot three people and was reloading a shotgun when a student subdued him, police said.
Students at the school mourn after the shooting on Thursday, June 5.
Students gather in a prayer circle June 5 after a church service was full.
Seattle police officers run toward a campus building after the shooting June 5.
Jon Meis, the student credited with dousing the gunman with pepper spray and tackling him, is loaded into an ambulance after the incident.
Briana Clarke, a student at Seattle Pacific University, cries at the scene of the shooting.
Medical and police officers gather at the scene.
Seattle Pacific University students are led out of the crime scene.
Seattle firefighters load a victim into an ambulance near the scene of the shooting.
Bystanders embrace near the scene.
Police officers conduct searches on students after the shooting.
Emergency personnel gather near the scene of the shooting.
Bystanders look on as emergency personnel arrive near the scene of the shooting.
Law enforcement officers gather near the scene.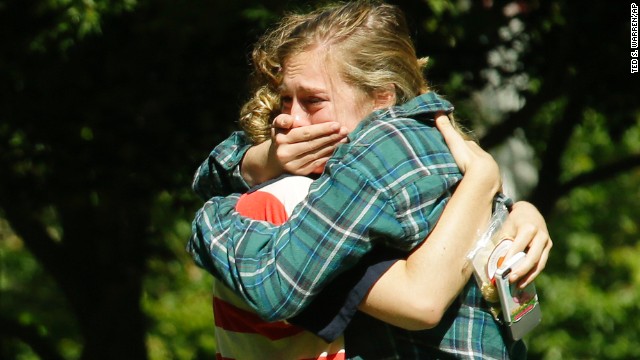 Photos: Shooting at Seattle Pacific University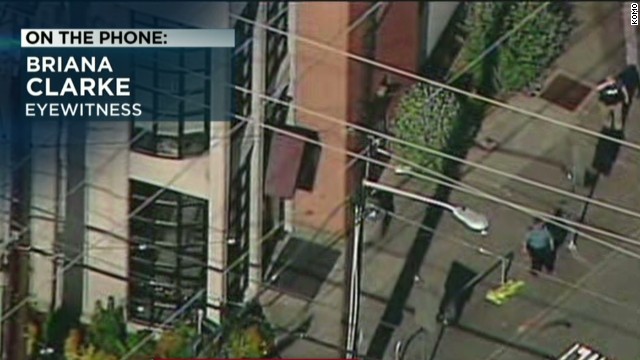 SPU shooting witness: Heard two shots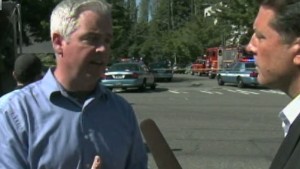 Witness describes frantic scene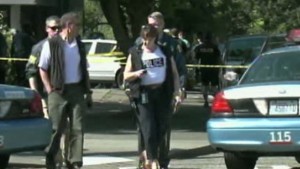 4 injured in Seattle college shooting
The shooting began inside the foyer of Otto Miller Hall, which houses the university's science, math and engineering departments, when the gunman confronted three people and shot them, Fowler said.
A 20-year-old man was declared dead at Harborview Medical Center, hospital spokeswoman Leila Grey said. A 20-year-old woman was in critical condition and a 24-year-old man was in satisfactory condition, she said. A fourth person was hospitalized for emotional trauma, she said.
Officials immediately locked down the campus.
Briana Clarke told CNN she was in Otto Miller Hall when she heard two loud but muffled shots that sounded like "helium balloons popping."
"I thought it was another one of my professors that was giving a demonstration," she said.
"I walked into the hallway and saw a classmate of mine running frantically, saying that someone had been shot."
Blood on floor and walls
University President Daniel J. Martin told CNN affiliate KCPQ he turned on a monitor to view security camera images from Otto Miller Hall after he was alerted to the shooting.
"The students acted without regard for their own safety," he said, his voice breaking with emotion.
Jillian Smith was taking a math test when she learned the campus was on lockdown. She said she kept taking the test until she heard police officers yelling.
"After we found out by social media what was going on, people were crying and everything," Smith told CNN affiliate KOMO.
Police escorted students out of the building, where she saw blood on the floor and walls in the foyer.
Blake Oliveria was in a class when he heard the gunshots.
He said he removed his shoes in case he had to run but stayed in the classroom until police arrived to escort students out.
"I saw blood ... on the ground," he told CNN. "There were two or three big (pools) and some small ones scattered throughout the hallway."
Seattle Pacific is a Christian university with a student population of 4,270. It is located in Seattle's Queen Anne neighborhood.
Who is the hero student who pounced on the Seattle gunman?
Emotional trauma and physical wounds after Seattle
Georgia courthouse shooter had bombs, assault rifle
CNN's AnneClaire Stapleton and Joe Sutton contributed to this story.