STORY HIGHLIGHTS
NEW: U.S. official says Bergdahl suffers from psychological trauma
Official says ''no evidence'' to back up claims that soldiers died searching
President Barack Obama: "We saw an opportunity and we seized it"
Bergdahl is resting and showing signs of improvement in Germany
(CNN) -- Army Sgt. Bowe Bergdahl was physically abused during his five years in Taliban captivity and is suffering from psychological trauma, a senior U.S. official told CNN on Friday.
The information bolstered the White House argument that President Barack Obama needed to move quickly to secure Bergdahl's release in a May 31 exchange for five Taliban figures held at Guantanamo Bay.
According to the official, who spoke on condition of not being identified, Bergdahl tried to escape at one point but got caught, and his captors then confined him in small enclosure described as a cage or box.
At an American military hospital in Germany where he was taken after his handover near the Afghanistan-Pakistan border, doctors said Friday he remained in stable condition and continued to improve, but wasn't ready to travel back to the United States.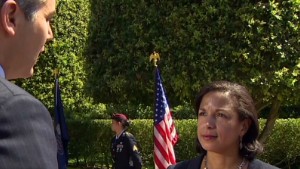 Rice: I tell the facts as we know them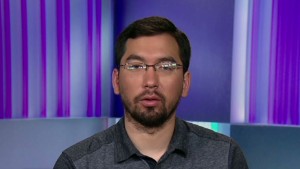 Friend: Bergdahl 'was a pretty nice guy'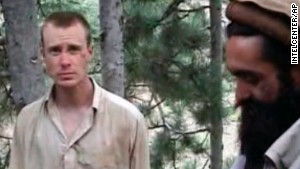 Report: Bergdahl tried to escape twice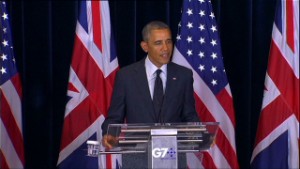 Obama: Bergdahl not 'political football'
"There is no predetermined time line for Sgt. Bergdahl's recovery process," said a statement by the Landstuhl Regional Medical Center. "The duration will continue to be based on the pace of his healing and reintegration process."
Improving but still far to go
When he is ready, Bergdahl will be flown to the San Antonio Military Medical Complex in Texas, where he might be able to reunite with his parents for the first time. Bergdahl has yet to speak with them since his release.
According to military officials familiar with the process of reintegrating longtime captives, the first meeting with family or loved ones can often be the most overwhelming moment of the entire transition to freedom.
An initial family visit lasts only minutes due to the intensity and emotional overload for the former captive, the officials said.
Earlier, the Obama administration and Pentagon implored the American public and media not to prejudge Bergdahl as questions and criticism swirled around the secret swap.
National Security Adviser Susan Rice told CNN in an interview that Bergdahl was being prematurely condemned after members of his unit in Afghanistan said he deserted.
Both Rice and Pentagon spokesman Rear Adm. John Kirby said only Bergdahl knows the full truth of what happened and why.
"This is a young man whose circumstances we are still going to learn about," she told CNN in an interview. "He is, as all Americans, innocent until proven guilty. He's now being tried in the court of public opinion after having gone through enormously traumatic five years of captivity."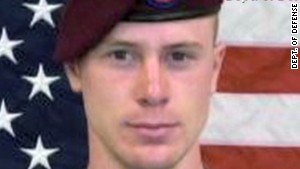 Officials: Bergdahl tried to escape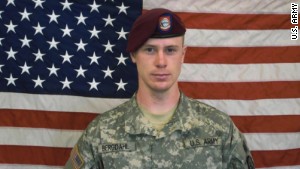 Sen. King: Partisan bickering 'tiresome'
If the military finds Bergdahl deserted, he'll face consequences, she said.
"But in the meantime, let's remember this is a young man who volunteered to serve his country. He was taken as a prisoner of war. He suffered in captivity," Rice continued. "He's now trying to begin the process of recovery. Let's let that happen. And then let's know the facts including his side of the story, and then we can make a judgment."
Initial investigation
An Army fact-finding investigation conducted after Bergdahl's 2009 disappearance concluded that he left his outpost deliberately and on his own free will, according to a U.S. military official briefed on the report.
But there has been no definitive finding that Bergdahl deserted, because that would require knowing his intent -- something Army officials couldn't do without talking to him.
Kirby told CNN's "New Day" that the Army is going to do a "comprehensive review" of what happened once Bergdahl is ready to participate.
"They're going to look at his situation again, the circumstances surrounding his disappearance," Kirby said. "And a key to that is going to be talking to Sgt. Bergdahl himself. Because there's really only one man who knows exactly what happened with respect to his disappearance and his captivity, and that's Sgt. Bergdahl himself."
However, that will take time, Kirby cautioned.
No rush
"The process will only go as fast as he and his doctors are ready to let it go. Nobody's going to be rushing him back into society and even back home," he said, later adding: "I don't think it does anybody any favors for folks to be out there speculating and criticizing him when he hasn't even had a chance to tell his own side of the story."
In Washington, Republican critics have complained that the exchange for Bergdahl gave up hardened terrorists capable of attacking U.S. troops and interests. In addition, legislators from both parties accuse the Obama administration of violating the National Defense Authorization Act by failing to provide 30 days' advance notice of a transfer of Guantanamo detainees.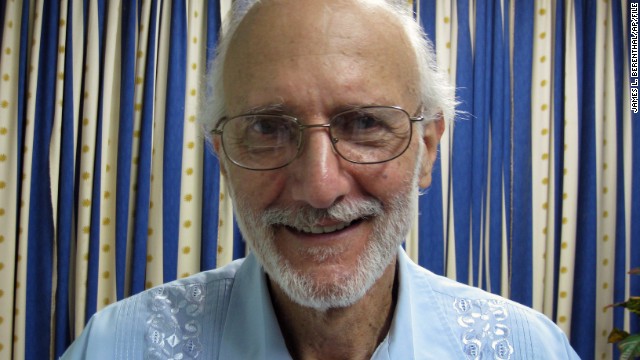 Alan Gross, at right with Rabbi Arthur Schneier, has been in Cuban custody since December 2009, when he was jailed while working as a subcontractor. Cuban authorities say Gross tried to set up illegal Internet connections on the island. Gross says he was just trying to help connect the Jewish community to the Internet. Former President Jimmy Carter and New Mexico Gov. Bill Richardson have both traveled to Cuba on Gross' behalf. On December 17, Gross was released from Cuban prison.
Luke Somers, a photojournalist being held captive by al Qaeda in the Arabian Peninsula (AQAP), was shown begging for his life in a video released by the terror group. Somers was killed by AQAP militants during a raid conducted by U.S. forces on Friday, December 5. A U.S. official said that during the raid, one of the terrorists ran inside the compound and shot Somers and South African hostage, Pierre Korkie.
Kenneth Bae is one of two American detainees released from North Korea in November. Bae had been held since late 2012, and in April 2013 was sentenced to 15 years of hard labor for unspecified "hostile acts" against the North Korean government. North Korea claimed Bae was part of a Christian plot to overthrow the regime.
Matthew Todd Miller also was allowed to leave North Korea with Kenneth Bae in November. According to the state-run Korean Central News Agency, he was convicted in September of committing "acts hostile" to North Korea and sentenced to six years of hard labor. He had traveled to North Korea after arranging a private tour through the U.S.-based company Uri Tours, which takes tourists into North Korea. He and Bae were released after U.S. Director of National Intelligence James Clapper went to Pyongyang as an envoy of President Barack Obama, a senior State Department official told CNN.
Stacey Addison was detained on drug charges by police in East Timor in September during a taxi ride. Addison says she was sharing a taxi from near the Indonesian border to Dili, the capital of East Timor, when another passenger asked to stop and pick up a package at a DHL office. The package allegedly contained methamphetamine.
Washington Post Tehran Bureau Chief Jason Rezaian remains behind bars after being detained in Iran with his wife, Iranian journalist Yeganeh Salehi, in July under unclear circumstances. Salehi was released on bail in late October, according to The Post.
Jeffrey Edward Fowle was released from North Korea and returned home Wednesday, October 22, 2014. Fowle was accused of leaving a Bible in a restaurant. North Korea announced Fowle's detention in June, saying he had violated the law by acting "contrary to the purpose of tourism." Fowle told CNN: "I've admitted my guilt to the government and signed a statement to that effect and requested forgiveness from the people and the government of the DPRK."
American journalist Peter Theo Curtis was handed over to U.N. peacekeepers on August 24 after nearly two years in captivity. He is believed to have been captured in October 2012 and held by the al-Nusra Front, a Syrian rebel group with ties to al Qaeda.
An Iranian court threw out a 2011 death sentence for Amir Hekmati, a former U.S. Marine charged with spying. But he was secretly retried in Iran and convicted of "practical collaboration with the U.S. government," his sister told CNN on April 11. He has been sentenced to 10 years in prison, she said. Hekmati was detained in August 2011 during a visit to see his grandmother. His family and the Obama administration deny accusations he was spying for the CIA.
This undated image provided by the U.S. Army shows Sgt. Bowe Bergdahl, who had been held by insurgents in Afghanistan since 2009. The White House announced Bergdahl's release on May 31. Bergdahl was released in exchange for five senior Taliban members held by the U.S. military.
Retired FBI agent Robert Levinson has been missing since 2007. His family says he was working as a private investigator in Iran when he disappeared, and multiple reports suggest Levinson may have been working for the CIA. His family told CNN in January that they have long known that Levinson worked for the CIA, and they said it's time for the government to lay out the facts about Levinson's case. U.S. officials have consistently denied publicly that Levinson was working for the government, but they have repeatedly insisted that finding him and bringing him home is a "top" priority.
Warren Weinstein, a contractor held by al Qaeda militants, is a U.S. citizen who has been held hostage in Pakistan since August 2011.
U.S. tourist and Korean War veteran Merrill Newman arrives at the Beijing airport on December 7 after being released by North Korea. Newman was detained in October 2013 by North Korean authorities just minutes before he was to depart the country after visiting through an organized tour. His son Jeff Newman said the Palo Alto, California, man had all the proper paperwork and set up his trip through a North Korean-approved travel agency.
Mexican authorities arrested Yanira Maldonado, a U.S. citizen, right, in May 2013, for alleged drug possession. She and her husband, Gary, were traveling from Mexico back to the United States when their bus was stopped and searched. She was released a few days later and is now back in the United States.
Saeed Abedini, a 33-year-old U.S. citizen of Iranian birth, was sentenced to eight years in prison in January 2013. He was accused of attempting to undermine the Iranian government and endangering national security by establishing home churches.
North Korea has arrested Americans before, only to release them after a visit by a prominent dignitary. Journalists Laura Ling, center, and Euna Lee, to her right, spent 140 days in captivity after being charged with illegal entry to conduct a smear campaign. They were freed in 2009 after a trip by former President Bill Clinton.
Former President Jimmy Carter negotiated the release of Aijalon Gomes, who was detained in 2010 after crossing into North Korea illegally from China. Analysts say high-level visits give Pyongyang a propaganda boost and a way to save face when it releases a prisoner.
Eddie Yong Su Jun was released by North Korea a month after he was detained in April 2011. His alleged crime was not provided to the media. The American delegation that secured his freedom included Robert King, the U.S. special envoy for North Korean human rights issues.
Robert Park was released by North Korea in 2010 without any apparent U.S. intervention. The Christian missionary crossed into North Korea from China, carrying a letter asking Kim Jong Il to free political prisoners and resign. North Korea's state-run news agency said Park was released after an "admission and sincere repentance of his wrongdoings." Here, Park holds a photo of Kim and a malnourished child during a protest in Seoul.
Josh Fattal, center, Sarah Shourd, left, and Shane Bauer were detained by Iran while hiking near the Iraq-Iran border in July 2009. Iran charged them with illegal entry and espionage. Shourd was released on bail for medical reasons in September 2010; she never returned to face her charges. Bauer and Fattal were convicted in August 2011, but the next month they were released on bail and had their sentences commuted.
Haleh Esfandiari, an Iranian-American scholar, was detained at Iran's Evin Prison, spending months in solitary confinement before Iran released her on bail in August 2007. Esfandiari was visiting her ailing mother in Tehran when she was arrested and charged with harming Iran's national security.
Sixteen Americans were among the dozens arrested in December 2011 when Egypt raided the offices of 10 nongovernmental organizations that it said received illegal foreign financing and were operating without a public license. Many of the employees posted bail and left the country after a travel ban was lifted a few months later. Robert Becker, right, chose to stay and stand trial.
Filmmaker Timothy Tracy was arrested in Venezuela in April 2013 on allegations of funding opponents of newly elected President Nicolas Maduro, successor to the late Hugo Chavez. Tracy went to Venezuela to make a documentary about the political division gripping the country. He was released in June 2013.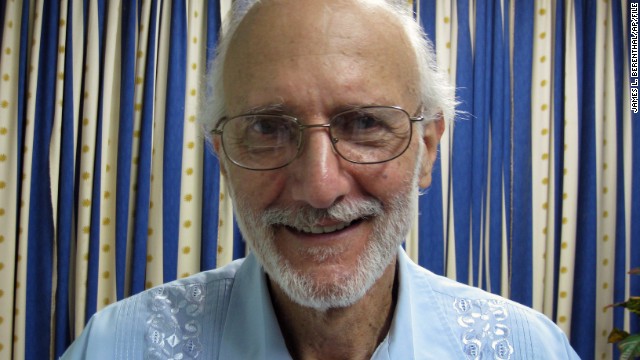 Photos: Americans detained abroad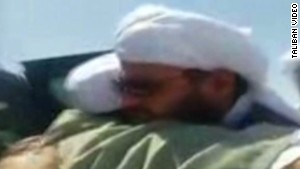 New video shows homecoming of Taliban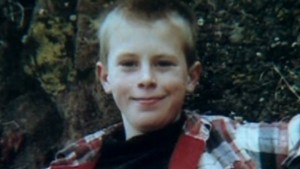 Bergdahl's unconventional childhood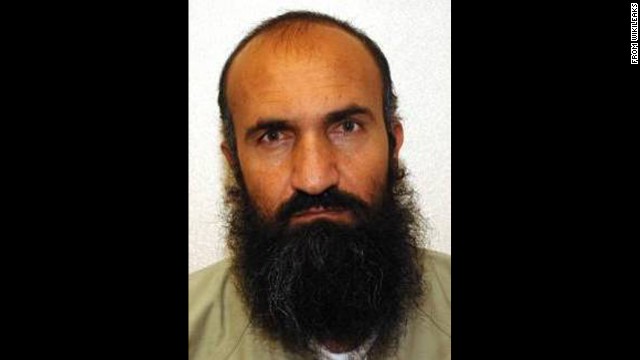 These are photos obtained by WikiLeaks that match the names of the detainees released by the Department of Defense. Their release was in exchange for the release of Army Sgt. Bowe Bergdahl who was being held by the Taliban. The Department of Defense would neither confirm nor deny their accuracy. Khair Ulla Said Wali Khairkhwa was an early member of the Taliban in 1994 and was interior minister during the Taliban's rule. He was arrested in Pakistan and was transferred to Guantanamo in May 2002. During questioning, Khairkhwa denied all knowledge of extremist activities.
Mullah Mohammad Fazl commanded the main force fighting the U.S.-backed Northern Alliance in 2001, and served as chief of army staff under the Taliban regime. Fazl was detained after surrendering to Abdul Rashid Dostam, the leader of Afghanistan's Uzbek community, in November 2001. He was transferred into U.S. custody in December 2001 and was one of the first arrivals at Guantanamo, where he was assessed as having high intelligence value.
Mullah Norullah Noori served as governor of Balkh province in the Taliban regime and played some role in coordinating the fight against the Northern Alliance. Like Fazl, Noori was detained after surrendering to Dostam, the Uzbek leader, in 2001.
Abdul Haq Wasiq was the deputy chief of the Taliban regime's intelligence service. Wasiq claimed, according to an administrative review, that he was arrested while trying to help the United States locate senior Taliban figures. He denied any links to militant groups.
Mohammad Nabi Omari was a minor Taliban official in Khost Province and was the Taliban's chief of communications and helped al Qaeda members escape from Afghanistan to Pakistan. He also said that he had worked with a U.S. operative named Mark to try to track down Taliban leader Mullah Omar.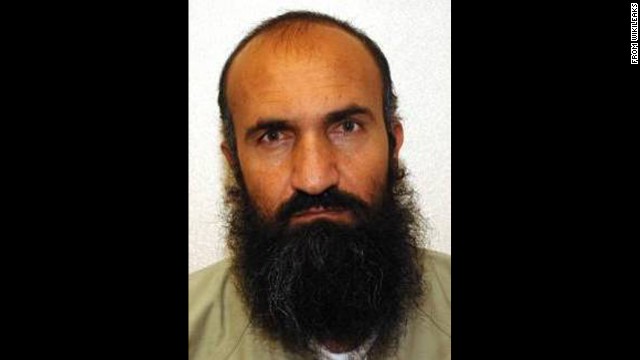 Guantanamo detainees swapped
Administration officials have given several reasons for the lack of notification -- a need to move quickly due to Bergdahl's poor health and the overall threat to his safety, and the likelihood that even a small leak of the plan would have gotten him killed.
At a classified briefing this week in defense of the decision to not notify Congress about the deal, officials made clear that Bergdahl's life was in danger if he remained in captivity and if word of the planned exchange got out.
"They had intelligence that, had even the fact of these discussions leaked out, there was a reasonable chance Bowe Bergdahl would have been killed," Sen. Angus King, an independent who caucuses with the Democratic majority, told CNN on Thursday.
No evidence for desertion
The question of what legislators should have known -- and when -- has helped propel a broader controversy over whether bringing home a soldier accused by comrades of deserting his unit was worth releasing the alleged terrorist leaders.
Under terms of the exchange, the five Taliban figures were handed over in Qatar, where the government says they will stay for at least a year and be monitored.
That fails to satisfy GOP Sen. Marco Rubio of Florida, who told Fox News on Thursday that the released Taliban figures will "rejoin the battlefield" to fight against the United States and its allies.
Kirby said Defense Secretary Chuck Hagel was satisfied with the conditions placed on the former Guantanamo detainees.
"He was comfortable with the assurances that we got from the Emir of Qatar, that this was in the national interest and the risk was substantially mitigated," Kirby said, adding: "Is it eliminated? No. It's of course not eliminated. ... But it is substantially mitigated. And while I can't go into the details of assurances that we got from the government of Qatar, again, the secretary believes that his concerns were satisfied."
Some soldiers involved in operations to find Bergdahl have said at least six soldiers were killed searching for him. But a U.S. official told CNN that Pentagon and Army officials have looked at the soldiers' claims, and "right now there is no evidence to back that up."
Bergdahl backlash surprises White House
Wanderlust and escape
A U.S. official said Bergdahl may have tried to run away two times, but the only way to know for sure would come from talking to him.
According to a Taliban source, Bergdahl's captors stopped keeping a close eye on him in 2011, and Bergdahl used the opportunity to bolt, CNN's Jake Tapper reported.
Bergdahl survived on his own for three days, according to an account in the Daily Beast. Then the Taliban found him hiding in a trench he'd dug with his bare hands.
"He fought like a boxer," the Taliban source said of Bergdahl, who was overcome and dragged back in shackles.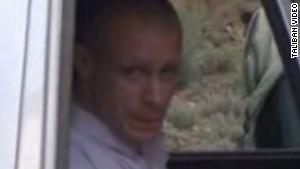 Bergdahl swap from mouth of the Taliban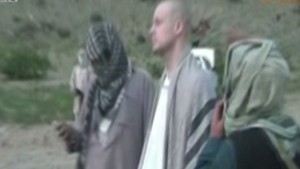 Video released of Bergdahl's transfer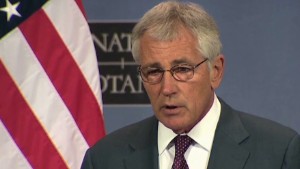 Hagel: 'Unfair' to judge Bergdahl
According to the Army investigation, Bergdahl had previously wandered off or disappeared -- once in basic training in Irwin, California, when he slipped away to watch the sun set, and again after arriving in Afghanistan, when fellow soldiers said he took a stroll outside the wired perimeter of his outpost.
Under partisan fire
Republicans who once called for the administration to work for Bergdahl's return now say the swap released some of the worst Taliban leaders being held at Guantanamo Bay.
Despite their criticism and anger from lawmakers over being left out of the loop, the White House has argued Obama had the legal authority and moral high ground to do what he did.
Originally, the administration had given lawmakers a different line of reasoning, arguing that Bergdahl's deteriorating health dictated fast, uncomplicated action.
Officials reiterated that point in this week's classified briefing. Senators were shown the so-called proof of life video of Bergdahl, which the administration has said shows the soldier in deteriorating health.
"He could barely talk. He couldn't focus his eyes," King said. Other senators who saw the video at Wednesday's classified briefing, such as Republican Tom Coburn of Oklahoma, who is a doctor, said Bergdahl looked drugged, not sick.
Bergdahl 'life' video shown, senators still skeptical
Recovery and accusations
The accusations of desertion continue to hang over Bergdahl as he recovers. He is conversing in English and has become more engaged in treatment, a Pentagon spokesman said.
Former Army Staff Sgt. Justin Gerleve, Bergdahl's former squad leader, told CNN's "The Lead With Jake Tapper" that he believes Bergdahl is at least partly to blame for the deaths of soldiers who went to find him.
"I can't really say I blame Bergdahl to fullest extent, but if he wouldn't have deserted us, these soldiers very well could have been in a different place at a different time," he said.
Gerleve also said he heard radio intercepts that an American "was running around looking for people to speak English and wanted to seek out the Taliban."
Kirby said Friday that "we do not have any indication at this time that there were specific casualties caused by his disappearance or the search for him in the aftermath," but he noted the Army's review would look into that question.
History of a deal
Consideration of a deal with the Taliban dates back several years but failed to gain traction when the possibility first emerged in 2011, according to sources.
A Defense Department official has said that Robert Gates, Obama's first defense secretary, opposed the idea back then, as did his successor, Leon Panetta, and former Secretary of State Hillary Clinton.
King noted that the Taliban figures involved in the swap may have been freed soon in any event.
They were being held in Guantanamo as enemy combatants, he said. Legally, after hostilities in Afghanistan end, they would have to be set free.
Rice has been criticized for saying on Sunday that Bergdahl served with "honor and distinction," a statement called into question by his unit colleagues who said he deserted.
"I realize there has been lots of discussion and controversy around this," Rice said. "But what I was referring to was the fact that this was a young man who volunteered to serve his country in uniform at a time of war. That, in and of itself, is a very honorable thing."
Her comments last weekend weren't the first time she prompted criticism over an appearance on one of Washington's Sunday talk shows.
In September 2012, she appeared on several programs following the attack on the American diplomatic post in Benghazi, Libya -- and asserted the incident was prompted by a spontaneous protest against an anti-Muslim video made in the United States.
The administration later acknowledged the attack was a terrorist assault on the U.S. compound.
The "Susan Rice talking points" have become a political flashpoint, spurring congressional investigations, administration explanations, and -- potentially -- a major headache for former Secretary of State Hillary Clinton if she runs for president in 2016.
Rice has said she was simply providing the best information the administration had at the time -- and on Friday, she contended that just because the information she provided that day turned out to be inaccurate doesn't mean she's willfully misleading Americans.
"I'm upfront with the American people and I always do my best on behalf of my country and I do my best to tell the facts as I know them," she said.
Bob Bergdahl's journey to save his son
The Gitmo detainees swapped for Bergdahl: Who are they?
The Bergdahl Files: A custom magazine
CNN's Jake Tapper, Dana Bash, Ben Brumfield, Matthew Chance and Martin Savidge contributed to this report.