STORY HIGHLIGHTS
NEW: Accounts from book say Clinton calls Putin "thin-skinned" and "autocratic"
Clinton raised the issue of negotiating for Bergdahl in new book, 'Hard Choices'
Decision to get Army sergeant back from Taliban captivity has generated sharp controversy
Clinton: Talking to Taliban over Bergdahl "would be hard to swallow for many Americans"
Washington (CNN) -- When she was America's top diplomat, Hillary Clinton acknowledged that negotiating with the Taliban for Bowe Bergdahl's release "would be hard to swallow for many Americans," according to a copy of her upcoming book, "Hard Choices," which was obtained by CBS News.
In other foreign policy matters, Clinton writes how she pushed for arming Syrian rebels and also highlights her differences with President Barack Obama on the high-stakes issue. She also said that she regretted her 2002 vote in support of U.S. military action in Iraq.
Also in her book, set to hit bookshelves on Tuesday, Clinton dishes on the 2008 campaign against Obama, her feelings about Sarah Palin, and her role in planning her daughter's 2010 wedding.
Clinton was skeptical of Bergdahl release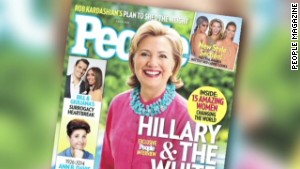 Hillary Clinton plots media blitz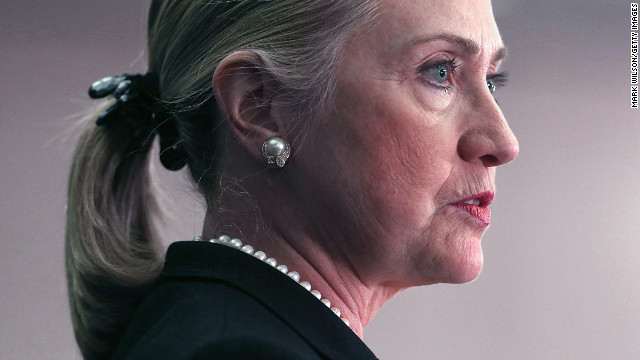 Former Secretary of State Hillary Clinton, pictured in October 2012, has become one of the most powerful people in Washington. Here's a look at her life and career through the years:
Before she married Bill Clinton, she was Hillary Rodham. Here, Rodham talks about student protests in 1969, which she supported in her commencement speech at Wellesley College in Wellesley, Massachusetts.
Rodham, center, a lawyer for the Rodino Committee, and John Doar, left, chief counsel for the committee, bring impeachment charges against President Richard Nixon in the Judiciary Committee hearing room at the U.S. Capitol in 1974.
Arkansas Gov. Bill Clinton helps first lady Rosalynn Carter on a campaign swing through Arkansas in June 1979. Also seen in the photo is Hillary Clinton, center background.
Bill Clinton embraces his wife shortly after a stage light fell near her on January 26, 1992. They talk to Don Hewitt, producer of the CBS show "60 Minutes."
With Hillary, Democratic presidential candidate Bill Clinton waves to the crowd at his victory party after winning the Illinois primary on March 17, 1992.
Al Gore, Tipper Gore, Bill Clinton and Hillary Clinton wave to supporters at the Chautauqua Institution in Chautauqua, New York, after they gave speeches on family values on August 23, 1992.
Clinton gestures at a campaign rally November 3, 1992, in Denver. After taking office, President Clinton chose his wife to head a special commission on health care reform, the most significant public policy initiative of his first year in office.
Bill and Hillary Clinton have a laugh together on Capitol Hill in 1993.
Clinton pours herself a cup of tea in 1993 while testifying to the Senate Education and Labor Committee about health care reform.
Clinton speaks at George Washington University on September 10, 1993, in Washington during her husband's first term.
Clinton waves to the media on January 26, 1996, as she arrives at federal court in Washington for an appearance before a grand jury. The first lady was subpoenaed to testify as a witness in the investigation of the Whitewater land deal in Arkansas.
Hillary Clinton looks on as President Clinton discusses the Monica Lewinsky scandal in the Roosevelt Room of the White House on January 26, 1998.
Hillary and Bill Clinton arrive at Foundry United Methodist Church on August 16, 1998, in Washington. He became the first sitting president to testify before a grand jury when he testified via satellite about the Lewinsky matter.
Clinton shakes hands during a St. Patrick's Day parade in the Sunnyside neighborhood of Queens, New York, on March 5, 2000.
Clinton waves to the crowd as she arrives on the stage at the Democratic National Convention on August 14, 2000, in Los Angeles.
Clinton campaigns for a Senate seat October 25, 2000, at Grand Central Station in New York.
Hillary Clinton is sworn in as a senator of New York in a re-enactment ceremony with, from left, President Clinton, nephew Tyler, daughter Chelsea, brother Hugh Rodham, mother Dorothy Rodham and Vice President Al Gore on January 3, 2001, in Washington.
Andrew Cuomo, Eliot Spitzer and Clinton celebrate with a crowd of Democratic supporters after their wins in various races November 7, 2006, in New York.
Clinton speaks during a post-primary rally on January 8, 2007, at Southern New Hampshire University in Manchester, New Hampshire.
The Clintons pay a visit to the 92nd annual Hopkinton State Fair in Contoocook, New Hampshire, on September 2, 2007.
Clinton speaks at a campaign rally September 2, 2007, in Portsmouth, New Hampshire. She was running for the Democratic presidential nomination.
Clinton addresses a question during a debate with other Democratic presidential candidate at Dartmouth College in Hanover, New Hampshire, on September 26, 2007. Also pictured are U.S. Rep. Dennis Kucinich of Ohio, left, and former U.S. Sen. Mike Gravel of Alaska.
Felipe Bravo, left, and Christian Caraballo are covered with Hillary Clinton stickers in downtown Manchester, New Hampshire, on January 8, 2008.
Clinton campaigns in Council Bluffs, Iowa, with her daughter, Chelsea, on January 1, 2008, two days ahead of the January 3 state caucus.
Clinton waves as she speaks to supporters at the National Building Museum on June 7, 2008, in Washington. After pulling out of the presidential race, Clinton thanked her supporters and urged them to back Barack Obama to be the next president of the United States.
Obama and Clinton talk on the plane on their way to a Unity Rally in Unity, New Hampshire, on June 27, 2008.
Obama watches Clinton address the Democratic National Convention on August 26, 2008. The two endured a long, heated contest for the 2008 nomination.
Sen. Charles Schumer, left, looks toward Secretary of State designate Clinton as Senate Foreign Relations Committee chairman Sen. John Kerry, center, looks on during nomination hearings January 13, 2009, on Capitol Hill.
Clinton testifies during her confirmation hearing for secretary of state on January 13, 2009, in Washington.
Clinton, as secretary of state, dances with a local choir while visiting the Victoria Mxenge Housing Project in Philippi, a township on the outskirts of Cape Town, South Africa, on August 8, 2009.
Clinton looks through binoculars toward North Korea during a visit to an observation post July 21, 2010, at the demilitarized zone separating the two Koreas.
Clinton walks up the steps to her aircraft as she leaves a meeting of the Association of Southeast Asian Nations on July 23, 2010, in Hanoi, Vietnam.
Hillary and Bill Clinton pose on the day of their daughter's wedding to Marc Mezvinsky on July 31, 2010, in Rhinebeck, New York.
U.S. President Barack Obama and Clinton observe a moment of silence before a NATO meeting November 19, 2010, in Lisbon, Portugal.
Clinton listens as Turkish Foreign Minister Ahmet Davutoglu makes a brief statement November 29, 2010, before a bilateral meeting at the State Department in Washington.
Clinton shakes hands with a child during an unannounced walk through Tahrir Square in Cairo on March 16, 2011.
Obama, Vice President Joe Biden, Clinton and members of Obama's national security team receive an update on the Osama bin Laden mission May 1, 2011, in the Situation Room of the White House.
Clinton checks her personal digital assistant prior to departing Malta on October 18, 2011.
Clinton dances while in Cartagena, Colombia, on April 15, 2012.
Clinton enjoys a beer at Cafe Havana in Cartagena, Colombia, on April 15, 2012.
Clinton appears with little makeup during an event in Dhaka, Bangladesh, on May 6, 2012. She tells CNN, "I feel so relieved to be at the stage I'm at in my life right now ... Because you know if I want to wear my glasses, I'm wearing my glasses. If I want to wear my hair back I'm pulling my hair back. You know at some point it's just not something that deserves a lot of time and attention."
Clinton speaks as Afghanistan President Hamid Karzai listens during a news conference at the presidential palace in Kabul, Afghanistan, on July 7, 2012.
Clinton arrives at Ben Gurion International Airport in Israel on July 15, 2012.
Clinton looks on as Obama makes a statement in response to the attack at the U.S. Consulate in Libya on September 12, 2012.
Clinton applauds Myanmar opposition leader Aung San Suu Kyi during a ceremony where Suu Kyi was presented with the Congressional Gold Medal on September 19, 2012.
Bill Clinton kisses his wife after introducing her at the Clinton Global Initiative annual meeting on September 24, 2012, in New York City.
Clinton shakes hands with Libyan President Mohamed Magariaf on September 24, 2012, in New York.
Clinton stands during a news conference following meetings at the prime minister's office in Pristina, Kosovo, on October 31, 2012. Clinton said that Kosovo's unilaterally declared independence, fiercely opposed by Serbia, was "not up for discussion."
Clinton chats with Suu Kyi before Obama speaks at the University of Yangon in Yangon, Myanmar, on November 19, 2012.
Obama looks at Clinton before the start of a bilateral meeting with Japanese Prime Minister Yoshihiko Noda, far right, during the East Asian Summit in Phnom Penh, Cambodia, on November 20, 2012.
Israeli Prime Minister Benjamin Netanyahu shakes hands with Clinton at the prime minister's office November 20, 2012, in Jerusalem.
Clinton receives a sports jersey and football helmet from Deputy Secretary Tom Nides, center, after returning to work on January 7, 2013, following a fall where she hit her head and doctors later detected a blood clot. The number 112 represented the number of countries that she had visited as secretary of state.
Clinton and her husband arrive for the inauguration for Obama's second term on January 21, 2013.
Clinton testifies before the Senate Foreign Relations Committee on Capitol Hill on January 23, 2013. Lawmakers questioned Clinton about the security failures during the Benghazi, Libya, attacks that led to the death of four Americans, including U.S. Ambassador Christopher Stevens.
From left, first lady Michelle Obama stands with former first ladies Laura Bush, Clinton, Barbara Bush and Rosalynn Carter at the opening ceremony of the George W. Bush Presidential Center in Dallas on April 25, 2013.
From left, Clinton, former first lady Laura Bush and former Presidents Bill Clinton and George W. Bush listen to speakers during the memorial service for Nelson Mandela in Soweto, South Africa, on December 10.
Clinton ducks after a woman threw a shoe at her while she was delivering remarks at the Institute of Scrap Recycling Industries conference in Las Vegas on April 10.
Clinton tours the National September 11 Memorial & Museum in New York with President Barack Obama, former New York Mayor Michael Bloomberg, first lady Michelle Obama and former President Clinton on May 15.
Clinton sits down with ABC News anchor Diane Sawyer on Thursday, June 5, for her first television interview in conjunction with the release of her new book, "Hard Choices."
Clinton makes 10-year-old Macy Friday's day as she campaigns for U.S. Sen. Mark Udall during a stop Monday, October 13, in Union Station in Denver.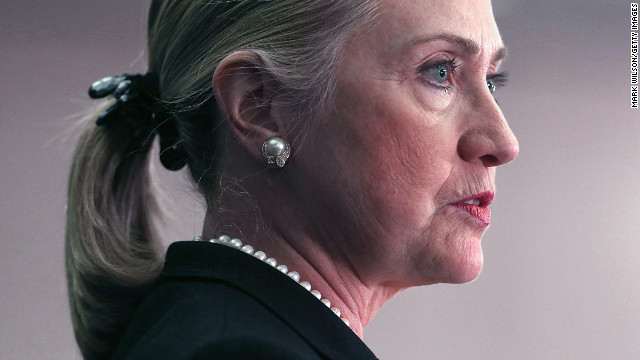 Photos: Clinton's political career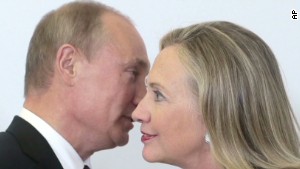 Clinton and Putin's war of words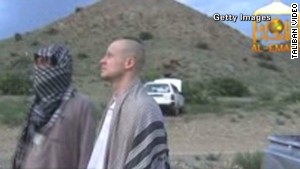 Officials: Clinton wanted tougher deal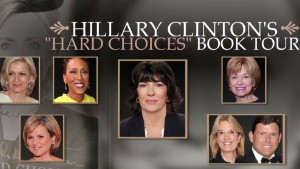 Ladies dominate Clinton media interviews
On Bergdahl, the former secretary of state writes that the Taliban's "top concern seemed to be the fate of its fighters being held at Guantanamo Bay and other prisons."
"In every discussion about prisoners, we demanded the release of Army Sergeant Bowe Bergdahl, who had been captured in 2009. There would not be any agreement about prisoners without the sergeant coming home," she writes, according to the excerpts.
"I acknowledged, as I had many times before, that opening the door to negotiations with the Taliban would be hard to swallow for many Americans after so many years of war," she added.
Former officials told CNN earlier this week that Clinton was skeptical of early plans to trade Taliban prisoners, which the Obama administration ultimately did to win Bergdahl's release last week.
A measured defense of release
On Monday, Clinton was asked whether she would have approved the same deal for five Taliban commanders who had been held at Guantanamo Bay, Cuba.
She did not directly answer the question and offered a measured defense of the Obama administration.
"We do have a tradition and I ascribe to it," Clinton said. "We try not to leave any of our soldiers on the field. We try to make sure, insofar as possible, you know, we bring them home."
Republicans have been blasting the Obama administration for the prisoner exchange, saying the President set a dangerous precedent by negotiating with terrorists.
Clinton left the State Department at the start of last year and is weighing another bid for the White House.
America's former top diplomat on world leaders
Clinton traveled to 112 countries as secretary of state, and negotiated with world leaders.
In her memoir, she describes some in unvarnished terms, according to CBS -- something she has done on her speaking tour.
Clinton writes that Chinese President Hu Jintao was like an "Aloof chairman of the board" and that German Chancellor Angela Merkel -- someone she has said she admired in the past -- was "decisive, astute, straight-forward," the CBS story said.
On Vladimir Putin, the Russian president who has long been a thorn in the side of the United States, Clinton writes that he "proved over time to be thin skinned and autocratic," according to the CBS account.
Clinton's blunt descriptions of Putin are nothing new.
Earlier this year, she compared his actions in annexing Crimea to those of Adolf Hitler during World War II. She also suggested Putin's Russia now is similar to that of former Russian "czars and their successor Communist leaders."
Putin has also responded to Clinton is less diplomatic terms.
Earlier this week, he told a French television station that the former first lady has "never been too graceful in her statements" but that "it's better not to argue with women."
'I still got it wrong' on Iraq
On the Iraq War, Clinton writes she wish she hadn't voted to authorize the use of military force in Iraq in 2002.
"As the war dragged on, with every letter I sent to a family in New York who had lost a son or daughter, a father or mother, my mistake become (sic) more painful," she writes, according to excerpts posted online by CBS.
"I thought I had acted in good faith and made the best decision I could with the information I had. And I wasn't alone in getting it wrong. But I still got it wrong. Plain and simple," she said.
It's not the first time she's expressed regret, but it's some of the strongest language she's used on the issue.
Clinton's vote became a key topic in her marathon 2008 battle with Obama for the Democratic presidential nomination.
The issue, more than the economy, dominated the early parts of the campaign, with Obama criticizing Clinton over the vote.
Clinton at first refused to term it a mistake, but later said during the campaign that she would not have voted the same way.
Obama, who was a major opponent of the war, never had to vote on whether to authorize military action against Saddam Hussein, as he was not elected to the Senate until 2004.
Clinton rarely talks about her vote on Iraq and in the last few months, as she has crisscrossed the country speaking to a wide array of audiences, she has not been asked about it.
Conflict in Syria
In the book, Clinton describes the bloody three-year long civil war in Syria as "a wicked problem."
Clinton goes on to say that's "a term used by planning experts to describe particularly complex challenges that confound standard solutions and approaches. Wicked problems rarely have a right answer; in fact, part of what makes them wicked is that every option appears worse than the next. Increasingly that's how Syria appeared."
On whether to arm the Syrian rebels, a contentious issue, Clinton writes that "I returned to Washington reasonably confident that if we decided to begin arming and training moderate Syrian rebels, we could put in place effective coordination with our regional partners."
Clinton says there was no good policy action for the United States, and she highlights were she and Obama disagreed on the conflict.
"[T]he risks of both action and inaction were high. Both choices would bring unintended consequences. The President's inclination was to stay the present course and not take the significant further step of arming rebels.
"No one likes to lose a debate, including me. But this was the President's call and I respected his deliberations and decision. From the beginning of our partnership, he had promised me that would always get a fair hearing. And I always did. In this case, my position didn't prevail," Clinton writes.
Although as Clinton backed Obama's Syria policy as secretary of state - including negotiating with the international community on the civil war and criticizing countries like Russia and China, which stood in the way of toppling Syrian President Bashar al-Assad, Clinton's writings now show the level with which she split with Obama on arming the rebels.
When asked about Syria at events during her time on the paid speaking circuit, Clinton has used identically language to describe the conflict.
At an April event in Boston, Clinton told an audience of women leaders that the conflict was a "wicked problem" that "really requires a broad base of knowledge."
"It doesn't mean you're not incensed, heartsick, angry," Clinton told the audience at Simmons College. "But then you need to stop and say 'well, what can we do about it? How can we intervene in a way that helps, not hurts?'"
Asked Obama to end the Cuba embargo
As secretray of state, Clinton recommended that Obama end the decades-long embargo on Cuba, according to book excerpts obtained by The Associated Press.
"People-to-people engagement was the best way to encourage reform in Cuba," Clinton writes, noting that those in Congress who don't want to restore diplomatic relations with the communist country have a positions that is unsustainable, the AP reported.
The embargo was put in place in 1960 by then-President John F. Kennedy. In 2011, the United Nations overwhelmingly voted for the United States to end the embargo.
A number of lawmakers in Congress -- led in part by Republican Sen. Marco Rubio of Florida -- have argued against lifting the embargo.
Obama, Sarah Palin, and Chelsea
Clinton also takes readers into her private meeting with Obama prior to the 2008 Democratic convention, which gave the former rivals an opportunity "to clear the air," Clinton writes.
"We stared at each other like two teenagers on an awkward first date, taking a few sips of Chardonnay," she writes of the meeting.
"One silver lining of defeat was that I came out of the experience realizing I no longer cared so much about what the critics said about me," she said.
Clinton also dishes on the Obama campaign's reaction to then-Alaska Gov. Sarah Palin's selection as Sen. John McCain's running mate, and why she declined to follow the Obama campaign's playbook on slamming the pick.
While the campaign issued a "dismissive statement" and urged Clinton to do the same, the then-senator from New York writes that she declined.
"I wouldn't. I was not going to attack Palin just for being a woman appealing for support from other women," Clinton writes. "I didn't think it made political sense, and it didn't feel right. So I said no."
Hitting a lighter note, Clinton's memoir also discusses the "urgent business" she had to address during her tenure as secretary of state - her daughter's wedding.
Flying back from Vietnam in the summer of 2010, Clinton had to shift her attention from rising tensions in the South China Sea to "one of the most important events of my life."
"This time it wasn't a high-level summit or a diplomatic crisis. It was my daughter's wedding, a day I had been looking forward to for thirty years," Clinton writes. "I felt lucky that my day job had prepared me for the elaborate diplomacy required to help plan a big wedding."
Clinton writes that she was happy to help in any way she could and her responsibilities ranged from "reviewing photographs of flower arrangements" and heading home for tastings and dress selections.
As for the former president?
"Bill was as emotional as I was, maybe even more so, and I was just glad he made it down the aisle in one piece," Clinton writes.
As Chelsea Clinton and her father danced to "The Way You Look Tonight," Hillary Clinton's head swirled with thoughts.
"It was one of the happiest and proudest moments of my life," Clinton writes. "Our family had been through a lot together, good times and hard times, and now here we were, celebrating the best of times."
'Hard Choices': A book rollout or a campaign tune up?
CNN's Ashley Killough, Jeremy Diamond, Dan Merica and Paul Steinhauser contributed to this story.