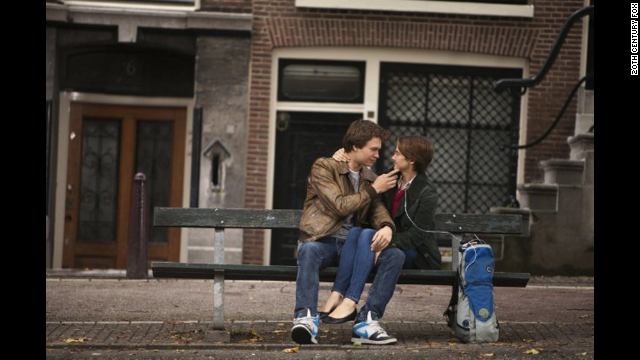 2014 is full of film adaptations of classic and beloved books, like
"The Fault in Our Stars,"
which arrives June 6.
Shailene Woodley and Ansel Elgort star in this adaptation of John Green's best-selling young adult novel, about two cancer patients who fall in love. Although the film has a romantic center, this tale has a decidedly un-saccharine edge. Click through to see what other books are arriving as movies in theaters this year.
"A Long Way Down" (June 5 online; July 11 in select theaters): Nick Hornby's darkly comic novel is brought to life by Aaron Paul, Imogen Poots, Rosamund Pike, Pierce Brosnan and Toni Collette. The story follows four people who all choose to end their life on the same night and find each other at the top of a London building.
"The Hundred-Foot Journey" (August 8): Helen Mirren stars as eccentric French chef Madame Mallory, who competes with an Indian family that opens a restaurant close by. Oprah Winfrey produces.
"The Giver" (August 15): This story shows us what it's like in a dystopian future with no pain and no color. The movie stars Jeff Bridges, Meryl Streep, Alexander Skarsgard and even Taylor Swift.
"If I Stay" (August 22): Chloe Grace Moretz and Jamie Blackley star in this adaptation of Gayle Forman's novel. Moretz plays Mia, a talented musician who finds herself struggling with the choice of life or death after a tragic accident.
"Dark Places" (September 1): Two of Author Gillian Flynn's books are being turned into movies this year. The first, "Dark Places," stars Charlize Theron and is based on Flynn's novel about a woman who survives the murder of her family when she was a child.
"This is Where I Leave You" (September 12): This ensemble featuring Jason Bateman, Tina Fey, Rose Byrne and Adam Driver tells of four combative siblings who reunite to fulfill their father's dying wish. Expect this group to bring the black comedy.
"The Maze Runner" (September 19): Another dystopian young adult novel that has been compared to "The Hunger Games," "The Maze Runner" stars mostly unknown actors grappling with what they are doing in a giant labyrinth and trying to escape its clutches.
"The Boxtrolls" (September 26): The creative team behind "Coraline" and "ParaNorman" have adapted Alan Snow's colorful children's book "Here Be Monsters!" for the big screen.
"Gone Girl" (October 3): This highly anticipated adaptation of Gillian Flynn's novel stars Ben Affleck and Rosamund Pike as troubled couple Nick and Amy Dunne. Their problems escalate when Amy disappears and Nick is the prime suspect. The book has a surprising ending; the film may not.
"Alexander and the Terrible, Horrible, No Good, Very Bad Day" (October 10): The screen adaptation of the 1972 book stars Steve Carell and Jennifer Garner as the parents of 11-year-old Alexander. You may have figured out by the title that things aren't going so well for him, but that doesn't stop the laughs from coming.
"The Hunger Games: Mockingjay -- Part 1": (November 21) The Big Kahuna. The penultimate installment of the epic "Hunger Games" franchise. The first half of the conclusion to the series finds Katniss Everdeen (Jennifer Lawrence) reeling from the events at the Quarter Quell and out for revenge. Get 'em, girl!
"Wild" (December 5): Writer Cheryl Strayed's harrowing physical and emotional journey on the Pacific Crest Trail is captured through a performance from Reese Witherspoon.
"Unbroken" (December 25): Angelina Jolie directs this adaptation of Laura Hillenbrand's best-seller "Unbroken," which tells the powerful story of WWII POW Louis Zamperini. The Coen brothers wrote the screenplay.
From book to big screen: 14 movies to watch for
From book to big screen
From book to big screen
From book to big screen
From book to big screen
From book to big screen
From book to big screen
From book to big screen
From book to big screen
From book to big screen
From book to big screen
From book to big screen
From book to big screen
From book to big screen
STORY HIGHLIGHTS
Shailene Woodley wanted to see "Fault In Our Stars" made into a movie
She wants to change what a female lead can look like
She believes the movie will "change the lives of millions of people"
(CNN) -- Shailene Woodley isn't just the lead actress in "The Fault In Our Stars." She's one of the book's original fans.
Long before she landed the role of Hazel Grace, a bright 16-year-old facing cancer, she sent the novel's author, John Green, an impassioned, lengthy e-mail rallying for "The Fault In Our Stars" to become a movie.
"I didn't say I needed to be Hazel," Woodley said at the movie's New York premiere on June 2. "I said I needed this movie to get made. Because I knew that it would change the lives of millions of people."
If the movie version of "The Fault In Our Stars" is anything like the book, Woodley will soon be proven right. The adaptation, now in theaters, is faithful to its beloved source material, which chronicles the romance between two cancer patients with humor, intelligence and honesty. Author Green had already amassed a fan base when "The Fault In Our Stars" was released as a novel in January 2012, one devoted enough to earn him the title of "The Teen Whisperer."
But "The Fault In Our Stars" has stretched far beyond its intended young adult demographic, selling millions of copies and sticking to The New York Times Young Adult best-seller list for 78 weeks.
Young adult books and sex: What we learned under the covers
Time magazine didn't name it "The Best YA Novel of 2012"; it recognized it as the year's best book, period, the kind of endorsement Woodley could get behind.
The 22-year-old actress, who is developing a reputation for pushing back against Hollywood's rules, recently explained to New York Magazine the impact she thinks "Fault In Our Stars" could have.
"In 'Fault,' I am trying to rewrite what a female lead can look like," Woodley said. "You've never seen a woman on the poster for a movie with a cannula in her nose."
Although Woodley said she wasn't gunning for the role of Hazel when she wrote Green, the author remembers that exchange a bit differently.
"The letter was extremely long, like 40 pages long, and ... I didn't technically know who Shailene Woodley was," he said. "So I just responded like, 'That's such a lovely e-mail! Thank you so much! But I am not a casting director.' And then when I saw her audition, of course I was horrified that I had not written her back and said, like, 'Please! Please! Be in our movie!'"
Of course it's unlikely that Green, who calls Woodley "a gift" to the film, would have had to beg. Woodley, who's gone from ABC Family's "The Secret Life of the American Teenager" to high-profile projects like "The Descendants" and "Divergent" in the blink of an eye, was game for the role, chopping off her long hair to accommodate the part.
In the process, she gained something as well: "a deeper sense of gratitude" for life.
"On this beautiful day, there's kids at home in bed hooked up to chemo machines," Woodley reflected at the movie's June 2 premiere. "There's no way to justify it. So, really, it taught me a deeper sense of gratitude and a deeper sense of appreciation for these small palpable moments, because they're the only thing that we're guaranteed."
CNN's Joan Yeam contributed to this report.