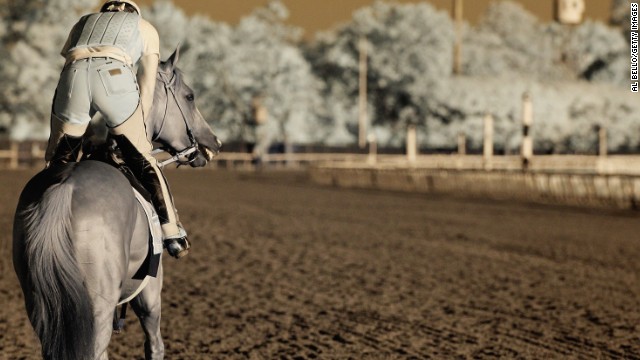 Everybody is talking about California Chrome, pictured here using an infrared camera as he prepares to make history in New York.
The three-year-old is bidding to become the first horse since 1978 to win the prestigious Triple Crown.
Here California Chrome waits for a bath after jogging on the main track ahead of this weekend's final leg of the treble, the Belmont Stakes.
The last horse to achieve the feat was Affirmed, ridden to the trio of victories by Steve Cauthen 36 years ago.
Belmont Park is known as "The Big Sandy" due to its sandy dirt terrain, highlighted by this infrared filter.
An exercise rider trains a horse at Belmont Park, where 100,000 fans will be expected for the big race.
California Chrome, seen here with exercise rider Willie Delgado in his barn after training at Belmont, has been dubbed a horse racing "rock star."
California Chrome's jockey Victor Espinoza had the chance of a Triple Crown in 2002 with War Emblem but fell short. He says he never dreamed of getting a second shot at the treble.
Having won the Kentucky and Preakness races, War Emblem stumbled out of the stalls at the Belmont Stakes, and Espinoza did well not to be unsaddled as a result.
California Chrome's bid for the triple began with victory at the Kentucky Derby five weeks ago.
And leg two was ticked off at the Preakness Stakes, making the triple a distinct possibility this Saturday at Belmont Park.
California Chrome will face 10 rivals at Belmont Park, including Kentucky Derby runner-up Commanding Curve and Ride on Curlin, second at the Preakness Stakes.
Triple Crown quest
Triple Crown quest
Triple Crown quest
Triple Crown quest
Triple Crown quest
Triple Crown quest
Triple Crown quest
Triple Crown quest
Triple Crown quest
Triple Crown quest
Triple Crown quest
Triple Crown quest
STORY HIGHLIGHTS
California Chrome is bidding to become the first horse in 36 years to win the Triple Crown
Only 11 horses in history have done it and five have come up short in the last 12 years
Victor Espinoza is on board California Chrome and explains how a previous 2002 bid failed
Achieving the feat is likened to winning all four tennis grand slams in a solitary season
Follow us at @WorldSportCNN and like us on Facebook
(CNN) -- More people have walked on the moon than have won the fabled Triple Crown of U.S. horse racing. But the scores could soon be level.
The last lunar landing was in 1972, and it is 36 years since teenager Steve Cauthen became just the 11th jockey to complete the triumvirate of American Classics, on board Affirmed.
On Saturday, California Chrome will attempt put his name in the record books at the Belmont Stakes amid a "will he, won't he" debate that's gripped the U.S. in recent weeks.
"There's the time factor, so many big races in so little time," the horse's jockey Victor Espinoza told CNN.
"Very few horses go in all three races and there are a lot of good horses in the field on Saturday that will be fresher. That's why it's so, so tough."
It might be a tough ask, but California Chrome is the evens favorite for victory in front of an expected crowd of 100,000 people over a mile and a half, seeking to add to his victories in the Kentucky Derby and Preakness Stakes.
The Triple Crown races take place over the space of just five weeks in an era when thoroughbreds tend to run no more than once a month.
After his Preakness success, California Chrome became front page news after New York racing officials decided to allow the three-year-old to wear a breathing strip at Belmont Park.
His owners might not have allowed him to race without a strip, which the manufacturer says allows horses to breathe more freely and reduces the risk of bleeding in the lungs during heavy exertion.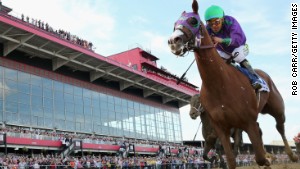 Chrome: 'He looks really great right now'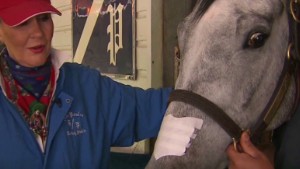 Do nasal strips for horses really work?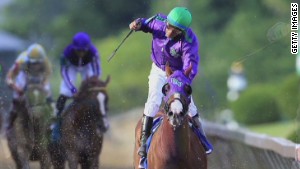 California Chrome wins the Preakness
California Chrome has worn the strips during his last six wins.
"We've grown to train horses to run less frequently," says Dr. Larry Bramlage, a leading equine vet in the U.S. who will also cover the Belmont Stakes as a television pundit.
"It's not so much these three races in five weeks but the series of races. You need a certain number of points to qualify for the Kentucky Derby, so that means it's a sequence of six or seven races for California Chrome.
"It's like Olympic athletes -- you can't peak all season, though it's doable."
History supports Bramlage's argument. Five horses have had the opportunity to complete the treble in the past 12 years, and all have come up short.
Mexican jockey Espinoza, who is unbeaten on board California Chrome, was one of those five.
In 2002, he was riding War Emblem only for his mount to stumble out of the stalls, virtually unseating Espinoza and effectively eradicating his race chances before the Belmont Stakes -- known as "the test of a champion" -- had barely begun.
"Things have to be perfect or very nearly perfect for it to happen," says Espinoza, who this week has pitched at the Yankees Stadium, rang the bell at the New York Stock Exchange and appeared on the David Letterman Show as the interest California Chrome's feats has spiraled.
"There are so many things against you. It's a different distance to the previous two races -- a mile and a half -- but he's run that, and it's a different surface."
Like in the Derby and the Preakness, the surface is dirt but Belmont Park is known as "The Big Sandy" -- a nod to its sandier terrain, necessitated by the region's combination of greater rainfall and higher humidity.
But the distance and surface are not the only obstacles in the way of the trifecta wannabe.
The dangers in the field lie with: Tonalist, winner of the Peter Pan Stakes -- effectively the Belmont trial; Preakness runner-up Ride on Curlin; and Commanding Curve, apparently refreshed after his last race, finishing second in the Kentucky Derby.
"I spoke to a vet that takes care of California Chrome and he said he couldn't have a better personality for what he's trying to do," says Bramlage.
"He's just like a kid at a carnival. Physically he's in great shape. If he does his best performance, I don't think there's a horse that can go with him in the race.
"I feel good about it. I think he'll do it."
Espinoza can vividly remember his first triple attempt in 2002, the buildup -- "which was no way as crazy as this time" -- and the butterflies in his stomach as he entered the stalls.
"For me, 2002 is still a tough one," he says. "I never thought I'd get a second chance and I'm very lucky to get one.
"He slipped and it was so sharp my reaction was just to avoid hitting the ground. Right then, the chance was gone and the race was only just beginning.
"But that's the Triple Crown. Over three races so many different things can happen. That was unlucky and you need luck."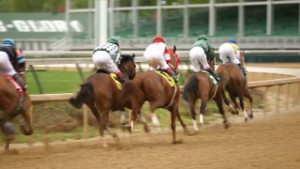 The 'fastest two minutes in sports'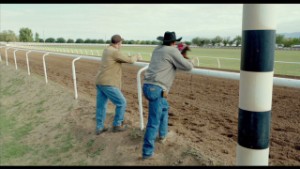 Derby winner celebrated in movie
The 11th of 12 children, Espinoza had an occasionally tumultuous upbringing, moving to the sprawling, often unsafe metropolis of Mexico City when he was eight.
"We had fun as children but Mexico City was crazy and dangerous," he recalls. "I know that every day somebody got shot, people that I know as well.
"But nothing ever happened to my family. Maybe we were just very lucky. I don't know."
California Chrome has gripped American hearts, effectively bought and bred for $10,000 by two owner novices, trained by a septuagenarian and ridden by a jockey who thought his best days had gone.
"California Chrome has a great chance -- he's improved a lot with each race," says Espinoza.
"War Emblem had to run from the front -- that was his way. But this one's different -- he wins from everywhere."
At the Kentucky Derby, Espinoza chose to slot him into third position, only moving into the lead on the final turn before pulling out a five-length victory.
At the earlier Santa Anita Derby, he found himself boxed in by two horses but broke clear once again for the win.
One factor against Espinoza in 2002, and again this year, is his record at Belmont. He has won just two of his 69 races there.
"That's because most rides there are for me trying out other horses with the focus on one big race," the 42-year-old says.
"I don't care if I lose every race as long as I win this one."
Kentucky is the heartland of American thoroughbred racing -- 65% of its grade one winners come from there -- but Espinoza will have support from the Bluegrass State despite Chrome's West Coast roots.
"That doesn't matter," says Rogers Beazley, director of racing at Kentucky-based race track and auction house Keeneland.
"We're all pulling for him. You want it to happen -- it's such a great story."
However, he draws the line at saying he will back him -- "I don't want to jinx him" -- and admits a victory is by no means assured.
"It's an incredibly hard thing to do," he added. "It's not a natural progression. You race over a mile and a quarter, a mile and three-16ths and then a mile and a half.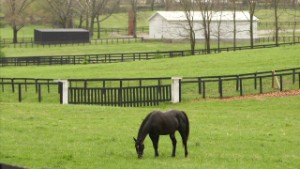 Racing at the 'horse capital of the world'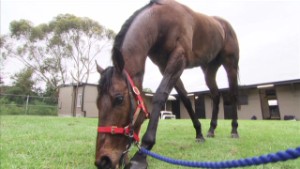 Rags to riches horse stuns racing world
"The timing of it all is incredibly tough too. It takes a really good horse to do it.
"You also have to be incredibly lucky. Horses peak at different times, you can lose a shoe -- there are so many different things.
"It's so hard and that's why so few people have done it. Also the caliber of the lineup is right up there."
Should California Chrome enter the home stretch in front, victory is by no means assured.
The run-in at Belmont Park is infinitely longer than at most tracks and Espinoza, well versed to the track, knows he will need to bide his time.
In that quest, he has tried to unpick the events of 12 years ago to see what he can do differently.
It has resulted more in him focusing on staying relaxed, most notably by watching Disney cartoons.
"They're fun and they just take you away from everything, it works for me," he says.
Whether that's the answer to winning the Triple Crown, he has no idea.
"Ask me again on Saturday. Hopefully I'll be able to tell you."
Read: Meet California Chrome - the horse racing rock star
Read: California Chrome can use nasal strip at Belmont Stakes
Read: Skechers sponsors California Chrome