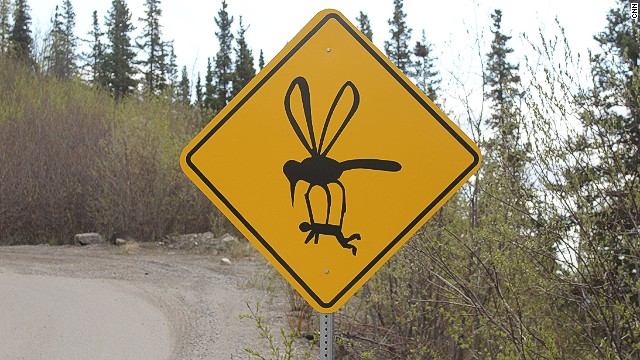 Humorous signage along steep, winding Grande Drive in Denali, Alaska, is meant to get a laugh out of drivers. And keep them focused on the cliff-laden road. Massive mosquitoes are a (normally) not-so-funny feature of the Alaskan wilderness.
A warning about tropical hazards is the first sign that makes drivers heading up the hill think, "Huh?"
Grande Drive is a single road leading to the top of Sugarloaf Mountain. There are no intersecting roads.
Locals like to say, "They spent a million dollars building the road -- too bad they didn't spend another million to finish it." Those numbers are close to accurate. Estimates for paving the approximately mile-long dirt road come in at about $1 million.
It's doubtful that revenue from speeding tickets will pay for a planned paving project. But drivers should be careful, anyway.
Moose and deer reportedly kill more people in North America than any other mammals, or at least they do when you total up drivers and passengers involved in animal collisions. Moose accidents, though less common than deer-related crashes, are the most likely to result in serious driving injuries or fatalities.
Grande Drive leads up Sugarloaf Mountain, which tops out at 4,784 feet (1,458 meters).
Beyond the funny signs, there's plenty more competition for drivers' attention along the narrow, scenic road.
Given the Alaskan interior's notoriously rough roads, this one might not be as ridiculous as it appears.
At the top of the road, visitors can take in monster views across the Nenana River toward the entrance of Denali National Park and Preserve.
Construction on the road began in 2000. At the end of the drive, the Grande Denali Lodge, which maintains and owns a lease on the road, commands views of the broad valley below.
Grande Drive in Denali, Alaska
First sign something is afoot
"OK, turn left at ... ?"
Million dollar dirt road
Speed limit, or crawl limit?
Funny sign, serious message
No car-aircraft collisions yet
More than signs to look at
Wishful thinking? Maybe not
Payoff
High and mighty
STORY HIGHLIGHTS
Drivers ascending Grande Drive in Denali, Alaska, are kept entertained by a succession of unexpected signs
Sings warn of falling coconuts and killer moose. One is more likely than the other
The near mile-long dirt road up Sugarloaf Mountain cost about $1 million to build
(CNN) -- Although residents often like to joke that it is, the mosquito isn't actually Alaska's official state bird. (That'd be the willow ptarmigan.)
You also won't see many coconut trees growing in the far north.
Judging by signage along Grande Drive in Denali, Alaska, however, you might not necessarily know those things.
Appearing along the steep, winding ascent to the top of Sugarloaf Mountain, road signs depicting giant mosquitoes carrying off human prey and warning of falling coconuts are clearly meant to get a laugh out of drivers.
Just less than a mile long and costing about $1 million to build, the mostly dirt road (some sharp corners are paved) leads to the Grande Denali Lodge.
Construction on the road began in 2000; the hotel opened in 2002.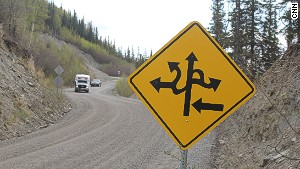 There are exactly zero turns to be made along remote Grande Drive.
Installed in stages over the past four or five years, according to Grande Denali Lodge general manager Joe Merrill, the signs were the brainchild of Dennis Brandon, a marketing consultant for the hotel who has a long history in the hospitality industry in Alaska.
"The collection has been added to each year," says Merrill. "The ideas (for the signs) now come out of different peoples' minds."
MORE: 10 of the world's best drives
Tiny town, big mountains
More a small collection of businesses than a town, the bulk of Denali (also unofficially referred to as "The Canyon" and Glitter Gulch) is located less than two miles from the entrance to Denali National Park and Preserve.
The park is home to some of the greatest wildlife viewing opportunities in the world -- grizzly bear, moose, Dall sheep, caribou, 35 other species of mammals and 169 species of birds are often visible from the park's single road in spring, summer and fall.
The park's centerpiece is Mount McKinley (also called "Denali"), North America's highest peak at 20,237 feet (6,168 meters).
The village of Denali has only about 160 year-round residents.
Those numbers swell during the summer season when area hotels, restaurants and shops reopen with the spring thaw and start of the tourist season.
Located at the top of Grande Drive, Grande Denali Lodge is one of the area's largest hotels.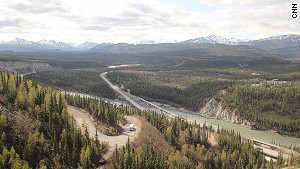 The drive to the top is less than a mile, but it seems much longer. The views make it worth the effort.
It's Alpenglow Restaurant and Lounge has an outdoor deck from which visitors can take in monster views facing southward toward the park entrance.
As for the broader purpose of the signs, Merrill suggests it's about more than just laughs.
"I guess they're also a way to take peoples' attention away from the side of the road with the cliffs," he says.
"I'm pretty sure we're not done with the signs. Stay tuned to see what our warped minds come up with next."
MORE: Alaska in winter: Amazing photos