STORY HIGHLIGHTS
One official puts the number of women kidnapped at 40
The abduction takes place in broad daylight by suspected militants from Boko Haram
The group is behind the April kidnapping of more than 200 schoolgirls
Saturday's kidnapping happens 8 kilometers from where the schoolgirls were taken
Many stories involving horrific violence against women have been making headlines recently. CNN TV will be broadcasting live from The International Campaign to Stop Rape and Gender Violence in Conflict Summit in London on Tuesday at 1930 CET, and taking a closer look at stories involving sexual violence against women in Egypt, Nigeria, India and the Democratic Republic of Congo.
Kano, Nigeria (CNN) -- Suspected Boko Haram militants kidnapped at least 20 young women over the weekend in northeastern Nigeria, 8 kilometers from a town where more than 200 schoolgirls were taken nearly two months ago, local officials said Monday.
The incident in the village of Garkin Fulani is the latest in a series of abductions for ransom in the area, according to an official with the Miyetti Allah Cattle Breeders Association of Nigeria, the umbrella union of all nomadic Fulani in the country.
The MACBAN official, who is in Garkin Fulani, put the number of women kidnapped at as many as 40.
The suspected militants came into the village in broad daylight on Saturday, heavily armed and wearing military uniforms.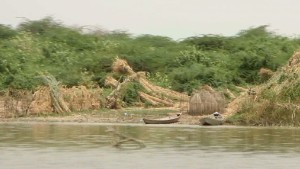 Hunt for Boko Haram focuses on Lake Chad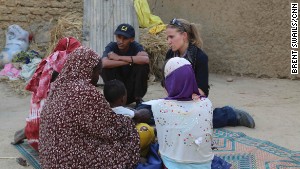 Orphaned by Boko Haram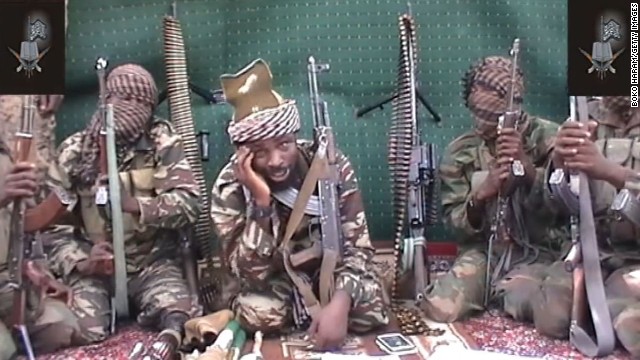 A video of Abubakar Shekau, who claims to be the leader of the Nigerian Islamist extremist group Boko Haram, is shown on September 25, 2013. Boko Haram is an Islamist militant group waging a campaign of violence in northern Nigeria. The group's ambitions range from the stricter enforcement of Sharia law to the total destruction of the Nigerian state and its government. Click through to see recent bloody incidents in this strife-torn West African nation:
Bodies lie in the streets in Maiduguri after religious clashes in northern Nigeria, on July 31, 2009. Boko Haram exploded onto the national scene in 2009 when 700 people were killed in widespread clashes across the north between the group and the Nigerian military.
An unidentified official displays burned equipment inside a prison in Bauchi on September 9, 2010, after the prison was attacked by suspected members of Boko Haram on September 7. About 720 inmates escaped during the prison break, and police suspect the prison was attacked because it was holding 80 members of the sect.
Nigerian President Goodluck Jonathan, second from left, stands on the back of a vehicle after being sworn-in as President during a ceremony in the capital of Abuja on May 29, 2011. In December 2011, Jonathan declared a state of emergency in parts of the country afflicted by violence from the militant Islamist group.
Rescue workers evacuate a wounded person from a U.N. building in Abuja on August 26, 2011. The building was rocked by a bomb that killed at least 23 people, leaving others trapped and causing heavy damage. Boko Haram had claimed responsibility for the attack in which a Honda packed with explosives rammed into the U.N. building, shattering windows and setting the place afire.
A photo taken on November 6, 2011, shows state police headquarters burned by a series of bomb and gun attacks that targeted police stations, mosques and churches in Damaturu on November 4, 2011. Attackers left scores injured -- probably more than 100 -- in a three-hour rampage in the Yobe state city of Damaturu. Sixty-three people died.
Men look at the wreckage of a car after a bomb blast at St. Theresa Catholic Church outside Abuja on December 25, 2011. A string of bombs struck churches in five Nigerian cities, leaving dozens dead and wounded on the Christmas holiday, authorities and witnesses said. Boko Haram's targets included police outposts and churches as well as places associated with "Western influence."
A paramedic helps a young man injured during one of the multiple explosions and shooting attacks as he leaves a hospital in the northern city of Kano on January 21, 2012. A spate of bombings and shootings left more than 200 people dead in Nigeria's second-largest city. Three days later, a joint military task force in Nigeria arrested 158 suspected members of Boko Haram.
A photo taken on June 18, 2012, shows a car vandalized after three church bombings and retaliatory attacks in northern Nigeria killed at least 50 people on June 17 and injured more than 130 others, the Nigerian Red Cross Society said.
A French family kidnapped on February 19, 2013, in northern Cameroon is released after two months in captivity in Nigeria. The family of four children, their parents and an uncle were kidnapped in Waza National Park in northern Cameroon, situated near the border with Nigeria. One of the captive men read a statement demanding that Nigeria and Cameroon free jailed members of Boko Haram.
A soldier stands in front of a damaged wall and the body of a prison officer killed during an attack on a prison in the northeastern town of Bama on May 7, 2013. Two soldiers were killed during coordinated attacks on multiple targets. Nigeria's military says more than 100 Boko Haram militants carried out the attack.
A deserted student hostel on August 6, 2013, is shown after gunmen stormed a school in Yobe state, killing 20 students and a teacher, state media reported on July 6, 2013. Boko Haram regularly carries out attacks in Yobe, in Nigeria's northeast.
A photograph made available by the Nigerian army on August 13, 2013, shows improvised explosive devices, bomb making materials and detonators seized from a Boko Haram hideout. Gunmen attacked a mosque in Nigeria with automatic weapons on August 11, 2013, killing at least 44 people.
Nigerian students from Jos Polytechnic walk on campus in Jos, Nigeria, on September 30, 2013. Under the cover of darkness, gunmen approached a college dormitory in a rural Nigerian town and opened fire on students who were sleeping. At least 40 students died, according to the News Agency of Nigeria.
Soldiers stand outside the 79 Composite Group Air Force base that was attacked earlier in Maiduguri on December 2, 2013. Hundreds of Boko Haram militants attacked an Air Force base and a military checkpoint, according to government officials.
Former hostage and French Catholic Priest Georges Vandenbeusch speaks to reporters outside Paris, France, on January 1, after his release. Vandenbeusch was snatched from his parish church in Cameroon on November 13, 2013. Boko Haram claimed responsibility for kidnapping the priest.
A man receives treatment at Konduga specialist hospital after a gruesome attack on January 26. It's suspected that Boko Haram militants opened fire on a village market and torched homes in the village of Kawuri in Borno state, killing at least 45 people.
Police officers stand guard in front of the burned remains of homes and businesses in the village of Konduga, in northeastern Nigeria, on February 12. Suspected Boko Haram militants torched houses in the village, killing at least 23 people, according to the governor of Borno state on February 11.
Ibrahim Gaidam, governor of Yobe state, left, looks at the bodies of students inside an ambulance outside a mosque in Damaturu. At least 29 students died in an attack on a federal college in Buni Yadi, near the the capital of Yobe state, Nigeria's military said on February 26. Authorities suspect Boko Haram carried out the assault in which several buildings were also torched. In April as many as 200 girls were abducted from their boarding school in northeastern Nigeria by heavily armed Boko Haram Islamists who arrived in trucks, vans and buses, officials and witnesses said. The group has recently stepped up attacks in the region, and its leader released a video last month threatening to kidnap girls from schools.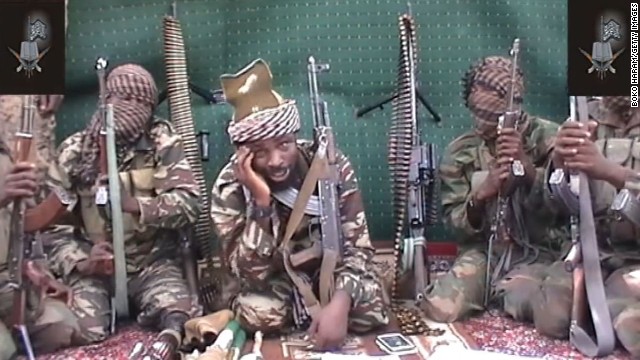 Boko Haram: Nigeria's crisis
"(They) took away 40 women, all of them young mothers," said the official, who asked not to be named for safety reasons.
A Borno state official confirmed the abduction but said only 20 women were abducted.
"We are working to establish the circumstances surrounding the abduction," the government official said on condition of anonymity because he is not authorized to speak about the incident.
Alhaji Tar, a member of the Vigilante Group of Nigeria, a loosely formed civilian force tasked with providing security, also put the number at 20, along with three young men who were left to look after the village while the other men took their cattle to graze in the bush.
The location of the women is still unknown and the kidnappers have not made contact with their families, Tar said.
"This is not the first time women are being kidnapped in this area. It has happened several times," said the MACBAN official. "They come and herd young women into their vehicles and will only release them when 30 to 40 herds of cattle are paid as ransom."
The fear of deadly reprisals prevents the nomads from seeking military assistance, he said.
The terror group Boko Haram abducted an estimated 276 girls on April 14 from a boarding school in Chibok. Dozens escaped, but more than 200 girls are still missing. The kidnapping drew widespread international condemnation.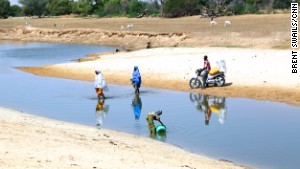 River between life and death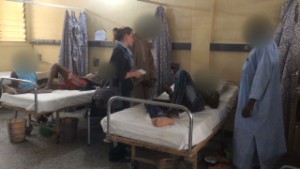 Boko Haram victim: I was left to die
Nigerians and others have accused the government of not acting swiftly or efficiently enough to protect the girls seized in the dead of night.
Mike Omeri, the coordinator of the National Information Centre in charge of counterterrorism, was unaware of the latest reported kidnapping.
"We have not received any information on the kidnap of any Fulani women," Omeri said.
Omeri did, however, note a Nigerian military operation over the weekend that killed 50 suspected Boko Haram militants in Bita village, near Garkin Fulani.
The soldiers recovered 30 Kalashnikovs, 36 grenades, 11 rocket-propelled grenades and seven automatic rifles, Omeri said.
The Ministry of Defense also confirmed the operation.
Boko Haram translates as "Western education is a sin" in the Hausa language. The militant group says its aim is to impose a stricter enforcement of Sharia law across Nigeria, Africa's most populous nation, which is split between a majority Muslim north and a mostly Christian south.
Last week, hundreds of people were killed in raids by suspected Boko Haram militants in Borno state. Local officials estimated between 400 and 500 villagers killed.
If the death toll is confirmed, it will be the worst attack by Boko Haram in its five-year insurgency that has killed thousands, mostly in the northeast.
READ: Nigeria backtracks on ban on protests for kidnapped girls in capital
READ: Fast Facts: What is Boko Haram?
READ: CNN exclusive: Nigerian girl who escaped Boko Haram says she still feels afraid