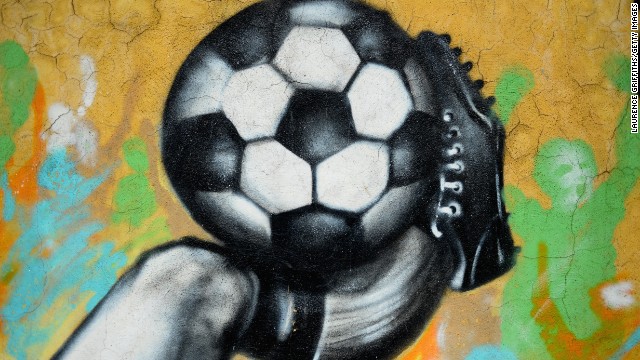 The World Cup is a perfect opportunity for advertising executives to get their creative heads in gear. But who has come up with the best ad?
Luis Suarez is one of the players featured in Adidas' advert. As well as sponsoring players and kits for teams, Adidas has been the World Cup's official ball sponsor since 1970.
BBC presenter Gary Lineker played in the 1986 and 1990 World Cups for England and features in the broadcaster's short film to promote its Brazil 2014 coverage.
Whatever you do don't mention the 1950 World Cup to Brazil. It's a defeat that still haunts the 2014 hosts as Puma are keen to point out.
Marouane Fellaini's afro plays a key role in the ING Belgium advert.
Guess who plays a leading part in Nike's World Cup advert?
McDonald's campaign features people from all walks of life showcasing their football skills.
The ad for "Beats by Dre" has won plenty of praise.
Spain are world champions and Movistar's World Cup advert shows a winning touch.
Banco de Chile's advert mines a rich seam in linking the survival of over 30 miners in the 2010 mining disaster with the Chilean national team's World Cup dreams.
Mad Men and the World Cup
Mad Men and the World Cup
Mad Men and the World Cup
Mad Men and the World Cup
Mad Men and the World Cup
Mad Men and the World Cup
Mad Men and the World Cup
Mad Men and the World Cup
Mad Men and the World Cup
Mad Men and the World Cup
STORY HIGHLIGHTS
Television screens filled with World Cup adverts
Advertisers keen to cash in given football is world's most popular sport
Marketing battle played out across digital as well as television
Join the World Cup conversation at CNN Facebook Pulse
(CNN) -- You might have heard the World Cup is about to start.
Turn on any television set in any country and it won't be long before you're being bombarded by a relentless stream of World Cup adverts as manufacturers seek to cash in on football's greatest sporting event, which is held every four years.
"There seems to be a new one every day, it's relentless," M&C Saatchi Sport & Entertainment CEO Steve Martin told CNN, reflecting on the advertising drive.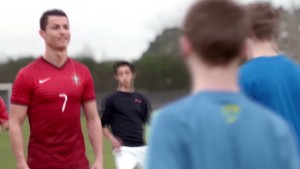 Advertisers go all out for the World Cup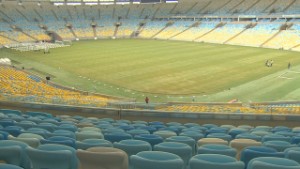 Is Brazil ready for the 2014 World Cup?
"It seems every time you turn on the TV there's a World Cup advert," added Martin. "It's called the World Cup for a reason and it tends to cut across all countries and all markets.
"The danger for a lot of brands jumping on the bandwagon is they're not part of it, but I think there's a very savvy audience now that knows who's jumping on the bandwagon and who isn't."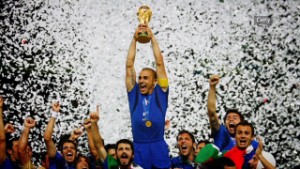 Cannavaro: Italy's World Cup hero
Here is CNN's guide to 10 World Cup-related adverts.
10. Adidas' $84 million advert replicates a Hollywood movie trailer with the likes of Argentina's Lionel Messi and Uruguay's Luis Suarez filmed in a range of locations from the Copacabana beach to a German forest.
Messi and co. are depicted preparing for the World Cup, before they eventually arrive in Brazil and take to the field for a game of football.
"I don't think the bigger companies (like Adidas) shy away from making more touching adverts (than just a game of football), but I just think because they are pure football brands, pure sports brands, they have to take an approach that falls in line with that, while doing so in an entertaining way," said Martin.
9. British broadcaster BBC's inspiration derives from Toy Story, with its short film showing four football figures -- one voiced by England great Gary Lineker -- escaping from a toy box and attempting to reach the World Cup in Brazil.
Divided into separate installments, the ad attempts to reawaken that little child in all of us that struggles to sleep at night due to the sheer anticipation and excitement as the greatest show on earth edges ever closer.
"There's nothing bigger than the World Cup, it transcends everything and all audiences," Martin says. "I think it's an opportunity for brands to be part of that conversation to get the very big audiences."
8. The majority of advertising campaigns look to please as many people as possible with the aim of convincing them that their brand is the be-all and end-all.
Puma, however, has gone for a more confrontational approach.
"El Fantasma del 50 ya esta en Brasil" -- "The 1950 Ghost is in Brazil" -- plays on the host's darkest sporting hour when they failed to win the 1950 World Cup, with Uruguay winning the event.
In less than a minute, a Uruguayan ghost manages to frighten half of Rio de Janeiro, and in the process adds further fuel to an already heated rivalry.
Strong stuff, but has Puma succeeded in alienating Brazil's 200 million inhabitants?
7. Supporters adore their players and the players themselves have a mutual love for their fans -- or so we are led to believe.
ING Belgium's three-minute film depicts the Red Devils' squad messing about -- think Eden Hazard on triangle and Kevin Mirallas on cowbells -- and generally having a whale of a time with their fans.
The advert's payoff comes in the shape of Mousa Dembele and Jan Vertonghen playing a practical joke on Vincent Kompany.
6. Conjured up on a similarly-grand scale to the Adidas offering, Nike treats us to a game of football played out by a bunch of very good players. Sound familiar?
The match starts off as a kickabout between friends, before morphing into the more familiar game taking place in front of thousands of screaming fans.
Cristiano Ronaldo's girlfriend and the Incredible Hulk are on hand to inject some humor.
"It's become this great on-pitch battle, the battle of the brands around the World Cup and everybody looks forward to it from a brand perspective," said Martin.
"It's really interesting territory as everybody almost can't wait to see what's around the corner from all the brands." said Martin.
5. The beautiful thing about the beautiful game is that it can be played by anyone, anywhere, as long of course, you have a ball.
Fast food company McDonald's has picked up the theme for its World Cup offering, showing -- in various locations around the world -- people from all walks of life presenting their footballing tricks to the camera.
So rather than allowing the usual big-name players to take all the glory, we have the likes of a young boy, an old man and a woman in high heels playing the starring roles.
What's more, there's not a single Big Mac in sight.
4. Nike and Adidas may battle it out each year for the title of who can produce the biggest football advert on the grandest of scales, but they now have a new challenger -- Beats by Dre.
You could be forgiven for thinking you had stumbled upon a Brazilian cinematic thriller as this advert -- entitled "The Game Before The Game"-- gets underway.
Brazil star Neymar's father opens proceedings by handing down some advice to his son on the eve of the World Cup, while we are treated to some jaw-dropping shots of Rio de Janeiro.
With the big kickoff fast approaching, players and fans alike are shown preparing in a brooding film that suggests half the battle of a football match is won in the head.
"You expect it from the big brands, but I think we're going to see some more clever and more imaginative work coming out over the next few weeks," said Martin. "More and more companies are now getting involved."
3. Chilean beer Cristal goes for the horror genre in its advertising campaign.
With Chile up against it in Brazil 2014's "Group of Death" -- also featuring Spain, Netherlands and Australia -- Cristal tries to offer the nation a helping hand.
Over three different adverts, an opposing supporter is given the creeps in the comforts of their own homes, before the slogan "Chile is scary" appears.
Assuming that Chile will advance to the knockout stages, a fourth advert has been created, with fans of such nations from England to Japan the next to be started up.
2. Mobile phone company Movistar goes one step further than ING Belgium in attempting to break down that barrier between players and supporters.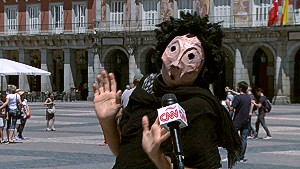 Will Spain repeat World Cup victory?
Spain stars Xabi Alonso, Andres Iniesta, Santi Cazorla, Pepe Reina and Juanfran are all given a makeover to disguise themselves before they go off to work with ordinary people in a range of differing professions.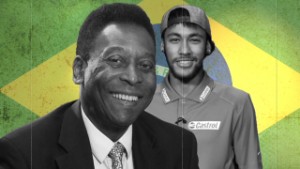 Pele and Neymar back Brazil for victory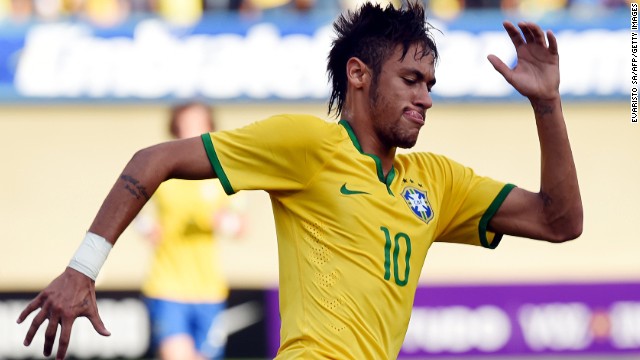 Neymar (Brazil): One of the youngest players for the host team has a nice resume, including a stint with Real Madrid's youth team before signing his first professional contract at 17. Despite a mediocre debut this past season with powerhouse Barcelona, the 22-year-old has 31 goals in 48 appearances for Brazil and was controversially left off the 2010 World Cup team. Expect him to find the net, especially when you consider his wildly talented supporting cast.
Darijo Srna (Croatia): Srna, right, is Croatia's team captain and most-capped player. He plays professionally for Shakhtar Donetsk, whose stadium is an hour's drive from the Ukraine-Russia border. Chelsea and Bayern Munich have unsuccessfully courted the midfielder and right back, who has an eye for goal. But he said his heart led him to stay in Ukraine. Oh, and he has a leg tattoo of a deer (or "srna" in Croatian) playing soccer.
Miguel Herrera (Mexico): OK, fine, he's an ex-player. But forget Oribe Peralta, Giovani dos Santos and Chicharito. No position for El Tri has been more in dispute than manager. Since Javier Aguirre was sacked after the 2010 World Cup, five managers have helmed Mexico. Herrera's first squad thrashed New Zealand 9-3 in a two-game playoff to qualify for the World Cup. But given Mexico's group, don't expect his next games to go so swimmingly.
Samuel Eto'o (Cameroon): The first World Cup for Eto'o, left, was in 1998, but don't call him old. He'll make you look silly, as he did in May when he mocked his Chelsea coach, Jose Mourinho, with an old-man goal celebration. If you ask Eto'o, he has two more World Cups in him. The 33-year-old will prove integral to the Indomitable Lions' campaign, having notched 56 goals in 117 caps (not to mention 300+ goals for clubs in Russia, Italy, Spain and England).
Diego Costa (Spain): Picking one player among the reigning world and European champions is tough. But Costa, left, promises to entertain -- and not solely because Spain and the host nation sparred over the Brazil-born striker's services. After receiving horse placenta treatment (uh-huh) on his injured hamstring, Costa started in the Champions League final only to aggravate the injury and come off after nine minutes.
Daley Blind (Netherlands): He's no goal machine, but Ajax's 2012-13 Player of the Year is a true box-to-box midfielder. With Kevin Strootman out due to injury, the 24-year-old understudy should see additional playing time for his country. He'll have extra motivation, too: His father, Danny Blind, who also played for Ajax, is a coach for the national team and has been tapped to take the team's reins following the 2016 European Championship.
Alexis Sanchez (Chile): If La Roja wants to escape from a group boasting both 2010 World Cup finalists, it'll need a strong showing from this 25-year-old forward, seen at right. Sanchez can score, finding the net eight times in 11 caps last year. He also knows how to set up his teammates, as he's racked up 34 assists to complement the 47 goals he's scored in club competition since Barcelona paid generously for his services in 2011.
Tim Cahill (Australia): Cahill, right, is the Socceroos' all-time leading scorer and their oldest player. In 2012, he left Everton after eight seasons in the English Premier League, saying he hoped a move to the New York Red Bulls would prolong his international career. The good news for Australia is he's become more of a goal scorer since joining New York. The bad news? He's netted only one for New York this season.
James Rodriguez (Colombia): He looks like a kid but brings a mature game for a 22-year-old. Lightning-quick with deft ball control and passing, he's earned lofty comparisons to Colombian demigod Carlos Valderrama. Days before his 19th birthday in 2010, Rodriguez joined Porto, where he played three seasons before Monaco paid €45 million for his transfer. He notched 10 goals and 12 assists for the French side this season.
Theofanis Gekas (Greece): Greece doesn't have any major stars on the international stage. Nor does it have overtly dangerous goal scorers. So it'll be interesting to see how Gekas, a 34-year-old club journeyman, performs in a relatively weak group. With 24 international goals and a ton of experience -- including club stints in Turkey, Spain, Germany, England and Greece -- he has the wherewithal to make a difference.
Yaya Toure (Ivory Coast): He says he'd be considered the world's best player if he weren't African. That's arguable -- read the soccer blogs -- but he's a force. At 6-foot-3, he aptly plays defensive midfielder but has tremendous ball control and knows how to find the net (see his 20 goals for Manchester City this season). Let's hope his remarks on birthdays and race don't distract World Cup watchers from his considerable skills.
Shinji Kagawa (Japan): The attacking midfielder's speed, vision and creativity would likely guarantee the 25-year-old a spot on any club in the world. But this year, an underachieving and in-transition Manchester United featured him in only 18 games. He went goalless and notched only three assists. He'll need to shake off the rust if Japan is to advance out of an up-for-grabs Group C.
Luis Suarez (Uruguay): Yes, he just had knee surgery, and Coach Oscar Tabarez says he can't be sure his magical goal conjurer will play. If Suarez plays, he promises to be a strong storyline in a tightly contested group. If he doesn't play, ditto. Uruguay has other goal scorers in Edinson Cavani and Diego Forlan, but neither enjoyed the form that Suarez displayed this season in netting 31 goals as part of the high-octane Liverpool offense.
Joel Campbell (Costa Rica): Keep an eye on the 21-year-old. Costa Rica's opponents certainly will. Signed by Arsenal at age 18, he's spent the last three years on loan to French, Spanish and Greek clubs. USA fans will also remember him for his ridiculous dive during a World Cup qualifier last year. He'll be looking to redeem himself -- and his ho-hum club form of late -- with a memorable Cup, but he'll have his work cut out.
Adam Lallana (England): For the casual fan, the 26-year-old might not be among England's big names. Three years ago, he was playing in England's third division, and he hasn't scored in five caps. But he tallied 10 goals and six assists for an overachieving Southampton squad this season. As club captain, he's also displayed the leadership to complement his strong finishing, passing and tackling.
Mario Balotelli (Italy): The Azzurri is stacked with some of the world's most skilled players, including Gianluigi Buffon, Giorgio Chiellini and Andrea Pirlo, but with one off-the-wall antic Balotelli can become the story. With as many hairstyles as goal celebrations, the 23-year-old AC Milan forward loves to bring drama, but he has serious finishing skills. That will be important for an aging Italy squad known for hunkering down on defense.
Xherdan Shaqiri (Switzerland): The Swiss don't have much offensive firepower (only one player has double-digit international goals), but that might change as this 22-year-old is earning comparisons to the world's top attackers. Why haven't you heard of him? Three reasons: Franck Ribery, Arjen Robben and Thomas Mueller. Some of the world's best players are attacking midfielders at Shaqiri's club, Bayern Munich. Good mentors for a budding star.
Christian Noboa (Ecuador): Noboa, right, plies his trade in Russia and is known for creativity, solid passing and vision. He's not a goal scorer, but Ecuador will rely on him to generate offense because, with little defense to speak of, it will need to outscore its opponents. If Antonio Valencia, Jefferson Montero and qualifying star Felipe Caicedo can get on the end of Noboa's passes, that's not at all far-fetched.
Paul Pogba (France): Les Blues want to forget a 2010 World Cup in which numerous kerfuffles between the players and manager made them a laughingstock. Pogba could be key to washing away those memories and is doubtless a future star for France. He'll feature in one of the World Cup's most talented midfields, feeding a dangerous striker corps. If you think Pogba is too young to crack the lineup, ask his teammate, onetime Juventus mainstay Claudio Marchisio, what he thinks.
Jerry Bengston (Honduras): His performance for the New England Revolution has been lackluster. Just months ago, he wasn't sure he'd make the World Cup squad. He got the nod, likely because when you put him in Honduras' blue and white, he delivers a goal every other game on average. He's especially lethal with his back to goal. Honduras is outmatched on paper, so Los Catrachos will need Bengston and Carlo Costly to find the net.
Angel Di Maria (Argentina): The perennially talented Argentines are a favorite to advance thanks to a strong defense and a set of strikers that would make any nation drool. The speed and pinpoint passing of Di Maria, left, should make the Real Madrid playmaker the star of an aging midfield. And Argentina's strike force should benefit considerably from linking up with a man who posted 87 assists (coupled with 36 goals) in the last four years for his Spanish club.
Vedad Ibisevic (Bosnia and Herzegovina): An ex-NCAA freshman of the year with Saint Louis University, Ibisevic, left, served stints in the lower leagues of France and Germany before entering the Bundesliga. Since joining Stuttgart in 2012, he's bagged 33 goals, and he has 20 goals in 51 caps for the national team. Big at 6-foot-2 and 180 pounds, defenders will surely look to keep him and fellow goalhound Edin Dzeko away from goal.
Steven Beitashour (Iran): If Iran is to make it out of the group stage for the first time -- in a likely scramble for Group E's second-place spot behind Argentina -- it will need a spirited performance from its California-born defender. A true dual threat, the Vancouver Whitecaps right back and 2012 MLS All-Star is efficient on the back line and can also streak forward. Since 2011, he has led all MLS defenders in assists.
Ahmed Musa (Nigeria): At 21, Musa has blazing speed but a habit of flubbing goal opportunities. In 37 caps for Nigeria, he's found the net only five times. Expect the Super Eagles to counterattack, and with John Obi Mikel and Victor Moses in the midfield, you can also expect the passes to be on time. Whether Musa and fellow international underachiever Peter Odemwingie can make the most of them may dictate Nigeria's fate.
Miroslav Klose (Germany): With his nose for goal and a knack for nodding headers home, Klose will be on defenders' minds. His 36th birthday falling days before the Cup, the elder statesman has 14 World Cup goals, one shy of Ronaldo (no, not that Ronaldo -- Brazil's Ronaldo, the one who actually has scored proficiently in World Cups). After breaking Gerd Muller's German scoring record, Klose will look to add the World Cup scoring record to his list of accolades.
Nani (Portugal): Yeah, yeah, we were supposed to pick Cristiano Ronaldo. But with a witch doctor tampering with CR7's leg, Portugal could find itself needing some speed and creativity. Enter the Manchester United winger, whose international experience is second only to Ronaldo's. With Portugal's midfield being a relative weak spot, a lot will ride on Nani's performance. He'll need to improve on his club form of late if Portugal is to go deep.
Mix Diskerud (USA): He says it's an honor to wear the No. 10 donned by Tab Ramos, Claudio Reyna and Landon Donovan. With the latter, Team America's top scorer, surprisingly omitted from the team, the USA will need goals. While the 23-year-old midfielder buried one in a recent Azerbaijan friendly, the burden can't fall wholly on him. Clever and quick, look for him to seek out the more goal-minded Clint Dempsey and Jozy Altidore.
Kevin-Prince Boateng (Ghana): The Black Stars have aging stars. It's unclear if Michael Essien and Asamoah Gyan can match their past performances, so much will be expected of KPB. An astute tackler with decent speed -- and a resume that includes knocking the U.S. team out of the 2010 World Cup -- the German-born midfielder must finish and tackle well. He'll also need to be careful, because he's no stranger to bookings.
Adnan Januzaj (Belgium): The Belgians are young, and none is younger than the Manchester United wunderkind, seen at right. With one cap to his name -- and surrounded by some of soccer's top stars -- the 19-year-old might not see the field much. But consider this: In his first start for Manchester United, at 18, he scored two goals in a come-from-behind win over Sunderland. Legend has it that at age 6, he once scored 17 goals in a youth game. And if he gets playing time, he certainly won't lack confidence.
Sofiane Feghouli (Algeria): This guy's fun to watch. A midfielder for Valencia, he's arguably Algeria's most talented player despite being only 24. While he's capable of the occasional goal, defenders will be more worried about his quickness, ball control and his ability to place a pass on a teammate's foot in stride. Algeria has an inexperienced set of strikers, so they should benefit from being on the end of Feghouli's top-drawer passing.
Ki Sung-yueng (South Korea): He's a controversial young fellow. He's snarked at fans, insulted his manager and once celebrated an Asian Cup goal with an impersonation that had some Japanese crying racism. Most recently, he put the wrong hand on his chest during the national anthem. All that aside, he's a talented central midfielder who's made more than one defender look silly since joining the English Premier League in 2012.
Maksim Kanunnikov (Russia): Boy, Fabio Capello better have this one right. The 22-year-old's first cap was last month, and his resume with three Russian clubs is mediocre. So why is he a player to watch? Because one has to wonder what Capello saw in Kanunnikov that convinced him to select him over the more talented Andrei Arshavin and Pavel Pogrebnyak. Will he break out or break down?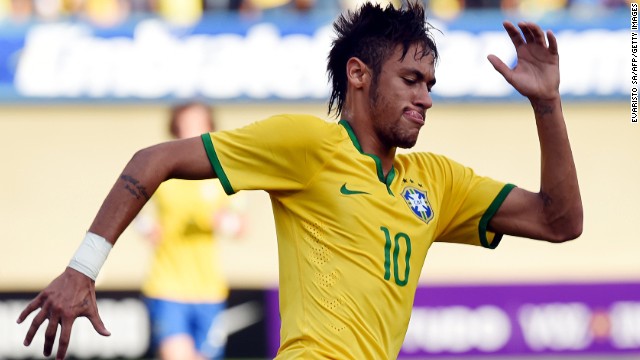 32 players to watch during the World Cup
We see Iniesta working in a restaurant kitchen, Alonso helping out at a hospital and Santi Cazorla working as a gardener in a film made as a tribute to the population of Spain.
Backed with the motto "we will make an effort for you," Real Madrid's Alonso touchingly shaves an aging man in hospital.
"I like the idea a lot, and it's a clear example of getting it spot-on," said Martin.
"You can get it spot on like this one, or it can easily be a hit-and-miss. The ones that are more creative and have a bit more of a storyline to them are more real."
1. The miners of the 2010 Copiapo mining accident are Banco de Chile's inspiration for its offering as "Los 32" -- a member of the original "Los 33" was actually Bolivian -- rally the troops ahead of the World Cup.
Miners' spokesman Mario Sepulveda offers a rousing call to arms and urges his compatriots not to fear Chile's "Group of Death."
Pathos is added with images of the miners' time trapped underground and their eventual rescue, not to mention an epic soundtrack and setting.
"You've got to be smart, you've got to be creative and you've got to be able to tap into people's passions in a credible way (when making an advert), as opposed to just throwing ideas and content out there which can turn you off very quickly," said Martin.
"But do it right and you can make people buy into it and make them feel very emotional about the content that they've seen, like this advert does.
"What's nice about the Chilean advert is it adds real emotion and a human touch to things that aren't fantasy land, while it remains pretty grounded. And as a result it gives you goose pimples when you watch it."
Read more in our Flipboard World Cup Glories magazine