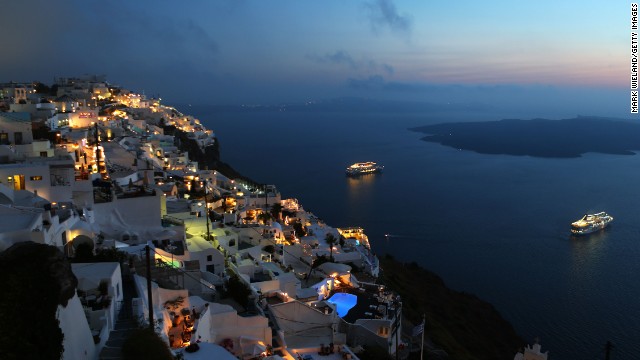 Beautiful islands, ancient architecture and delicious Mediterranean cuisine are just a few of the reasons why Greece tops Lonely Planet's 2014 Best of Europe Top 10 list. Hopping from one gorgeous island to another is part of the Greek experience, and Santorini (shown here), with its colorful cliffs and white Cycladic houses, is not to be missed. The sunsets are known to be exquisite, and there are also plenty of archaeological sites to explore such as Akrotiri, the site of an ancient Minoan city buried beneath volcanic ash from an eruption dated to the mid-17th century BC.
Second-place Ljubljana has a vibrant cafe and nightlife scene that makes it feel like a perpetual street party is going on. Much of the city's early-modern architecture was designed by architect Joze Plecnik in the 20th century, and the rest is a mix of Roman, Greek and ancient Egyptian architecture. This year's celebration of the 2,000th anniversary of the founding of the city's Roman predecessor, Emona, includes gladiator battles, educational workshops and dances in August.
"Downton Abbey's" success has brought more attention to the romantic English countryside, just one reason Southwest England came in third place on this list. The green hills, winding roads and sleepy villages of the Cotswolds (the town of Burford is shown here) are quintessentially "English." Afternoon tea and country walks are traditions that add to the relaxing atmosphere, and sites such as the Roman Baths and the Jane Austen Centre in Bath allow visitors to step back in time.
Instead of heading to Rome or Venice, journey south to the country where the true spirit of fourth-place Italy lives. Visitors are sure to get a warm welcome in Sicily and the city of Naples. The ruins of a catastrophic volcanic eruption in Pompeii are harrowing to see, while climbing Mount Etna (shown here) in Sicily, one of the world's most active volcanoes, is a thrilling adventure. And any worthwhile trip to Italy should be filled with food, such as Naples' bubbling wood-fired pizza.
Viking history is ingrained in fifth-place Denmark, which makes it a fascinating country to visit. The Viking Ship Museum in Roskilde has five recovered Viking ships on display. Denmark's "baptism certificate" can be found in the town of Jelling on a large rune stone, where Viking King Harald Bluetooth chiseled a message about how he brought Christianity to the Danes in 965. The viking reconstruction longship Sea Stallion of Glendalough is shown here.
Stylish tapas bars and a lively nightlife scene make Seville (No. 6 on the list) an enjoyable experience for visitors. The city is also steeped with tradition and history. Christopher Columbus is entombed in the Seville Cathedral. Bullfighting remains a popular sport. And the biannual Bienal de Flamenco is a festival in September (shown here in 2012) that brings together the best flamenco musicians and dancers for a month of performances and events.
These idyllic Scottish islands have the white sand beaches and crystal-clear waves more commonly associated with islands in the tropics, but the Outer Hebrides (No. 7 on the list) is still characteristically Scottish. Apart from the many whales and species of birds that can be seen, the prehistoric Callanish standing stones are stunning to behold. And local seafood, venison, haggis and whiskey are a perfectly Scottish way to satisfy the palate.
In Plzen, Czech Republic, it's all about the beer. The City is home to the Pilsner Urquell Brewery (shown here). For many, the promise of tasting the amber nectar and the factory tour is enough to make a pilgrimage to our eighth-place country. The city's charms run deeper than a pint glass, however. Underground Plzen is a series of passageways that run underneath the city. Some are thought to have been dug as far back as the 14th century and were either used for beer production or defense.
Stavanger, Norway, which comes in ninth place, is known for its culinary diversity and use of seasonal produce from the farmland surrounding it. The Gladmat Food Festival during July is Scandinavia's largest, attracting more than 200,000 guests and bringing together consumers with the local producers. An old oil-rich port town, Stavanger honors this history in its Norwegian Petroleum Museum, which has many artifacts, models and interactive exhibits to tell the story of how oil was discovered.
Toulouse, France's pink city and 10th place on Lonely Planet's list, is so named because of the pink stone used to make so many of its buildings. A bustling and busy town, people still take the time to enjoy a delicious meal, savor a fine wine and live "the good life." What really brings the people of Toulouse together is the undying love they have for their four-time Heineken cup winning rugby team Stade Toulousain. And the city's space museum, Cite de l'espace, has a Russian Mir space station, Ariane 5 rocket, 3-D films and other exhibits to answer visitors' questions about space exploration and technology.
1. Greece
2. Ljubljana, Slovenia
3. Southwest England
4. Italy
5. Viking Denmark
6. Seville, Spain
7. Outer Hebrides, Scotland
8. Plzen, Czech Republic
9. Stavanger, Norway
10. Toulouse, France