U.S. sends B-2 stealth bombers to Europe
June 11, 2014 -- Updated 1740 GMT (0140 HKT)
STORY HIGHLIGHTS
The two U.S. Air Force aircraft are on a training mission
Aim is to become familiar with air bases and operations in the area, Air Force says
For local residents, the stealth bombers are a sight
(CNN) -- Two of the United States' most recognizable military aircraft -- a pair of B-2 stealth bombers -- caught the eyes of residents as they arrived in Europe this week for training.
"They seem to defy science!" said one Twitter user in Cirencester, England, who saw one of the stealth bombers in flight.
The bombers' unique radar-evading design always draws attention, as does this training mission in particular, which comes at a time of conflict in Ukraine.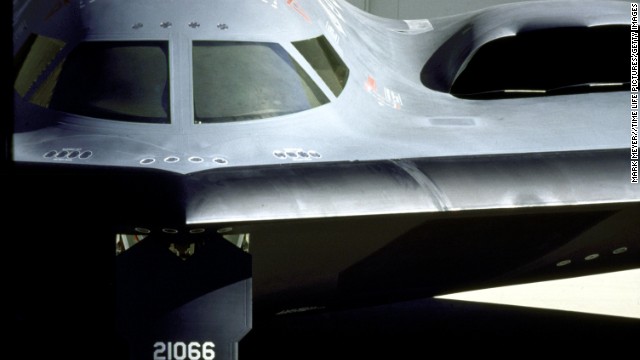 The U.S. Air Force has deployed two B-2 stealth bombers to Europe this week to conduct training flights and become familiar with air bases and operations there. Click through the gallery to learn more about the aircraft.
Maintainers and crew chiefs prepare a B-2 at Whiteman Air Force Base in Missouri in March 2011. There are only 20 B-2s in the Air Force fleet. All are based at Whiteman in the 509th Bomb Wing.
A B-2 takes flight from Whiteman in April 2011. The B-2 is operated by a crew of two -- a pilot in the cockpit's left seat and a mission commander in the right.
A KC-135 Stratotanker refuels a B-2 during a training mission in August 2012. The B-2 is powered by four General Electric F118-GE-100 engines, and it can travel 6,000 miles without refueling.
A B-2 takes off from Whiteman for a training run to Alaska in October 2002. B-2s can carry conventional or nuclear weapons. The planes have flown combat missions over Iraq, Afghanistan and Kosovo.
A B-2, left, flies near Osan Air Base in Pyeongtaek, South Korea, in March 2013. The B-2 has a wingspan of 172 feet, a length of 69 feet and a height of 17 feet.
Airman 1st Class Steven McCray, a B-2 crew chief, performs pre-flight checks at Whiteman in April 2013. Each B-2 costs about $1.16 billion.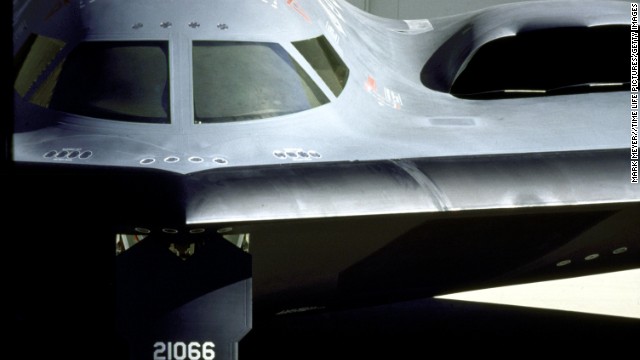 Photos: B-2 stealth bomber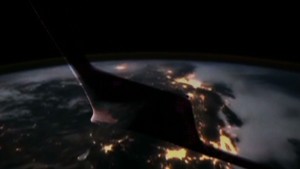 Secret new stealth drone exposed
An Air Force news release about the mission did not mention the Ukraine crisis, but U.S. fighter jets have previously been deployed to Europe on similar training missions to show support for NATO allies.
The mission for the pair of stealth bombers, the Air Force said, is to conduct flights in Europe and to become familiar with air bases and operations in the area.
"This deployment of strategic bombers provides an invaluable opportunity to strengthen and improve interoperability with our allies and partners," said Adm. Cecil Haney, commander of U.S. Strategic Command. "The training and integration of strategic forces demonstrates to our nation's leaders and our allies that we have the right mix of aircraft and expertise to respond to a variety of potential threats and situations."
The B-2s are assigned to the 509th Bomb Wing at Whiteman Air Force Base in Missouri.
"Just saw a Stealth Bomber fly over our house," another resident said on Twitter. "Amazing aircraft. My son wanted to know if Batman was flying it."
Part of complete coverage on
U.S. military
September 11, 2014 -- Updated 1657 GMT (0057 HKT)

When a flight of military helicopters descended into a field in the small village of Gruta, Poland, on Tuesday, residents had reason to be alarmed.
August 22, 2014 -- Updated 1735 GMT (0135 HKT)

A storied former U.S. Navy aircraft carrier is on its final voyage Friday, a slow voyage from Rhode Island to a scrapyard in Texas.
August 27, 2014 -- Updated 1123 GMT (1923 HKT)

Call it part tank, part boat and part beer cooler. But it's unquestionably all cool.
May 17, 2014 -- Updated 0123 GMT (0923 HKT)

The Huey helicopter came in from the west, the "pop, pop, pop" of its blades announcing its arrival.
May 9, 2014 -- Updated 1313 GMT (2113 HKT)

For the second time in two years, the U.S. Navy is parting with one of its aircraft carriers for a penny.
June 11, 2014 -- Updated 1128 GMT (1928 HKT)

The U.S. Navy's newest stealth destroyer is twice as long as the Statue of Liberty but barely shows up on radar.
April 10, 2014 -- Updated 1810 GMT (0210 HKT)

Imagine ships that use lasers to destroy threats at the cost of about a dollar a shot, and vessels making fuel from the very seawater in which they're floating.
December 6, 2013 -- Updated 1432 GMT (2232 HKT)

The evolution of drones continues.
December 2, 2013 -- Updated 0440 GMT (1240 HKT)

One of the U.S Navy's top commanders says his Pacific fleet "gets all the best stuff" when it comes to state-of-the-art weaponry.
Today's five most popular stories