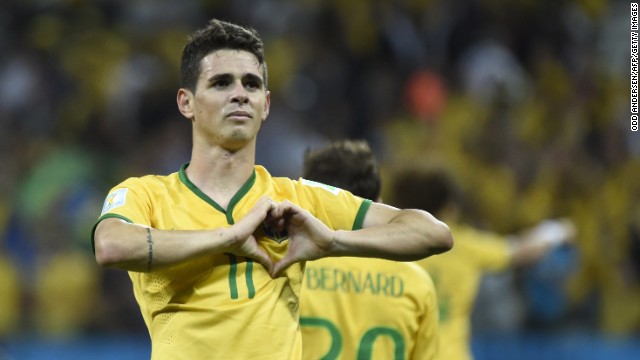 Brazilian midfielder Oscar celebrates with a heart gesture after he
scored a goal
to give his team a 3-1 win over Croatia in the opening match of the World Cup on Thursday, June 12. It was the first day of the international soccer tournament, which is being held in 12 cities across Brazil.
score a penalty
and give his team a 2-1 lead in the second half against Croatia.
Brazil forward Neymar strikes the ball to
Neymar celebrates. He had two goals in the game, which was played in Sao Paulo, Brazil.
Croatian fans look despondent as they watch the opening match in Zagreb, Croatia.
Fans watching the game in Fortaleza, Brazil, celebrate after a Brazil goal.
Oscar is tripped up by Croatia's Sime Vrsaljko during the second half.
Brazilian defender Marcelo takes a fall.
scores a first-half goal
to tie the game at 1-1.
Croatia goalkeeper Stipe Pletikosa dives but fails to stop the ball as Neymar
Neymar, right, celebrates his first-half goal with teammates Marcelo, left, and Hulk.
Marcelo, right, accidentally deflects the ball past his own goalkeeper, Julio Cesar. It was the
Croatia's Nikica Jelavic, right, celebrates the opening goal with teammate Ivica Olic.
Pletikosa celebrates the own goal on the other side of the field.
Croatia's Vedran Corluka, left, clashes with Hulk during the first half.
Neymar lies on the field during the first half.
Croatia's Mateo Kovacic, left, is challenged by Oscar.
Marcelo falls after a challenge by Croatia's Ivan Perisic.
Brazil and Croatia players stand around the center circle as doves are released before the beginning of the match.
A dove flies through the stadium.
Croatia fans cheer their team prior to the start of the match.
Singer Jennifer Lopez performs during the tournament's opening ceremony, which was held in Sao Paulo prior to the Brazil-Croatia match.
A happiness flag is seen in the Sao Paulo stadium during the opening ceremony.
A performer is carried in a boat during the opening ceremony.
A fan holds up a sign prior to the opening ceremony.
Brazil fans kiss before the opening soccer match.
A Brazil fan smiles in Sao Paulo.
This is the second time Brazil is hosting the World Cup. It also hosted the World Cup in 1950.
A Brazil fan uses a cell phone before the opening ceremony.
The Brazilian flag is seen at the base of the Christ the Redeemer statue in Rio de Janeiro.
Construction workers put the finishing touches on banners outside of a stadium in Brasilia, Brazil.
Women attach paper messages on a tree in Seoul, South Korea. The messages wish the national team success in the World Cup.
Traditional Brazilian dancers celebrate the opening of the World Cup in Trafalgar Square in London.
World Cup: The best photos from June 12
World Cup: The best photos from June 12
World Cup: The best photos from June 12
World Cup: The best photos from June 12
World Cup: The best photos from June 12
World Cup: The best photos from June 12
World Cup: The best photos from June 12
World Cup: The best photos from June 12
World Cup: The best photos from June 12
World Cup: The best photos from June 12
World Cup: The best photos from June 12
World Cup: The best photos from June 12
World Cup: The best photos from June 12
World Cup: The best photos from June 12
World Cup: The best photos from June 12
World Cup: The best photos from June 12
World Cup: The best photos from June 12
World Cup: The best photos from June 12
World Cup: The best photos from June 12
World Cup: The best photos from June 12
World Cup: The best photos from June 12
World Cup: The best photos from June 12
World Cup: The best photos from June 12
World Cup: The best photos from June 12
World Cup: The best photos from June 12
World Cup: The best photos from June 12
World Cup: The best photos from June 12
World Cup: The best photos from June 12
World Cup: The best photos from June 12
World Cup: The best photos from June 12
World Cup: The best photos from June 12