Flying the flag: Great World Cup airplane paint jobs
June 12, 2014 -- Updated 0828 GMT (1628 HKT)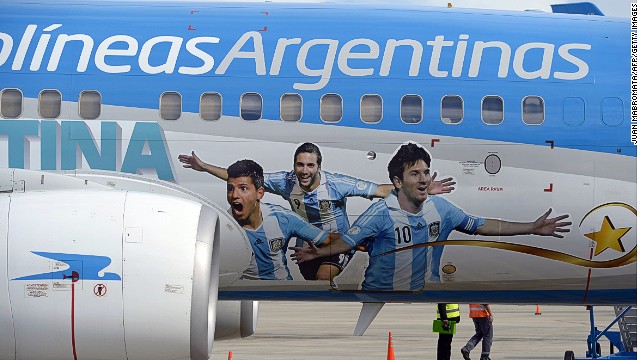 "Vamos Argentina" says the Aerolineas Argentinas Boeing 737. It also sports the I-just-scored-a-wondergoal expressions of Lionel Messi, Gonzalo Higuain and Sergio Aguero.
Qantas is "Proudly supporting the Socceroos" with a Boeing 747 decorated with a large football and a pair of golden boots strung around the airline mascot's neck. No jokes about choking, please.
Personalized headrests and interior decor featuring their key players -- Belgium's Red Devils are being given the star treatment inside the Brussels Airlines Airbus A330 before they've even donned a sock. At 20/1 the team is a top five favorite to win the whole thing.
Low-cost carrier GOL commissioned Brazil's acclaimed artistic duo Os Gemeos to turn the Boeing 737 into a flying canvas. They used 1,200 cans of spray paint to shroud the entire plane, apart from the wings, in a theme of "Brazilianness, democracy and diversity."
Lufthansa has renamed eight of its planes "Fanhansa" and added a football and German flag motif. The team -- 6/1 to become champions behind only Brazil and Argentina -- is being flown on an Airbus A340.
Solid, sturdy characters behind with a flash of dazzling flair up front -- the motif on the Aircharter.com Boeing 767 is much like the team it's transporting. Let's just hope star forward Asamoah Gyan remembered to pack his astonishing goal-scoring record.
We're not sure what'll make the champions of four years ago more uncomfortable -- their 13/2 odds this year or the beaming, highly expectant fan faces adorning the back end of Iberia's Airbus A330. Nice and colorful though.
It's not carrying a national football team, but this Air Berlin Airbus A320 has been turned into "Fan Force One" during the World Cup.
Argentina
Australia
Belgium
Brazil
Germany
Ghana
Spain
And finally ... Air Berlin
STORY HIGHLIGHTS
Airlines are playing their part in the World Cup fever, with many rolling out themed liveries
Brazil's team is using a plane completely covered by graffiti art
Germany's Lufthansa has renamed eight of its planes to "Fanhansa"
(CNN) -- They may have a silly name and be 750-1 against to win the tournament, but Australia's "Socceroos" were Team Keen on May 28, arriving first for the Brazil World Cup in a specially designed Qantas jet marked with the team logo.
Thus began a small but nevertheless slideshow-worthy trend for spruced up World Cup aircraft.
Brazil's GOL adopted the role of attention-stealing host, with a paint job so magnificent it's worthy of its own gallery.
Germany's Lufthansa became "Fanhansa" on eight planes, in a design that valued minimalism and efficiency over gaudy ostentation.
Click through the gallery for more.
MORE: 20 most beautiful places in Brazil
MORE: Crazy, gaudy, clever airplane paint jobs

Today's five most popular stories
Part of complete coverage on
November 24, 2014 -- Updated 0118 GMT (0918 HKT)

These quirky and beautiful subway stops make standing cheek-to-cheek with 45 strangers almost seem fun.
November 21, 2014 -- Updated 1314 GMT (2114 HKT)

Luxury vintage Land Rover tours explore Bedouin backwaters without bashing up precious dunes.
November 20, 2014 -- Updated 0250 GMT (1050 HKT)

Cities around the world have closed the brew gap, but the Oregon city's innovative scene continues to lead the beer parade.
November 19, 2014 -- Updated 2249 GMT (0649 HKT)

From gourmet hotdogs to Sevillian tapas, the food served in these London restaurants is worth lining up for.
November 20, 2014 -- Updated 1545 GMT (2345 HKT)

Plans are underway to build the world's tallest -- and quite possibly most terrifying -- roller coaster at an Orlando, Florida, theme park due to open in 2017.
November 18, 2014 -- Updated 1932 GMT (0332 HKT)

The 7th Annual Cruise Critic Editors' Picks Awards highlight the top cruise lines for North American travelers in 18 categories.
November 19, 2014 -- Updated 0206 GMT (1006 HKT)

Joining the ranks of pilgrims tackling Adam's Peak rewards with a spiritual awakening, or at least a stunning sunrise.
November 18, 2014 -- Updated 1313 GMT (2113 HKT)

Beautifully designed travel document reveals image of Northern Lights when placed under UV light.
November 18, 2014 -- Updated 0525 GMT (1325 HKT)

New concept offering luxury rooms in ancient dwellings helps spare beautiful villages from falling into ruin.
November 21, 2014 -- Updated 2247 GMT (0647 HKT)

Are you the butcher or the cattle? Tainted meat-obsessed fans are following the tracks of their favorite "Walking Dead" survivors.
November 17, 2014 -- Updated 0521 GMT (1321 HKT)

People never cease to find amazing ways to make water more incredible than it already is. Here are some powerful examples