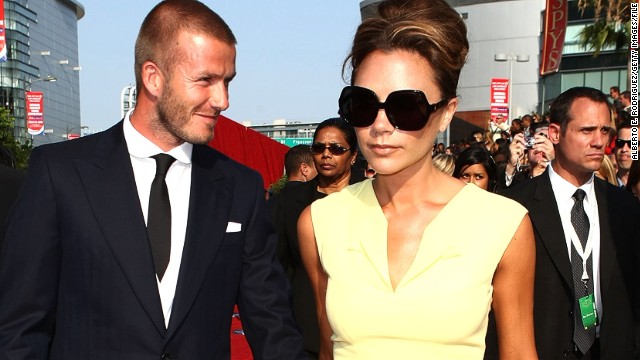 Their incomes might be huge, but so are the expectations placed on the wives and girlfriends of famous footballers -- dubbed "WAGs" by the British tabloids. Victoria Beckham was already a successful Spice Girl before she married England player David in 1999.
Italian-American lawyer Nancy Dell'Olio has forged an entertainment career in Britain, after dating former England team manager Sven-Goran Eriksson from 1998 to 2007. "We tried to be prepared, but could never be prepared for how really intrusive the UK press is. You have to adjust, and if that's how they play, then you play the game," said Dell'Olio.
Colombian pop star Shakira is perhaps better known internationally than her Spanish football player partner Gerard Pique. The musician gave birth to their first son last year.
Messi is one of the highest earning football players in the world, recently signing a $50 million-a-year deal with Barcelona. Off the field, his heart lies with Argentine girlfriend Antonella Roccuzzo and their one-year-old son Thiago, whose hand prints he even had tattooed on his left leg.
Spanish goalkeeper Iker Casillas isn't the only one carving a career on the field. Sports journalist Sara Carbonero, pictured here with their first child earlier this year, interviewed her thrilled boyfriend after winning the 2010 World Cup. So thrilled in fact, that he ended the interview by kissing her on live TV.
At almost 6ft, model Sarah Brandner towers above German footballer Bastian Schweinsteiger. She left little to the imagination in a revealing body painting issue of Sports Illustrated in 2010.
$23 million a year,
but is wife Colleen more popular? Her biography has sold more copies than his, according to sports journalist Alison Kervin. "You have this sense of WAGs all looking quite similar -- teeny tiny, with perfect faces, long hair, big bags, huge sunglasses, and little outfits, teetering along on astonishingly high heels," she said. "But when I talked to them, they're really nice and down-to-earth."
England player Wayne Rooney might be earning
British "X-Factor" judge Cheryl Fernandez-Versini made headlines as then-girlfriend (and later wife) of England player Ashley Cole during the 2006 World Cup. "These WAGs were out buying beautiful clothes, they all looked stunning, they're by hotel pools drinking cocktails, running up enormous bar bills," said Kervin. "I think part of everybody who watched it thought 'how marvelous.'"
most valuable
football player on the planet, worth $80 million, but Russian supermodel girlfriend Irina Shayk is no shrinking violet. The couple recently posed in a racy photoshoot for Spanish Vogue by fashion photographer Mario Testino.
Portugal player Cristiano Ronaldo might be the
Model Anara Atanes landed herself in hot water after she launched a Twitter tirade at French coach Didier Deschamps when boyfriend Samir Nasri was left out of the World Cup squad. Deschamps reacted by filing a lawsuit against her.
Daniella Semaan and Spanish player Cesc Fabregas photographed kissing is not a cause for concern. But it wasn't always the case. Semaan split from millionaire husband Elie Taktouk in 2011 after he opened a newspaper to see her embracing the footballer.
Dutch-Spanish actress Yolanthe Cabau van Kasbergen is no stranger to the world of football -- both her brothers had careers on the pitch. She married Dutch national player Wesley Sneijder in 2010.
The world of the WAG has come a long way since 1966, when Bobby Moore, pictured here with wife Tina, captained the English team to World Cup glory. The couple divorced in 1986, and after Bobby's death from cancer in 1993, Tina wrote a book called: "Bobby Moore: By the Person Who Knew Him Best."
Famous WAGs from around the world
Nancy Dell'Olio and Sven-Goran Eriksson
Famous WAGs from around the world
Antonella Roccuzzo and Lionel Messi
Sara Carbonero and Iker Casillas
Bastian Schweinsteiger and Sarah Brandner
Wayne and Coleen Rooney
Ashley and Cheryl Cole
Cristiano Ronaldo and Irina Shayk
Samir Nasri and Anara Atanes
Daniella Semaan and Cesc Fabregas
Wesley Sneijder and Yolanthe Sneijder-Cabau
Bobby and Tina Moore
STORY HIGHLIGHTS
Secret world of a 'WAG' -- wives and girlfriends of football players
Under huge pressure to be "perfect" Barbie doll partners
Some women more successful than their sports star beaus
Is being a 'WAG' seen as a career move for some girls?
How are you celebrating the World Cup? Join the global conversation on CNN's Facebook Pulse
(CNN) -- Eye-popping physiques, multimillion dollar incomes, celebrity status -- and that's just the women.
When you're dating one of the top footballers on the planet, the pressure to be "perfect" is huge.
In football's answer to Hollywood, media scrutiny of elite players is fierce. And the paparazzi is just as hungry for images of their wives and girlfriends -- dubbed "WAGs" by the British tabloids.
Lenses are snapped with even more ferocity during the World Cup, as Nancy Dell'Olio, former partner to ex-England team manager Sven-Goran Eriksson, found out to her cost.
"It is quite sexist and in many cases really not quite fair, the way they were looking at partners," said the glamorous 52-year-old American-Italian lawyer, in her lilting European accent.
"It was quite intrusive, and that was independent of my will," added Dell'Olio, who for almost a decade watched her high-profile relationship play out across the front and back pages of the press.
"But when you are next to a personality so important in football you become absorbed in that role."
As with all social groups, there was a WAG hierarchy.
"There's a difference between if you are the partner of the manager, than if you are the partner of a footballer," says Dell'Olio in between sips of ginger tea, at London's swank member's only Club at the Ivy.
"It was always 'Nancy Dell'Olio plus any other of what you might call WAGs,'" she adds with a raised eyebrow. "So in this way I was quite distinctive, I was never part of that world."
She's got the look
It's a world of glossy women with shopping habits as expensive as their bodies, if you believe the stereotypes splashed across celebrity magazines.
In truth, partners face enormous pressures to live up to Barbie doll ideals of beauty.
"No one wants to be the ugly WAG," says author and newspaper columnist "The Secret WAG," wife of an England player who has kept her identity a mystery, while revealing the inner workings of her lavish lifestyle.
"We're put under so much pressure to look as perfect as we can. We're all striving to be the thinnest, the prettiest, the one with the nicest hair."
The relentless drive for perfection comes from a fear of "being traded in for a newer model" when temptation beckons, she says.
"Mostly it's our own personal insecurities, because you know footballers don't have great reputations. There's so many kiss-and-tell stories in the newspapers, and we all live in fear that this is going to happen to us.
"Footballers today aren't just guys who kick a ball about. They're celebrities. They're dating supermodels, actresses.
"For us normal girls who don't have careers in the public eye, it's a massive pressure to live up to."
Power couple
That's not to say the partners of footballers are simply pretty accessories -- in some cases, they're even more famous than their sporting beaus.
Footballers today aren't just guys who kick a ball about. They're celebrities.
The Secret WAG
Victoria Beckham and Shakira needn't rely on high-profile lovers David Beckham and Gerard Pique for their own successful music careers.
Though it does help.
"Coleen Rooney's book has sold more copies than her husband Wayne's," said Alison Kervin, sports editor of British newspaper the Mail on Sunday, and author of "WAGs at the World Cup."
"It's a really interesting phenomenon to get your head around, because she's only famous because she's going out with a successful England footballer."
Cinderella story?
With top players earning over $70 million a year, dating one can be an instant ticket to fame and fortune.
"A footballer could take you from a world where you're living a basic existence in social housing, to living in a multimillion dollar mansion and traveling the world," says Kervin.
"It has a Cinderella quality to it, and I think that's what we find so appealing."
Already a successful property lawyer in Italy by the time she met Eriksson, Dell'Olio's is hardly a rags to riches tale.
But since dating the Swede, she has become a British celebrity in her own right, hosting TV program "Footballers Cribs," appearing on "Strictly Come Dancing," and soon to perform her own stand-up show at Edinburgh's Fringe Festival.
She admits the relationship "probably did help" raise her public profile.
"But it's not the only thing," says the immaculate entrepreneur in a stylish lemon two-piece skirt suit, her raven hair loosely piled high.
As for the suggestion women pursue footballers as a career move -- Dell'Olio's eyes open wide in horror.
"I find it ridiculous this opinion," she says haughtily, her earrings jangling in agreement.
"And negative, because there's a lot of jealousy involved probably. But it's a little bit stupid, if you don't mind me saying.
"Of course it's only about love. Every couple together, it should be love."
Give and take
Dating a footballer is not a relationship for the fainthearted, with women beholden to clubs just as much as their men.
Of course it's only about love. Every couple together, it should be love
Nancy Dell'Olio
If that means abstaining in the bedroom before big matches, then so be it. "It's really unfair," says "The Secret WAG."
"My whole life has kind of been following my husband around, you have to up and leave countless times when he moves clubs.
"I spent many years studying and I've never been in a situation where I could put all those years to good use.
"I feel as though I'm constantly living in the shadow of my husband, and it took a lot of adjustment to accept that."
British phenomenon?
Nowhere is the spotlight so intense on footballer's private lives then in the UK -- "this is the country of gossip," says Dell'Olio.
The word "WAG" was dreamed up by the British tabloids during the 2006 World Cup, and has since made its way into the Oxford Dictionary.
At the time, just as much column space was dedicated to Victoria Beckham and Cheryl Cole's shopping sprees, as England's lackluster performance in Germany eight years ago.
"I think it was a mixture of England not doing particularly well, so there was nothing much to report on, and the girls just out partying," says Kervin.
"You can be very critical of these women and you can analyze what happened to feminism, but the bottom line is, they seem to be having a bloody good time."
Glamorous as these women may seem, ultimately they are just "normal people trying to be the best mothers and wives they can," says the "Secret WAG."
Normal people, that is, with exceptional lives.
Read: Sex and soccer -- should teams abstain?
Pictures: 32 players to watch at World Cup
Watch: Science behind World Cup ball