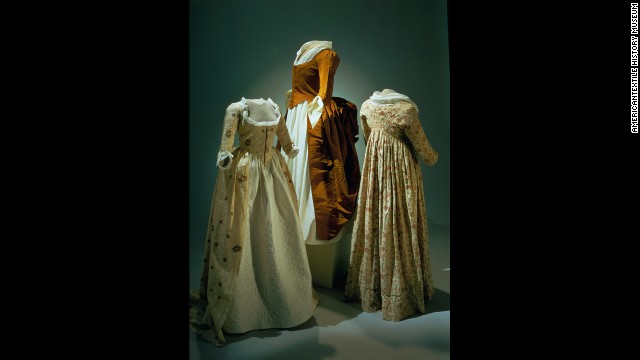 The clothing early Americans found appropriate to wear in public is vastly different from today's fashion. For example, if a colonial woman was buying food or harvesting her garden, she would wear formal clothing with many layers of undergarments. The ladies who wore these fine dresses probably had servants do their shopping for them.
These days, celebrities influence the type of clothing that is appropriate in public, according to Clinton Kelly of "What Not To Wear." Actress Sarah Jessica Parker, for example, wears a puffy coat, jeans and boots while carrying groceries in New York City.
would wear many layers of silhouette-forming undergarments -- and a dress built for that sort of buttressing -- whenever she left the house.
An American woman from the mid- to late-1800s
Actress Amanda Seyfried, left, wears shredded jeans and an oversized sweatshirt while walking her dog through Washington Square Park in New York City.
For nearly two centuries, a man in America would not leave his house without wearing a complete suit. Drinking coffee -- or more likely tea or drinking chocolate -- in an 18th century cafe would have compelled a man to display an outfit of finery. This three-piece suit would have been worn by someone in the upper class.
Actress Kaley Cuoco opts for comfy and casual while grabbing Starbucks in Los Angeles.
An American man during the 19th century would have worn an "indoor wrapper" when entertaining close friends at home.
Actor Russell Brand wears legwarmers, a shawl and knit layers while out and about -- not even at his house or a yoga studio.
American women of the Victorian era would wear an "indoor wrapper" while hosting female friends in their homes for polite conversation or needlepointing.
Actress pals Reese Witherspoon and Naomi Watts head to a yoga class in leggings and sweatshirts.
What a difference 200 years makes
Appropriate for groceries
Appropriate for walking the dog
Appropriate for walking the dog
Appropriate for grabbing coffee
Appropriate for grabbing coffee
Appropriate for a lazy weekend
Appropriate for a lazy weekend
Appropriate for hanging out
Appropriate for hanging out
STORY HIGHLIGHTS
Francesca Gino: People conform to dress codes to gain social acceptance
Gino: Deviating from the social norms may have surprising status benefits
She says nonconformity can sometimes signal more success and competence
Gino: A nonconformist has power and can risk the costs of violating rules
Editor's note: Francesca Gino is a behavioral scientist and professor of business administration at Harvard Business School. She is the author of "Sidetracked: Why Our Decisions Get Derailed, and How We Can Stick to the Plan." Follow her on Twitter: @francescagino. The opinions expressed in this commentary are solely those of the author.
(CNN) -- Imagine that you're visiting Via Monte Napoleone in Milan, Italy, an elegant street famous for its ready-to-wear fashion and jewelry shops. You have dressed up for the occasion. During your stroll, you notice a woman, perhaps 35 years old, entering one of the luxury boutiques. Far from being dressed to the nines, she is wearing gym clothes and a jean jacket. What would you think of her, and how likely do you think she would be to buy something?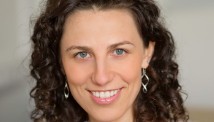 Francesca Gino
If you're like most people, you might assume the woman is unlikely to make a purchase and may even be treated rudely by the shopkeepers. But actually, that assumption is incorrect. The shopkeepers are likely to regard the casually dressed woman as a more serious, high-status customer than you -- precisely because of the way the two of you are dressed.
Across organizations and industries, people make a significant effort to learn and adhere to dress codes, etiquette and other written and unwritten codes of behavior. For example, we tend to dress up for job interviews, dates and business meetings. Conforming to social norms, rules and expectations is an attempt to gain social acceptance and status and avoid negative sanctions such as social disapproval, ridicule and exclusion.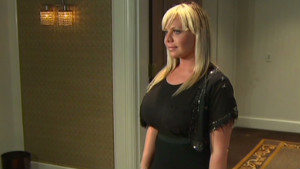 Lawyer: 'Too hot' employee dressed right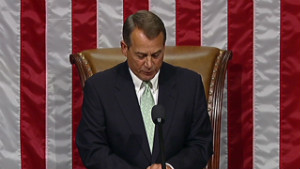 Boehner speaks on 'what not to wear'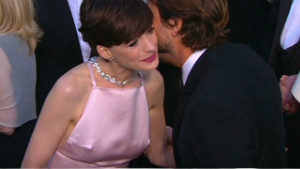 2013: Nutty fashion moments from the Oscars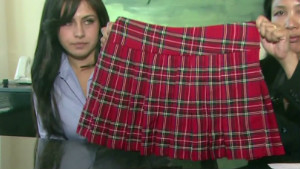 Bartender suing over skimpy uniform
Yet it may be that deviating from the accepted dress code or social norms may have surprising status benefits.
My colleagues Silvia Bellezza and Anat Keinan and I found that under certain conditions, such nonconformity can signal more success and competence. Notably, while unintentional violations of social norms can work against people, deviant behavior that appears to be deliberate can lead to perception of higher status.
In our research, we found that shop assistants working in luxury boutiques in Milan assigned greater status to a woman wearing gym clothes and a jean jacket than to a woman wearing a dress and fur coat. In another study, students viewed a 45-year-old professor at a top-tier university to have higher status when he was described as wearing a T-shirt and a beard as compared to when he was described as clean-shaven and wearing a tie.
Why is this the case? Nonconformity often carries a social cost. As a result, observers tend to infer that a nonconforming individual is in such a powerful position that she can risk the social costs of violating norms without fear of losing her place in the social hierarchy.
In another study, we asked participants to evaluate individuals who we described as being candidates in the MIT $100K Competition, one of the nation's premier business plan competitions. The contest brings together a network of resources (venture capitalists, entrepreneurs, mentors and more than $350,000 in cash and prizes) to help students and researchers in the MIT community fund new ventures.
The study participants read about John, a 22-year-old MIT student who has already passed the first round of the contest and is about to participate in the second round. As he prepares slides for the presentation of his business plan, John is deciding between using either the official MIT background or a less conventional background of his choice. Most other contest entrants are using the official MIT background for their slides. Eventually, John decides to use his own layout.
The study participants believed that John had greater status than an equivalent peer who decided to use the MIT official layout. And through his nonconformance, John was perceived as more autonomous and able to afford his preferences.
Heightening our status in the eyes of others is clearly an important goal, as it can lead us to be more influential members of our groups and organizations, or even more desirable dates.
We often devote great effort to enhancing our status, when it appears that just being willing to deviate from a dress code or other norm may do the trick. Having learned from my own research, I still teach in a suit, but also don a pair of red sneakers.
Follow us on Twitter @CNNOpinion
Join us on Facebook/CNNOpinion