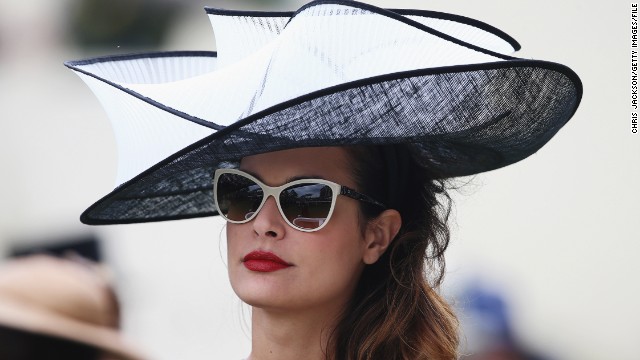 If you thought Royal Ascot was just about horse racing... think again.
The prestigious five-day racing festival opens with Queen Elizabeth II parading around the track in an elegant horse-drawn carriage.
And she's not the only Royal making a grand entrance, with son Prince Andrew, Duke of York, and grandson, Prince Harry, donning top hats for the occasion.
Day Three of the meet is traditionally Ladies' Day, when the designer dresses and millinery masterpieces are just as much a focus as the horse racing. Princess Anne and Princess Beatrice (pictured) show them how it's done.
Hats are an essential part of the race-goer's outfit, from dramatic Hepburn-style sweeping brims, to whacky home-made works of art. This pom pom head piece might not be to everyone's taste, but earns full marks for creativity.
Ascot's plush Royal Enclosure viewing area offers five-day tickets for a whopping $560. Fashion protocol is similarly steep -- women must wear hats, or failing that, a headpiece with a 10-centimeter base. Fascinators -- small ornaments attached to a headband -- are a no-no.
In comparison, the Silver Ring Enclosure, which offers $45 daily tickets, simply requires its racegoers to wear smart clothes, with a reminder that "bare chests are not permitted at any time."
"Horse racing's roots as the 'sport of kings' obviously suggest a pleasure pastime for the elite," Willie Walters, the fashion course director at London's Central Saint Martins college of art and design, told CNN.
"In the past this would have been, depending on the monarch, an opportunity for either ostentatious displays or relatively tasteful, yet expensive, modesty," she added.
Queen Elizabeth II will be present for the entire five-day meeting, but it was her predecessor Queen Anne who founded Ascot racecourse in 1711. The venue's links with high society have remained intact ever since.
Tradition looms large at the 300-year-old horse race. Of the 280,000 people who attend Ascot each year, just 12,000 can be found hobnobbing in the plush Royal Enclosure each day -- but it's not the only place to have fun on the track.
Of course, that's not to dismiss the highlight of Ladies' Day...
... the Gold Cup. This year's race was won by Leading Light, ridden by jockey Joseph O'Brien.
Not everyone will be pleased with the result though. Leading Light narrowly beat the Queen's own horse and reigning champion, Estimate. Still, Her Majesty put on a brave face while awarding the trophy.
One jockey jumping for joy was Italian jockey Frankie Dettori after winning the Norfolk Stakes atop Baitha Alga, earlier in the day.
Hats off
Royal reception
Family affair
Ladies' day
Mind-bending millinery
Tea time
Fashion peacocks
Fashion stakes
See and be seen
Grand tradition
Fun day out
On track
Hats off to Royal Ascot
One is gracious in defeat
Jumping for joy
STORY HIGHLIGHTS
Leading Light wins thrilling Gold Cup
Queen Elizabeth II's filly Estimate comes close to defending Gold Cup title
Day three of Ascot is also Ladies' Day
(CNN) -- They think it's all over... it is now.
Britain's Queen Elizabeth II's filly Estimate came tantalizing close to defending her Gold Cup title at Ascot only to be edged out by a neck by a fast-finishing Leading Light in one of the most thrilling finishes in Gold Cup history.
A superb ride by Joseph O'Brien on Leading Light ensured that Estimate's jockey, Ryan Moore, did not have things all his own way as they rounded the final bend.
The two-and-half mile race came down to a sprint finish between Leading Light, Estimate, and Irish raider Missunited, who clung on to finish third, having made all the running.
Also bidding to spoil to the royal party was Brown Panther, owned by former England footballer Michael Owen. He held on gamely to finish fourth.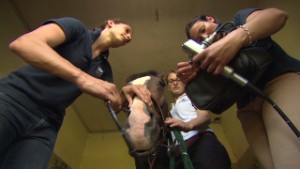 Keeping horses fit and healthy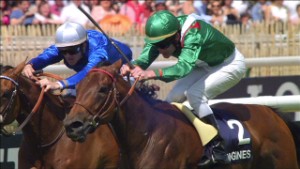 The race everyone wants to win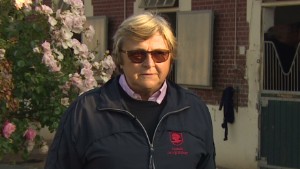 Europe's top female trainer of race horses
It's not often you see two national treasures go head-to-head at Royal Ascot, but Owen himself is popular figure in the paddock these days, having enjoyed a successful second career as an owner and breeder.
Day three of Ascot is also Ladies' Day, which is always guaranteed to provide a glittering array of frocks and hats.
The Queen herself, who was wearing blue, was gracious in defeat, presenting the trophy to the winning owners.
"It was tremendous and the Queen got such pleasure out of it.," said John Warren, her racing manager, of Estimate's performance.
"To see her put in such a brave effort like that was tremendous. It was a career best. She ran as good as you could ever hope."
Estimate's trainer Sir Michael Stoute added: "It was a great run and I'm very proud of her."
Missunited's trainer Michael Winters was also pleased with his runner: "She's run her heart out and jockey Jim Crowley has given her a peach of a ride," he told reporters.
"There was a moment down the back straight when I thought she might have given them the slip but it was a super run and a great ride."
Leading Light's victory made it a double on the day for the O'Brien camp, as the trainer and his son had earlier opened their account with Bracelet in the Ribblesdale Stakes.
Unusually, the 10/1 shot was the pair's first winner of the week.
"We're delighted to get a winner," conceded her trainer. "She's traveled and quickened well off a nice even pace," added her jockey.
Earlier in the day, Baitha Alga struck in the Norfolk Stakes to give Frankie Dettori his 49th winner at the Royal Meeting.
"I'm nearly there," exclaimed Dettori of his looming half century.
"It was a great performance. He's hard as nails and uncomplicated - everything you want in a two-year-old.
"I just had to do the right thing, get into the race and use his turn of foot," added Dettori, who celebrated the win with his trademark flying dismount.
There was another milestone for Stoute as victory for Cannock Chase in the Tercentenary Stakes gave the trainer his 70th Royal Ascot victory, making him the most successful living trainer at the meeting.