Outrage follows sexist outburst at Tokyo assembly meeting
June 23, 2014 -- Updated 0913 GMT (1713 HKT)
STORY HIGHLIGHTS
Male colleagues heckled assemblywoman Ayaka Shiomura
They interrupted her with comments urging her to get married
They also questioned whether she could bear children.
Tokyo (CNN) -- Outrage is growing in Japan after lawmakers hurled sexist comments at an assemblywoman giving a speech this week about the need for more services for women.
Male colleagues heckled Your Party member Ayaka Shiomura on Wednesday during a Tokyo assembly meeting. They interrupted her with comments urging her to get married and questioning whether she could bear children.
Shiomura had taken the stage to urge the Tokyo Metropolitan government to increase efforts to support women. Citing recent regulations that require mothers to fold up their strollers when boarding a train, she outlined struggles Japanese women face when dealing with pregnancy and raising a child due to lack of public support.
She also addressed the issue of infertility.
However, she was interrupted by a male member of the ruling LDP who shouted, "You should get married!"
Shiomura smiled weakly and continued amid male laughter.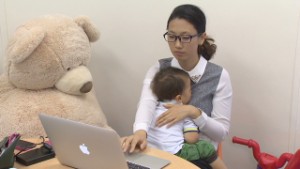 Can 'womenomics' save Japan?
A second outburst, "Can't you even bear a child?" followed as tears welled up in her eyes and her voice began to break.
When she sat down after her speech, she was seen drying her eyes with a handkerchief. Later, she posted on Facebook that the outbursts were like "a punch in the gut" and called on the hecklers to come forward.
Backlash ensued, with television pundits debating the incident and women lawmakers demanding the names of those responsible be released.
Sexism in common in the nation's workplace, and there have been concerns that Japan's fertility rate will continue to drop as more women choose careers instead of marriage and children.
Prime Minister Shinzo Abe has attempted to fill a gender gap in the workplace through "Womenomics," but men still hold the majority of positions of authority and command greater salaries.
Men in Japan earn 30% more than their female counterparts, according to statistics cited by Abe during an editorial last year announcing the launch of "Womenomics."
Statistics from the National Personnel Authority show just 3% of women are managers in Japan's central government, a number the Prime Minister has said is too low.
The goal is to increase that number to 30% by the 2020 Tokyo Olympics, Abe has said.

Today's five most popular stories
Part of complete coverage on
December 17, 2014 -- Updated 1419 GMT (2219 HKT)

Jane Fraser is often cited as one of the most powerful women in banking. She tells CNN's Poppy Harlow how women lead differently.
December 3, 2014 -- Updated 1743 GMT (0143 HKT)

Women's-only private members clubs are becoming more popular, offering spaces to work, socialize and relax, albeit with hefty membership fees.
November 28, 2014 -- Updated 1515 GMT (2315 HKT)

A new social network for women claims to be 'troll-proof' and was created by Karen Cahn, former Google, YouTube, Aol executive.
November 27, 2014 -- Updated 1418 GMT (2218 HKT)

She's the daughter of a Beatle and counts Kate Moss among her friends, but she had to create her own mark in the fashion world.
November 18, 2014 -- Updated 1743 GMT (0143 HKT)

Alli Webb always loved having her hair done, so she decided to bring that happy feeling to millions of women worldwide with her business, Drybar.
November 17, 2014 -- Updated 1324 GMT (2124 HKT)

NASA's chief scientist Dr Ellen Stofan wants to land humans on Mars by 2035, but there are some serious challenges to overcome before then.
November 4, 2014 -- Updated 1041 GMT (1841 HKT)

The Design Museum hosts a power dressing exhibition, from Joan of Arc's short tunics, to Joan Collins' eye-gouging shoulder pads.
October 30, 2014 -- Updated 1520 GMT (2320 HKT)

Opinion piece from architect Zaha Hadid on growing up in a very different Iraq, to close Leading Women's month of STEM coverage.
October 30, 2014 -- Updated 1227 GMT (2027 HKT)

Leading Women ran an iReport assignment which resulted in some amazing images of girls in STEM from our readers.
October 29, 2014 -- Updated 1108 GMT (1908 HKT)

Robots can be many things -- knowledgeable, dexterous, strong. But can they ever be genuinely laugh-out-loud hilarious?
October 27, 2014 -- Updated 1830 GMT (0230 HKT)

Victoria Beckham has come a long way from Posh Spice. She has now been named Britain's top entrepreneur, by magazine Management Today.
October 27, 2014 -- Updated 1447 GMT (2247 HKT)

Just one in seven engineers are female. STEM experts share their ideas on how to get more girls into the industry.