STORY HIGHLIGHTS
John Kerry urges Iraqi leadership to rise above "sectarian motivations"
Army spokesman says troops conducted "strategic withdrawals" in places
Fighters continue advancing towards Baghdad from west and north
Iranian leader condemns any attempts at U.S. involvement
Baghdad, Iraq (CNN) -- Militant fighters tightened their grip Sunday on western Iraq as security forces withdrew from a handful of towns in Anbar province, moving closer to Baghdad.
The news that Iraqi forces withdrew from at least three towns in the province raised questions about whether Prime Minister Nuri al-Maliki's government is giving up on the region.
It also comes the same day that Iran's religious leader condemned any U.S. involvement in Iraq, saying al-Maliki's government can handle its own problems.
"The United States is trying to portray this as a sectarian war. But what is happening in Iraq is not a war between Shiite and Sunnis," Ayatollah Ali Khamenei said in a statement carried by the state-run IRNA news agency.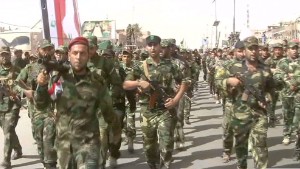 Iraqi Shias show force in weapons parade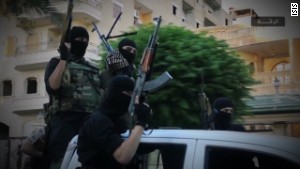 Iraq: Six things you need to know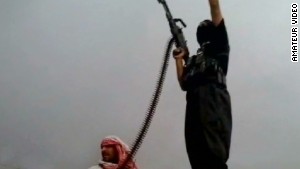 Secret video of ISIS smuggled out of Iraq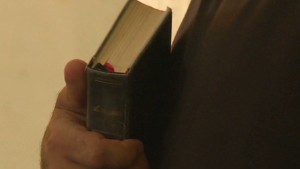 Iraqi Christians living in fear of ISIS
He blamed the attacks in Iraq on the remnants of Saddam Hussein's regime and extremists.
But U.S. Secretary of State John Kerry, speaking from Cairo, said no one should mistake what is happening and why.
"This is about (ISIS) designs on the state of Iraq," he said. "... The United States is prepared to help Iraq stand up against that."
As part of that effort, Kerry called on al-Maliki's Shiite-dominated government to rise above "sectarian motivations" to become more inclusive, more representative of its population.
Closer and closer to Baghdad
As international pressure mounts on al-Maliki, ISIS fighters continued their advance from the west and north on Baghdad.
Iraqi security officials told CNN that Tal Afar airbase in northern Iraq was taken by militants believed to be ISIS on Sunday afternoon.
Militants took over the town of Tal Afar last week but by Sunday, they also controlled the air base completely, officials said. Thousands of Shiite Turkmen families fled the town last week when ISIS attacked the town.
The western Anbar town of Rutba, 113 kilometers (about 70 miles) from the borders of Jordan and Saudi Arabia, was in the hands ISIS fighters, two security sources in Baghdad and one in Anbar told CNN on Sunday.
With the capture Saturday of Qaim on the border with Syria, where ISIS enjoys a stronghold, and a number of other towns in Anbar province, the fighters now have a direct line to the western outskirts of Baghdad.
At least 70% of the province is under the control of ISIS, two security officials in the region told CNN.
Iraqi forces withdrew from Haditha, about 270 kilometers (about 168 miles) northwest of Baghdad, during the overnight hours, two security officials in Anbar, speaking on condition of anonymity, told CNN.
Sunni tribes considered friendly to the Iraqi army took over security for the town, but officials believe it will fall to ISIS, said the officials, who are not authorized to speak to the media.
Haditha is home to the largest hydroelectric plant in Anbar, which is vital to the water supply of the province.
Iraq's military spokesman, Maj. Gen. Qassim Atta, told reporters there was a "strategic withdrawal" in some areas but did not detail the specific locations.
He said the withdrawals were part of a campaign to "open all these fronts so we can strengthen our positions."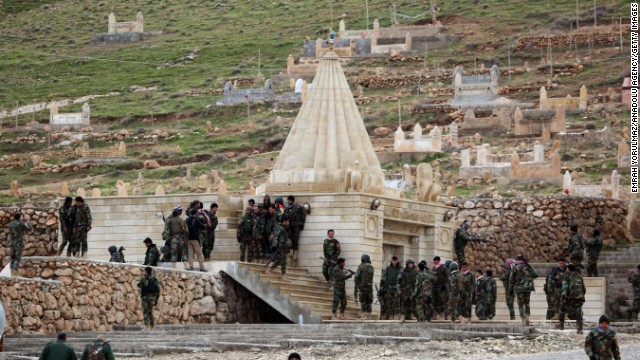 Kurdish Peshmerga fighters assemble at a shrine on Iraq's Mount Sinjar on Friday, December 19. The Kurdish military said that with the help of coalition airstrikes, it has "cleansed" the area of ISIS militants. ISIS has been advancing in Iraq and Syria as it seeks to create an Islamic caliphate in the region.
A Peshmerga fighter looks down at the body of an alleged ISIS fighter in Zummar, Iraq, on Thursday, December 18.
A Kurdish fighter stands next to a destroyed armored vehicle in northern Iraq on December 18. The vehicle was destroyed by an improvised explosive device placed by ISIS militants.
Peshmerga fighters stop to check a vehicle in Zummar on December 18 as they continue to battle ISIS fighters near the border with Syria.
Pro-Iraqi government forces guard a shrine in Balad, Iraq, on Monday, December 15.
A Yazidi woman displaced by ISIS militants tends to a fire Wednesday, December 10, at a shelter in Dohuk, Iraq.
A Kurdish child from the Kobani, Syria, area holds laundry at a refugee camp in Suruc, Turkey, on Monday, November 17. Tens of thousands of people have fled Kobani, known in Arabic as Ayn al-Arab, to escape ISIS.
Smoke rises from Kobani following airstrikes on November 17. The United States and several Arab nations have been bombing ISIS targets to take out the group's ability to command, train and resupply its fighters.
A Kurdish child from the Kobani area holds on to a fence at a refugee camp in Suruc on Sunday, November 16.
People in Suruc watch smoke rise near the Syrian border during clashes between ISIS members and armed groups on Thursday, November 13.
A bomb (upper left) falls on an ISIS position in Kobani during an airstrike by the U.S.-led coalition on Saturday, November 8.
Iraqi military forces take up position in Jurf al-Sakhar, Iraq, on November 8.
Fire and smoke rise from Kobani following airstrikes against ISIS on Thursday, October 30.
Iraqi special forces search a house in Jurf al-Sakhar on October 30 after retaking the area from ISIS.
Smoke rises during fighting in Kobani on Monday, October 27.
ISIS militants stand near the site of an airstrike near the Turkey-Syria border on Thursday, October 23.
An explosion rocks Kobani during a reported car-bomb attack by ISIS militants on Monday, October 20.
People watch Kobani from a hill near the Turkey-Syria border on October 20.
Kurdish fighters walk to positions as they fight ISIS forces in Kobani on Sunday, October 19.
A U.S. Air Force plane flies above Kobani on Saturday, October 18.
Heavy smoke rises in Kobani following an airstrike by the U.S.-led coalition on Saturday, October 18.
Cundi Minaz, a female Kurdish fighter, is buried in a cemetery in the southeastern Turkish town of Suruc on Tuesday, October 14. Minaz was reportedly killed during clashes with ISIS militants in nearby Kobani.
Turkish police officers secure a basketball stadium in Suruc on October 14. Some Syrian Kurds have been held there since crossing from Syria into Turkey.
Kiymet Ergun, a Syrian Kurd, celebrates in Mursitpinar, Turkey, after an airstrike by the U.S.-led coalition in Kobani on Monday, October 13.
Smoke rises from Kobani on Sunday, October 12.
Syrian Kurds from Kobani stand outside the grounds of a refugee camp in Suruc on Saturday, October 11.
Alleged ISIS militants stand next to an ISIS flag atop a hill in Kobani on Monday, October 6.
In this photo released by the U.S. Air Force on Saturday, October 4, a U.S. Navy jet is refueled in Iraqi airspace after conducting an airstrike against ISIS militants.
A Kurdish Peshmerga soldier who was wounded in a battle with ISIS is wheeled to the Zakho Emergency Hospital in Duhuk on Tuesday, September 30.
Iraqi Shiite militiamen aim their weapons during clashes with ISIS militants in Jurf al-Sakhar on Sunday, September 28.
Syrian Kurds wait near a border crossing in Suruc as they wait to return to their homes in Kobani on Sunday, September 28.
Syrian Kurds wait behind border fences to cross into Suruc on September 28.
Tomahawk missiles, intended for ISIS targets in Syria, fly above the Persian Gulf after being fired by the USS Philippine Sea in this image released by the U.S. Navy on Tuesday, September 23.
Turkish Kurds clash with Turkish security forces during a protest near Suruc on Monday, September 22. According to Time magazine, the protests were over Turkey's temporary decision to close the border with Syria.
Syrian Kurds fleeing ISIS militants wait behind a fence in Suruc on Sunday, September 21.
A elderly man is carried after crossing the Syria-Turkey border near Suruc on Saturday, September 20.
A Kurdish Peshmerga fighter launches mortar shells toward ISIS militants in Zummar on Monday, September 15.
An ISIS flag flies on the other side of a bridge at the front line of fighting between ISIS and Kurdish Peshmerga fighters in Rashad, Iraq, on Thursday, September 11.
U.S. Secretary of State John Kerry reads on a flight en route to Iraq on Wednesday, September 10. Kerry traveled to the Mideast to discuss ways to bolster the stability of the new Iraqi government and combat ISIS.
Kurdish Peshmerga fighters fire at ISIS militant positions from their position on the top of Mount Zardak, east of Mosul, Iraq, on Tuesday, September 9.
An Iraqi fighter jet flies over Amerli, Iraq, on September 3. Amerli had been under siege by ISIS militants.
Iraqi volunteer fighters celebrate breaking the Amerli siege on Monday, September 1. ISIS militants had surrounded Amerli, 70 miles north of Baquba, Iraq, since mid-June.
Kurdish Peshmerga forces stand guard at their position in the Omar Khaled village west of Mosul on Sunday, August 24.
Kurdish Peshmergas fight to regain control of the town of Celavle, in Iraq's Diyala province, on August 24.
Peshmerga fighters stand guard at Mosul Dam in northern Iraq on Thursday, August 21. With the help of U.S. military airstrikes, Kurdish and Iraqi forces retook the dam from ISIS militants on August 18. A breach of the dam would have been catastrophic for millions of Iraqis who live downstream from it.
Displaced Iraqis receive clothes from a charity at a refugee camp near Feeshkhabour, Iraq, on Tuesday, August 19.
A fighter with Kurdish Peshmerga forces battles ISIS militants near Mosul on Monday, August 18.
Peshmerga fighters inspect the remains of a car that reportedly belonged to ISIS militants and was targeted by a U.S. airstrike in the village of Baqufa, north of Mosul, on August 18.
Kurdish Peshmerga fighters fire at ISIS in Khazair, Iraq, on Thursday, August 14.
Volunteers of the Iraqi Red Crescent Society unload boxes of goods before distributing them August 14 to families who fled from ISIS.
From the flight deck of the USS George H.W. Bush, which is in the Persian Gulf, two U.S. fighter jets take off for a mission in Iraq on Monday, August 11. U.S. President Barack Obama authorized airstrikes against Islamic militants and food drops for Iraqis who are trapped by the militants.
Aziza Hamid, a 15-year-old Iraqi girl, cries for her father while she and some other Yazidi people are flown to safety Monday, August 11, after a dramatic rescue operation at Iraq's Mount Sinjar. A CNN crew was on the flight, which took diapers, milk, water and food to the site where as many as 70,000 people were trapped by ISIS. But only a few of them were able to fly back on the helicopter with the Iraqi Air Force and Kurdish Peshmerga fighters.
Thousands of Yazidis are escorted to safety by Kurdish Peshmerga forces and a People's Protection Unit in Mosul on Saturday, August 9.
Iraqi Shiite volunteers who have joined government forces to fight ISIS take part in a training session near Basra, Iraq, on Thursday, August 7.
Thousands of Yazidi and Christian people flee Mosul on Wednesday, August 6, after the latest wave of ISIS advances.
A Baiji oil refinery burns after an alleged ISIS attack in northern Selahaddin, Iraq, on Thursday, July 31.
A Syrian rebel fighter lies on a stretcher at a makeshift hospital in Douma, Syria, on Wednesday, July 9. He was reportedly injured while fighting ISIS militants.
Iraqis who fled fighting in the cities of Mosul and Tal Afar try to enter a temporary displacement camp in Khazair on Wednesday, July 2.
Peshmerga fighters check cars at the entrance of a temporary displacement camp in Khazair on Thursday, June 26.
Kurdish Peshmerga take their positions behind a wall on the front line of the conflict with ISIS militants in Tuz Khormato, Iraq, on Wednesday, June 25.
Peshmerga fighters clean their weapons at a base in Tuz Khormato on June 25.
New army recruits gather in Najaf, Iraq, on Wednesday, June 18, following a call for Iraqis to take up arms against Islamic militant fighters.
An MH-60R Sea Hawk helicopter lands on the aircraft carrier USS George H.W. Bush in the Persian Gulf on Tuesday, June 17.
Newly recruited Iraqi volunteer fighters take part in a training session in Karbala, Iraq, on June 17.
Members of ISIS prepare to execute soldiers from Iraq's security forces in this image, one of many reportedly posted by the militant group online. CNN cannot independently confirm the authenticity of the images.
Iraqi men chant slogans outside of an army recruiting center to volunteer for military service Thursday, June 12, in Baghdad.
Kurdish Peshmerga forces, along with Iraqi special forces, deploy their troops and armored vehicles outside of Kirkuk, Iraq, on June 12.
Children stand next to a burnt vehicle during clashes between Iraqi security forces and ISIS militants in Mosul on Tuesday, June 10.
Civilians from Mosul escape to a refugee camp near Irbil, Iraq, on June 10.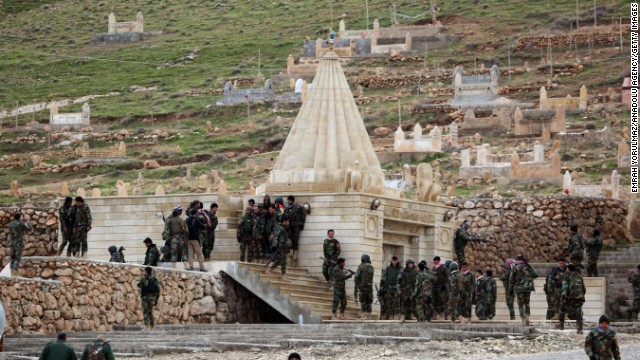 Photos: The ISIS terror threat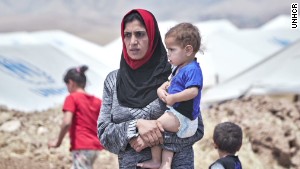 Mass exodus tears Iraqi families apart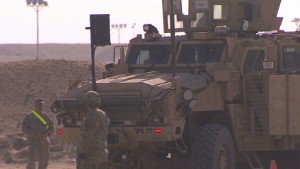 What will U.S. 'advisers' do in Iraq?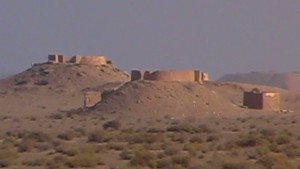 Militants capture chemical weapons plant
What is ISIS -- and what does it want?
Even so, there is a question of whether Iraqi forces can retake the regions under the control of well-armed ISIS fighters.
The fighters launched an attack during the overnight hours against one of the two remaining military bases in Anbar, two security officials in the province told CNN.
The fighters attacked Khalidiya military base, near Ramadi, but were unable to take it and withdrew early Sunday, the officials said.
Al-Asad, a large Iraqi air force base, and the nearby town of Hit are still under the control of the central government. The expectation, the officials say, is that both will be attacked next.
Despite the government effort to protect the Iraqi capital, minor clashes were reported between Sunni insurgents, possibly ISIS fighters, and Iraqi security forces in the Sunni town of Abu Ghraib very near Baghdad's western border, according to security officials.
Violence elsewhere in Iraq
Sporadic violence was reported across Iraq, including in the Shiite-dominated city of Hillah, about 95 kilometers (60 miles) south of Baghdad, where a recruiting station was shelled.
At least four people were killed and 34 were wounded in the attack on the recruiting station, where hundreds of predominantly Shiite men were answer a call to arms to protect Iraq.
In the northern city of Mosul, site of one of the first major victories for ISIS militants, witnesses told CNN on Sunday that the group used vehicle-mounted loudspeakers to announce that it had decided to form Islamic Sharia courts in the city.
The group also reportedly removed statues of the Christian Virgin Mary, Arab poet Abu Tammam and singer Mulla Othman, witnesses said.
The Iraqi government was waiting for the initial group of U.S. military advisers to arrive in Iraq soon, a senior defense official said.
This first detail is expected to be very small, the official said. The total number of U.S. military advisers who will eventually deploy will be about 300.
In addition, some U.S. military personnel already at the U.S. Embassy in Baghdad will be reassigned and become advisers, Pentagon spokesman Rear Adm. John Kirby said.
More than 1 million Iraqis flee homes since ISIS
"No solution" if Iraqi political structure not fixed
As ISIS advances toward Baghdad, call for fighting volunteers
CNN's Nic Robertson and Nima Elbagir contributed from Baghdad, and Arwa Damon from Irbil, Iraq. Mohammed Tawfeeq contributed from Atlanta. Michael Martinez wrote from Los Angeles.