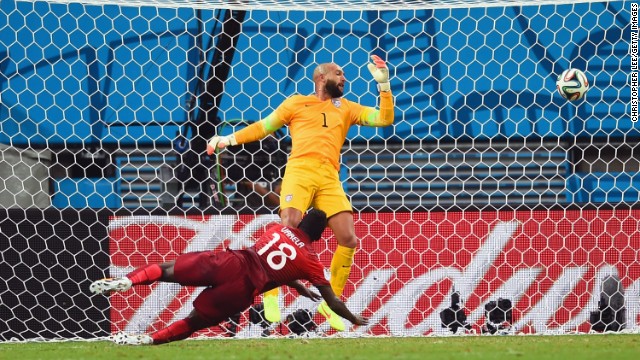 Talk about down to the wire. Silvestre Varela of Portugal scores his team's second goal past United States goalkeeper Tim Howard during a World Cup game at Arena Amazonia in Manaus, Brazil, on Sunday, June 22. The goal, scored with less than one minute left to play, led to a 2-2 draw.
United States forward Clint Dempsey celebrates after scoring his team's second goal. The goal gave the United States a 2-1 lead, but Portugal stormed back to tie the crucial Group G match.
Portugal's Cristiano Ronaldo played as if his injured left knee was no bother.
Portugal forward Nani jumps for the ball.
Midfielder Jermaine Jones celebrates after scoring the United States' first goal, in the second half.
Cristiano Ronaldo of Portugal reacts after a play. He failed to score on several good opportunities but made a big pass that led to a Portugal goal.
Fabian Johnson of the United States battles Raul Meireles of Portugal.
Clint Dempsey is challenged by several Portugal players during the action on June 22.
Portugal goalkeeper Beto dives for the ball. He kept the United States scoreless in the first half.
Portugal midfielder Raul Meireles and U.S. midfielder Kyle Beckerman tumble during the June 22 match in Manaus, Brazil.
Nani of Portugal scores his team's first goal past U.S. goalkeeper Tim Howard. Portugal took a 1-0 lead in the fifth minute of the match.
United States supporters gather at the Arena Amazonia in Manaus, Brazil. Broadcasters said the heat and humidity were oppressive.
A Portugal fan shows his spirit in Arena Amazonia in Manaus before the start of the Portugal and United States game on June 22.
Yacine Brahimi of Algeria, right, celebrates scoring his team's fourth goal during a World Cup game against South Korea at Beira-Rio Stadium in Porto Alegre, Brazil. Algeria won 4-2, its first World Cup victory in 32 years.
Son Heung-min of South Korea reacts after losing to Algeria.
Djamel Mesbah of Algeria vies for the ball with Lee Chung-yong of South Korea.
South Korea's Son Heung-min shoots and scores his team's first goal.
Hong Jeong-ho of South Korea and Nabil Ghilas of Algeria compete for the ball.
Algeria's goalkeeper Rais M'bohli makes a save.
Algerian midfielder Nabil Bentaleb, second left, competes for the ball with South Korean midfielder Ki Sung-yueng, first left, on June 22.
Islam Slimani of Algeria breaks through South Korean defenses on his way to scoring his team's first goal.
Son Heung-min of South Korea controls the ball against Madjid Bougherra of Algeria.
A South Korea fan cheers shows his support.
South Korea's Koo Ja-cheol reaches for the ball in front of Algeria's Carl Medjani.
Algerian defender Carl Medjani jumps to head the ball.
An Algeria fan shows his support.
Belgian forward Divock Origi reacts after scoring the only goal during a game between Belgium and Russia in Rio de Janeiro.
Belgian defender Toby Alderweireld heads the ball past Russian forward Alexander Kokorin.
Toby Alderweireld of Belgium challenges Maksim Kanunnikov of Russia.
Dries Mertens of Belgium reacts to a play against Russia.
Belgian defender Vincent Kompany heads the ball past Russia's forward Alexander Kokorin.
Axel Witsel of Belgium controls the ball.
Russia's forward Maxim Kanunnikov tumbles.
Kevin De Bruyne of Belgium tries to dodge a tackle by Vasily Berezutskiy of Russia.
Belgian supporters cheer for their team.
Belgium's midfielder Kevin De Bruyne is challenged by Russia's defender Vasily Berezutskiy, left, and midfielder Oleg Shatov.
Russia supporters kiss during the game.
World Cup: The best photos from June 22
World Cup: The best photos from June 22
World Cup: The best photos from June 22
World Cup: The best photos from June 22
World Cup: The best photos from June 22
World Cup: The best photos from June 22
World Cup: The best photos from June 22
World Cup: The best photos from June 22
World Cup: The best photos from June 22
World Cup: The best photos from June 22
World Cup: The best photos from June 22
World Cup: The best photos from June 22
World Cup: The best photos from June 22
World Cup: The best photos from June 22
World Cup: The best photos from June 22
World Cup: The best photos from June 22
World Cup: The best photos from June 22
World Cup: The best photos from June 22
World Cup: The best photos from June 22
World Cup: The best photos from June 22
World Cup: The best photos from June 22
World Cup: The best photos from June 22
World Cup: The best photos from June 22
World Cup: The best photos from June 22
World Cup: The best photos from June 22
World Cup: The best photos from June 22
World Cup: The best photos from June 22
World Cup: The best photos from June 22
World Cup: The best photos from June 22
World Cup: The best photos from June 22
World Cup: The best photos from June 22
World Cup: The best photos from June 22
World Cup: The best photos from June 22
World Cup: The best photos from June 22
World Cup: The best photos from June 22
World Cup: The best photos from June 22
World Cup: The best photos from June 22
World Cup: The best photos from June 22