Tokyo assembly member apologizes for sexist heckling of female colleague
June 24, 2014 -- Updated 0331 GMT (1131 HKT)
STORY HIGHLIGHTS
Tokyo assembly member apologizes to female colleague
Akihiro Suzuki apologizes for heckling assemblywoman, after telling her to "get married"
Heckled member accepts apology, but says others should come forward too
Tokyo, Japan (CNN) -- A male member of the Tokyo Metropolitan Assembly apologized Monday for shouting sexist remarks at a female colleague as she was giving a speech last week.
Akihiro Suzuki, an assemblyman from the ruling LDP party, admitted to heckling fellow assembly member Ayaka Shiomura, who is from the minority Your Party, during her speech urging increased public support for pregnant Japanese women.
Suzuki, who initially denied any involvement and condemned the harassment in an interview, publicly apologized to Shiomura. While admitting to making the first comment "You should get married," Suzuki has denied making a second comment, "Can't you even bear a child?"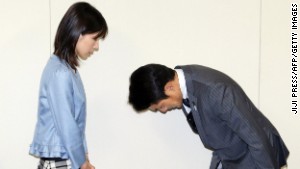 Akihiro Suzuki bows to Ayaka Shiomura, a fellow assembly member, to apologize for his sexist jeer during a Tokyo city hall event.
Shiomura accepted his apology but stated, "I'm positive that there were others besides Mr. Suzuki who made comments."
She said she hopes that others involved in the heckling will come forward as well.
When asked whether he would continue his position as an assembly member, Suzuki stated he has no plans to resign.
"I will stay on if I'm allowed to," he replied.
The incident last week reignited the debate over sexism in the Japanese workplace. Women are paid, on average, 30% less than their male counterparts, according to statistics cited by Japan's Prime Minister Shinzo Abe during an editorial last year announcing the launch of "Womenomics."
Women also hold just 3% of management positions in Japan's central government, according to the National Personnel Authority. Abe wants to increase that to 30% by the 2020 Tokyo Olympics.
Today's five most popular stories
Part of complete coverage on
December 23, 2014 -- Updated 1444 GMT (2244 HKT)

CNN set out on a hunt to find the women who excelled in their professions this year and we found some of the most inspiring women of 2014.
December 17, 2014 -- Updated 1419 GMT (2219 HKT)

Jane Fraser is often cited as one of the most powerful women in banking. She tells CNN's Poppy Harlow how women lead differently.
December 3, 2014 -- Updated 1743 GMT (0143 HKT)

Women's-only private members clubs are becoming more popular, offering spaces to work, socialize and relax, albeit with hefty membership fees.
November 28, 2014 -- Updated 1515 GMT (2315 HKT)

A new social network for women claims to be 'troll-proof' and was created by Karen Cahn, former Google, YouTube, Aol executive.
November 27, 2014 -- Updated 1418 GMT (2218 HKT)

She's the daughter of a Beatle and counts Kate Moss among her friends, but she had to create her own mark in the fashion world.
November 18, 2014 -- Updated 1743 GMT (0143 HKT)

Alli Webb always loved having her hair done, so she decided to bring that happy feeling to millions of women worldwide with her business, Drybar.
November 17, 2014 -- Updated 1324 GMT (2124 HKT)

NASA's chief scientist Dr Ellen Stofan wants to land humans on Mars by 2035, but there are some serious challenges to overcome before then.
November 4, 2014 -- Updated 1041 GMT (1841 HKT)

The Design Museum hosts a power dressing exhibition, from Joan of Arc's short tunics, to Joan Collins' eye-gouging shoulder pads.
October 30, 2014 -- Updated 1520 GMT (2320 HKT)

Opinion piece from architect Zaha Hadid on growing up in a very different Iraq, to close Leading Women's month of STEM coverage.
October 30, 2014 -- Updated 1227 GMT (2027 HKT)

Leading Women ran an iReport assignment which resulted in some amazing images of girls in STEM from our readers.
October 29, 2014 -- Updated 1108 GMT (1908 HKT)

Robots can be many things -- knowledgeable, dexterous, strong. But can they ever be genuinely laugh-out-loud hilarious?
October 27, 2014 -- Updated 1830 GMT (0230 HKT)

Victoria Beckham has come a long way from Posh Spice. She has now been named Britain's top entrepreneur, by magazine Management Today.