12 forgotten hand-colored images of life in the 1800s
July 1, 2014 -- Updated 1220 GMT (2020 HKT)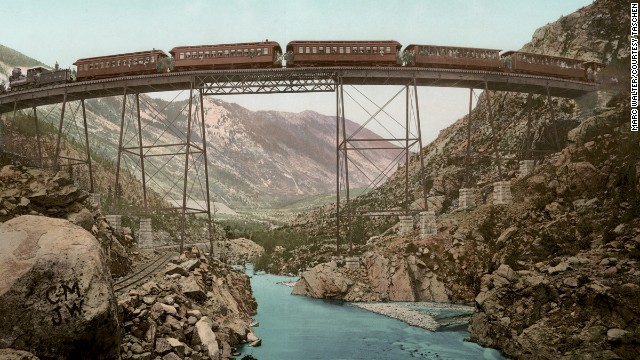 Clear Creek Canyon, Georgetown Loop, Colorado.
In this print, several plates were printed with different brown inks to capture the dusty wonder of the Grand Canyon.
Photochroms predated color film by decades and combined the emerging science of photography with time-tested painting techniques.
Mulberry Street, New York.
Multiple printing plates were made with each negative and parts of each plate were erased to feature a single color.
The colors are saturated and sort of dreamlike rather than exact representations of the color spectrum.
William Henry Jackson Diving for coins, Bahamas.
Sunset from the Battery, New York.
A Monday washing, New York.
The result are prints that combine photographic levels of detail with a painterly feel.
Seminole Indian family in dugout canoe, Miami River, Florida.
The prints started out as traditional black and white negatives on glass.
Zuni Pueblo Indians, the Rain Dance, New Mexico.
Instagram in the 1800s
Instagram in the 1800s
Instagram in the 1800s
Instagram in the 1800s
Instagram in the 1800s
Instagram in the 1800s
Instagram in the 1800s
Instagram in the 1800s
Instagram in the 1800s
Instagram in the 1800s
Instagram in the 1800s
Instagram in the 1800s
Instagram in the 1800s
STORY HIGHLIGHTS
Photocroms were the functional equivalent of Instagram in 1888
They were produced using emerging photographic techniques and paint
Some of the images feature the Great Lakes, Old South, Wild West, and Pacific coast
A collection of Photocroms have been published for the first time in a new volume
(CNN) -- Instagram is a decidedly modern invention, but back in your great-great-great-great-great-great grandparents' day, "Photochroms" were the functional equivalent. Photochroms combined emerging photographic technology and the painterly techniques of the old masters to provide technicolor glimpses of the Great Lakes, Old South, Wild West, and Pacific coast.
These dreamlike vistas have been collected for the first time in a volume called An American Odyssey by Marc Walter and Sabine Arqué. The oversize, $200 book is a sampling of the 100,000 Photochroms created by the Detroit Photographic Company between the company's formation in 1888 and its closure in 1924.
Read: Captivating Portraits of Total Strangers Embracing Right After Meeting
The Photochrom Process
Photochrom photographers would start the process by coating a printing plate with a light-sensitive emulsion and then exposing a glass plate photo negative onto it.
Unlike modern four-color printing process that can represent millions of colors by overlapping tiny dots of cyan, magenta, yellow, and black ink, the inks mixed for Photochroms were mixed by hand in an attempt to perfectly match the yellow-green sunblasted scrub brush that surrounds the Grand Canyon or the aquamarine ocean water of the Bahamas.
The photographers would erase the entire plate except for the area reserved for that specific color and make 10-15 more plates to fill out the composition. Photographic details were preserved, but an emotive, if slightly artificial, range of color was added.
Read: The Mystery of Go, the Ancient Game That Computers Still Can't Win
The Detroit Photographic Company toured large Photochroms on trains and the U.S. Government supercharged their spread by passing a law that allowed Photochromic postcards to be sent for a penny, rather than the going rate of two cents.
Like the locomotives of that era, labor-intensive Photochroms lost steam as the first color film debuted in 1907, and Kodak made color snapshots widely available with the release of Kodachrome cameras in 1935. However, as a testament to the charm of the technique, the last Photochrom factory didn't close its doors until 1970.
An American Odyssey is available from Taschen.
Read more from WIRED:
30 Years After Chernobyl's Meltdown, Gripping Photos Expose the Human Fallout
How the NSA Could Bug Your Powered-Off Phone, and How to Stop Them
The Eerie, Crumbling Bunkers of the Nazis' Atlantic Wall
Subscribe to WIRED magazine for less than $1 an issue and get a FREE GIFT! Click here!
Copyright 2011 Wired.com.

Today's five most popular stories
Part of complete coverage on
CNN Style
December 19, 2014 -- Updated 1602 GMT (0002 HKT)

After surviving Vichy prisons and Nazi concentration camps, Brian Stonehouse became one of the most prominent fashion illustrators of his age.
December 16, 2014 -- Updated 2203 GMT (0603 HKT)

Award-winning photographer Phil Stern captured everything from the battlefield to Hollywood Boulevard. These are his most iconic images.
December 16, 2014 -- Updated 0216 GMT (1016 HKT)

The Sony World Photography Awards has released a collection of some of the competition's most beautiful entrants.
December 15, 2014 -- Updated 2242 GMT (0642 HKT)

Are sports stadiums modern-day cathedrals? Leading architects say arenas will soon become our most important social spaces.
December 9, 2014 -- Updated 1104 GMT (1904 HKT)

Whether you think stuffed animals are cool, beautiful, or downright disturbing, this is taxidermy like you've never seen it before.
December 4, 2014 -- Updated 1434 GMT (2234 HKT)

Studio 54 has become synonymous with the glamor and excess of the late Seventies. These rare images capture its debauched side.
December 3, 2014 -- Updated 1325 GMT (2125 HKT)

It's official: London's getting another landmark. This time it's a stunning plant-covered bridge partly inspired by Leonardo DiCaprio.
December 3, 2014 -- Updated 0747 GMT (1547 HKT)

For fans of Ferrari, Maserati, Lamborghini and Pagani, this corner of Europe is a petrol-powered promised land.
December 3, 2014 -- Updated 1013 GMT (1813 HKT)

Victoria Beckham and Emma Watson were among the designers, models and taste-makers recognized at this year's British Fashion Awards.
December 2, 2014 -- Updated 1648 GMT (0048 HKT)

Duncan Campbell's It For Others, which features a dance inspired by Karl Marx and examines African art, has won the prestigious art prize.
December 1, 2014 -- Updated 1633 GMT (0033 HKT)

Simon Beck decorates snow-covered lakes and mountainsides with massive geometric designs using his footsteps as his implement.
November 25, 2014 -- Updated 1524 GMT (2324 HKT)

Houses that melt, float and flip upside down? Alex Chinneck's playful architecture sparks the imagination and begs for a photo-op.