12 forgotten hand-colored images of life in the 1800s
July 1, 2014 -- Updated 1220 GMT (2020 HKT)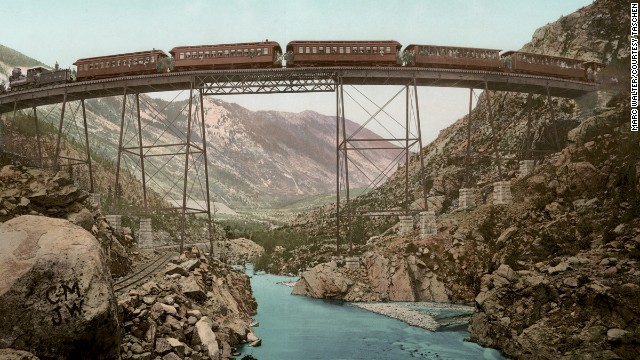 Clear Creek Canyon, Georgetown Loop, Colorado.
In this print, several plates were printed with different brown inks to capture the dusty wonder of the Grand Canyon.
Photochroms predated color film by decades and combined the emerging science of photography with time-tested painting techniques.
Mulberry Street, New York.
Multiple printing plates were made with each negative and parts of each plate were erased to feature a single color.
The colors are saturated and sort of dreamlike rather than exact representations of the color spectrum.
William Henry Jackson Diving for coins, Bahamas.
Sunset from the Battery, New York.
A Monday washing, New York.
The result are prints that combine photographic levels of detail with a painterly feel.
Seminole Indian family in dugout canoe, Miami River, Florida.
The prints started out as traditional black and white negatives on glass.
Zuni Pueblo Indians, the Rain Dance, New Mexico.
Instagram in the 1800s
Instagram in the 1800s
Instagram in the 1800s
Instagram in the 1800s
Instagram in the 1800s
Instagram in the 1800s
Instagram in the 1800s
Instagram in the 1800s
Instagram in the 1800s
Instagram in the 1800s
Instagram in the 1800s
Instagram in the 1800s
Instagram in the 1800s
STORY HIGHLIGHTS
Photocroms were the functional equivalent of Instagram in 1888
They were produced using emerging photographic techniques and paint
Some of the images feature the Great Lakes, Old South, Wild West, and Pacific coast
A collection of Photocroms have been published for the first time in a new volume
(CNN) -- Instagram is a decidedly modern invention, but back in your great-great-great-great-great-great grandparents' day, "Photochroms" were the functional equivalent. Photochroms combined emerging photographic technology and the painterly techniques of the old masters to provide technicolor glimpses of the Great Lakes, Old South, Wild West, and Pacific coast.
These dreamlike vistas have been collected for the first time in a volume called An American Odyssey by Marc Walter and Sabine Arqué. The oversize, $200 book is a sampling of the 100,000 Photochroms created by the Detroit Photographic Company between the company's formation in 1888 and its closure in 1924.
Read: Captivating Portraits of Total Strangers Embracing Right After Meeting
The Photochrom Process
Photochrom photographers would start the process by coating a printing plate with a light-sensitive emulsion and then exposing a glass plate photo negative onto it.
Unlike modern four-color printing process that can represent millions of colors by overlapping tiny dots of cyan, magenta, yellow, and black ink, the inks mixed for Photochroms were mixed by hand in an attempt to perfectly match the yellow-green sunblasted scrub brush that surrounds the Grand Canyon or the aquamarine ocean water of the Bahamas.
The photographers would erase the entire plate except for the area reserved for that specific color and make 10-15 more plates to fill out the composition. Photographic details were preserved, but an emotive, if slightly artificial, range of color was added.
Read: The Mystery of Go, the Ancient Game That Computers Still Can't Win
The Detroit Photographic Company toured large Photochroms on trains and the U.S. Government supercharged their spread by passing a law that allowed Photochromic postcards to be sent for a penny, rather than the going rate of two cents.
Like the locomotives of that era, labor-intensive Photochroms lost steam as the first color film debuted in 1907, and Kodak made color snapshots widely available with the release of Kodachrome cameras in 1935. However, as a testament to the charm of the technique, the last Photochrom factory didn't close its doors until 1970.
An American Odyssey is available from Taschen.
Read more from WIRED:
30 Years After Chernobyl's Meltdown, Gripping Photos Expose the Human Fallout
How the NSA Could Bug Your Powered-Off Phone, and How to Stop Them
The Eerie, Crumbling Bunkers of the Nazis' Atlantic Wall
Subscribe to WIRED magazine for less than $1 an issue and get a FREE GIFT! Click here!
Copyright 2011 Wired.com.

Part of complete coverage on
CNN Style
August 18, 2014 -- Updated 1009 GMT (1809 HKT)

Imagine watching the northern lights through the transparent roof of your own glass igloo. CNN takes a look at the most awe-inspiring hideouts.
August 19, 2014 -- Updated 1001 GMT (1801 HKT)

Photographer Romain Jacquet-Lagrѐze captures the giant skyscrapers swamping Hong Kong
August 13, 2014 -- Updated 2048 GMT (0448 HKT)

It's largely devoid of human life -- the Arctic is surely the worst possible destination for an arts festival.
August 11, 2014 -- Updated 1039 GMT (1839 HKT)

Beauty with purpose - these impressive clocks stun with their intricacy, history and grandeur.
August 6, 2014 -- Updated 0722 GMT (1522 HKT)

Opening in December 2016, The Krystall Hotel might melt hearts as guests check into this giant floating snowflake
August 5, 2014 -- Updated 1337 GMT (2137 HKT)

Wim Noorduin, a Harvard scientist, creates delicate micro-sculptures of flowers using a chemical reaction.
July 30, 2014 -- Updated 1235 GMT (2035 HKT)

Designer Justin Plunkett layers photos and computer-generated illustration to create Mad Max-like images of post-apocalyptic architecture.
July 24, 2014 -- Updated 2054 GMT (0454 HKT)

CNN went to the International Talent Support contest in Trieste, Italy, to find out who will be the next big name in fashion design.
July 28, 2014 -- Updated 1303 GMT (2103 HKT)

Patrycja Makowska's enigmatic images show crumbling palaces with ornate ballrooms, swirling staircases, and grand rooms strewn with rubble.
July 30, 2014 -- Updated 0556 GMT (1356 HKT)

From Maastricht to Melbourne, CNN brings you the most extraordinary and beautifully designed bookshops in the world.
July 25, 2014 -- Updated 1510 GMT (2310 HKT)

Photographer Joan Fontcuberta plays with reality and fiction, giving goats wings, and adorning monkeys with unicorn horns.
July 17, 2014 -- Updated 1046 GMT (1846 HKT)

L.A. artist Christine McConnell styles herself as a glamorous pin-up, but her sumptuous cakes evoke the Tim Burton-esque realm of fantasy.
Today's five most popular stories