Boko Haram abduct 60 females, kill 30 men in northeast Nigeria
June 24, 2014 -- Updated 1757 GMT (0157 HKT)
STORY HIGHLIGHTS
Village raid occurred in Nigeria's Borno state, where Boko Haram has a presence
Several dozen girls and women were abducted, sources say
Thirty male villagers were killed, and the militants looted the village for food, they say
Kano, Nigeria (CNN) -- Boko Haram Islamists abducted 60 females, including children, and killed 30 men last week in a raid of a village in northeastern Nigeria, two sources said Tuesday.
Dressed as soldiers, the gunmen invaded the village of Kummabza in Borno state on June 18 and held the people hostage for four days, the sources said.
After killing the 30 male villagers and looting food supplies, they whisked away 60 female hostages and set the village on fire with petrol bombs and explosives, a senior local government official said. Some of the kidnapped girls were between the ages of 3 and 12.
News of the raid was slow to emerge after insurgents bombed telecom masts, limiting communication. But details filtered out when residents left the village Monday after the insurgents withdrew.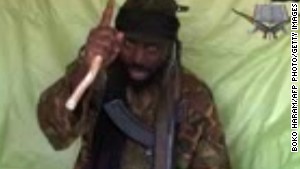 Officials: At least 20 more girls taken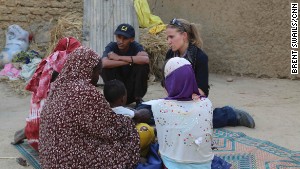 Orphaned by Boko Haram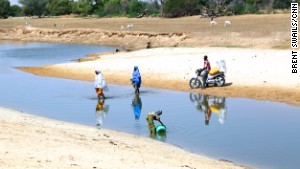 River between life and death
"They took away 60 women, including small girls, after holding the village hostage for four days and killing 30 men," said the local official, who spoke on condition of anonymity for fear of reprisals from Boko Haram.
"They set the whole village on fire while they were leaving after carting away all the foodstuff from the barns," the official said.
Abba Aji Khalili, a vigilante leader in Maiduguri, said, "The survivors had to trek to nearby Lassa village 25 kilometers away and Madagali town in neighboring Adamawa state before people got to know what had happened."
Some villagers too weak to make the long trek were still in the village in "dire need of humanitarian assistance," Khalil said.
"They are facing a serious humanitarian challenge" because they have no access to food, water and shelter, he said.
Northeastern Nigeria is the home of Boko Haram, the militant Islamists who abducted scores of schoolgirls in April.
The militant group says its aim is to impose a stricter enforcement of Sharia law across Nigeria, which is split between a majority Muslim north and a mostly Christian south.
READ: How Nigeria's brutal schoolgirl abduction shocked the world
READ: Where are Nigeria's missing girls? On the hunt for Boko Haram

Today's five most popular stories
Part of complete coverage on
Boko Haram
December 18, 2014 -- Updated 1633 GMT (0033 HKT)

What exactly is Boko Haram, and why has it turned into a Nigerian synonym for fear and bloodshed?
October 22, 2014 -- Updated 0946 GMT (1746 HKT)

Nigeria says that more than 200 girls abducted by Boko Haram in April are to be released.
October 20, 2014 -- Updated 1252 GMT (2052 HKT)

Six months after more than 200 schoolgirls vanished in Nigeria, the #BringBackOurGirls campaign has faded. But this man hasn't.
October 18, 2014 -- Updated 1124 GMT (1924 HKT)

CNN's Jessica King looks at how a social media campaign may have influenced the government to take action.
October 18, 2014 -- Updated 1831 GMT (0231 HKT)

Despite government claims of a ceasefire, alleged Boko Haram gunmen attack two villages and a town.
October 18, 2014 -- Updated 0410 GMT (1210 HKT)

Journalist Sarah Topol spent time with some girls who managed to escape. She gives her reaction to CNN.
October 12, 2014 -- Updated 0601 GMT (1401 HKT)

27 hostages freed from Boko Haram have arrived in the capital of Cameroon. Lynda Kinkade reports.
September 25, 2014 -- Updated 1008 GMT (1808 HKT)

Nigerian forces battling Boko Haram have killed a man suspected of acting as the group's leader, Nigerian officials said.
October 19, 2014 -- Updated 1035 GMT (1835 HKT)

In April the world was shocked to learn that Boko Haram had abducted more than 200 girls from their boarding school in Chibok.
October 22, 2014 -- Updated 1040 GMT (1840 HKT)

With every attack by Islamist militants in northern Nigeria, Daniel Ayuba relives a nightmare.
May 12, 2014 -- Updated 1318 GMT (2118 HKT)

The terrifying news began to spread before the gun-wielding Islamist militants made it into Chibok.
November 19, 2014 -- Updated 1817 GMT (0217 HKT)

Here's a look at Boko Haram, a militant Islamic group working out of Nigeria, whose purpose is to institute Sharia, or Islamic law.
October 3, 2014 -- Updated 1053 GMT (1853 HKT)

Nina dos Santos talks to the chief spokesman of a Nigerian opposition party about the challenges his country faces.