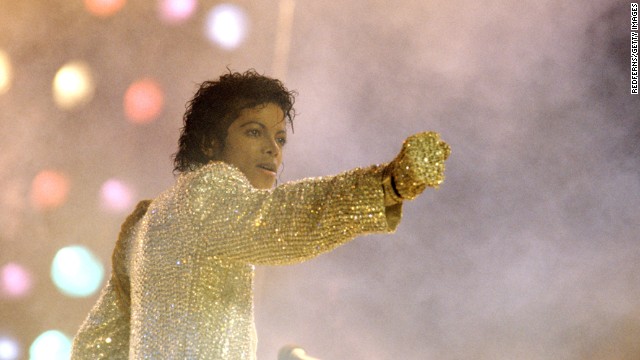 The death in 2009 of superstar Michael Jackson, who died of cardiac arrest at the age of 50, sent shockwaves around the world.
The Jackson 5 perform on a TV show circa 1969. From left, Tito Jackson, Marlon Jackson, Michael Jackson, Jackie Jackson and Jermaine Jackson.
Michael Jackson quickly became the stand out star of the Jackson 5. Here he performs onstage circa 1970.
Michael Jackson poses during a portrait session in Los Angeles in 1971.
Michael Jackson performs with The Jacksons in New Orleans on October 3, 1979.
Jackson achieved superstardom with his solo career in the 1980s. Here Jackson is shown on stage in Kansas in 1983.
Michael Jackson performs on stage circa 1990.
Jackson broke a world record during the Bad tour in 1988 when 504,000 people attending seven sold-out shows at Wembley Stadium in London.
Jackson perfoms in concert circa 1991 in New York City.
Known for his dance moves, Jackson is seen here jumping in the air while performing during the Dangerous tour in 1992.
Michael Jackson performs in Rotterdam, Netherlands.
Jackson performs with his brothers.
Jackson performs during the Bad tour at Wembley Stadium in London.
Jackson performs during the taping of "American Bandstand's 50th: A Celebration" in 2002.
Michael Jackson earned the Legend Award during the MTV Video Music Awards in Tokyo in 2006.
Jackson is seen in this handout photo provided by AEG Live on June 23, 2009, two days before his death, rehearsing at the Staples Center in Los Angeles.
Michael Jackson, King of Pop
Michael Jackson, King of Pop
Michael Jackson, King of Pop
Michael Jackson, King of Pop
Michael Jackson, King of Pop
Michael Jackson, King of Pop
Michael Jackson, King of Pop
Michael Jackson, King of Pop
Michael Jackson, King of Pop
Michael Jackson, King of Pop
Michael Jackson, King of Pop
Michael Jackson, King of Pop
Michael Jackson, King of Pop
Michael Jackson, King of Pop
Michael Jackson, King of Pop
Photos: Michael Jackson, King of Pop
STORY HIGHLIGHTS
Bryan Monroe looks at whether Michael Jackson's desire for immortality is being realized
Jackson told Monroe during his last interview: "Let's face it. Who wants mortality?"
Jackson died five years ago from an overdose of the powerful anesthetic propofol
Editor's note: Bryan Monroe is Washington editor/Opinion for CNN. He was previously the editorial director for Ebony and Jet magazines and helped lead a team in Biloxi, Mississippi, to the 2006 Pulitzer Prize for coverage of Hurricane Katrina. You can follow him on Twitter @BryanMonroeCNN. The opinions expressed in this commentary are solely those of the author.
(CNN) -- Michael Jackson wanted to live forever.
Just a year and a half before his death, I conducted what ended up being the last major interview with the reclusive Jackson in his suite at the Carlyle Hotel in New York City. And his words stopped me.
"Let's face it. Who wants mortality? Everybody wants immortality," he told me that warm September afternoon. "You want what you create to live, be it sculpture or painting or music. Like Michelangelo said, 'I know the creator will go but his work survives. That's why to escape death I attempt to bind my soul to my work.' That's how I feel. I give my all at work. 'Cause I want it to just live."
Most of us remember where we were when we heard that he was dead.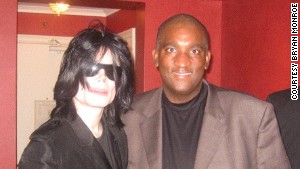 Bryan Monroe, right, conducted the last major interview with Michael Jackson in 2007 in New York.
I was mowing the lawn at my house outside Chicago when I got the first call.
In fact, I got several calls and texts with the bulletin -- first from TMZ and then from the Los Angeles Times -- that he had died. But it wasn't until I heard CNN's Wolf Blitzer announce it at 6:28 p.m. ET that I finally believed it.
Michael Jackson was dead.
Sure, I was shocked when I heard the news that the King of Pop had left the world. But, in a way, I was not all that surprised. Jackson, even as troubled as he was, had given his all to the world during his 50 years on the planet. And now he was in the hands of history.
Just before that interview for Ebony magazine, I watched his youngest son, Blanket, then 7, politely greet me at the hotel room door and his father quickly correct him -- "Blanket, you shake with your right hand, not with your left" -- and in that moment I saw what those kids meant to him. It was indeed his children -- Prince, now 17, Paris, now 16, and Blanket, now 12 -- who gave us those dozen or so extra years of Michael Jackson's life.
Jackson was a true father, and those kids were his heart. He lived for them. They gave his later life meaning. Never mind those images of a newborn Prince Michael II dangling from that hotel balcony in Berlin, or pictures of the kids wearing masks while being shuttled around by their dad. Away from the cameras and publicists and crowds, Jackson was about as regular a father as someone like him could be.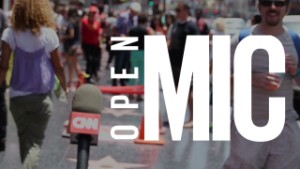 Open Mic: Celebrating Michael Jackson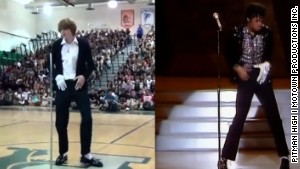 Teen nails Michael Jackson dance routine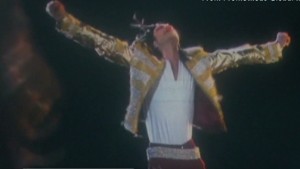 Michael Jackson hologram hits the stage
That's why it was even more tragic that he died just four days after Father's Day.
So, five years later, it is those kids who stand to benefit most from his immortality. If the lawyers and accountants and Uncle Sam get out of the way -- The Associated Press reported that more than $91 million of the $600 million his estate has earned since his death has gone to taxes and licenses, and another $32 million went to lawyers and the executors of his estate -- the three children and his mother will do quite well for the rest of their lives.
As a musical wonder at age 8, he and his brothers defined a genre of music in the '70s. When he left the Jackson 5 and went on his own in the early '80s, he did it again with his "Off the Wall" and "Thriller" albums, shattering just about every record held to date.
He sold out concerts around the world, rescued a stalled music industry and single-handedly put MTV on the map -- "Nobody had ever seen anything like that," legendary superproducer Quincy Jones once told me, after the "Thriller" video debuted on the fledgling music network. "That album sold something like a million and a half copies per week after we put that video out."
Still, when Jackson died, he had amassed nearly a half billion dollars in various debts -- to banks, bodyguards and other creditors, Forbes reported. That debt had largely been wiped out in the first year following his death, due to huge posthumous CD sales and film proceeds.
In the last year alone, his estate has seen a slew of projects:
-- "Xscape," a new album of never-before-released Michael Jackson songs reproduced by executive producer L.A. Reid debuted at No. 2 on the U.S. charts last month.
-- "Michael Jackson One," a Las Vegas Cirque du Soleil extravaganza featuring his music and dance moves, and "The Immortal World Tour," a slick companion show that is now traveling the country, with more than 500 performances so far.
-- Numerous books, documentaries and the film "This Is It" have tried to capture Jackson's life. The latest book, "Remember the Time: Protecting Michael Jackson in His Final Days," by two of his bodyguards, just hit bookstores.
Michael Jackson's legacy: Music, family and 'What if?'
Even a makeup-stained chair, allegedly from Jackson's rented Holmby Hills mansion where he died, just went on sale on eBay with a starting price of $30,000.
In death, everybody still wants to get paid by Michael Jackson.
In the past five years there have been lawsuits -- his mother, Katherine Jackson, sued promoter AEG Live, claiming more than $1 billion in damages. She said the promoter was liable for the star's wrongful death, but a jury ruled against her last year and she collected nothing.
There have been tragedies -- Michael Jackson's daughter, Paris, who took his death the hardest, found herself in a hospital bed last year after reportedly trying to slit her wrists. She later recovered.
And there has been drama. Jackson's personal physician, Dr. Conrad Murray, was convicted on involuntary manslaughter charges for causing the star's death as a result of an overdose of the powerful surgical anesthetic propofol. He was released in 2013, two years early, due to prison overcrowding.
But through it all, Michael Jackson somehow lives on.
Thinking back to that last conversation with him, I didn't know when I sat down next to him on that burgundy couch that his last words to me would be prophetic.
"To escape death I attempt to bind my soul to my work."
Michael Jackson, through his work, wanted to live forever. And, based on what has happened in the five years since he died, he might just make it.
Read CNNOpinion's new Flipboard magazine.
Follow us on Twitter @CNNOpinion.
Join us on Facebook.com/CNNOpinion.