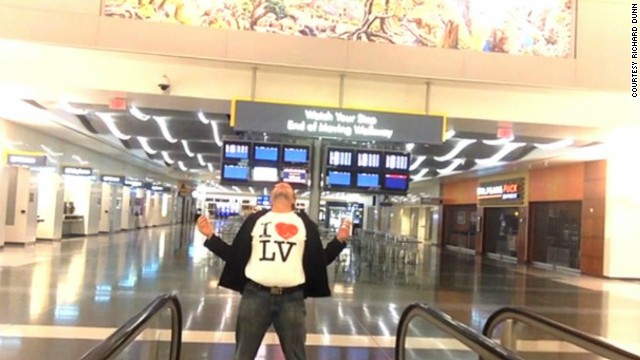 When stranded traveler Richard Dunn found himself stuck overnight at Las Vegas' McCarran International Airport, he passed the time by shooting a music video of himself lip-synching the Celine Dion cover of "All by Myself." iReporters shared their tips for how to pass time when stranded at the airport.
Airports are big places. There's definitely enough room for a game. Earlier this month, Daniel Wiersema, who belongs to American soccer fan club the American Outlaws, captured a shot of fellow members engaged in an impromptu football match at George HW Bush Airport in Texas. The group were en route to Brazil for the 2014 FIFA World Cup.
Sometimes, the most entertaining part of traveling is observing your fellow man. While at London's Stansted Airport, passenger Nick Holyoake took a shot of a woman he observed posing with a smiley face balloon.
Some of our readers were so enamored with the airport lounge that they didn't need to find ways to entertain themselves. Travel blogger Freddy Sherman was particularly smitten with the CIP Lounge at Istanbul's Ataturk Airport, which boasts a golf simulator among its many amenities.
The CIP Lounge at Istanbul's Ataturk Airport is also a handy place to play pool. With so much entertainment at hand, who needs an iPhone?
Airports seem like constantly busy hubs, but that's not always the case. Cartographer Jill Thornton found herself waiting for her next flight in a completely empty airport in Cairns, Australia. As the only passenger in the place, she says she felt like she was "in an episode of the Twilight Zone."
Making the best of flight delays
Make a game of it
People watch
Putt around
Play some billiards
Imagine you've survived a zombie apocalypse
STORY HIGHLIGHTS
Traveler Richard Dunn made a music video that went viral while stuck at the airport
iReporters shared photos of how they kill time while waiting to board their flight
Readers reveal they've played soccer and practiced flying a plane while at the airport
(CNN) -- Last year at airports across the world 18% of flights were delayed, leaving millions of passengers stuck with a lot of time on their hands.
Most of us can kill time at airports with a bit of shopping or the distractions provided by our smartphones, but some instead choose to get creative.
Richard Dunn is a case in point. Earlier this month, he found himself stuck overnight as Las Vegas' McCarran International Airport, and decided to pass the time by shooting a music video of himself lip-synching the Celine Dion cover of "All by Myself." Shortly after posting it on Vimeo, the video went viral.
We asked our readers to submit images of them killing time, and found that pre-boarding, they can get pretty quirky.
Make a game of it
Earlier this month, Daniel Wiersema, from Austin, Texas, was traveling with fellow members of the American Outlaws, a soccer fan club that travels to matches worldwide to show support for the USA. He was one of 530 members who flew to Brazil for the 2014 FIFA World Cup.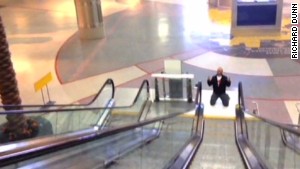 Guy films airport video 'All By Myself'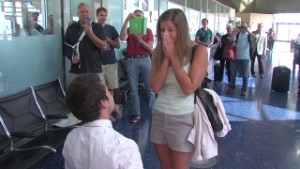 Flight crew helps man stun girlfriend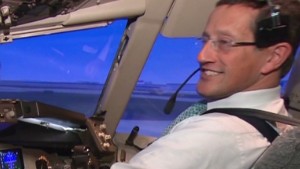 Landing at the world's busiest airport
At George HW Bush International Airport, however, he and his fellow fans found they had time to kill before boarding.
"Myself and about eight others began passing a ball around, and it broke into a full out game," he recalls.
Do you have a photo or video demonstrating how you kill time at the airport? Share them with CNN iReport and it may be added to the gallery above.
Be a fly on the wall
Sometimes, people-watching provides its own rewards. Training consultant Nick Holyoake found this to be true while waiting around at arrivals at London's Stansted Airport. He happened to notice a woman who, despite her bright yellow dress and smiley face balloon, looked "sad and solitary", he says.
"She looked like she made such an effort for someone who was either late or never coming," Holyoake hypothesizes.
"The paradox between the bright yellow of her hopefulness and the reality that all was most likely not going smoothly grabbed me."
When he noticed her cover her face with the balloon, he couldn't help but snap a picture.
Hit the lounge
Some travelers, meanwhile, found themselves actually relishing their flight delays. Freddy Sherman, a luxury travel blogger, was so pleased with the amenities at Istanbul Ataturk Airport's CIP Lounge that he was loathe to board his flight. In addition to a spacious billiards area, the lounge also sports a golf simulator.
"I travel frequently and have experienced a lot of airport lounges, but this one constantly amazes me with all the things to see, do and eat," he says.
"I actually wanted my plane to be delayed so I could spend more time there."
Share your best shots of dealing with flight delays with CNN iReport.