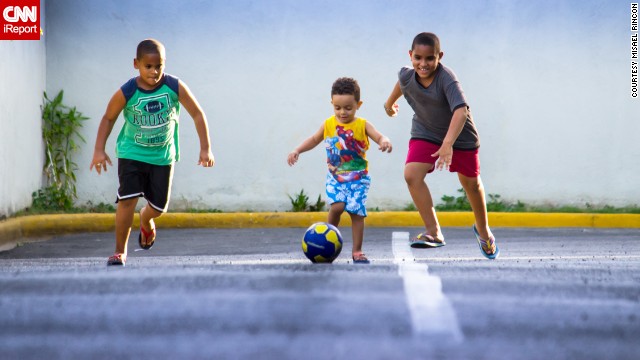 Whether you call it soccer or football, this game is beloved around the world. In the Dominican Republic, Misael Rincon's kids and their cousin "have
World Cup fever
!" Here, they race for the ball outside Rincon's Santo Domingo home. "My kids love the baseball but for a few days here [they] have replaced the bat and glove for a football," he said. Click through the gallery to see more joyful photos that illustrate the world's love affair with soccer.
Score! Cristian Catanescu's 9-year-old son celebrates after
getting a goal
on his family's terrace in Singapore. "Football brings joy to this boy! He changed places and continents several times and his best way to connect to local people is through football," said Catanescu.
quick game of pick-up soccer
. Photographer Reynaldo Leal captured the game while documenting the conflict in Syria in 2013.
A group of Free Syrian Army fighters in Aleppo, Syria, takes a break for a
This match took place in the courtyard of an abandoned elementary school in Syria, said Leal. "Everything had been so serious on the front lines that day, so I was surprised to find the fighters playing a pick-up game of football," he said.
flies into the net
during a youth training session in Singapore. "Parents hide in the shade while kids run around for hours. Hard to understand how can they take so much sun. They must be crazy about football," said Catanescu.
A ball
battle for the ball
in a Westchester County, New York, soccer league.
You can see the intensity and determination on these women's faces as they
fight for the ball
in Cebu, Philippines, says Clarson Fruelda. They're playing in an annual local soccer tournament with divisions for all ages.
These kids "have their game faces on" as they
"Imagine you drive to the middle of nowhere to deliver soccer balls to kids who never had one," said Ron Eisen. "After you make the delivery, a woman appears, without shoes, and has mad soccer skills!" Eisen, a volunteer with the charity Ball To All, photographed the woman in Shangani, Zimbabwe, as she demonstrated her prowess. He
made a video
, too.
flies through the air
as he approaches the ball at a tournament in Phuket, Thailand. "William currently plays on a soccer team with teammates from Singapore, England, Japan, Australia, Romania, Canada and India," said his mom, Tracy. "Our mutual passion for soccer has brought this unlikely group together."
William Hyndman
sweeper
in the Phuket tournament.
William digs in as he plays
practices his shot
at a park in Studio City, California.
Get 'em started early! Marie Sager's 4-year-old grandson, Mason Banks,
The world's favorite game
The world's favorite game
The world's favorite game
The world's favorite game
The world's favorite game
The world's favorite game
The world's favorite game
The world's favorite game
The world's favorite game
The world's favorite game
The world's favorite game
The world's favorite game