STORY HIGHLIGHTS
The Los Angeles County Fire Department uses three Firehawks to combat wildfires
Pilot Tom Short worries that California's drought will make for a difficult wildfire season
Firehawk, a version of the Army's Black Hawk, can load 1,000 gallons of water in 60 seconds
(CNN) -- A whirling black and yellow mechanical beast swoops in to battle a deadly wildfire. For victims, it's like the cavalry coming to the rescue.
They call it the Firehawk. 
Los Angeles County Fire Department senior pilot Tom Short talks about this helicopter like it's a super chopper.
"Having been in all of the aircraft that are out there fighting fires, the Firehawk is the best firefighting machine I've ever seen -- simply because of what it does," Short told CNN on the phone this week. "It does everything: fire, rescue and air ambulance."
Basically it's a U.S. Army Black Hawk helicopter outfitted with a giant water tank. This thing is engineered to get hellishly close to the heat of a raging inferno. Its dual souped-up engines can lift 9,000 pounds -- about the same weight as a large recreational travel trailer.
In preparation to dump water over flames, the Firehawk's snorkel can suck 1,000 gallons of water into its storage tank in the span of one minute.
"We really work these machines very hard. During some fires, Short said, "I've made over 100 drops in one day."
A firefighting super-chopper is especially valuable now, as California braces for what may be one of the worst wildfire seasons on record.
How worrisome is it? The state's firefighting agency, Cal Fire, has responded to more than 2,500 wildfires in 2014 -- a huge increase in the average number of fires at this point in the year, the agency says. In May, several fires in San Diego County forced thousands of residents from their homes and charred more than 31 square miles. The season usually doesn't ramp up until summer or fall.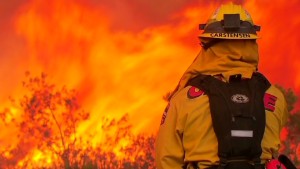 Residents flee San Diego wildfires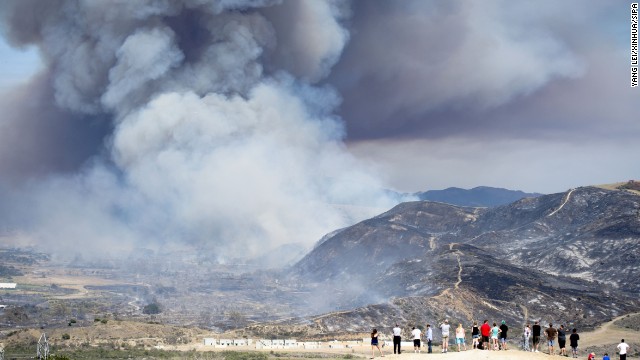 Residents watch a wildfire near San Diego on Friday, May 16. Wildfires devoured more than 20,000 acres in San Diego County after a high-pressure system brought unseasonable heat and gusty winds to the parched state.
A paddleboarder watches two helicopters grab water from the Pacific Ocean to fight wildfires near Camp Pendleton, California, on May 16.
Smoke plumes rise May 16 behind the entrance to Camp Pendleton, a U.S. Marine Corps base.
A Marine helicopter scoops water from the ocean to fight a wildfire near Camp Pendleton on May 16.
Flames light up the sky May 16 near Camp Pendleton.
A helicopter drops water near homes in San Marcos, California, on May 16.
Marines move military vehicles near the entrance to Camp Pendleton on May 16.
People look over a canyon ravaged by fire in Carlsbad, California.
Fire engulfs a structure in Escondido, California, on Thursday, May 15.
A firefighter pulls a hose on May 15 while battling a wildfire in San Marcos.
A house in San Marcos burns on May 15.
A helicopter from the San Diego County Sheriff's Department drops water on flames in the hills of San Marcos, California, on May 15.
A huge plume of smoke in San Marcos is seen on May 15 from atop Mount Soledad in La Jolla, California.
The grille of a pickup truck is left melted by a wildfire in San Marcos.
Smoke rises as a wildfire closes in on houses near San Marcos on May 15.
Jeff Brown wets down the roof of his Escondido home as a wildfire smolders around it on May 15.
A helicopter drops retardants onto a wildfire May 15 in San Marcos.
A wildfire burns near homes and California State University in San Marcos on Wednesday, May 14.
A house in San Marcos is consumed by a wildfire on May 14.
Firefighters spray water on a burning building in Carlsbad, California.
A firefighter puts out a spot fire in San Marcos.
A plane drops fire retardant over a hot spot in San Marcos on May 14.
A woman flees a wildfire as it crosses a highway in Carlsbad on May 14.
A firefighter sprays water onto a fully engulfed home in Carlsbad on May 14.
A helicopter flies over burning vegetation near homes in Carlsbad on May 14.
A firefighter puts water on a smoldering fence outside a home in Carlsbad on May 14.
A woman is escorted to safety May 14 in Carlsbad.
A Carlsbad police officer turns traffic away as flames rage behind him on May 14.
A wildfire approaches buildings in Carlsbad on May 14.
A helicopter drops water near the Rancho Santa Fe neighborhood of San Diego on Tuesday, May 13.
Trees burn on May 13 as a San Diego wildfire moves through a canyon between Rancho Santa Fe and the Fairbanks Ranch area.
A wildfire threatens luxury homes in the Fairbanks Ranch area on May 13.
Firefighters prepare to take on a wildfire in San Diego.
A helicopter battles a San Diego wildfire on May 13.
Firefighters arrive to assist local personnel in San Diego on May 13.
Smoke rises from a canyon where a San Diego wildfire burned on May 13.
Firefighters watch from a ridge as a helicopter drops retardant on flames in San Diego on May 13.
Billowing smoke rises as firefighters trek up the hills to battle a San Diego fire on May 13.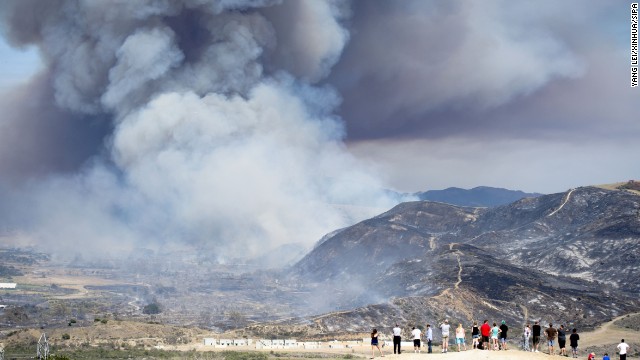 Photos: California wildfires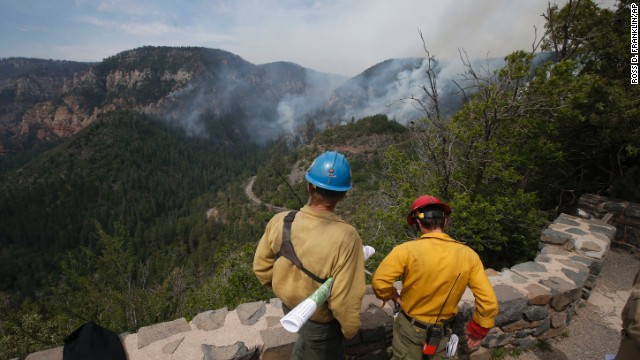 True Brown, left, of the Blue Ridge Hotshots, and Mark Adams of the Mormon Lake Hotshots take a high vantage point as spotters for those fighting a wildfire near Flagstaff, Arizona, on Friday, May 23. The fast-growing fire, dubbed the Slide Fire because it is just north of Slide Rock State Park, threatens several hundred homes and rental cabins in the area.
A helicopter helps battle the Slide Fire over Sterling Canyon in Sedona, Arizona, on Thursday, May 22. Hundreds of firefighters are battling high winds and steep terrain to contain the blaze.
Smoke rises from Oak Creek Canyon in Sedona on May 22.
Coconino National Forest Battalion Chief Preston Mercer, left, and fire information officer Bill Morse survey the fire burning in Oak Creek Canyon, Arizona, on Wednesday, May 21.
The wildfire burns south of Flagstaff, Arizona, on May 21.
Ken Patrick, of Kachina Village, Arizona, takes a break from packing while smoke from the wildfire hovers overhead on May 21. About 3,200 residents in Coconino County were given pre-evacuation notices Wednesday.
A vehicle heads out of Kachina Village as the wildfire sends plumes of smoke into the air on May 21.
The fire began on Tuesday, May 20, and was likely caused by a person, according to the U.S. Forest Service.
Nathan Westerfield kisses his wife, Mickella, at the Red Cross shelter set up at Sinagua Middle School in Flagstaff on Tuesday, May 20. The couple from Phoenix got married days earlier and were celebrating their honeymoon by camping out in Oak Creek Canyon.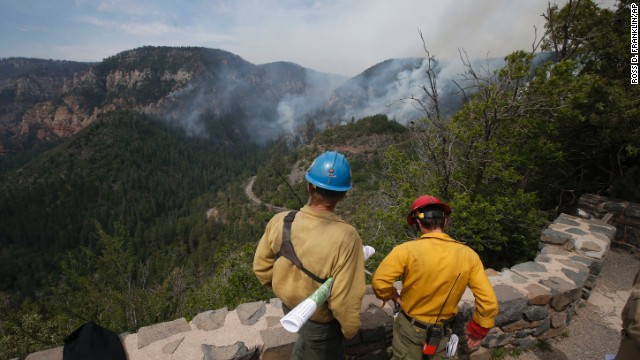 Photos: The Slide Fire in Arizona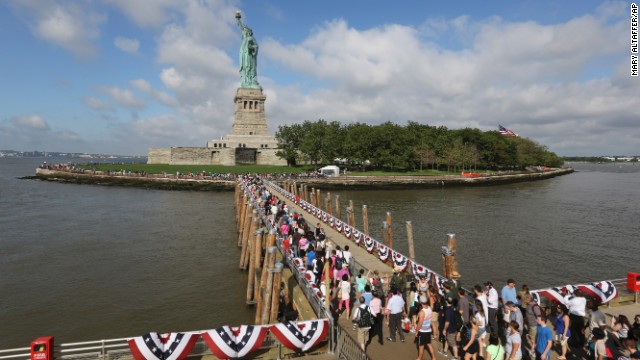 Protections have already been added to the Statue of Liberty and Ellis Island in New York, but will they be enough in an era of climate change? Listing 30 at-risk sites, a report released by the Union of Concerned Scientists contends rising seas are endangering many of America's landmarks. Here's a look at some of them:
The Kennedy Space Center, along the Atlantic Coast in Florida, has seen recent restoration and protection efforts "undone" by storm surges.
Cape Hatteras Lighthouse on the Outer Banks of North Carolina has already been moved inland once because of coastal erosion and rising seas at a cost of $11 million. The lighthouse was a witness to pirate ships and Civil War battleships.
The historic tourist attraction of Boston's Faneuil Hall is at risk of coastal flooding.
Castillo de San Marcos in St. Augustine, Florida, is the oldest masonry fort in North America and the only 17th century fort that stands today in the United States.
The temple site and historic trail at Hawaii's Pu'uhonua o Hōnaunau National Historical Park are vulnerable to rising seas and have been damaged by storm surges.
Mesa Verde National Park in Colorado holds a rich collection of artifacts and ancient ruins of the Pueblo people. Though completely safe from rising oceans, the park is vulnerable to massive fires and monsoon-type flooding.
The one-two punch of wildfire and monsoon floods also afflict the ancient rock carvings and cliff dwellings of New Mexico's Bandelier National Monument (pictured) and nearby Santa Clara Pueblo.
Alaska's Cape Krusenstern protects beach ridges that hold archaeological sites 4,200 years old and preserve clues from almost every phase of Inupiat Eskimo development.
Virginia's Jamestown Island marks the first permanent English colony in the Americas, but increasingly powerful storms could submerge much of the landmark.
Wildfires are a threat to the Groveland Hotel, built after gold was found in California's Sierra foothills, sparking the nation's biggest gold rush.
A legacy of the renowned abolitionist, the Harriet Tubman Underground Railroad National Monument in Maryland is endangered by sea levels in Chesapeake Bay. It's one of the nation's newest monuments.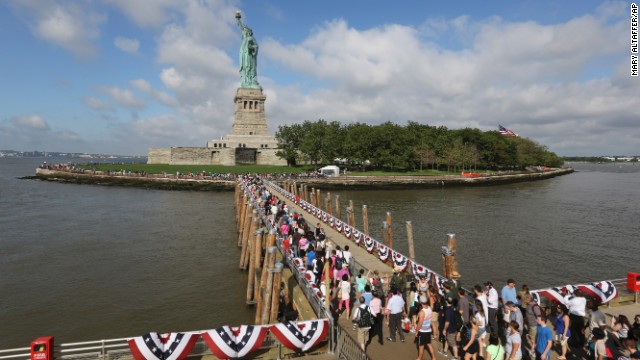 Photos: National landmarks at risk
In the coming years, increased wildfire damage from climate change is expected nationwide because of "higher temperatures, widespread drought, earlier snowmelt, spring growth and expanded insect and disease infestations," according to a report from Headwaters Economics, an independent, nonprofit research group.The U.S. Forest Service says changing climate will be the reason behind "at least a doubling of area burned by the mid-21st century."
That could be a lot of acres. Although the number of wildfires in 2013 was down, the six most damaging fire seasons since 1960 have taken place since 2000, based on total acres burned, according to the National Interagency Fire Center. The worst include 2006, 2007 and 2012, when flames claimed more than 9 million acres every year.
Short worries about California's ongoing drought. "The water sources that we normally see that we can use to snorkel from are way low this year in our local area," he said. "If it does happen to be an active fire season, our challenge is going to be trying to get water and be effective."
Gone in 60 seconds: 1,000 gallons of water
When it's time to drink, the Firehawk can chug it. Sucking all that water into a hovering aircraft is no small feat. Doing it in 60 seconds is nothing short of amazing.
Here's how it works: the chopper hovers about six feet above a water source near the fire, such as a lake. The crew extends the Firehawk's retractable, 12-foot-long collapsible Kevlar hose, called a "snorkel." A crewman watches the snorkel through a gunner's window behind the pilot's seat and coordinates with Short to make sure all is working correctly. Short then hits a pump switch on a stick lever near his left hand called the "collective." A level gauge on his instrument panel shows Short that water is indeed filling the tank. "When I get the water load that I want, I stop pumping, we retract the snorkel and we go on our way to the fire."
Toting a full tank of water, the Firehawk handles completely different. "You can feel it," he said. It still accelerates, but not as fast.
The county's Firehawks often are among the first aircraft at the scene of a wildfire. "You size up what the fire's doing in terms of winds, the terrain, what the fire's burning and what structures are nearby," Short said. Then the pilot must choose his target -- where to drop the water.
Hitting flames with the water isn't an exact science, Short admits. "We all have our good days and bad days," chuckles the 13-year Firehawk veteran.
Much of it depends on the winds. If you have 20-30 mph winds or less, you're probably going to hit it where you want it 99% of the time."
Some of it depends on your altitude. Usually that's from 50 to 100 feet off the ground. Too high -- the wind might blow the water off target. Too low -- and the chopper's blades will blow the fire in the wrong direction, possibly threatening firefighters on the ground.
You're like a marksman.
Tom Short, senior pilot, Los Angeles County Fire Department
Remember, this is all happening as the helicopter is moving forward at speeds between 60 and 80 mph. A release switch to open the water tank doors is on another stick lever called "the cyclic," near Short's right hand. He adjusts the water drop with the wind so that when the water is released, it drifts with the wind into the fire.
"You try to play with the swirling winds down on the fire line. You play that Kentucky windage," Short said, using a sharpshooter's term for aiming a gun off target to adjust for the wind. "You're like a marksman."
Sometimes Short is able to check his work by looking out the window, other times he relies on reports from crew or other pilots nearby. "When you release the water weight, you immediately notice the performance goes up on the aircraft," Short said. "It's more agile, more maneuverable."
If you miss the mark, Short said, "You go, 'doggone it, I'll be back with another load and try it again.'"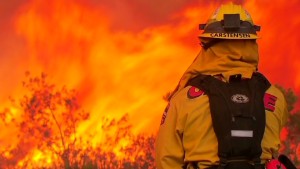 Coordination between firefighting ground crews and aircraft is a "kind of a dance," said pilot Tom Short.
He describes the coordination between ground crews and aircraft as a "kind of a dance. We call it choreography and it goes back and forth."
"Experience is learning by your mistakes," Short said. "It's a calculation that you make constantly. You're trying to read all these conditions, like the effects of heat on the performance of the aircraft and how you plan to fly your way in and fly your way out."
It helps to have backup from the county's two other Firehawks and six Bell 412 medium helicopters.
Close to combat
The chopper -- officially called the Sikorsky S-70 -- is a machine designed to save property and lives. But it was born from an instrument of destruction: the Army's fearsome Black Hawk.
General Electric -- which manufactures the Firehawk's engines- said it sent engineers to Iraq and Afghanistan to study Black Hawks to learn how to make the chopper more impervious to intense heat.
Result: they added special nickel alloys that helped the engines perform during extreme temperature swings. It's rated to operate in temperatures above 1,500 degrees Fahrenheit, GE said.
"Because it's a combat-proven machine, we have a lot of confidence in its ability to fly," Short said. "If you lose one engine, it flies on the other one. If you lose a hydraulic pump, you have two more. It has three different electrical systems -- if one fails you've got two more. Excellent visibility. It's fast, maneuverable, powerful -- all the things that make it a good combat aircraft."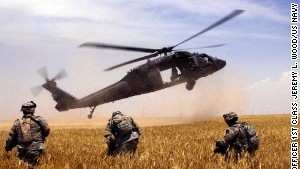 The Firehawk is basically a re-purposed version of the Army's Black Hawk combat helicopter.
Short flew iconic Huey helicopters during his time in the Army, but he never saw combat.
"We do have a couple of guys here who flew in combat in Vietnam, and we have one pilot who flew combat in the Middle East recently," Short said. "I've heard those guys say that firefighting is close to combat, except nobody's shooting at you."
But it's still dangerous. Short describes hairy situations fighting fires after sundown while using night vision goggles. The terrain is more difficult to see, he said. "You've got to be very, very safety conscious," as you look for trees and wires strung on telephone polls and towers. "Those are some of the most challenging fires, the night fires."
Among Short's several hundred rescue missions, he remembers responding to a call for help by hikers, stuck on a steep hillside near Pasadena, who were "literally hanging on by their fingernails." Short lowered a paramedic who was attached to a cable down to help the hikers. Suddenly the hiker slipped.
"I could feel the aircraft lurch with the dead weight of this kid falling," Short said. But he didn't fall to his death, Short said, because the hiker was tethered to the paramedic.
At age 60, with 34 years of chopper piloting under his belt, Short said he plans to be a flying firefighter for the foreseeable future.
"I love it,' Short said. "I love this job."