Spain's 7 wonders of the natural world
June 28, 2014 -- Updated 0039 GMT (0839 HKT)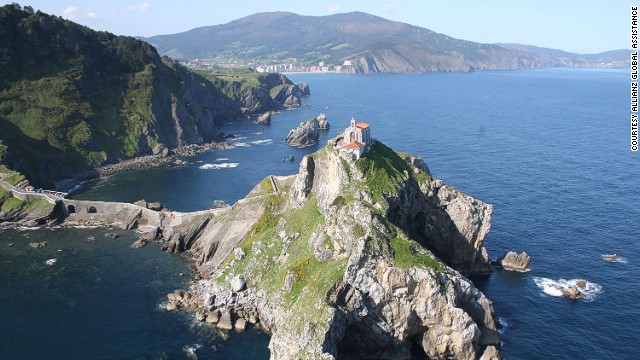 Gaztelugatxe, a small, rocky island on Spain's northern coast is said to resemble a castle, which could explain why it's suffered numerous attacks over the centuries. Connected to the mainland by a causeway, the island's main highlight is a chapel built in the 11th century in honor of St. John.
Designated a UNESCO Biosphere Reserve for its varied forests and wildlife, the Somiedo Natural Park is made up of four valleys in northern Spain's Cantabrian Mountains. The park is a haven for wildlife including brown bears, wolves, boars and golden eagles.
Another UNESCO Biosphere Reserve and the largest protected coastal area in the southern Andalusia region of Spain, Cabo de Gata-Nijar Natural Park is known for its diverse landscape which includes wetlands, spectacular volcanic cliffs, white beaches and a saltwater lagoon.
Dating back to the 1st century, this site of the ancient gold mines is considered a great example of Roman technology and is a UNESCO World Heritage Site. Built after the Romans conquered parts of the Iberian Peninsula, the mines employed dams and a clever system of canals to channel water, which was used to smash and wash away rock.
Encompassing 4,000 hectares, this protected group of 15 connected lakes is home to many varieties of waterfowl and fish. The Cave of Montesinos, which gets a mention in "Don Quixote," is also located in the park.
The spectacular gorge of Fuente De in the Picos de Europa mountain range is accessible by cable car. Due to the amazing views, lines can get long during peak season.
Dubbed "Beach of the Cathedrals" for its unusual rock formations that are reminiscent of vaults and arches, As Catedrais beach ranks among one of Europe's most beautiful beaches.
National treasures to visit in Spain
Somiedo Natural Park
Cabo de Gata-Níjar Natural Park
Las Medulas
Lagunas de Ruidera Natural Park
Fuente De
As Catedrais
STORY HIGHLIGHTS
More than 82,000 votes were cast to pick new natural wonders in Spain
Top destinations include biosphere reserves and a cluster of lakes
Campaign's final stage includes hiring a team of "explorers" to go on two-week trip
(CNN) -- Spain didn't get a mention in 2011's hotly debated "New 7 Wonders of Nature" roundup.
So it just went ahead and cooked up its own list.
The 7 Natural Wonders of Spain were announced in early June after a round of votes on the campaign's official website.
More than 82,000 votes were cast to select the top seven out of 20 Spanish destinations.
It's unclear an ancient gold mine counts as a "natural wonders" but the seven finalists make a stunningly scenic alternative itinerary to standard travel lists of heritage sites.
"Probably one of the least-known destinations for international tourists is Gaztelugatxe," campaign representative Sonia Rodriguez told CNN.
MORE: Spain -- things to know before you go
"In the case of Spanish tourists, the least known destinations are Las Medulas or the Lagunas de Ruidera Natural Park."
In the final stage of the campaign, organized by travel insurance company Allianz Global Assistance, a team of "explorers" will be picked to officially inaugurate a new tourist route around the sites.
All travel expenses and a "salary" of €1,500 ($2,045) will be provided for each explorer to cover a two-week tour of all seven.
The website will be accepting applications from Spanish speakers until June 30.
The list of natural wonders includes: Gaztelugatxe, a small rocky island; Somiedo Natural Park, a mountain wildlife haven; Cabo de Gata-Nijar Natural Park, a volcanic landscape in southern Andalusia; Las Medulas, an ancient gold mine; Lagunas de Ruidera Natural Park, a landscape of lakes; Fuente De, a gorge in the Picos de Europa mountains and As Catedrais beach, a stunning spot on Spain's northern coast.
MORE: Spain's Costa Brava goes back to its roots