STORY HIGHLIGHTS
One man says security force members shot, killed prisoners as ISIS fighters approached
A woman says she found brother's body among many others at Tal Afar facility
Amnesty International alleges that government forces, Shiite militias executed Sunni detainees
Human Rights Watch finds mass graves thought to hold those killed by ISIS fighters, their allies
(CNN) -- Crammed into a prison cell with 36 other people, the man debated his fate as he listened to the shelling.
Outside, fighters with the Islamic State in Iraq and Syria fired mortars at the anti-terrorism detention facility in Tal Afar, where fierce battles raged between the al Qaeda splinter group and Iraqi security forces.
With the facility close to being overrun by ISIS fighters, the prison guards did the unthinkable.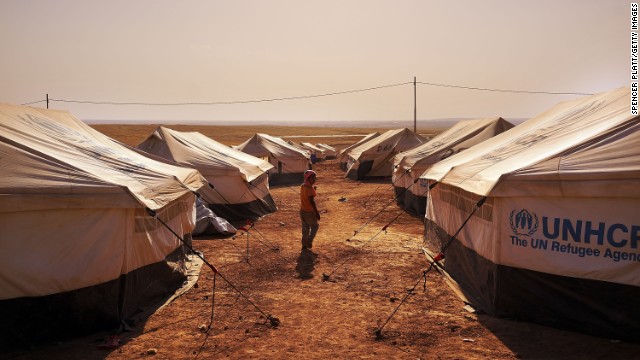 An Iraqi child walks through a displacement camp Saturday, June 28, in Khazair, Iraq. Vast swaths of northern Iraq, including the cities of Mosul and Tal Afar, have fallen as the Islamic State in Iraq and Syria, or ISIS, advances toward Baghdad, the capital. The ISIS militants want to establish a caliphate, or Islamic state, in the region, stretching from Iraq into northern Syria.
An Iraqi woman walks with her child outside of a displacement camp on June 28 in Khazair, now home to an estimated 1,500 internally displaced persons.
Peshmerga fighters, or Kurdish warriors, check cars at the entrance to a temporary displacement camp in Khazair, Iraq, for people caught in the fighting in and around the city of Mosul on Thursday, June 26.
A group of women wait outside the temporary displacement camp in Khazair on June 26.
Smoke rises in the Karakus district of Mosul as clashes between Iraqi forces and ISIS militants on June 26.
Food is handed out at the displacement camp in Khazair.
A child walks over discarded water bottles and trash at a registration area at the displacement camp in Khazair on June 26.
Kurdish Peshmerga take their positions behind a wall on the front line of the conflict with ISIS militants in Tuz Khormato, Iraq, on Wednesday, June 25.
Peshmerga fighters clean their weapons at a base in Tuz Khormato, Iraq, on June 25.
Female Peshmerga between 18 and 45 years old form a special unit that is called to serve in any conditions. A soldier is pictured here on June 25.
A woman gathers bread in a temporary displacement camp for Iraqis caught up in the fighting in and around Mosul on Tuesday, June 24.
An ISIS fighter takes control of a traffic intersection in Mosul on Sunday, June 22.
An ISIS member distributes a copy of the Quran, Islam's holy book, to a driver in Mosul on June 22.
Members of ISIS patrol in Falluja, 40 miles west of Baghdad, on Saturday, June 21.
Volunteers raise their weapons and chant slogans during a parade in the Shiite stronghold of Sadr City, Baghdad, on Saturday, June 21.
Iraqi men register to volunteer to fight alongside security forces against Sunni Muslim militants and jihadists on Friday, June 20, at a recruitment center in Baghdad.
New Iraqi army recruits gather in Najaf on Wednesday, June 18, following a call for Iraqis to take up arms against Islamic militant fighters.
Soldiers with an Iraqi anti-terrorism unit are on guard June 18 in Baghdad.
A Kurdish Peshmerga fighter injured in clashes with members of ISIS lies in a hospital in Irbil on June 18.
An MH-60R Sea Hawk helicopter lands on the aircraft carrier USS George H.W. Bush in the Persian Gulf on Tuesday, June 17. The carrier moved into the region to give President Barack Obama "additional flexibility," the Pentagon has said.
Newly recruited Iraqi volunteer fighters take part in a training session in Karbala on June 17.
Iraqi tribesmen gather in Baghdad on Monday, June 16, to show their readiness to join Iraqi security forces in the fight against Islamic militants.
Iraqi Christian children gather inside the Church of the Virgin Mary for prayers in Bartala, Iraq, a town near Mosul, on Sunday, June 15. Militants seized Mosul last week, reportedly leading more than 500,000 people to flee Iraq's second-largest city.
Shiite tribal fighters raise their weapons and chant slogans against ISIS in Basra, Iraq, on June 15.
Members of ISIS prepare to execute some soldiers from Iraq's security forces in this image, one of many reportedly posted by the militant group online. CNN cannot independently confirm the authenticity of the images.
A woman cradles her baby Thursday, June 12, at a temporary camp set up in Aski Kalak, Iraq, to shelter those fleeing the violence in northern Nineveh province.
A girl fleeing from Mosul arrives at a Kurdish checkpoint on June 12.
Iraqi men chant slogans outside of an army recruiting center to volunteer for military service June 12 in Baghdad.
Kurdish Peshmerga forces, along with Iraqi special forces, deploy their troops and armored vehicles outside of Kirkuk, Iraq, on June 12.
Children stand next to a burnt vehicle during clashes between Iraqi security forces and ISIS militants in Mosul on Tuesday, June 10.
Civilians from Mosul escape to a refugee camp near Irbil, Iraq, on June 10.
Iraqis fleeing the violence wait in their vehicles at a Kurdish checkpoint in Aski Kalak on June 10.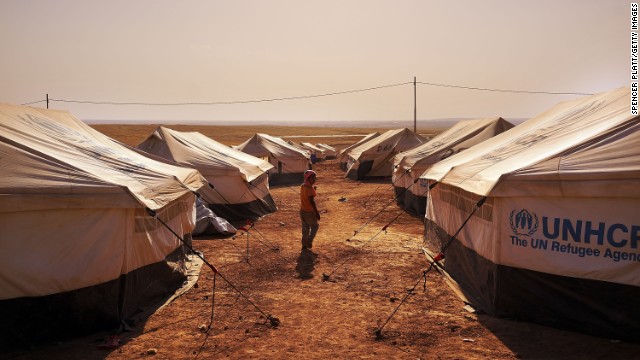 Photos: Iraq under siege
"At about 2 a.m., three of the guards came into our cell ... and they opened fire with a machine gun," the man said in a video obtained by CNN.
The account mirrors allegations put forward by Amnesty International, which released a report Friday saying it has evidence pointing to a pattern of "extrajudicial executions" of Sunni detainees by government forces and Shiite militias in Tal Afar, Mosul and Baquba, cities where Iraqi forces were either routed or have been locked in fierce battles with ISIS fighters and allied Sunni militants.
"The killings suggest a worrying pattern of reprisal attacks against Sunnis in retaliation for ISIS gains," said Donatella Rovera, Amnesty International's senior crisis response adviser, who is currently in northern Iraq.
The government is aware of the Amnesty International allegations but has yet to see any evidence, said Abdul-Sittar al-Birqdar, spokesman for the Supreme Judicial Council, which oversees the country's judicial system.
"At this stage, this is all just media reporting," he told CNN on Friday. "No witnesses have come forward, and no families have come forward with such claims. No one has officially asked for an investigation."
He called for the rights group to provide evidence, saying that "we are still monitoring and checking, and we will keep checking," adding that "under Iraqi law, we cannot move on it without claims and evidence."
'He was in the prison. He was killed'
Survivors and witnesses tell Amnesty International that Iraqi prison guards carried out the slaughter before Iraqi forces withdrew.
A video obtained by CNN, confirmed by Amnesty International as one of the rooms where the killings took place in Tal Afar, shows a prison cell, the floor slick with blood, where bodies of men are piled on top of one another. They appear to have fallen where they were shot.
In that same video, a woman in a black abaya with a printed head scarf stands over her brother, brushing flies from his body.
She said she found his body among others in a room in the Tal Afar detention facility.
"He was in the prison," said the woman, clearly in shock. "He was killed."
Asked how many bodies were among those with her brother, she said: "They killed a lot. I don't know."
Bodies found in Mosul
A similar scene appeared to play out at the anti-terrorism detention facility in Mosul, 50 kilometers (31 miles) from Tal Afar, Amnesty International said, where some of the dozens of bloated, twisted bodies found in a ditch were believed to have been executed by Iraqi guards before they withdrew.
A man, whom CNN is not identifying at his request, said he was being held at the same facility with about 80 others. He said he was held without charges after security forces picked him up eight months earlier.
"The guards were screaming out names. They took 15 of them and handcuffed them together," said the man, who is a university student.
Then they were taken away, he said.
Later, as ISIS fighters shelled the Mosul facility, detainees in one of the cells began chanting "Allahu akbar." That's when, the man said, one of the guards opened a cell and threw a grenade into it.
"Thank God, they were busy with the clashes, and they didn't have time to go through all the cells," he said.
The man said militants, presumably ISIS fighters, eventually released him and the other prisoners.
"They said, 'You are free. Whoever wants to go, swear allegiance to us and you can go home,' " he said.
The man said that when he heard that bodies had been found in a ditch near an abandoned potato factory, he went to see them. And there, he said, were the bodies of some of the men taken from the detention facility.
Human Rights Watch details alleged ISIS killings
Stories of executions and killings by both sides have swirled since ISIS fighters seized portions of northern Iraq in a lightning advance that stunned Iraqi security forces.
The Amnesty International report comes the same day that Human Rights Watch said two mass graves thought to contain the bodies of Iraqi soldiers, police and civilians, killed by ISIS fighters and their militant allies, were found in Saddam Hussein's hometown of Tikrit.
Using satellite imagery and publicly available photographs purportedly released by ISIS, Human Rights Watch said it appeared that ISIS fighters in Tikrit executed three groups of men a short distance from the former Iraqi leader's Water Palace on the banks of the Tigris River.
"The analysis suggests that ISIS killed between 160 and 190 men in at least two locations between June 11 and 14," the rights group said in its report. "The number of victims may well be much higher, but the difficulty of locating bodies and accessing the area has prevented a full investigation."
U.S. has armed drones over Baghdad, official says
ISIS gains in Iraq put Saudi forces on highest alert