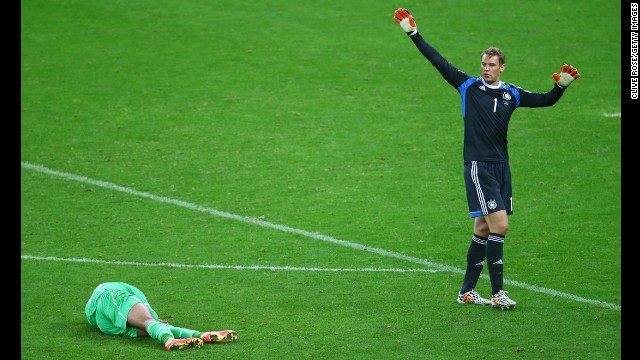 Islam Slimani of Algeria lies on the pitch next to goalkeeper Manuel Neuer of Germany during a World Cup match Monday, June 30, in Porto Alegre, Brazil. Although Algeria had a late goal, Germany still advanced to the quarterfinals with a 2-1 victory.
Algeria's Sofiane Feghouli reacts after losing against Germany.
Mesut Oezil of Germany celebrates scoring his team's second goal.
Oezil scores Germany's second goal past Rais M'Bolhi of Algeria.
Yacine Brahimi of Algeria has his shorts pulled by Philipp Lahm of Germany.
Germany's Bastian Schweinsteiger, left, and Sami Khedira fight for the ball with Algeria midfielder Medhi Lacen.
Andre Schuerrle of Germany celebrates scoring his team's first goal past goalkeeper M'Bolhi of Algeria.
M'Bolhi of Algeria fails to save a shot by Schuerrle in extra time.
Algerian defender Rafik Halliche slides under Germany's Bastian Schweinsteiger. Halliche received a yellow card for the challenge.
Algeria's Faouzi Ghoulam, center, attempts a shot on goal.
German defenders Per Mertesacker, left, and Shkodran Mustafi, second from left, take on Algeria's El Arabi Soudani.
German defender Benedikt Hoewedes, left, competes for the ball with Algeria's Sofiane Feghouli.
German goalkeeper Manuel Neuer, left, tackles the ball away from Algerian forward Islam Slimani.
Algeria fans cheer during the match.
A fan looks on prior to the match between Germany and Algeria.
An Algeria fan awaits the kickoff of the match.
Fans attend a public viewing of the Algeria-Germany match in Berlin.
France's Antoine Griezmann, left, and Laurent Koscielny celebrate after a second goal was scored during a World Cup match against Nigeria on June 30. France won 2-0 in Brasilia, Brazil, advancing to the quarterfinals of the soccer tournament.
Griezmann, left, celebrates after the ball hit off the shin of Nigerian defender Joseph Yobo, center, for the game's second goal.
From left, French midfielders Yohan Cabaye, Paul Pogba and Mathieu Valbuena celebrate after Pogba's second-half goal opened the scoring.
Nigeria's goalkeeper, Vincent Enyeama, punches the ball away from goal.
Pogba and Juwon Oshaniwa of Nigeria compete for the ball during the second half.
Yobo challenges Valbuena.
Oshaniwa and Valbuena lie on the field injured.
Koscielny and Enyeama compete for the ball.
Yobo, left, and Nigerian forward Emmanuel Emenike, third left, chase after the ball near French defenders Koscielny, second left, and Mathieu Debuchy, far right.
Nigerian forward Peter Odemwingie, left, challenges Blaise Matuidi of France.
Pogba reaches for the ball near Nigeria's Victor Moses.
French goalkeeper Hugo Lloris collects the ball as Odemwingie attempts to score during the first half.
Pogba reacts after a first-half shot was saved.
Oshaniwa, left, and Kenneth Omeruo, right, challenge French forward Olivier Giroud.
Giroud heads the ball near Omeruo.
Oshaniwa fights off Valbuena during the first half.
Nigeria supporters cheer before the start of the match.
World Cup: The best photos from June 30
World Cup: The best photos from June 30
World Cup: The best photos from June 30
World Cup: The best photos from June 30
World Cup: The best photos from June 30
World Cup: The best photos from June 30
World Cup: The best photos from June 30
World Cup: The best photos from June 30
World Cup: The best photos from June 30
World Cup: The best photos from June 30
World Cup: The best photos from June 30
World Cup: The best photos from June 30
World Cup: The best photos from June 30
World Cup: The best photos from June 30
World Cup: The best photos from June 30
World Cup: The best photos from June 30
World Cup: The best photos from June 30
World Cup: The best photos from June 30
World Cup: The best photos from June 30
World Cup: The best photos from June 30
World Cup: The best photos from June 30
World Cup: The best photos from June 30
World Cup: The best photos from June 30
World Cup: The best photos from June 30
World Cup: The best photos from June 30
World Cup: The best photos from June 30
World Cup: The best photos from June 30
World Cup: The best photos from June 30
World Cup: The best photos from June 30
World Cup: The best photos from June 30
World Cup: The best photos from June 30
World Cup: The best photos from June 30
World Cup: The best photos from June 30
World Cup: The best photos from June 30
World Cup: The best photos from June 30