Cameron Diaz goes nude for first time
updated 10:36 AM EDT, Wed July 2, 2014
STORY HIGHLIGHTS
Cameron Diaz talks to Esquire magazine about her career
She says "Sex Tape" is the first movie where she does nude work
Diaz: "You see everything"
(CNN) -- Cameron Diaz is feeling fearless.
With her 42nd birthday approaching on August 30, the actress is dismissing Hollywood's obsession with youth and embracing growing older with pride and an eagerness to try something new.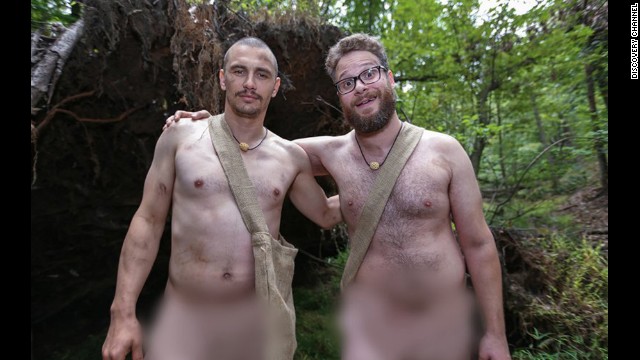 James Franco and Seth Rogen had to survive in the wild in the altogether in an episode of Discovery's "Naked and Afraid" series. Franco expressed his love for being nude while Rogen asked, "Can you make the blur big? Like a giant blur?"
Some of you might be more familiar with Kim Kardashian's curves than your own physique. Kardashian appeared nude in a recent photo shoot for Paper magazine. The reality star became famous with a sex tape and stayed famous with her reality show and photos such as this one, which she did for W magazine in 2010. Though Kardashian later said she didn't think she'd ever pose nude again, she still frequently posts the next best thing on her Instagram account.
Keira Knightley had no problem posing topless -- on the condition that the photo wasn't digitally manipulated.
Is it any shock that Rihanna showed up in a see-through dress to receive a Fashion Icon award at the 2014 CFDA fashion awards on June 2? After all, she has a perfume called Nude. (You can search around for the more explicit pics, as we are a family-friendly site.)
Believe it or not, Matthew McConaughey is passing up an opportunity to shed some of his clothes. The actor won't reprise his role of male stripper Dallas in the "Magic Mike" sequel, "Magic Mike XXL," because he's busy filming a Gus Van Sant drama instead. This doesn't mean McConaughey's changed his ways; he told GQ magazine in December 2013 that yes, he does still like to play the bongo drums naked.
Justin Bieber is a documented fan of public shirtlessness and singing songs to his grandmother in the nude. We can now also call the "Baby" singer a fan of the public striptease. At the 2014 charity event Fashion Rocks, Bieber removed everything but his underwear while on stage with co-presenter Lara Stone, explaining that he just didn't feel comfortable unless he was in his "Calvins."
Channing Tatum shows off some of his better assets in the movie "Magic Mike," and he's set to do that again in a sequel. But as he told Elle magazine, he enjoys being in the buff off-camera, too. "I have a really nice back porch where the pool is," he said. "Once the shoes are off, the socks come off too, and then everything else downstairs just follows at some point."
What better way to get in touch with nature than to leave behind your clothes? That's what "True Blood" star Alexander Skarsgard did on a trip to the South Pole, as captured by adventure guide Inge Solheim. The snapshot isn't too surprising -- even considering the frigid temperature -- since this is one actor who has zero problems with nudity. On the job, "if we're naked in the scene, then I'm naked," Skarsgard once explained to Rolling Stone.
It's just too easy to make the joke about Shia LaBeouf's loving to be in "la buff." He recently tweeted a nude photo of himself from the 2013 film "Charlie Countryman" and has not been shy about appearing naked in movies and a music video.
Lady Gaga will pretty much get nude anywhere, it seems: magazine spreads, music videos, whatever. Of course, she'll also wear meat.
Jennifer Aniston explored the world of free love and nudity with Paul Rudd in the film "Wanderlust." She has been quoted as saying being nude in movies is "liberating" but denied to friend Chelsea Handler on her late night talk show that she and her fiance, Justin Theroux, are nudists.
Lindsay Lohan was featured on the cover of the January/February 2012 issue of Playboy magazine, and her nude scenes from the 2013 film "The Canyons" have shown up online.
Kate Winslet has famously had her nude portrait drawn in the film "Titanic" and stripped for other roles, though she admits it can get a bit weird stripping down on set. "I just go in and say 'Oh, f**k, let's do it.' and Boom," she said in an interview. If you complain about it or procrastinate, it's not going to go away. It's a profoundly bizarre thing to do. As actors, you talk about it all the time."
Daniel Radcliffe spent so much time naked on the sets of films and productions, he had to ask the producers of his Brit drama, "A Young Doctor's Notebook," to let him keep some clothes on. "I think there was a discussion about possible nudity for one scene," Radcliffe recalled to The Independent, "and I think my comment was, 'I got naked in three films last year, please can I not?' "
Even those who've never watched a single episode of Lena Dunham's "Girls" know that the show includes plenty of nudity -- and most often, it's Dunham herself showing skin. While Dunham's said that her frequent nakedness isn't a political statement and is more about creative expression, she does acknowledge that it can have cultural impact. "We have this insane culture where women who don't look like the cast of 'Gossip Girl' are put into like sweaters and nightgowns to sleep in," she told CBS News in 2013. "What I love are the films of the '70s where a person gets out of bed and you see half their nipple because that's what it looks like when a person gets out of bed."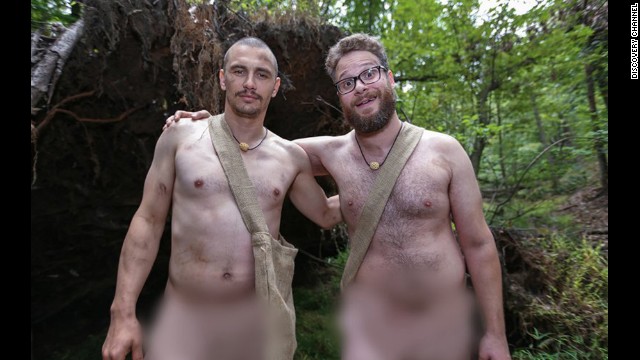 Photos: Celebrities who love being naked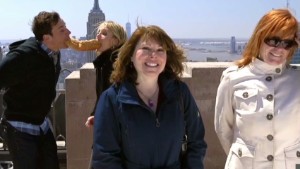 Fallon, Cameron Diaz photobomb tourists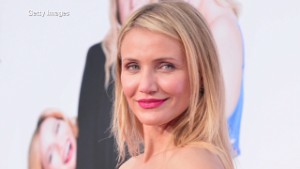 Cameron Diaz on being sexy at 40
"I like being 41. I love it," Diaz tells Esquire magazine in its August issue, on sale July 8. "So much s*** just falls away. Fear, mostly. It's the best age. That's when a woman knows how to work things, or she doesn't care about that anymore. You just stop being afraid. You don't worry about what men think. You just don't worry that time registers anything awful."
Perhaps it's that perspective that helped lead Diaz to the July 18 comedy "Sex Tape," in which she and Jason Segel play a couple who accidentally share a home video of their intimate moments for all to see.
Obviously, neither Diaz nor Segel could be shy about showing some skin with a plot like that, but in fact, Diaz isn't just showing some skin. She's showing everything.
"It's a first for me," she says of the nude work in the comedy. "But Jason (Segel) gets naked, too. It's just a part of the role. So I did it. I mean, you see everything."
While Diaz is still conquering career firsts, in her personal life she's content with where she is. When the topic veers toward her decision not to have kids, Diaz explains, "it's so much more work to have children."
"To have lives besides your own that you are responsible for -- I didn't take that on," the actress continues. "That did make things easier for me. A baby -- that's all day, every day for 18 years. Not having a baby might really make things easier, but that doesn't make it an easy decision.
"I like protecting people, but I was never drawn to being a mother. I have it much easier than any of them. That's just what it is. Doesn't mean life isn't sometimes hard. I'm just what I am. I work on what I am.
"Right now, I think, things are good for me. I've done a lot. And I don't care anymore."
Cameron Diaz's guide to success
See more comedy content at CNN Comedy.