STORY HIGHLIGHTS
The U.S. last played Belgium in a World Cup game in 1930
Good news for U.S.: the Belgians are banged up
Bad news for U.S.: the Belgians win games
(CNN) -- [Breaking new update 6:32 p.m. ET]
Belgium defeats USA 2 -1 in extra time as USA comeback failed to gain traction.
[Breaking new update 6:18 p.m. ET]
USA fires back with goal. Belgium 2, USA 1.
[Breaking new update 6:12 p.m. ET]
Belgium scores second goal on USA in extra time.
[Breaking new update 6:00 p.m. ET]
Belgium scores on USA to take lead 1 - 0.
[Breaking new update 5:51 p.m. ET]
USA and Belgium enter extra time after two scoreless halves.
[Breaking new update 5:25 p.m. ET]
USA and Belgium remain scoreless in the second half.
[Story previously published 6:39 a.m.]
OK, so the U.S. lost to Germany, but still squeezed through to the next round. No shame in that. But nothing to be too proud of either.
But the game today? This is do or die. This is one and done. This is all or nothing.
This is whatever cliche you can think of to rabble rouse your team spirit.
If the U.S.-Germany match was a battle of David and Goliath, this afternoon's encounter is David and the Dark Horse.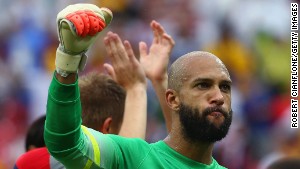 Tim Howard inspires off the field, too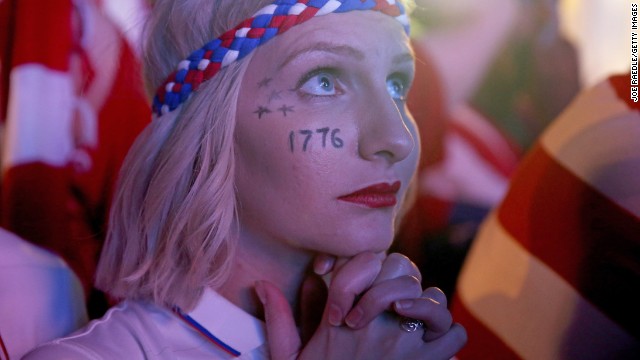 A U.S. fan watches nervously as the Americans surprisingly emerge from the group stage despite a nail-biting defeat against Germany.
The American and English captains, Ed McIlvenny and Billy Wright exchange souvenirs prior to their game at the Brazil World Cup in 1950. Their first success at the World Cup came in this game with a surprise 1-0 victory over England. USA fans will be hoping for the same success at this year's World Cup finals.
U.S. centre forward Joe Gaetjens is carried off by cheering fans after he scored the winning goal at Belohorizonte, Brazil.
U.S. coach Jurgen Klinsmann has gone a long way to building a side that can compete at the highest level, and his team have proved this at the 2014 World Cup in Brazil.
The U.S. players stand tall and proud as their anthem rings out at the Estadio das Dunas before their opening group win against Ghana.
It took Clint Dempsey just 32 seconds to score the USA's first goal of the tournament.
Klinsmann pleads with the fourth official on the touchline during the 2-1 victory over Ghana.
Halftime substitute John Brooks scored the USA's winner in the final minutes against Ghana. The 21-year-old celebrated his goal by collapsing to the turf almost in disbelief.
Even the Los Angeles Dodgers took a break from training to watch the U.S. play Ghana. American TV audiences have increased almost 50% from the previous World Cup in South Africa, from 2.8 million in 2010 to 4.3 million in 2014.
This U.S. fan shows his pride in the achievements of his team by wandering around the beaches of Brazil in stars and stripes-themed cowboy boots.
Captain Dempsey is known to be a hard worker on and off the pitch. Here he trains with the squad prior to their second game of the tournament against Portugal.
Taking time out of training, Jermaine Jones tries to catch a butterfly in the Arena Amazonia in Manaus.
Fans gather in Chicago to watch the Group G game between the U.S. and Portugal. It became the most-watched soccer match in American history, attracting over 25 million television viewers according to the Nielsen figures.
Team USA huddles before kickoff against Portugal.
Tim Howard makes a sensational save to deny Portugal. The Everton goalkeeper was one of the key performers for the U.S. during the group stage.
Jones celebrates after scoring a stunning equalizer to make it 1-1 against Portugal.
Fans in the Fan Fest zones celebrate Jones' equalizing strike against Portugal. U.S. supporters were second-only to Brazil when it came to the amount of tickets bought for games, with over 196,000 sold to American fans.
Matt Besler gives his teammate a thumbs up as Ballon D'Or winner Cristiano Ronaldo scratches his head after Portugal are held 2-2 by the U.S.
U.S. fans braved the weather conditions to watch their team play Germany in the final Group G game in Recife. A 1-0 loss wasn't enough to dampen their spirits as Klinsmann's team still qualified for the last 16.
This U.S. fan takes on the spirit of the well-known comic character "Captain America" to support the team.
The American flag flies proudly at the Arena Pernambuco in Recife during the USA's 1-0 defeat by Germany.
Michael Bradley battles for the ball with Germany's match-winner Thomas Muller.
Howard's football boots worn by the American goalkeeper against Germany. The game broke online audience records as over 1.5 million people streamed the game live via WatchESPN.
A fan sheds tears of joy after the U.S. reached the knockout stages of the World Cup.
American fans have had a lot to be proud of, with their team performing well above expectations.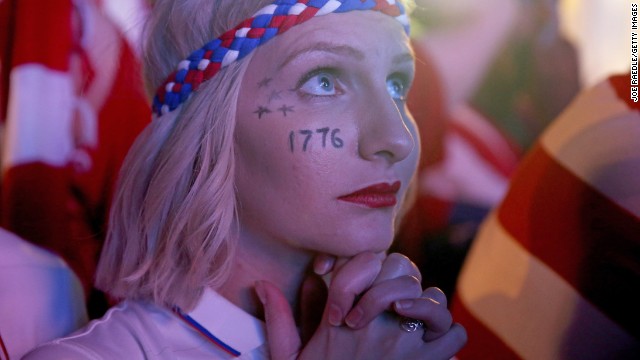 Americans take over Brazil 2014
And Belgium ain't no one trick pony.
The game's at 4 p.m. ET -- enough time for you to skim through this cheat sheet and become an insta-pundit.
Why you should care
It's about time soccer caught on in the U.S.
And in order for that to happen, Americans need a team they can really rally behind.
If the boys can beat Belgium, it's off to the quarter finals of the World Cup. The last time the men's team did that was in 2002. (They lost to Germany.)
The expectations are enormous. When was the last time you saw the country unite behind one cause, gather in front of massive TV screens, and collectively bellow, "I believe that we will win"?
At home, 25 million people watched the USA nearly slay Portugal last week. Twenty five million! That's more than what the NBA finals or the baseball World Series averaged.
In Brazil, Americans are second only to the host nation in the number of tickets bought.
Online, Twitter and Facebook are blowing up.
Soccer, you see, is starting to stir the soul of America.
"The country is paying attention in a way that it's never done before, and we have a chance to make some history," said Sunil Gulati, the U.S. Soccer Federation president.
It'd be a shame if the plucky Yanks lost to Belgium, killing the momentum.
How America won the 2014 World Cup
How it has played out before
When the U.S. last played Belgium at the World Cup, it beat them 3-0. But that was 84 years ago -- in 1930! More recently, the teams played two "friendlies" (matches that aren't part of a tournament). The U.S. lost both.
Why you should worry
You don't hear Belgium mentioned in the same breath as soccer powerhouses like Brazil, Argentina or Germany.
That's because it isn't.
It plays a boring brand of soccer. Cautious. Tentative. Patient.
''I am here to be a realist," their coach, Marc Wilmots, says. "I am not here to please the fans in the stands."
But Belgium wins games.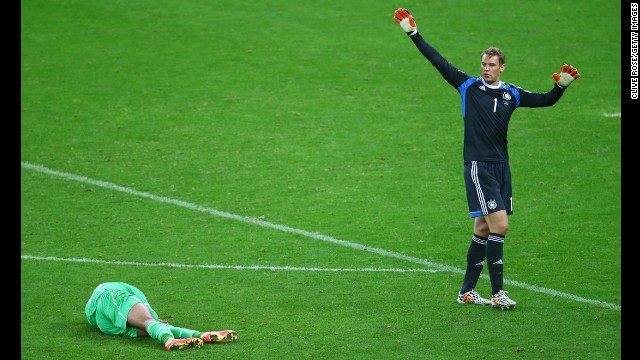 Islam Slimani of Algeria lies on the pitch next to goalkeeper Manuel Neuer of Germany during a World Cup match Monday, June 30, in Porto Alegre, Brazil. Although Algeria had a late goal, Germany still advanced to the quarterfinals with a 2-1 victory.
Algeria's Sofiane Feghouli reacts after losing against Germany.
Mesut Oezil of Germany celebrates scoring his team's second goal.
Oezil scores Germany's second goal past Rais M'Bolhi of Algeria.
Yacine Brahimi of Algeria has his shorts pulled by Philipp Lahm of Germany.
Germany's Bastian Schweinsteiger, left, and Sami Khedira fight for the ball with Algeria midfielder Medhi Lacen.
Andre Schuerrle of Germany celebrates scoring his team's first goal past goalkeeper M'Bolhi of Algeria.
M'Bolhi of Algeria fails to save a shot by Schuerrle in extra time.
Algerian defender Rafik Halliche slides under Germany's Bastian Schweinsteiger. Halliche received a yellow card for the challenge.
Algeria's Faouzi Ghoulam, center, attempts a shot on goal.
German defenders Per Mertesacker, left, and Shkodran Mustafi, second from left, take on Algeria's El Arabi Soudani.
German defender Benedikt Hoewedes, left, competes for the ball with Algeria's Sofiane Feghouli.
German goalkeeper Manuel Neuer, left, tackles the ball away from Algerian forward Islam Slimani.
Algeria fans cheer during the match.
A fan looks on prior to the match between Germany and Algeria.
An Algeria fan awaits the kickoff of the match.
Fans attend a public viewing of the Algeria-Germany match in Berlin.
France's Antoine Griezmann, left, and Laurent Koscielny celebrate after a second goal was scored during a World Cup match against Nigeria on June 30. France won 2-0 in Brasilia, Brazil, advancing to the quarterfinals of the soccer tournament.
Griezmann, left, celebrates after the ball hit off the shin of Nigerian defender Joseph Yobo, center, for the game's second goal.
From left, French midfielders Yohan Cabaye, Paul Pogba and Mathieu Valbuena celebrate after Pogba's second-half goal opened the scoring.
Nigeria's goalkeeper, Vincent Enyeama, punches the ball away from goal.
Pogba and Juwon Oshaniwa of Nigeria compete for the ball during the second half.
Yobo challenges Valbuena.
Oshaniwa and Valbuena lie on the field injured.
Koscielny and Enyeama compete for the ball.
Yobo, left, and Nigerian forward Emmanuel Emenike, third left, chase after the ball near French defenders Koscielny, second left, and Mathieu Debuchy, far right.
Nigerian forward Peter Odemwingie, left, challenges Blaise Matuidi of France.
Pogba reaches for the ball near Nigeria's Victor Moses.
French goalkeeper Hugo Lloris collects the ball as Odemwingie attempts to score during the first half.
Pogba reacts after a first-half shot was saved.
Oshaniwa, left, and Kenneth Omeruo, right, challenge French forward Olivier Giroud.
Giroud heads the ball near Omeruo.
Oshaniwa fights off Valbuena during the first half.
Nigeria supporters cheer before the start of the match.
A France fan cheers before the game. See the best World Cup photos from June 29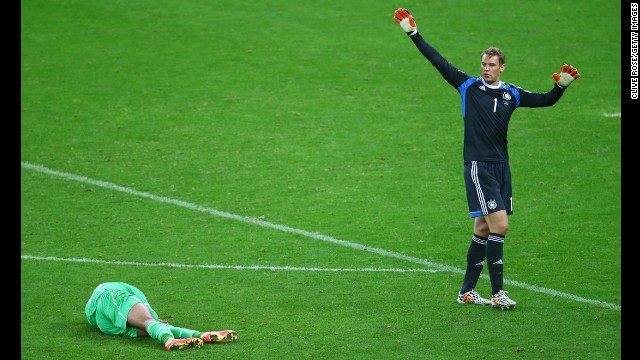 World Cup: The best photos from June 30
It qualified for the World Cup, winning eight out of 10 games. (It drew the other two.) At the tournament, it's won all three of its games, conceding only one goal.
Another reason: The Red Devils are young and hungry. Eleven of their players are in the prestigious English Premier League. Four of the Americans play there. Also, Belgium has way too many strong goal-scorers.
Glossary for the budding American World Cup fan
Why you shouldn't worry
Un: The Belgians are banged up.
Captain Vincent Kompany can't seem to shake a nagging groin injury. So he's iffy for the game.
Kompany is one of Belgium's key defenders. A second starting defender has a hamstring strain.
Without those two, the goal scoring potential increases for the U.S.
And they're not the only ones battling injury. There's one guy with a broken leg, another with a groin strain, another with muscle tightness.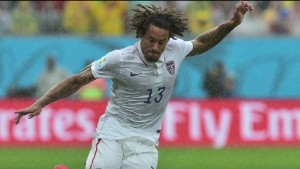 Negrin from Brazil: It's a frat party
Deux: Jozy Altidore will be back for the U.S. Since he was sidelined with a hamstring injury in the U.S opener against Ghana, Clint Dempsey has had to go it alone as the main goal scorer. Altidore returns to the potent partnership.
Trois: There's something to be said for experience. And the U.S. has four players who are World Cup veterans (Howard, Dempsey, DaMarcus Beasley and Michael Bradley.) They know how to deal with the pressures of competing on soccer's biggest stage. The Belgians? The last time they were at a World Cup was 14 years ago.
"We have absolutely no fear at all," U.S. Coach Jurgen Klinsmann said. "We believe we have built a foundation in our team that we are able to beat them, and we're looking forward to it."
What you should ignore
The fact that the referee is Algerian. Ever since FIFA picked Djamei Haimoudi for the match, the comments have poured in: "We're toast." Why? Because the USA knocked Algeria out of the 2010 World Cup with a 1-0 victory.
Klinsmann's got a second reason: He seems to think that the fact that the ref speaks French gives the Belgians an edge.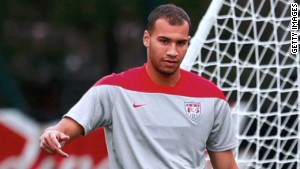 How many U.S. players are German-bred?
"Is it a good feeling? No," he said. "He's able to speak French with their players on the field, not with us. And it's the country that we beat in the last second of the last World Cup."
Will Haimoudi hold a grudge? Hogwash.
He's refereed the Netherlands-Australia game and the England-Costa Rica game without complaints from fans or critics about wrong calls.
"It is looking for excuses ahead of the match," Belgian coach Wilmots said.
What the U.S. should do
Attack, attack, attack! In the last three games, the boys attacked just 72 times, says FIFA. You know where that places the USA among the 32 teams at the World Cup? Dead last!
Today, the natural tendency of the team might be to hunker down, ward off the inevitable Belgian onslaught, and make a run for the goal when chances open up.
Wrong.
This isn't the group round. You lose here, you're out.
All of Belgium's goals have come in the last 20 minutes of games, making it hard for the opposing team to equalize.
So the U.S. needs to go at it guns blazing. Yes, the Red Devils have won their World Cup games so far, but they never quite dominated. Overwhelm them.
What you should say
Here are some fun facts to impress your buddies at your soccer watching party:
Fun fact #1: Before he became Belgium's coach, Marc Wilmots served in the country's senate for two years.
Fun fact #2: Belgium's most notable contribution to cinema is Jean-Claude Van Damme.
Fun fact #3: Waffle House is calling for a ban on Belgian waffles. That's not even a Belgian invention. Oof!
Fun fact #4: Brussels sprouts actually do get their name from the Belgian capital.
Fun fact #5: Clint Dempsey has another goal: to make it as rapper Deuce. His 13-track album, "The Redux," comes out after the World Cup.
Who will win
The folks at FiveThirtyEight give the U.S. a 42% chance of winning.
The Belgian coach pegs his team's chances at 50-50.
The U.S. quotes Abraham Lincoln: "The best way to predict your future is to create it."
Off the field: The men of the USMNT
FIFA: U.S. World Cup fans most active online