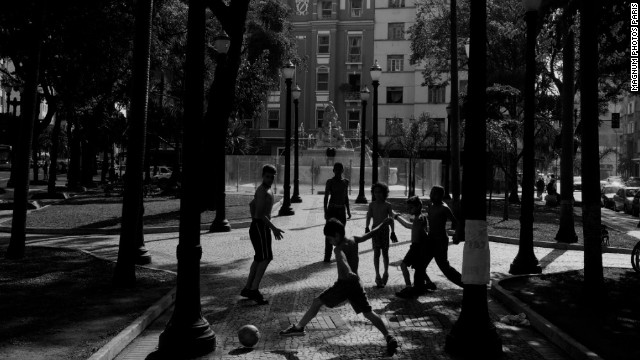 Brazilians have always had a love affair with football but as World Cup hosts for the first time in over 60 years expectations are high as they chase a sixth World Cup title.
To reach the World Cup semifinals Brazil must overcome the tournament's surprise package Colombia.
Brazil's golden-boy Neymar has been a shining light for the World Cup hosts, scoring four goals and an all important penalty against Chile in a tense shoot out that took them into the quarterfinals.
David Luiz became the most expensive defender earlier this year with his reported $67 million move to PSG. His defensive skills will need to be at their sharpest against Colombia.
Brazilian forward Fred's performances have come under scrutiny at the World Cup. Is he good enough to be in Brazil's squad?
Hulk is another Brazilian forward who has had a relatively quiet tournament but his wrongly disallowed goal against Chile showed what he is capable of.
At the other end of the pitch Julio Cesar's heroics in the penalty shoot out against Chile made him a national hero.
Brazil coach Luiz Felipe Scolari hugs Neymar after the team qualify for the quarter finals after that nervous penalty shoot out win over Chile.
Twenty years ago at the 1994 World Cup in the United States, Colombian Andres Escobar scored an own goal against the hosts as the South America side crashed out of the tournament. Five days after their elimination Escobar was shot dead in his home town of Medellin.
His death sent shock waves around the world and caused many of the Colombian players who had been part of that "golden-generation" to retire as they felt unsafe.
Escobar's murder was a dark moment in the country's history, but this new generation has danced its way into the quarterfinals, arguably led by the player of the tournament -- James Rodriguez.
Colombia's star man Radamel Falcao sustained an injury playing for his club Monaco earler in the season which kept him out of the World Cup. Many thought his absence would be the end of Colombia's hopes of winning the World Cup.
But then Rodriguez, who has scored five goals at the World Cup, turned up.
With Falcao out of the tournament Porto's Jackson Martinez is the man tasked with leading the Colombian attack.
Alongside Rodriguez and Martinez, Juan Cuadrado has been another key player for Colombia and the Fiorentina winger scored a well taken penalty in their 4-1 victory over Japan.
Pablo Armero spent the last six months on loan at West Ham United and made only five appearances, but his performances at this World Cup have been a revelation.
Faryd Mondragon became the oldest player to have ever played in the World Cup at the age of 43. He came on as a substitute for the last 10 minutes of Colombia's last group game against Japan.
Colombian coach Jose Pekerman led Argentina to the World Cup quarterfinals in 2006 before losing to hosts Germany on penalties.
Although the run up to World Cup was overshadowed by the threat of protests and riots, the Brazilians have reveled in their team's progression to the quarterfinals.
Football fans in Rio play a game of beach football on Copacabana beach.
Brazilian fans celebrate on Copacabana beach after that nerve-wracking penalty shoot out win over Chile.
Fans of 'los cafeteros' in Medellin, Colombia, get behind their team as they make an appearance at the World Cup for the first time since 1998.
Colombian fans in Bogota burst into celebration as Rodriguez scores arguably the best goal of the tournament against Uruguay.
While the Colombians dream of knocking out the hosts and advancing into the semifinals, the Brazilians will be hoping their team can live up to expectations. Tune in on Friday...
Brazil vs. Colombia
Brazil vs. Colombia
Brazil vs. Colombia
Brazil vs. Colombia
Brazil vs. Colombia
Brazil vs. Colombia
Brazil vs. Colombia
Brazil vs. Colombia
Brazil vs. Colombia
Brazil vs. Colombia
Brazil vs. Colombia
Brazil vs. Colombia
Brazil vs. Colombia
Brazil vs. Colombia
Brazil vs. Colombia
Brazil vs. Colombia
Brazil vs. Colombia
Brazil vs. Colombia
Brazil vs. Colombia
Brazil vs. Colombia
Brazil vs. Colombia
Brazil vs. Colombia
Brazil vs. Colombia
Brazil vs. Colombia
STORY HIGHLIGHTS
The so-called 'spiritual home of football' is playing host to the World Cup
The sport has played a powerful role in shaping the Brazilian national identity
The national team mirror many of the key issues in Brazilian society
On Friday the fate of the nation once again lands at the feet of its stars
Editor's note: How are you celebrating the World Cup? Join the global conversation on CNN Facebook Pulse.
Rio de Janeiro, Brazil (CNN) -- On any other day, Copacabana Beach has a hypnotic ability to relax its guests. Its crescent-like coast -- where coconut water is coolly sipped, Brazilian sun beats down and hodgepodge hotels stand, juxtaposed against the dramatic peak of the Sugarloaf Mountain and her sisters -- calms the most stressed-out of Cariocas and turns city-workaholics into lackadaisical loungers.
But not on this day; currently there is a very different atmosphere on its golden sands.
Events have conspired for the benevolent beach to now act as a gritty site of torture, where the searing heat is only adding to the discomfort of the thousands gathered. Nearly all to a man are wrapped in yellow and wracked with anxiety. Many hide their faces, unable to bear the sights their eyes witness, struggling to contemplate the repercussions of events that are transpiring.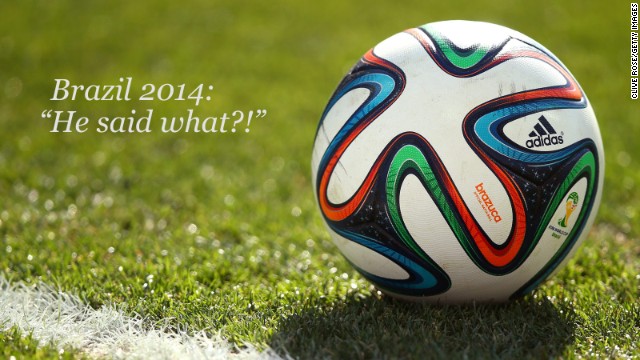 We saw enough unforgettable action to make Brazil 2014 one of the most memorable tournaments of all time. And it's not just on the pitch where players are making a mark, with many stars of Brazil 2014 producing some superb soundbites. With the quarterfinals almost upon us, here is CNN's pick of the best quotes of the World Cup so far.
Has there ever been a game so talked about as Brazil's 7-1 World Cup semifinal thrashing by Germany?
As many as 35.6 million tweets were sent during arguably the World Cup's most extraordinary game, beating the previous record set at this year's Super Bowl by10 million tweets.
Amid all the tweets and goals, Brazil coach Luis Felipe Scolari had to watch from the sidelines as one of the grimmest days in the nation's football history unfolded.
Argentina's Diego Maradona was just one of the former World Cup greats to be left astonished by the result.
Mario Balotelli is well known to English fans, having spent three incident-packed seasons with Manchester City. After losing to Balotelli's Italy in its opening match, England needed a favor from the Azzurri to have any chance of reaching the round of 16. England lost to Uruguay in its second game, meaning only a win for Italy against Costa Rica could preserve its slender hopes of qualification. Balotelli was happy to help his former adopted homeland, but at a price; the striker wanted a kiss from Queen Elizabeth II. In the end, Her Majesty had no cause for alarm. Costa Rica beat Italy 1-0, condemning Balotelli's team and England to a early flight home.
Balotelli's Italy teammate Andrea Pirlo is something of a cultural icon. Women want him, men want to be him, with every sublime swing of the midfielder's boot sending shockwaves of adoration throughout social media. The Juventus playmaker is also a master of taking free-kicks and when he sent a sumptuous long-distance shot crashing into the England crossbar in a Group D match, the football world produced a collective gasp. Such is his mastery of a deadball, French World Cup winner Thierry Henry proclaimed that Pirlo had intended to hit the frame of the goal, rather than find the back of England goalkeeper Joe Hart's net.
The 5-1 drubbing the Netherlands dished out to reigning world champions Spain on just the second day of Brazil 2014 was one of the most stunning results in the tournament's long history. Dutch captain Robin van Persie scored twice, including a barely believable acrobatic header, as his team tore into a Spain side which was previously regarded as one of the finest in the history of the game. The Netherlands blitzed Spain with a flurry of second-half goals, and it could have been much worse had Van Persie and co. not spurned a number of presentable chances. The football world was left reeling at the fulltime whistle and Van Persie was no exception, with the 30-year-old struggling to keep up with his team's goalscoring tally.
He's the unmistakable presence in Belgium's ranks. Marouane Fellaini, the lanky midfielder with a mop of curly, jet black hair covering his scalp. Many have tipped Belgium, which has a squad packed with stars from Europe's top leagues, to go all the way in Brazil and, if his country does win football's biggest prize, Fellaini has promised to shed his famous locks. Barbers of Brazil be warned.
Fellaini came off the bench to score as Belgium beat Algeria in its opening group stage match. Prior to the contest in Belo Horizonte, Algeria coach Vahid Halilhodzic faced questions about how he planned to overcome a strong Belgium team with a formidable defense. His response was forthright, suggesting the Bosnian was confident in his team's ability to overcome the Belgian rearguard. His confidence was rewarded when his team took a first-half lead through Sofiane Feghouli's penalty, but Belgium hit back, first through Fellaini before Dries Mertens fired in the winning goal. After an encouraging start, the Algerians had stalled.
Russia coach Fabio Capello was impressed with what he saw at the World Cup, and who could blame him? The group stage provided bucket loads of goals, thrills and spills galore and more tales of David overcoming Goliath than the Old Testament. Capello had just one small problem; the pace was just too much for his Russian players. The hosts of the 2018 World Cup were out of step with their dry, low-tempo football in a competition which was setting pulses racing across the globe. Russia and Capello exited after failing to win any of its three matches in Brazil. A vast improvement will be expected on home soil in four years.
Oh Luis... Not again? The reaction of many football fans at the sight of Luis Suarez biting an opponent for the third time in his football career. His victim in Brazil was Giorgio Chiellini of Italy but, in the initial aftermath of the unsavory incident, the striker had a plausible (?!) explanation as to how his teeth had come into contact with the defender's shoulder. Predictably, Suarez's "my teeth fell onto his skin" schtick didn't wash with the game's rulemakers and he was swiftly hit with a four-month ban from all football and a nine-match international sanction. The 27-year-old has since admitted to biting Chiellini and apologized for his actions.
France's fluent attacking football has been one of the highlights of this World Cup, with "les bleus" delighting fans and neutrals alike with its swashbuckling approach. It's in stark contrast to the mood surrounding the team four years ago, when in-fighting and poor performances ensured a humiliating early elimination from South Africa 2010. Patrice Evra was part of that derided squad and he's one of the few players to have survived a French footballing cull. Often painted as a divisive figure, Evra appears relaxed. As his quote shows, the defender is unlikely to lose sleep over any criticisms.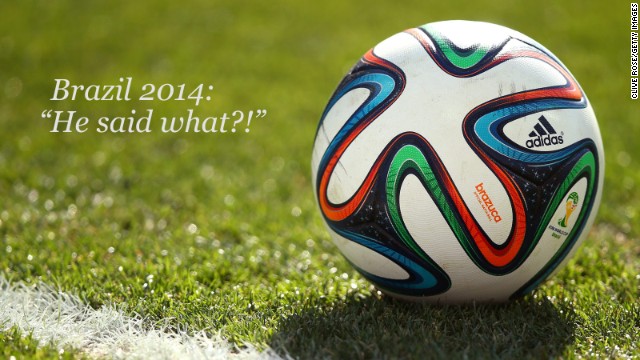 World Cup: The best quotes from Brazil 2014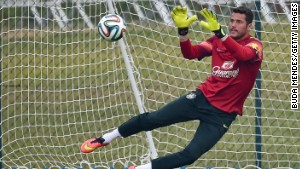 Brazil's Julio Cesar: Brazil has to win
The Jumbotron screen, that sits before those assembled, beams live pictures of a nation on the precipice. This proud country's heroes, the warriors of the people, have battled with all their hearts only to sit moments from humbling, embarrassing defeat.
But this is not a war with the lives of soldiers on the line, or a natural calamity that has befallen a population. No, Brazil's national football team is in a World Cup penalty shootout with regional rivals Chile and, as a result, 200 million people are on the edge of a nervous breakdown.
Security guards abandon their posts to gather around surveillance vehicles, which have their TVs trained to live football rather than CCTV feeds of trouble hotspots. On the underground metro, each commuter battles to get mobile phone connection so they can update the rest of the carriage with the latest news. The streets are silent bar the overspill of punters straining their necks to view the action through the doorways and windows of fan-filled restaurants.
A 22-year-old man called Neymar steps up to the penalty spot to take his chance and the entire country, including the thousands at the FIFA Fan Fest on Copacabana Beach, holds its breath and prays for salvation ...
-----||||------
There aren't many countries in the world that have a national holiday every time the national teams play, or whose media eclipsed reports of the Apollo 12 moon landing with news of Pelé's 1,000th goal. But Brazil's relationship with the side they lovingly term the 'Selecao' is far from normal.
"When you're born in Brazil your father will hang the shirt of the team you're going to follow on the door of your room. There's a joke we say that sexual orientation, religion ... all of that you can choose but not the team. Football is part of your life even in the hospital when you're born.
"And for many, when you die, your coffin is covered with the flag of the team ... so football is from birth to death," Jamil Chade, European correspondent for Estado de Sao Paulo told CNN.
At a time when the so-called 'spiritual home of football' is playing host to the World Cup, a tournament that has fans dew-eyed the world over regardless, it is maybe understandable why emotions are currently running high.
Ever since British enthusiasts formally introduced the sport in 1892, Brazil has been besotted by football. Some say it's tantamount to a religion but for David Goldblatt, author of "Futebol Nation: The Story of Brazil through Soccer", this cliché misses important details.
Infographic: How women are watching the World Cup
"There isn't a divine being, moral framework or holy book so it's better to think of it as a mixture of national ritual, popular theater and collective soap opera," Goldblatt told CNN.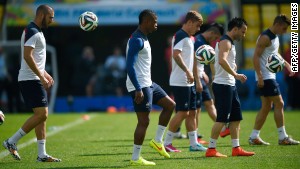 France, Germany prepare for grudge match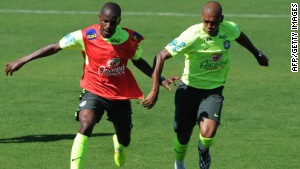 Brazilian team preps for Colombia
"[Football has a] church element, in terms of ritual collective gatherings, in a regular place in a regular time. It's a multi-level, multi-character rolling story commenting on the rest of the world. And it's a form of popular theater in the way the dramatic narrative of the matches plays out. So it's not a religion but the rest add ups to quite a lot."
And it was for these reasons the sport has played such a powerful role in shaping the Brazilian national identity after it became independent in 1822.
"When the intelligentsia asked 'what is Brazil?' the pervading idea was that of a white, European nation in the tropics ... which worked for about five people in Rio, but for a country that has a 60% Afro-Brazilian mix it was never really going to be enough," Goldblatt said.
An ideal was needed to bind the nation, one that was representative of the demographic heritage of Brazil and at the same time emblematic of the aspirations of the new state. Football, Goldblatt argues, fitted the bill.
"Firstly, [Brazil] get huge international recognition when they come third in the 1938 World Cup. Secondly, football had appeal beyond the literate population, [it was] a medium that could ... reach the high degree of illiterate across the country. And crucially, from the 1930s it's the first arena in Brazilian public life that was ethnically integrated."
It's a sentiment with which Chade, a Sao Paulo native and resident, agrees: "Football is one of the few elements that unites the sentiment of Brazil. There's very little that unifies someone who lives in the Amazon with someone who lives in Sao Paulo.
"There are few elements that glue the society together. That is why it's such a drama when the 'Selecao' lose, because it's not the football team losing it's your own identity as a Brazilian that is questioned."
Politics and art alike became intertwined with this powerful vehicle for connecting with a diverse and disparate population. Eminent Brazilian sociologist Gilberto Freye saw football as integral to the emerging personality of his home nation. After watching the team fail in its attempt to become world champions in France 1938, he wrote:
"Our style of football seems to contrast to the [acute and angular] Europeans because of a set of characteristics: surprise, craftiness, shrewdness, recklessness and individual expression and spontaneity. Our mulatto (mixed race) football is an expression of our social order."
And before 1950 a key debate in Brazil was whether their social order was enough to be included within the world's "concert of civilized nations." Despite sending troops to the Second World War, Brazil's request for a seat on the U.N. Security Council had been rejected. Then they lost out on the 1950 World Cup to rivals Uruguay, despite being hosts.
"When the loss to Uruguay happened in the 1950 there was a thought that our destiny was to forever be in the margins of the center of the world. The drama was not the loss on the pitch, or the suicides that followed but it was a crisis of national identity," Chade said.
Read: Psychic octopuses are so 2010...
"Nelson Rodrigues [a famous Brazilian playwright, journalist and iconoclast] said that when we won the World Cup in 1958 that: 'After 458 years we have finally stood up.'
"So we're not talking just about football [when it comes to the Selecao], of course it's just eleven against eleven, of course it doesn't change anything in your life, but it is a mirror of a situation -- and in the case of Brazil it reflects our national identity," Chade added.
To this day the national team also mirror many of the key issues in Brazilian society.
"Brazil's booming economy is built on commodity export: iron ore, sugar, soya beans and oil without ever getting the key value of these because they end up being processed further down the value chain ... and it's the same with football," said Goldblatt.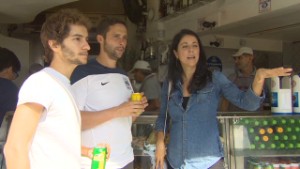 Need a World Cup buddy? Rent one
"In the year 2009, 1200 footballers left Brazil to play elsewhere. Only the old, the very young and the not very good stay home ... Now, if you want to see the best Brazilian footballers, you need to watch the [European] Champions League."
"This [current national team], bar two, are all playing overseas. So they're more cosmopolitan and to my eyes they play European football. I'm not sure a Brazilian style exists any more ... but it's an inevitable consequence of globalization," Goldblatt added.
Chade agrees the Brazilian style is all but gone: "Some say Germany are playing like Brazil used to. It's not a process that's happening just with Brazil. I think [globalization] feeds both ways. But if a player leaves Brazil at 18 and plays in another league with another characteristic until 32 how can he play with a Brazilian characteristic."
Not that a change in style seems to have diminished the passion of the support that Brazil enjoy.
-----||||------
"Goooooooll!!!!!" shout a million or more Brazil fans as Neymar slots his penalty into the corner of the goal-net. Anxiety and fear turn to hope and excitement. Tears remain poised for release.
Chile's Gonzalo Jara is next up. He just needs to score from 12 yards to keep his side in the competition.
Thwack!
He shoots ... and hits the post!
A collective shedding of emotion takes place across Brazil's vast land, relief and elation painted on the faces of the faithful, tears rolling forth, fireworks exploding like machine guns.
The 'Selecao' live to fight another day, progress to be one-game closer to winning the World Cup they covet so dearly, and show the planet that Brazil is as vibrant and beautiful as ever.
Tune in Friday, when the fate of the nation will once again be decided.
Read: Colombia remembers slain Escobar
Read: Americans "fall in love" with football