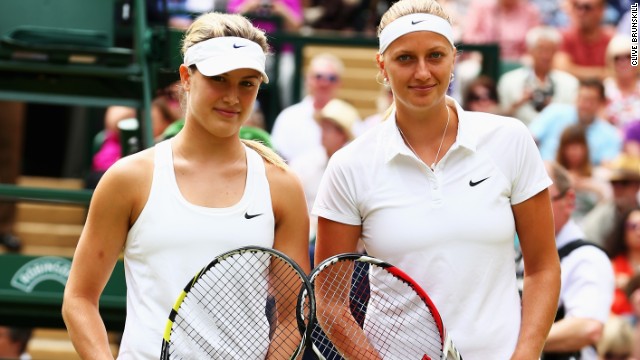 Petra Kvitova and Eugenie Bouchard pose before their women's final at the All England Club. Bouchard was Wimbledon junior champion in 2012 while Kvitova was hoping to claim a second senior crown after winning in 2011.
The 20-year-old Bouchard has seldom looked ruffled throughout the tournament. But she didn't seem comfortable from the off in Saturday's title match thanks to Kvitova's power and shot-making.
Kvitova made her superiority tell by breaking in the fourth game of the first set to take a 3-1 lead.
The Czech quickly advanced to close out the set 6-3 and take a big step towards regaining the Venus Rosewater Dish.
Eighteen-time grand slam champion Martina Navratilova (left) watched from the Royal box at Wimbledon as her compatriot, Kvitova, made the early running.
Nearby, reigning champion (although not for long) Marion Bartoli casts her eyes across proceedings.
As the first set ended, so the second set continued -- another early break set Kvitova on her way.
Bouchard battled but the pace, groundstrokes and movement of her more experienced opponent were too much. A comeback never looked likely.
Kvitova slumps to the ground after securing the second set 6-0 and ensuring the second Wimbledon title of her career.
"I had great tactics from my coach and I just wanted to (win again)," Kvitova told the crowd, just before she was presented with her prize.
Bouchard, by comparison, lamented her uncharacteristically tame showing. "I don't know if I deserve all your love today but I really appreciate it," she told the crowd.
Calm before the storm
Rapid start
Making the running
First blood
Czech royalty?
The reigning champ
On the road
One last rally
An emotional end
A second success
Until next time
STORY HIGHLIGHTS
Petra Kvitova beats Canada's Eugenie Bouchard to take Wimbledon title
The Czech wins 6-3 6-0 in just 55 minutes, hitting 28 winners and only 12 unforced errors
Kvitova has now triumphed on the grass of Wimbledon twice following her 2011 success
Bouchard fails in her bid to become Canada's first grand slam singles champion
Follow us at @WorldSportCNN and like us on Facebook
(CNN) -- It all seemed in place for Eugenie Bouchard in Saturday's Wimbledon final.
She was the people's favorite, surged to semifinals at the Australian Open and French Open, and Britain's Princess Eugenie -- who the tennis player was named after -- looked on from the Royal Box.
Ten years ago, Bouchard's idol, Maria Sharapova, won Wimbledon as the 13th seed. Bouchard, who shares the Russian's enormous appetite for titles and competitiveness, happened to be seeded 13th this fortnight.
But Bouchard's coronation will have to wait, since none of the above mattered to Petra Kvitova.
Canada, too, will have to wait for a maiden grand slam singles champion.
Kvitova became the Queen of Wimbledon once again when the powerful, left-handed Czech crushed Bouchard 6-3 6-0 in a mere 55 minutes for a second crown at tennis' most prestigious tournament, claiming the $3 million first prize.
It was the most lopsided Wimbledon women's final since Steffi Graf routed Monica Seles 6-2 6-1 in 1992, not what anyone expected given Bouchard's battling qualities -- and the fact she hadn't dropped a set before the final.
"I thought Bouchard was going to win," Britain's 1977 Australian Open finalist John Lloyd, a longtime tennis analyst at Wimbledon, told CNN. "I was thinking that Bouchard, who is just an animal -- and I mean that in a form of flattery, sort of in your face, confident, poised -- would get enough balls back and rush Petra.
"Petra was just seeing the ball like a football."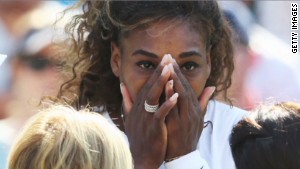 Serena Williams drops out of Wimbledon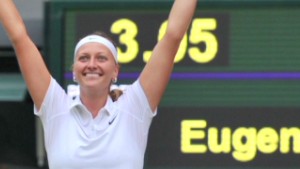 Kvitova wins 2nd Wimbledon title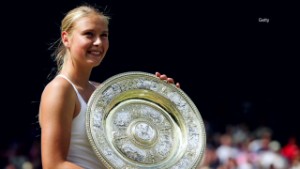 Sharapova's Wimbledon triumph
Closing the roof for the trophy presentation with rain on the way took almost as long as the second set.
No matter what happens in the months leading into Wimbledon, former world No. 2 Kvitova -- who will rise to fourth in the new rankings -- appears to instantly feel at home at the All England Club.
Whereas she hasn't reached a grand slam quarterfinal outside Wimbledon since the 2012 French Open, she's progressed to at least the last eight at tennis' most famous postcode of SW19 five straight times.
Her flat, booming ground strokes thrive on the grass, and the lower bounces are to her liking. With rallies generally shorter, she doesn't have to hit as many balls -- so can limit her unforced errors.
Bouchard, at 20 the youngest female grand slam finalist in five years, simply didn't face anyone of Kvitova's caliber this tournament. Nerves weren't a factor, as they were for Sabine Lisicki in last year's final against Marion Bartoli.
"She has weapons," Bouchard, who took home $1.5 million for her efforts, told reporters. "We know that when she's on, she's very tough to beat, especially on this surface."
An aggressive player, even Bouchard took a backseat in that department to Kvitova, but that was little surprise since the latter always does the dictating.
Kvitova's focus, crucially, never wavered.
She finished with glittering statistics of 28 winners and only 12 unforced errors. Bouchard's figures weren't bad, though: Eight winners and four unforced errors.
Kvitova won 82% of her first-serve points and broke six times.
"There might have been some players who could have been able to keep her off balance a bit with a bigger serve, like a Serena (Williams), but I would have to say her display was one of the best I've ever seen from a woman at Wimbledon in terms of ball striking," said Lloyd.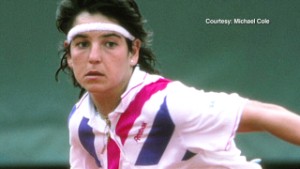 French Open champs 25 years on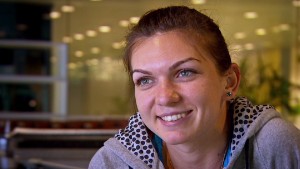 French Open outsider's meteoric rise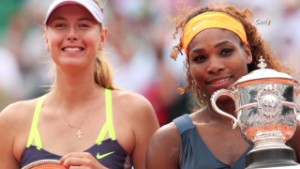 Serena defends French Open title
Not known for her scampering, Kvitova for good measure won the point of the final when she retrieved like Rafael Nadal and struck a slice-backhand passing-shot winner to hold for 3-1 in the first set.
"Really for the first time I said, 'Oh, my God, this is good,'" Kvitova, who cried as she addressed the crowd, told reporters. "I can really run and put everything back. I was there. I was 100% ready for everything."
Her running forehand cross-court pass deep in the second was almost as good, and Kvitova ended matters with a sizzling cross-court backhand winner prior to raising her arms and falling to the grass.
On this form, it won't be the last time Kvitova celebrates on Centre Court.
One of her tasks now is to land a grand slam title outside London.
"I hope it's now going to be easier for me," Kvitova said.
Once she broke for 2-1 in the first set, the 24-year-old was never threatened.
Bouchard saved three break points to hold for 2-3 -- but it was her last hold. The second set took 23 minutes, with Bouchard claiming 10 points total.
At least Bouchard -- who will become the highest-ranked Canadian woman in tennis history at No. 7 when the new list is released on Monday -- can say the fans were heavily behind her.
"Even on court today I felt some special support from the crowd," she said. "It's humbling to receive all this support. It's special to hear that people want me to do well and believe in me."
In Sunday's men's final, Roger Federer tries for an eighth Wimbledon title against top seed Novak Djokovic.
But the duo will have a difficult job of matching Kvitova's impeccable outing.
Read also: Djokovic and Federer reach men's final