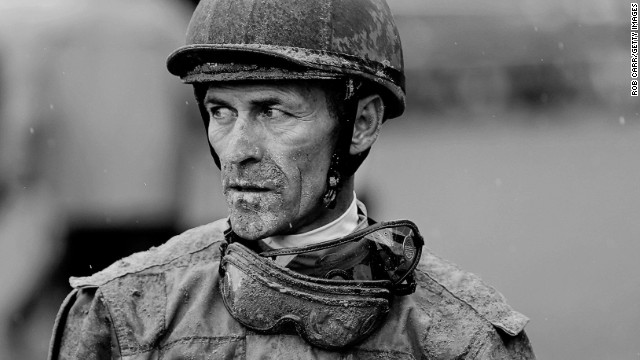 A mud-splattered Gary Stevens has relished the hard knocks entailed of once more being a front-line jockey.
One of the more colorful figures on the flat racing scene, the 51-year-old has embraced his second coming as though each race is his last.
He works tirelessly to get himself in shape -- here he tackles a mechanical horse to prepare himself for racing.
It is a far cry from 1988, when he celebrated his first Kentucky Derby victory.
A second followed in 1995 on board Thunder Gulch in a race he sees as the pinnacle of the sport of kings.
His third and, to date, last Kentucky Derby victory was in 1997 on board Silver Charm.
While still riding, Stevens went into acting, teaming up with Gary Ross (left), director of the 2003 film "Seabiscuit," and son of acclaimed screenwriter Arthur Ross (right).
He retired in 2005 and went into broadcasting as a racing analyst before winning another acting role in the television series "Luck," in which Dustin Hoffman starred as a jailed mobster who gets into the horse racing business after his release.
It may take him a four-mile walk each morning to get his knees warmed up to race, but he insists it's been all smiles on his return.
After his comeback in early 2013, Stevens rode Oxbow to victory in that year's Preakness Stakes.
Stevens has no idea how long his second racing career will last, but he has no immediate plans to ride into the sunset.
Back in the saddle
Back in the saddle
Back in the saddle
Back in the saddle
Back in the saddle
Back in the saddle
Back in the saddle
Gary Stevens: Back in the saddle
Back in the saddle
Back in the saddle
Back in the saddle
STORY HIGHLIGHTS
Stevens is relishing life in the saddle having returned to being a jockey past his 50th birthday
Injury forced his original retirement and he'd been enjoying an acting career
But the lure of horse racing proved too much and he has returned in some style
He argues his role as a broadcaster has enabled him to become a better jockey
Follow us at @WorldSportCNN and like us on Facebook
(CNN) -- Every morning before riding, Gary Stevens has to walk four miles.
The walk is a necessity, the only way the 51-year-old can get his ailing knees slowly warmed up and working, capable of dealing with the demands on those damaged joints of riding some of the world's best horses at speeds of up to 45 mph.
When the American first retired in 2005, he had enough money in the bank from a glittering riding career to kill any thought of a comeback. Then there was the ensuing broadcasting career, not to mention acting forays in the movie "Seabiscuit" and the television series "Luck."
But he finds himself back in the saddle. "This is middle-aged crazy," he says -- and without cracking a smile, all too aware of the risks being taken.
One only has to watch the clip of him being trampled like a rag doll in the 2003 Arlington Million race, suffering a punctured lung and a fractured vertebra in his back, to see that.
"People retire and play golf or go fishing. This is my fishing. I never thought I'd say so at this time of my life but I'd rather be on the race track than on the golf course, and I like golf," says Stevens, who started racing again at the start of last year.
"And the 50s are the new 30s right? Anyway, I'm not the only old guy out there. Look, you've got Fred Couples in golf and he's doing alright."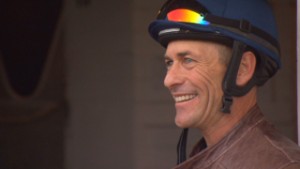 Gary Stevens' successful Derby return?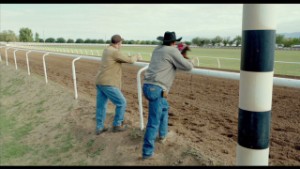 Derby winner celebrated in movie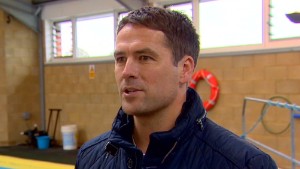 Michael Owen builds horse racing empire?
But his return demanded sacrifices. Stevens had to shed the equivalent of 10 bags of sugar off his body and get down to a racing weight of 114 lbs (51.7 kg) in a grueling two-month training regime.
In addition, his knees are damaged to the point he knows he will need surgery to replace them.
"You don't realize how good it is until it's gone," he told CNN, explaining his decision to retire.
"Being retired allowed me to look back and actually enjoy some of the great things that had been accomplished in my first career. I was like 'wow.' If you won a big race, you could never rest on your laurels as there was the next day, the next race.
"Then there were the injuries and always thinking and obsessing, 'When will I get back?' I realized how good it was and I asked myself, 'Can I do it again?'
"I didn't want to come back and tarnish what I'd done in the past. I wanted to come back at a high level."
Sporting comebacks don't generally tend to end well. Stevens, though, has provided a Hollywood epilogue befitting his secondary career on the silver screen.
Last year, he won 69 races including the prestigious Preakness Stakes and the Breeders' Cup Classic, and he is fast approaching 5,000 career victories on American soil alone. He notched up $100 million in winnings by the age of 30, and he is now nearer the $225 million mark.
There are parallels between Stevens and another giant of flat racing, Lester Piggott, who famously returned to the saddle aged 55 -- in his case after a year in prison for tax evasion. Much like Stevens, his success was almost immediate, the British rider capping his return by winning the Breeders' Cup Mile within 10 days of his return.
"It's funny," says Stevens, "but no-one's actually asked me about the Lester link before. The way he rode that Breeders' Cup, arguably one of the best rides of his career, making all the right moves at the right time. So my thought was, 'If he can do it and I'm younger, then why not.' The guy was a bit of an inspiration."
Luck has also played a part in Stevens' return to the saddle. He had previously been enjoying an acting career in the Michael Mann-directed TV series "Luck" alongside the likes of Dustin Hoffman and Nick Nolte, but it was cut short before the second season began due to concerns over animal safety.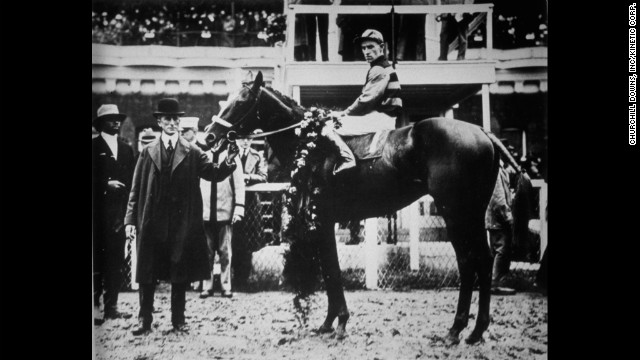 Here's a look back at the 11 horses who've managed the feat. Sir Barton was the first horse to earn the Triple Crown of Thoroughbred Racing, as it would come to be known, by winning the Kentucky Derby, Preakness Stakes and Belmont Stakes in 1919.
More than a decade later, Gallant Fox captured the Triple Crown in 1930.
Omaha -- the son of Gallant Fox -- won the Triple Crown in 1935. Here, jockey Pat Beasley rides the horse in 1936.
War Admiral took the Triple Crown in 1937. He won 21 of his 26 career starts.
Whirlaway (here with horse Robert Morris) won the Triple Crown in 1941 and was named Horse of the Year.
Count Fleet, who won the Triple Crown in 1943, is adorned with a garland of flowers after winning the Preakness Stakes in 1943.
Assault won the Triple Crown in 1946.
Citation at Belmont Park in 1947. He would win the Triple Crown the following year.
Secretariat, left, heads to victory with jockey Ron Turcotte at the Kentucky Derby in 1973. Considered by many to be the greatest racehorse of all time, Secretariat still holds the record for the fastest times in all three Triple Crown races. He won the Belmont Stakes by an astounding 31 lengths.
Jockey Jean Cruguet guides Seattle Slew to the Triple Crown at the Belmont Stakes in 1977.
Jockey Steve Cauthen rides Affirmed to victory at the Belmont Stakes in 1978.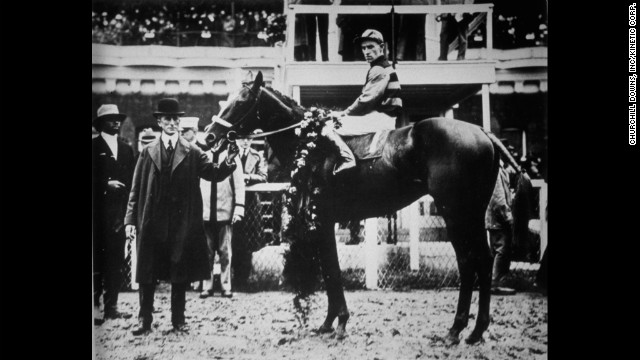 Triple Crown winners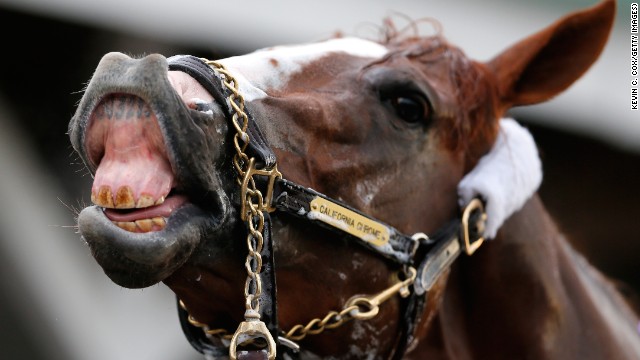 Introducing racing's "rock star."
California Chrome has arrived at Louisville for the Kentucky Derby build-up and remains the favorite to win the famous trophy.
A crowd of 150,000 is expected to flock to Churchill Downs to see the field leave the stalls for the 140th Kentucky Derby.
Last year's winner of a race billed as "the fastest two minutes in sport" was Orb, ridden through the mud to victory by jockey Joel Rosario.
This year's favorite when they enter the first turn is California Chrome, a horse that cost its owners a mere $10,000 to breed.
California Chrome, pictured with mother Love the Chase as a foal, was a huge bargain -- the mare costing $8,000 and breeding with sire Lucky Pulpit for just $2,000.
The colt has become a surprise hit in thoroughbred racing, upstaging far more costly rivals in something of a fairy tale.
All eyes in the U.S. will be on Kentucky from dusk until dawn as the world's best horses battle it out for the $2 million purse.
Star jockey Gary Stevens returned to the sport before last year's Kentucky Derby and is targeting a fourth win in the prestigious race on Candy Boy.
The stands will once again be full to the brim for the key occasion of American thoroughbred racing.
Flamboyant hats are never far away on major race days.
Spectators come in all shapes and sizes each, including a quartet of AXE astronauts in attendance at the event a year ago.
Colorful head pieces are always a feature on race day and, in the case of this punter, hopefully lucky horseshoe sunglasses.
Last year the rain came down but those gathered for the event remained undeterred by the mud underfoot. Who will the sun shine down on in 2014?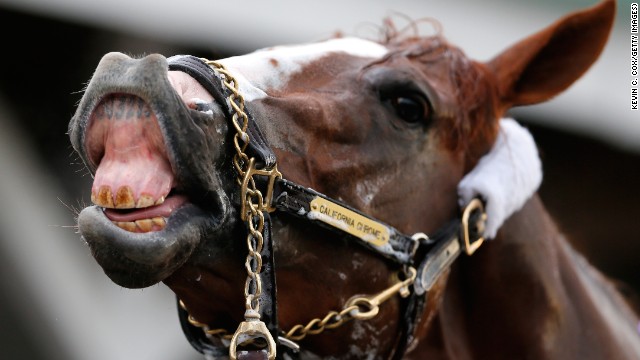 'The fastest two minutes in sport'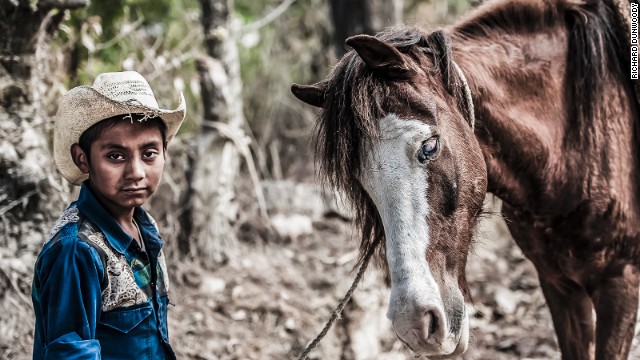 Many of former jockey Richard Dunwoody's pictures have an equine theme, including this of a boy and his blind pony in the countryside near Chimaltenango in Guatemala.
These images were part of a project by animal charity The Brooke -- here working mules and their drivers depart from a brick kiln close to Aligarh, an Indian city near Delhi.
A man drives his horse at full tilt down a dual carriageway with a large load of empty water barrels in Faisalabad, Pakistan.
A carriage driver washes his mule's head in the Nile from a riverboat in Egypt. Tourism is not quite so buoyant in Luxor and drivers are finding it extremely hard to make a living.
Working donkeys at a brick kiln in Gujranwala in Pakistan. The owners take great pride in them, often adorning their bridles with tassels and cloths.
A dehydrated working horse about to be treated at a Brooke clinic in Lahore, Pakistan.
A tired working donkey carrying construction materials in a slum in Delhi, India.
Photography is a complete career change for Dunwoody, who (pictured right) rode Miinnehoma to victory in Britain's prestigious Grand National jumps race in 1994.
Arguably his most famous ride was Desert Orchid, who won the prestigious King George VI Chase in 1989 and 1990.
But Dunwoody insists he doesn't miss the rigors of horse racing and the ensuing falls, such as this one on Spring Hay.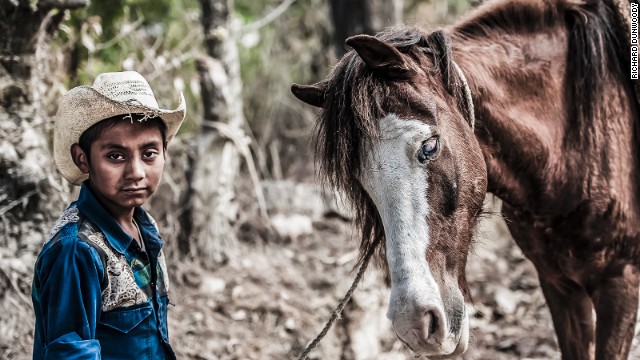 Star jockey turns photographer
"If that hadn't been axed, I'm not sure I'd be doing this," he says. "I was all set to meet in makeup the next day at 4.30 a.m. when I got an email saying it might be scrapped.
"Via a couple of phone calls a few minutes later, sure enough, it was over. I was just lost, it was like losing a family member. In that first week, I made the decision to come back."
Stevens will forever be grateful for his acting career -- he describes it as one of "two dream jobs I've had" -- but it has also acted as Cupid for him, having met his wife Angie on the first day of filming "Seabiscuit."
"I turned up on the set and this lady appeared as a silhouette. She said, 'You look lost,' and I was like, 'I need to find where I'm supposed to be.' I explained I was playing George Woolf and she showed me to my trailer."
He did not lay eyes on her for the next five months but, as the movie wrapped up, they met again, went for dinner and the rest is history.
Such Hollywood-esque nuggets are littered throughout the life of the man from Caldwell, Idaho.
There was the hip condition called Perthes syndrome that forced him to wear a metal brace for 19 months at the age of seven, his decision to drop out of high school in 1979 to become a jockey -- also the year he won his first race -- difficulties with alcohol in his career, and now the ongoing return to the sport of kings: all quite remarkable for a grandfather.
But he argues he is currently at his happiest. "It's an unbelievable ride, better than the first time around," he says.
"It's been very gratifying as I don't think people expected me to come back at the level I did. I didn't expect it. But I'm very hard on myself and motivated so I made it happen. That was the thing missing in my life, I just didn't have anything to push myself."
How is the Stevens Mark II in his own mindset as a jockey?
"I think I'm better in the sense that my broadcast work has made me more analytical," he adds. "I really think watching racing for seven years has developed my skills.
"It's been crazy, what a journey, hey? If it ends tomorrow I'd be a happy guy. My life is more than half over and it's been a good life."
The Hollywood ending, it would seem, has already been sealed.
Read: California Chrome - the racing rock star