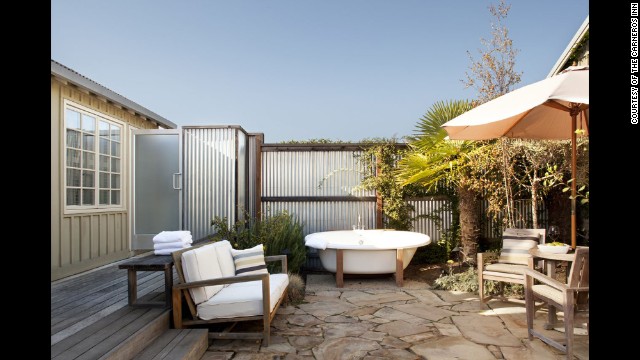 Outdoor showers are the ultimate sign of a relaxing vacation. Hide out in the luxurious bathing area at Carneros Inn in Napa Valley, California.
A premier luxury spot in America's Northeast, Hidden Pond Resort in coastal Maine features this romantic bathing area.
A resort that celebrates the natural beauty around it, Dunton Hot Springs in Colorado is a highly-rated mountain destination.
This Four Seasons Resort Hualalai on Hawaii's Big Island features outdoor showers for guests in its first-floor rooms in the two-story bungalows.
The Maritime Hotel is one of New York City's most unique spots, with 1960's modeled architecture that remains timeless.
Come to Little Palm Island Resort for a bamboo shower in the rustic Florida Keys.
Hotel Saint Cecilia mixes Texan extravagance with the charming hipster culture of Austin. Suite One offers this sweet outdoor shower.
Luxury at its finest, the Miraval Resort in Tuscan is a spot complete with outdoor activities and villas featuring a LEED-certified outdoor shower.
The Tryon Farm Guest House is just south of Lake Michigan in Indiana, channeling the vibe of the American Midwest with an outdoor shower and other earthy charms.
Even in resort-rich Florida, the WaterColor Inn in Santa Rosa stands above the rest with its private outdoor showers in the first-floor rooms.
The ten coolest outdoor showers
Hidden Pond Resort, Maine
Dunton Hot Springs, Colorado
Four Seasons Resort Hualalai, Hawaii
The Maritime Hotel, New York City
Little Palm Island Resort & Spa, Florida Keys
Hotel Saint Cecilia, Texas
Miraval Resort, Arizona
Tryon Farm Guest House, Indiana
WaterColor Inn, Florida
STORY HIGHLIGHTS
Clean up and relax with your hotel suite's private outdoor shower
Private bungalows in Napa feature views of the rolling fields
The outdoor showers at one Four Seasons resort in Hawaii incorporate lava rock
(CNN) -- Imagine gazing out over New York City, both exposed and protected. It's the sensation -- and bragging rights -- you get from showering on the patio of your terrace suite at the Bowery Hotel.
"We wanted to be able to offer our guests an extraordinary experience," explains Kirk Wilson, general manager of the Lower East Side hotel. It's a rare example of an urban outdoor shower, which makes it all the more enticing.
For Alain de Botton, author of "The Architecture of Happiness," there is an almost primitive appeal to showering alfresco.
"Any time we take something we normally do indoors and do it out of doors, there is a thrill -- because it literally symbolizes a victory of the latent fears aroused by nature. So eating outside is more fun than in the kitchen, showering, sleeping and, of course, that other kind of sleeping too."
Outdoor showers certainly give you a chance to feel at one with nature, without roughing it.
At Hawaii's Four Seasons Resort Hualalai, outdoor showers take inspiration from their surroundings, incorporating lava rock and tropical plants. And while Arizona's L'Auberge de Sedona employs an astronomer, stargazing is infinitely more appealing from the vantage point of your own cedar-walled, roofless shower.
Read on for more luxurious and liberating outdoor hotel showers across the U.S.
Carneros Inn, Napa, California
Between the vineyards of Napa and Sonoma counties, your own private cottage waits at Carneros Inn.
The rustic-looking bungalows in muted colors (designed to blend in with the landscape) have rocking chairs on the front porches. Each has an indoor shower with multiple jets that open up to an open-air shower in the backyard, with views of the rolling fields.
Travel + Leisure: America's favorite beach towns
Hidden Pond, Kennebunkport, Maine
The mantra at Hidden Pond is to slow down and relax, from the entry sign that encourages guests to "breathe deeply" to the names of the private accommodations (Lazy Days, Serenity).
These 36 luxurious cottages—with Frette linens, screened-in porches, indoor fireplaces and outdoor showers—are situated among 60 acres of balsam and birch trees, about a mile and a half from Goosefare Bay and the Atlantic.
Travel + Leisure: Travel etiquette dos and dont's
Dunton Hot Springs, Dunton, Colorado
An abandoned mining town was made over as Dunton Hot Springs, a collection of lovingly restored rough-hewn cabins in the wilderness near natural hot springs. Guests who stay in Echo Cabin can shower while soaking up views of the surrounding tree-covered San Juan Mountains.
Travel + Leisure: America's best cities for barbeque
Four Seasons Resort Hualalai, Kailua-Kona, Hawaii
When you arrive at the Four Seasons, you get an aloha, a lei and—if you booked a first-floor room in the two-story bungalows—an outdoor shower for freshening up.
The Big Island is known for volcanoes and tropical jungles, so it's fitting that the outdoor showers here incorporate lava rock along with orchids and tropical plants. You might even spot a lizard as you wash up.
Maritime Hotel, New York City
Large porthole windows are the most obvious of the nautical touches featured throughout the Maritime, a 1960s-era building designed by Albert C. Ledner for the National Maritime Union. The 126 cabin-like rooms feature dark teak accents and headboards of blue Japanese fabric.
Two terrace suites overlooking the Hudson River feature outdoor showers that practically dare guests to strip down and soap up in the open air of Chelsea.
Little Palm Island Resort, Little Torch Key, Florida
What could make a five-acre private island in the Florida Keys that's only accessible by boat or seaplane and was a favorite fishing spot for President Harry S. Truman even more exclusive?
Your own bamboo outdoor shower, where the quiet sounds of the island—rustling coconut palms and birdcalls—wash over you with the water.
All this and more at the Little Palm Island Resort.
Hotel Saint Cecilia, Austin, Texas
Named for the patron of music and poetry, Hotel Saint Cecilia brings a dose of rock-and-roll cool to a former Victorian mansion in Austin's South Congress district. Owner Liz Lambert's many creative touches include bold art installations and turntables in every room.
Suite One gives guests the star treatment with its crystal chandelier, claw-foot bathtub and bamboo-lined outdoor shower.
Miraval Resort and Spa, Tucson, Arizona
It's all about mind-body balance at Miraval, one of America's best all-inclusive resorts. You can challenge your body with activities like horseback riding, trail biking, or an obstacle course, including an option for the "Quantum Leap" (it involves jumping off a 25-foot platform).
Then you can feed your soul with meditation and yoga classes. Wash off the Sonoran desert dust in your LEED-certified villa's outdoor shower.
Tyron Farm Guest House B&B, Michigan City, Indiana
Drive 10 minutes from the south shore of Lake Michigan, and you'll reach Tyron Farm Guest House, a four-bedroom bed-and-breakfast. The former dairy farm is on 170 acres and heavy on rustic charm: knitted blankets, fresh flowers, hammocks, and a barn full of chickens and goats. When the weather is mild, you can get even closer to nature by scrubbing in the outdoor shower or the farmhouse's original 19th-century galvanized tin tub.
WaterColor Inn and Resort, Santa Rosa Beach, Florida
On the Gulf of Mexico, WaterColor Inn has no shortage of opportunities for guests to enjoy the water, from complimentary kayaks to a restaurant overlooking the ocean. But the most memorable may be rinsing off the sugar-white sand from the dunes in the private outdoor cabana showers in the first-floor rooms.
See more of the coolest outdoor hotel showers.
Planning a getaway? Don't miss Travel + Leisure's guide to the World's Best Hotels
Copyright 2012 American Express Publishing Corporation. All rights reserved.