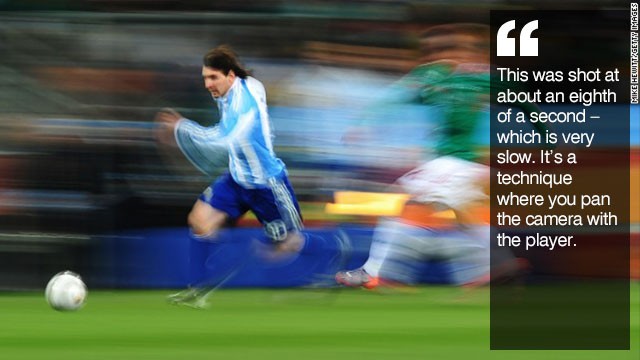 Sports photo masterclass: Mike Hewitt
Sports photo masterclass: Mike Hewitt
Sports photo masterclass: Mike Hewitt
Sports photo masterclass: Mike Hewitt
Sports photo masterclass: Mike Hewitt
Sports photo masterclass: Mike Hewitt
Sports photo masterclass: Mike Hewitt
STORY HIGHLIGHTS
Getty photographer talks to CNN about the stories behind his iconic World Cup images
Mike Hewitt has attended four World Cups during a 28-year career
Technique called panning used to capture unusual shot of Messi at 2010 World Cup
How are you celebrating the World Cup? Join the global conversation on CNN's Facebook Pulse
(CNN) -- It might be a bit of a blur to everyone else, but Lionel Messi always seems to keep a clear head -- even in the most pressurized situations.
And if the football maestro's opponents struggle to keep up with him, spare a thought for the sports photographers who have to track his moments of magic.
Mike Hewitt's artful image of the Argentina star in action against Mexico at the last World Cup in South Africa captures his dynamism down to a tee.
But it wasn't the shot he had expected to walk away with at Johannesburg's Soccer City Stadium that evening.
"I had planned to go up into the crowd," Hewitt told CNN's Sports Photo Masterclass series.
"I found a position in the stands which I thought might give me a different angle, but a steward took exception to me being there."
The FIFA-accredited Hewitt protested, stayed put and the game started. Then the police arrived.
"About 10 of them showed up in full riot gear and said, 'You can't stay here.' I wasn't going to argue, so I was escorted down to the pitch where they thought all the photographers should be.
"I kind of squeezed in late -- not in a great position -- and I thought I might as well just go for it. Lionel Messi is playing and if I can get one image of him like this, I'll be happy."
The image was captured using a technique called panning, where the photographer follows a moving subject during an exposure.
A successful shot will blur the background, giving a sense of movement and speed while keeping the subject, or part of it, in focus.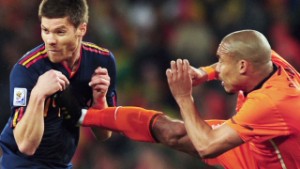 Footballers at snapping point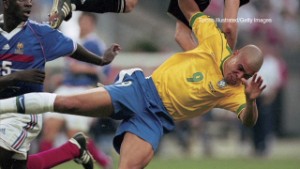 Snapping photos like a pro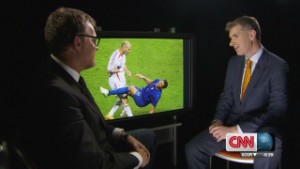 Photographing the best of the World Cup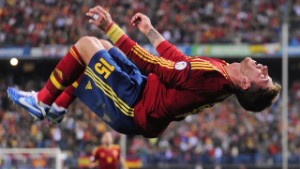 What makes a great World Cup photo?
"I had a couple of attempts earlier that didn't really work -- a lot of the frames are a complete blur. But then luckily he had a good run down the wing," says Hewitt, who is Senior World Cup photographer at leading agency Getty.
"The key thing you're trying to do is freeze the head, and we're quite lucky that the ball looks fairly frozen as well."
The image was captured using a 400 mm telephoto lens mounted on a monopod, with Hewitt opting for a super-slow shutter speed -- around one-eighth of a second compared with 1,000th of a second typically used for action shots.
Messi's forward-leaning, athletic pose is amplified by the disorganized tangle of arms and legs of his straggling opponent.
"It actually works better in other sports, particularly ones when they're on a predictable path like athletics or speed skating," Hewitt says of the panning technique.
"You know they're going to be at a particular place and you can try again and again. The nature of football is very zigzag ... so you don't get many of these."
Hewitt also turned his lens on Messi's national coach during the 2010 tournament, capturing Diego Maradona celebrating the winning goal in his first match in charge at a World Cup finals.
Even more impressively, he took the defining image of the final between the Netherlands and Spain, dropping the shutter at the exact moment Nigel de Jong's boot clattered into Xabi Alonso's chest.
When he's not snapping a match action, the 52-year-old is always on the lookout for salable pictures elsewhere.
"You've always got to have your camera with you just in case. You never know what's going to be happening anywhere," he says.
A good example was a beautiful shot of kids playing football taken in the week before the 2010 tournament kicked off.
"We were driving back from Johannesburg when my colleague saw these children playing football in this sort of dirt ditch on the edge of a very large township," Hewitt explains.
"The office and the world media were crying out for an image that showed football in South Africa and I'd like to think that this one summed it up quite nicely."
Another enduring photo has been one Hewitt took two decades ago at the tournament hosted by the U.S.
The image of Brazilian players' hands clutching the trophy following their penalty shootout victory over Italy in the 1994 final will be instantly recognizable to football fans worldwide.
"We had exhausted all the team photos of them and I just happened to notice a couple of them trying to get their hands on the trophy," Hewitt says.
"I think a large part of its success is that you've got different ethnic groups holding it -- you've got white guys and black guys. I think this is Romario and Dunga holding the trophy."
"It's probably my biggest-selling image. It's been used everywhere. You see it on games, books and god knows what!" he says.
As Brazil 2014 heads toward its climax in Rio de Janeiro's famous Maracana Stadium on Sunday, Hewitt will be pitch-side once again, ready for another shot at getting his name onto the front pages.
It's what he lives for.
"This is why we do the job. Not many people find out who took the image but I know and I see it. And the more I see it, the better I like it."
Fancy yourself as a photographer? Send us your best football pics
Read: How to take great sports photos
Read: World Cup magic frozen in time
Read: World Cup heroes and villains