STORY HIGHLIGHTS
With help from militias, Syrian government has retaken strategic roads and villages
To make matters worse for rebels, ISIS bombards them to their west
Another factor: Deadly barrel bombs dropped from the sky
"The international community must stop the killing," Aleppo council leader pleads
(CNN) -- Syria's opposition says the once-bustling commercial capital of Aleppo might soon fall victim to a crushing siege if government troop advances continue unabated.
Fears of encirclement rose after the Syrian army, backed by pro-government militias, wrested control of the Sheikh Najjar neighborhood and the nearby village of Kafr Saghir, a strategic industrial area at the northeastern entrance to Aleppo city.
Government troops also advanced toward central Aleppo from the western suburbs, most of which it controls, including the Hamdaniya district along the key Damascus-Aleppo Highway.
Rebels called the defeats a strategic withdrawal and announced the formation of a 600-strong elite force to combat the escalating offensive, the opposition-run Aleppo Media Center reported.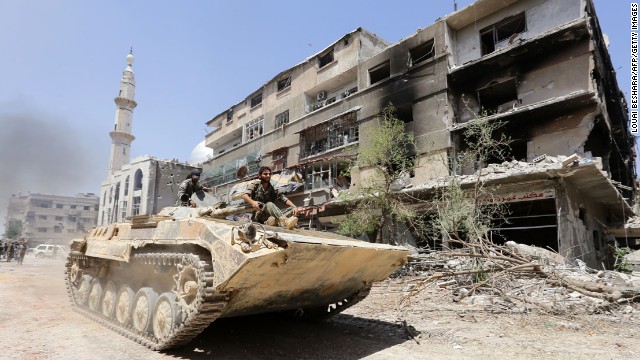 This image was taken during a government guided tour in Mleiha, Syria, one day after Syrian government forces retook the town after a monthslong battle with rebels, according to a military source and state television on Friday, August 15. The United Nations estimates more than 100,000 people have been killed in Syria since an uprising in March 2011 spiraled into civil war.
Residents inspect the rubble of destroyed buildings in Aleppo, Syria, after Syrian regime helicopters allegedly dropped barrel bombs there on Wednesday, August 13.
Smoke trails over Aleppo following barrel bombs that were allegedly dropped by the Syrian regime on an opposition-controlled area on Monday, August 11.
Photographs of victims of the Bashar al-Assad regime are displayed as a Syrian Army defector known as "Caesar," center, appears in disguise to speak before the House Foreign Affairs Committee in Washington. The briefing on Thursday, July 31, was called "Assad's Killing Machine Exposed: Implications for U.S. Policy." Caesar was apparently a witness to al-Assad's brutality and has smuggled more than 50,000 photographs depicting the torture and execution of more than 10,000 dissidents.
Syrian rebel fighters take up positions behind sandbags in Aleppo on Wednesday, July 30.
People carry an injured man away from the site of an airstrike, reportedly carried out by Syrian government forces, in Aleppo on Sunday, July 27.
Rebel fighters execute two men Friday, July 25, in Binnish, Syria. The men reportedly were charged by an Islamic religious court with detonating several car bombs.
A rebel fighter stands on a dust-covered street in Aleppo on Monday, July 21.
A man clears debris at the site of an alleged barrel-bomb attack in Aleppo on Tuesday, July 15.
A woman walks amid debris after an airstrike by government forces July 15 in Aleppo.
People walk on a dust-filled street after a reported barrel-bomb attack in Aleppo on Monday, July 7.
Apartments and other buildings lie in ruins on Tuesday, June 3, in Aleppo, a city that "has had the life bombed out of it," according to CNN's Nick Paton Walsh.
A man carries a girl injured in a reported barrel-bomb attack by government forces June 3 in Aleppo.
A rebel fighter loads an anti-tank cannon outside Latakia, Syria, on Sunday, June 1.
A rescue worker pulls a girl from rubble in Aleppo on June 1 after reported bombing by government forces.
A giant poster of Syrian President Bashar al-Assad is seen in Damascus, Syria, on Saturday, May 31, as the capital prepares for presidential elections.
Portraits of al-Assad dominate the cityscape in central Damascus on Tuesday, May 27. Al-Assad is firmly in power three years into the civil war, while the opposition remains weak and fragmented and extremists grow in numbers and influence.
The father of a 3-month-old girl weeps Monday, May 26, after she was pulled from rubble following a barrel-bomb strike in Aleppo.
A woman stands in a heavily damaged building in Aleppo on May 26.
An injured man lies in a hospital bed after alleged airstrikes by government forces in Aleppo on Sunday, May 18.
Buildings in Homs, Syria, lie in ruins Saturday, May 10, days after an evacuation truce went into effect. Thousands of displaced residents returned to the city.
Rescuers carry a man wounded by a mine in the Bustan al-Diwan neighborhood of Homs on May 10.
A Syrian woman carries a suitcase along a street in the Juret al-Shayah district of Homs on May 10.
Residents carry their belongings in the al-Hamidieh neighborhood of Homs on May 10.
A woman injured when a mine went off is carried in Homs on May 10.
Residents return to damaged dwellings in Homs on May 10.
Debris lies on a deserted street in Homs on Thursday, May 8.
A mosque is seen through shattered glass in Homs, where an evacuation truce went into effect on Wednesday, May 7.
A wounded man is treated at a makeshift hospital in Aleppo on Sunday, May 4.
Debris rises in what Free Syrian Army fighters said was an operation to strike a checkpoint and remove government forces in Maarat al-Numan, Syria, on Monday, May 5.
A man helps a woman through debris after reported airstrikes by government forces on Thursday, May 1, in the Halak neighborhood of Aleppo.
Syrians gather at the site of reported airstrikes in Aleppo on May 1. According to the Syrian Observatory for Human Rights, at least 33 civilians were killed in the attack.
A woman runs after two barrel bombs were thrown, reportedly by forces loyal to Syrian President Bashar al-Assad in Aleppo on May 1.
A boy runs in Aleppo on Sunday, April 27, after what activists said were explosive barrels thrown by forces loyal to al-Assad.
Security and emergency medical personnel work at the site of a car bomb explosion Monday, April 14, in the Ekremah neighborhood of Homs.
In this photo released by the state-run SANA news agency, Syrian forces take positions during clashes with rebels near the town of Rankous, Syria, on Sunday, April 13.
Flames engulf a vehicle following a car bomb Wednesday, April 9, in the Karm al-Loz neighborhood of Homs.
A man carries a child who was found in the rubble of an Aleppo building after it was reportedly bombed by government forces on Monday, March 18.
An elderly man and a child walk among debris in a residential block of Aleppo on March 18.
A woman with blood on her face carries a child following a reported airstrike by government forces Saturday, March 15, in Aleppo.
People attempt to comfort a man in Aleppo after a reported airstrike by government forces on Sunday, March 9.
Buildings in Homs lay in ruins on March 9.
Syrian forces fire a cannon and a heavy machine gun loaded on a truck as they fight rebels in the Syrian town of Zara on Saturday, March 8.
A handout photo released by SANA shows Syrian President Bashar al-Assad speaking March 8 during a meeting in Damascus to mark the 51st anniversary of the 1963 revolution, when Baath Party supporters in the Syrian army seized power. Al-Assad said the country will go on with reconciliation efforts along with its fight against terrorism.
Syrians inspect the rubble of destroyed buildings in Aleppo following a reported airstrike by Syrian government forces on Friday, March 7.
People dig through the rubble of a building in Damascus that was allegedly hit by government airstrikes on Thursday, February 27.
A boy walks ahead of men carrying the body of his mother in Aleppo on Saturday, February 22. According to activists, the woman was killed when explosive barrels were thrown by forces loyal to al-Assad.
A man holds a baby who survived what activists say was an airstrike by al-Assad loyalists Friday, February 14, in Aleppo.
In this photo provided by the anti-government activist group Aleppo Media Center, Syrian men help survivors out of a building in Aleppo after it was bombed, allegedly by a Syrian regime warplane on Saturday, February 8.
Syrians gather at a site hit by barrel bombs, allegedly dropped by a regime helicopter on the opposition-controlled Mesekin Hananu district of Aleppo on February 8.
In this handout photo released by the state-run SANA news agency on February 8, civilians wave national flags in Damascus as they take part in a rally in support of President al-Assad.
A man stands next to debris in the road following a reported airstrike by Syrian government forces in Aleppo on February 8.
Medical personnel look for survivors after a reported airstrike in Aleppo on Saturday, February 1.
Syrians carry a dead body following an airstrike on February 1.
A man walks amid debris and dust on January 31.
An injured man is covered in dust after an airstrike on January 29.
A man tries to fix electrical wires in Aleppo on January 27.
Rebels and civilians check out a crater that activists say resulted from a Syrian government airstrike on an Aleppo bus station on Tuesday, January 21.
Men rush to a site that Syrian government forces reportedly hit in Aleppo on January 21.
Buildings lie in ruins in Aleppo on Sunday, January 19, after reported air raids by Syrian government planes.
A child collects items from a garbage pile in Douma, Syria, northeast of the capital, on Saturday, January 18.
A piece of exploded mortar lies in a street in Daraya, a Syrian city southwest of Damascus, on Friday, January 17.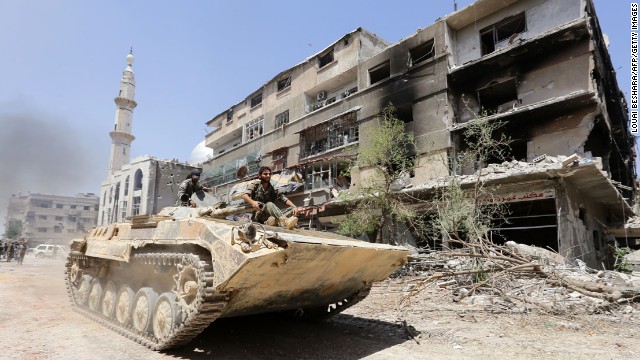 Photos: Syrian civil war in 2014
The Syrian military is focused on capturing the Handaraat settlement, which links the opposition-controlled neighborhoods of Aleppo city with the Turkish border. If successful, the Syrian government will be in a position to besiege an estimated 300,000 civilians and isolate fighters from a vital supply line, the Aleppo Provincial Council tells CNN.
"The rebels are fortifying themselves on the edge of the city" Mohammed Wisam, a spokesman for the Aleppo Media Center told CNN, "but residents fear a siege."
Fighters from the National Defense Forces, a Syrian paramilitary group, and the Lebanese Shiite militia Hezbollah arrived in Aleppo ahead of what activists believe will be a full-scale assault on Handaraat.
"This will be the route to death," Abdul Rahman Dadam, head of Aleppo's Provincial Council, tells CNN, "The humanitarian crisis will be huge, and the civilians will pay the price."
The United States accuses Syria of a "kneel or starve" tactic on areas that turned against the government of President Bashar al-Assad during the country's more than three-year uprising turned civil war.
A nearly two-year encirclement of the Old District of Homs drew widespread international condemnation earlier this year when activists reported hungry families were forced to pick grass for food, and in the still besieged Damascus suburbs, dozens have died because of a lack of basic medical supplies and food, doctors inside Syria told CNN earlier this year.
Radical threat to the west
An altogether different threat faces rebels in the western Aleppo countryside, where the ultraradical Islamic State of Iraq and Syria controls three main cities, including a key position in Jarabalus along the Turkish border.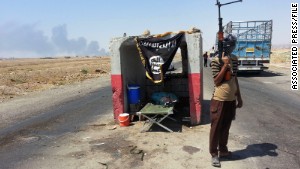 How ISIS amassed a fortune
The group recently launched an offensive on much of the Kurdish eastern countryside of Aleppo after announcing the creation of a so-called "Islamic State" stretching from central Syria to Falluja, Iraq, with the head of the group Abu Bakr al-Baghdadi as the self-styled Caliph.
Militants captured three Kurdish villages in Aleppo province near the ethnic minority's stronghold of Ayn al-Arab this week, according to the London-based monitoring group the Syrian Observatory for Human Rights.
The People's Protection Unit, a Kurdish militia, evacuated about 2,000 civilians from the area and clashed with ISIS on Tuesday in an attempt to recapture the villages. At least three elderly civilians who refused to leave their homes were captured and executed by ISIS, the observatory and Kurdish activists reported.
"The whole area has been turned into a battle ground, but the people have no choice. They must stay strong, and we must defend ourselves," Omar Alloush, the head of external relations in the local branch of the Democratic Union Party, which administers Ayn al-Arab, told CNN.
After ISIS captured tanks and American Humvees in a sweeping campaign on the Sunni heartland of Iraq, the group intensified its march on Kurdish and rebel-held parts of Aleppo province in Syria, multiple activists tell CNN.
"We do not want anything from ISIS; we just want them to not come into our areas and impose their rule. We do not want their caliphate," Alloush said.
The intensification of fighting stalled talks for the release of more than a 120 Kurdish students kidnapped in May by ISIS and forced to take daily classes in ultraradical Islamic theology. The families of the abducted ninth grades say their children are being brainwashed and have appealed to the international community for help.
"I still have hope the children will be released. We remain steadfast, and we ask ISIS to call a cease-fire for just 24 hours so we can find a way to return the students to their families," Alloush said.
Constant aerial bombardment
For civilians, the skies are the third and arguably the most threatening front in the battle for Aleppo.
"Fear God!" an elderly women yells on a social media post after her neighborhood of Tariq al Bab was barrel-bombed by government warplanes, "They have destroyed our homes and killed our children."
The Syrian army appears to have escalated the use of barrel bombs, crudely constructed weapons packed with explosives and dropped indiscriminately, on Aleppo since the launch of the ground offensive last week, activists tell CNN.
"Where in the world is it OK to drop hundreds of kilos of explosives from thousands of meters in the sky on a densely populated civilian area?" Dadam tells CNN. "The international community must stop the killing."
Syria's protracted civil war has claimed the lives of at least 140,000 people, including hundreds killed by barrel bombs, human rights groups report. Thousands more fled what the opposition dubs the "barrels of death" to join the more 2.9 million refugees struggling to survive in neighboring countries.
"The regime is fighting us with rockets and bombs from the sky and ISIS is firing mortar and tank shells on the ground. How can the revolution stand up to all this? Dadam tells CNN.
"This is why we need the international community to intervene. To stop the bloodshed."
How ISIS is overshadowing al Qaeda
Pentagon considers how to target ISIS leader in drone strike