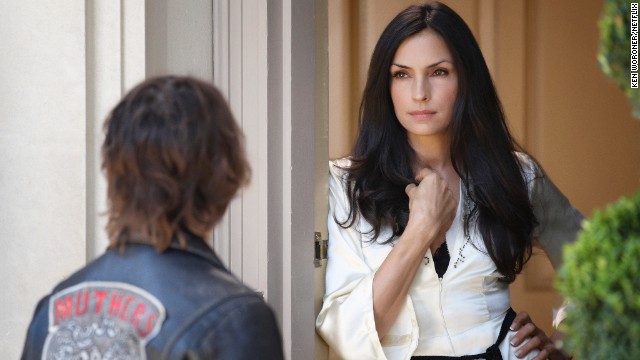 It's July and it's expected to be steamy, right? Get ready for Netflix and Amazon to make it even hotter with their new streaming releases. A new enemy surfaces in Season 2 of the Netflix original series,
"Hemlock Grove,"
which premieres July 11. (Netflix)
"Extant," which also premieres this month on Amazon.
Halle Berry plays a mom who brings something back from outer space in the new CBS sci-fi series
"Under the Dome" (2013)
- Season 2 of this other CBS/Amazon series based on the work of horror writer Stephen King, stars Colin Ford, Britt Robertson and Mackenzie Lintz. The new season that premiered this week has already taken some
shocking turns
. (Amazon)
"Basic Instinct" (1992) - Prepare to cross and uncross your legs for this thriller starring Michael Douglas and Sharon Stone. (Netflix)
"Louis C.K: Hilarious"(2010) - Louis C.K. brings his special brand of humor in this concert film. (Amazon)
"Annie Hall" (1977) - Diane Keaton and Woody Allen play lovers in this classic New York City film. They were a couple at one point in real life too. (Amazon)
"Philadelphia" (1993) - Tom Hanks won an Oscar for his performance as a man stricken with AIDS who employs Denzel Washington's character to represent him in a wrongful termination suit. (Netflix)
"Bad Santa" (2003) - Billy Bob Thornton, the late Bernie Mac, and Tony Cox appear in this movie about a crew that uses the good will of the holidays for their own means. (Netflix, Amazon)
"Legends of the Fall" (1994) - A long haired Brad Pitt stars in this drama about a family dealing with life during World War 1. (Netflix)
"Fever Pitch" (1997) - If the World Cup isn't enough for you, check out Colin Firth as a diehard Arsenal soccer fan who thinks he doesn't have time for romance. (Netflix)
"12 Angry Men" (1957) - Henry Fonda, Jack Klugman, Lee J. Cobb, and E.G. Marshall are among the cast of this film about a jury that must decide the fate of a teen accused of killing his father. (Netflix)
"The Karate Kid" (1984), "The Karate Kid II" (1986), and "The Karate Kid III" (1989) - William Zabka and Ralph Macchio butt heads in the teen drama "The Karate Kid" that has become a cult classic and yielded spin-offs. (Netflix)
"Knights of Sidonia" (2014) - The first season of Netflix's first animated series centers on a heroic pilot's rise from obscurity. (Netflix)
"Brody Stevens: Enjoy It" (2013) - Season 1 follows Zach Galifianakis and his buddy, comedian Brody Stevens on his road to mental health in Comedy Central's first (relatively) dramatic series. (Amazon)
"Primal Fear" (1996) - RIchard Gere stars as a defense attorney in this courtroom drama about a case that may not be as open-and-shut as it seems. (Netflix, Amazon)
"Funny Face" (1957) - Audrey Hepburn dances with Fred Astaire in this lovable musical. (Netflix)
"City of God" (2002) - Zé Pequeno is one of the young men featured in this excellent film about drugs, poverty and crime in Rio de Janeiro. (Netflix, Amazon)
"Dead Man Walking" (1995) - Sean Penn and Susan Sarandon star in this death row drama based on a true story. (Netflix)
"Gandhi" (1982) - Sir Ben Kingsley won a best actor Oscar for his role in this biopic about Mahatma Gandhi. (Netflix)
"Hitch" (2005) - Will Smith and Eva Mendes star in this sexy film about a reporter and and a love expert. (Netflix)
"Patton" (1970) - The late George C.Scott stars as the legendary Gen. Patton in this epic war film. (Netflix, Amazon)
"Homefront" (2013) - Jason Statham, James Franco and Winona Ryder star in this film about a widowed ex-DEA agent who tangles with a drug gang. (Netflix)
"Under the Tuscan Sun" (2003) - Diane Lane and Raoul Bova star in this slice of romance about a woman who flees to Tuscany after her life becomes upended. (Netflix)
"The Manchurian Candidate" (2004) - Denzel Washington stars in this remake of a classic 1962 film about political intrigue.
"Boyz N the Hood" (1991) - Writer/director John Singleton broke ground with this urban drama which starred Cuba Gooding Jr., Laurence Fishburne and rapper-turned-actor Ice Cube. (Netflix)
The Parent Trap" 1998 - Relive the good old days of a precious child star, Lindsay Lohan, who plays a set of identical twins who meet at camp.
"
"Out of the Furnace" (2013) - Christian Bale stars in this drama about a pair of working-class brothers desperate to flee the poverty of the Rust Belt. (Netflix)
"Star Trek VI: The Undiscovered Country" (1991) - The gang from the original "Star Trek" battle for peace and prosperity in this sci-fi film. (Netflix)
"The Master" (2012) - Joaquin Phoenix and the late Philip Seymour Hoffman star in this drama about a veteran with post-traumatic stress disorder who links up with a charismatic religious leader. (Netflix)
What's new on Netflix, Amazon in July
What's new on Netflix, Amazon in July
What's new on Netflix, Amazon in July
What's new on Netflix, Amazon in July
What's new on Netflix, Amazon in July
What's new on Netflix, Amazon in July
What's new on Netflix, Amazon in July
What's new on Netflix, Amazon in July
What's new on Netflix, Amazon in July
What's new on Netflix, Amazon in July
What's new on Netflix, Amazon in July
What's new on Netflix, Amazon in July
What's new on Netflix, Amazon in July
What's new on Netflix, Amazon in July
What's new on Netflix, Amazon in July
What's new on Netflix, Amazon in July
What's new on Netflix, Amazon in July
What's new on Netflix, Amazon in July
What's new on Netflix, Amazon in July
What's new on Netflix, Amazon in July
What's new on Netflix, Amazon in July
What's new on Netflix, Amazon in July
What's new on Netflix, Amazon in July
What's new on Netflix, Amazon in July
What's new on Netflix, Amazon in July
What's new on Netflix, Amazon in July
What's new on Netflix, Amazon in July
What's new on Netflix, Amazon in July
What's new on Netflix, Amazon in July