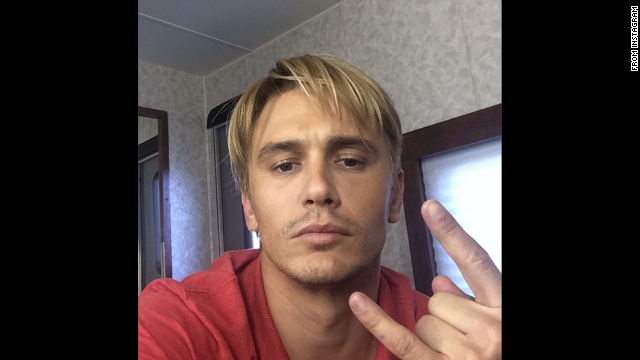 Don't be mistaken: That really is a blond James Franco. The actor is going for "that Late 90s bleached look," as he explained on
Instagram
. Could it have anything to do with his work in the
2015 drama "Michael,"
about former gay activist
Michael
Glatze? We'll know in time. For now, see these other transformations for the big screen:
Chadwick Boseman tells James Brown's story, from beginning to end, in the biopic "Get On Up." The 32-year-old actor portrays Brown through almost every stage of his life, from his late teens to his 60s, with the help of some movie (and makeup) magic, of course.
Ellar Coltrane is one actor who can say he has literally grown up on film. The 19-year-old spent 12 years working with Richard Linklater on the writer/director's opus, "Boyhood," starring as the central character, Mason. Over the course of the film, viewers see Coltrane grow from a baby-faced child, left, to a bearded young man.
Ethan Hawke was about 32 when he began working with Linklater on "Boyhood." With the movie spanning 12 years, fans can see Hawke go from a fuller-faced 30-something, left, to a more chiseled, seasoned star.
Hawke's co-star, Patricia Arquette, was also captured in Linklater's film, aging 12 years since she began working on the project at about age 34.
Bradley Cooper has packed on muscle (and quite the beard) since we saw him in March. The speculation is that Cooper's drastic physical transformation is for his role in 2015's "American Sniper," in which he will play Navy SEAL Chris Kyle.
Cooper's beefier look comes on the heels of another on-screen transformation: his role in David O. Russell's "American Hustle." Part of the fun in watching the '70s-era drama is seeing Cooper's impressive perm.
his new role as a superhero in Marvel's "Ant-Man,"
it looks like Paul Rudd is bulking up. The actor was spotted on the beach in Mexico with some very noticeable muscles, leaving onlookers curious if he's been hitting the gym for the gig. (Or perhaps those pecs were there all along.)
With
Matthew McConaughey lost at least 40 pounds to portray a man with AIDS in the December release "Dallas Buyers Club."
Jared Leto
said he shed nearly 40 pounds to play a transsexual woman living with AIDS in "Dallas Buyers Club."
Charlize Theron gained about 30 pounds and wore crooked prosthetic teeth for her transformation into serial killer Aileen Wuornos in 2003's "Monster." She won a best actress Oscar.
Entertainment Weekly
they pulled it off by working around Streep's natural facial elements.
Meryl Streep won an Oscar for her portrayal of British Prime Minister Margaret Thatcher in 2011's "The Iron Lady," and so did members of her makeup team. They told
Jake Gyllenhaal lost roughly 20 pounds for his role in the crime drama "Nightcrawler."
Jason Segel worked hard to shed weight for his role in the comedy "Sex Tape," which also stars Cameron Diaz. The actor said adopting a healthier lifestyle was key.
Ashton Kutcher had the good fortune of looking like Steve Jobs' long-lost cousin, so transforming himself into the icon of innovation didn't take much for the "Jobs" biopic. But it's amazing what the haircut, glasses and beard can do.
For "Guardians of the Galaxy," Chris Pratt gave up beer for six months ... and wound up looking like this.
Elizabeth Banks' comedic timing is as sharp as ever in "The Hunger Games," but her makeup job is a far cry from how we're used to seeing her.
Daniel Day-Lewis looked presidential enough to appear on currency in 2012's "Lincoln." His performance as the 16th president earned Day-Lewis his third Oscar for best actor.
In "Looper," Joseph Gordon-Levitt was made up to look more like his co-star, Bruce Willis.
had fans worried
that he was truly ill when images surfaced of his role as a man suffering from cancer in "All Things Fall Apart."
50 Cent
packed on 60 pounds
to portray Mark David Chapman.
While we've seen him become extremely thin to play a character, Leto has also gone in the other direction. For "Chapter 27," he
was reflective of
the lengths that Downey's method actor character, Kirk Lazarus, would go to portray a Vietnam War sergeant who was initially written as African-American.
Even if you don't remember 2008's "Tropic Thunder," you likely recall that Robert Downey Jr. was in blackface for his role. The controversial makeup choice
For his role as a man who aged in reverse in "The Curious Case of Benjamin Button," Brad Pitt "had to endure the most complicated and time-consuming makeup effects," sometimes spending five hours at a time in the makeup chair, producer Frank Marshall
disturbingly gaunt frame
in "The Machinist" is a legendary tale of going all out for a character. The actor famously dropped 63 pounds for the part by sticking to a diet of coffee, cigarettes and an apple a day.
Christian Bale's
Heath Ledger's Joker was thrillingly unhinged in 2008's "The Dark Knight," and the makeup job was part of the package. Both the actor and the makeup team were nominated for Oscars, but it was Ledger who was honored posthumously with the award.
Rooney Mara got
a severe haircut in an inky hue, bleached her brows and pierced her nose, lip, eyebrow and nipple.
When she landed the part of Lisbeth Salander in 2011's "The Girl With the Dragon Tattoo," fresh-faced
Cotillard's role demanding
five hours in a makeup chair.
Critics heaped praise on Marion Cotillard's award-winning portrayal of French chanteuse Edith Piaf in 2007's "La Vie en Rose." The physical part of her transformation took patience, with
Eddie Murphy has a knack for portraying multiple characters in the same film, and in 1988's "Coming to America," he played Prince Akeem and comedic barbershop gentleman Saul (pictured, right) among others. Makeup artist Rick Baker earned an Oscar nod for his work.
Julianne Moore was tasked with convincingly portraying Sarah Palin in HBO's 2012 movie "Game Change," and implicit in doing so was looking the part. Moore pulled it off, picking up an Emmy in the process. Among those she thanked? Her hair and makeup team, of course.
The makeover for Eric Stoltz in 1985's "Mask" was astounding as Stoltz portrayed Rocky Dennis, a boy trying to live a normal life with the disorder lionitis. The transformation picked up an Oscar for best makeup.
Amazing movie transformations
Amazing movie transformations
Amazing movie transformations
Amazing movie transformations
Amazing movie transformations
Amazing movie transformations
Amazing movie transformations
Amazing movie transformations
Amazing movie transformations
Amazing movie transformations
Amazing movie transformations
Amazing movie transformations
Amazing movie transformations
Amazing movie transformations
Amazing movie transformations
Amazing movie transformations
Amazing movie transformations
Amazing movie transformations
Amazing movie transformations
Amazing movie transformations
Amazing movie transformations
Amazing movie transformations
Amazing movie transformations
Amazing movie transformations
Amazing movie transformations
Amazing movie transformations
Amazing movie transformations
Amazing movie transformations
Amazing movie transformations
Amazing movie transformations
Amazing movie transformations
Amazing movie transformations