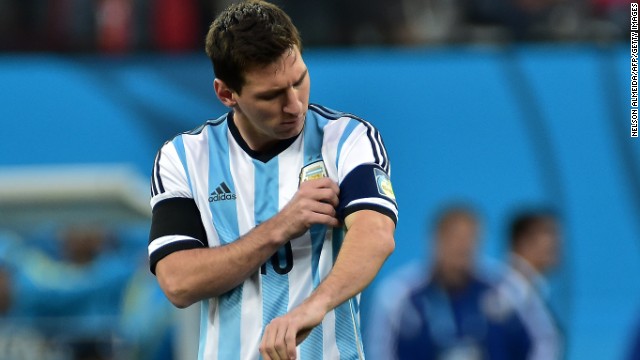 Lionel Messi will try to lead his team to glory for the first time since Diego Maradona's Argentina won the World Cup in 1986.
In Barcelona Messi is seen as a footballing "God," but Maradona's achievements for the national team are a heavy burden on his shoulders when playing for the "Albiceleste."
Argentine fans see their captain as the new Maradona, who they hope can lead their team to World Cup triumph once again.
After Argentina's disastrous campaign under coach Maradona in the 2010 World Cup, they'll be hoping Messi can help them forget those dark times and bring the trophy back to Argentina.
Messi has the ability to keep close control of the ball and find space in the tightest of areas, making him one of the hardest players to mark.
Messi found space at a premium against the Netherlands in a tense semfinal which finished goalless after 120 minutes before Argentina won on penalties.
Deadly from outside the area, the Germany players will have to ensure they don't give away any needless fouls if they don't want to look down the barrel of a Messi free-kick.
Nigeria found that out the hard way in the group stage when Messi curled a free kick into the back of the net during Argentina's 3-2 victory.
Although he is most effective further up the field, Messi also works hard on the defensive side of his game.
Being one of the most talented players in the world, Messi has been a marked man at Brazil 2014 -- and can expect similar treatment in the final against Germany at the Maracana.
Can Argentina's No. 10 finally establish himself as a legend of the sport, like Maradona before him, and win the World Cup?
Argentinians will be hoping he can by proving his doubters wrong and finally leaving his mark on the greatest stage of the football world.
Messi's moment?
'God' and 'prophet'
24 years of waiting
Ready for action
Messi magic
Nullified by Netherlands
Set-piece specialist
Lethal left foot
Getting stuck in
Up close and personal
Destiny awaits
Time to make history
STORY HIGHLIGHTS
Argentina faces Germany in Sunday's World Cup final
Lionel Messi will captain Argentina
Two teams met in final of 1986 and 1990 tournaments
Argentina has won the World Cup twice in 1978 and 1986
How are you celebrating the World Cup? Join the global conversation on CNN Facebook Pulse
(CNN) -- In the sight of Rio de Janeiro's Christ the Redeemer, the man who would be king awaits his destiny.
Diminutive and unassuming, Lionel Messi's faith in his ability has never been in question -- but a God-like shadow has always haunted him.
If Diego Maradona is a deity to Argentines, then Messi is a prophet.
"He was our water in the desert," national coach Alejandro Sabella said of Messi after his side's World Cup quarterfinal victory over Belgium.
Messi may not be Moses -- the ability to turn a rock into a pool of water is a stretch too far even for the Barcelona star -- but his football powers frequently attract supernatural praise.
After his two goals against Nigeria, opposition coach Stephen Keshi declared that Messi was of a different planet -- specifically Jupiter, although he didn't explain why.
Messi's achievements are well documented -- 381 goals in 466 matches for Barcelona, three European Champions League titles and six Spanish La Liga triumphs only tell half the story.
Four times he has been named world player of the year, while his face is posted on billboards across the world, with sponsors clamoring for his signature.
And yet, back where it all began, he does not receive the same affection as he does in the streets of Catalunya.
"The name of Maradona will always be a heavy burden on Messi's shoulders," says Cristina Perez, one of Argentina's leading sports journalists.
Maradona only ever won a Spanish Cup with Barcelona, before guiding Napoli to two Italian league titles, but it was on the international stage where he truly left his mark -- most notably leading Argentina to World Cup glory in 1986.
"Maradona's achievements as a footballer were absolutely stunning," Perez told CNN. "He used his gifts and guts to beat them all one by one before winning the World Cup in a glorious performance."
As much as his skill at Mexico '86, Maradona's use of his hand to deflect the ball past England goalkeeper Peter Shilton in Argentina's 2-1 quarterfinal victory is still debated to this day.
Was he a cheat or was this a professional doing anything to create an advantage for his team?
A bit of both, according to Maradona. "A little bit by the Hand of God, another bit by the head of Maradona," is how he described his goal afterwards.
"That is why people forgive him for almost everything and still celebrate even the 'Hand of God' goal as an emblem of cunning and hunger of triumph," says Perez.
Maradona's performances at that tournament still astound to this very day.
The way he ran through the bewildered England defense in Mexico City to score his second goal, just minutes after his first controversial effort, led to it being labeled one of the greatest in football history.
In the semifinal Maradona scored twice against Belgium in a 2-0 win, beating four Belgian defenders to score his second goal.
In the final, he set up Jorge Burruchaga to score the winning goal as Argentina claimed a 3-2 victory over West Germany.
His performances secured hero status in Argentina and allowed him build up a huge amount of goodwill which would be sorely tested later when he was banned for drugs at the 1994 World Cup.
Maradona, was a man of the people, a boy who had grown up playing football on the streets of Buenos Aires, fighting each and every day to make his way in the world.
He had something about him that people could relate to -- something Messi, for all of his qualities, did not possess.
"Leo doesn't have the charisma or the eccentric side which helped build Maradona's gifts as a player," says Perez.
"He had a provocative and flamboyant personality -- he's still known as God.
"But nobody can live on the past and the future depends on Messi's talents, otherwise there will be nothing more but nostalgia."
Messi and Maradona could scarcely be more opposite in character and lifestyle.
In the lead-up to the triumphant World Cup triumph in 1986, Maradona was in a daze.
A public row over an illegitimate child with his mistress threatened to ruin the nation's hopes, while throughout his career he was linked with the Camorra -- the Neopolitan mafia -- and, having suffered defeat in the 1990 World Cup final against Germany, was then banned for drug taking at the 1994 tournament in the U.S.
But in 1986 he single-handedly carried an Argentine nation, still recovering from the impact of the Falklands War, onwards to victory. It was the pinnacle of his international career which spanned 91 games and 34 goals.
Messi is more of a private and retiring type -- while he is not shy in coming forward with the ball at his feet, he does not command the same attention within Argentina that Maradona enjoyed.
Much of that has to do with Messi's upbringing. While Maradona grew up and made his name in Argentina, Messi moved to Barcelona at the age of 13.
He is quite open about the decision to uproot from his hometown of Rosario in Santa Fe and move halfway across the world.
"When I was 11 years old they discovered that I had a growth hormone deficiency and I had to start a treatment to help me to grow. Every night I had to stick a needle into my legs, night after night after night, every day of the week, and this over a period of three years," he said in the book "Messi," by Guillem Balague.
"I was so small, they said that when I went onto the pitch, or when I went to school, I was always the smallest of all. It was like this until I finished the treatment and I then started to grow properly."
And grow he did -- not just in height but in stature too.
Messi was the focal point of Pep Guardiola's Barcelona revolution and the emergence of tiki-taka football which dominated Spanish and European football.
Yet as his stock at Barcelona rose with each passing game, those back in Argentina remained skeptical.
The accusation was that Messi was not one of them. This was a player who had abandoned his homeland before he had managed to form any kind of Argentine identity -- he was Catalan.
"There are still some people -- too many people in my opinion, because there shouldn't be any at all -- who aren't totally convinced by him," Argentine football expert Sam Kelly told CNN.
"But the vociferousness of his celebrations, the quality of his performances since Sabella took charge in particular, and his undoubted centrality to the team, has now won over all but the most tiresome drunken critics.
"He doesn't have the same 'everyman' feel as Maradona, and it's difficult to imagine him ever shooting his mouth off as much, but bearing in mind he's only just turned 27 I think he will one day be considered on the same level as Maradona the player -- but the warmth of feeling for the person might never quite match up to Maradona."
Four years ago, when Messi and Maradona combined their powers at the 2010 World Cup -- it proved disastrous.
Messi failed to sparkle, Maradona cut a figure of fun on the touchline as coach and Argentina was thrashed 4-0 in the quarterfinal by a rampant Germany.
Perhaps now it is time for revenge, for on Sunday, Messi will captain Argentina in the World Cup final -- his 93rd appearance for the Albiceleste -- against Germany.
He has managed 42 goals in that time, four of which have come in this tournament.
Now more than ever, Argentina needs Messi -- it needs the ability to escape the problems which threaten to plague the country, notably a $100 billion default, with the economy shrinking by 11% and unemployment sky-rocketing.
Argentine officials will meet with a mediator in New York on Friday to end a long-running dispute with investors who turned down restructuring terms on the nation's debt after 2002.
President Cristina Fernandez de Kirchner has not missed the opportunity to take advantage of the World Cup, with the government running nationalistic adverts on state-run television during the games.
If the tactic is to distract the public then it has worked to some extent -- and Messi has played his part.
Those celebrating the prospect of a first World Cup final in 24 years allowed their worries to disappear at least temporarily as they celebrated the nation's Independence Day with extra fervor.
But if Argentina fails to reach a deal by July 30, it will fall into its second sovereign debt in 12 years.
For the moment, though, monetary difficulties are put to one side as the nation fixates on the chance to become world champion for the first time in 28 years.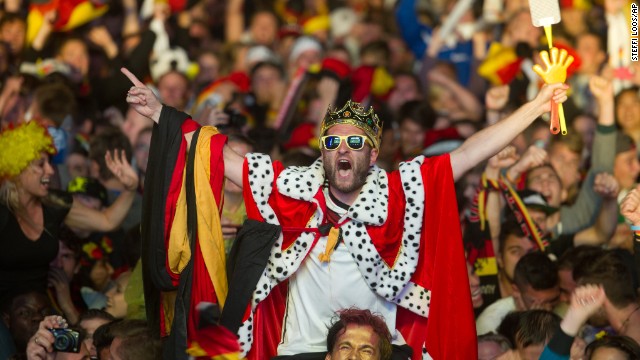 Fans in Berlin celebrate after Germany defeated Argentina in the World Cup final Sunday, July 13, in Rio de Janeiro. Germany won 1-0 with a goal from Mario Gotze in extra time. Click through to see reactions from fans around the world as they watched their favorite teams compete in the soccer tournament.
An Argentina fan in Miami Beach, Florida, reacts after his team lost the final.
A fan of Brazil watches the third-place match between Brazil and the Netherlands on a screen at Copacabana Beach in Rio de Janeiro on Saturday, July 12. The Netherlands defeated Brazil 3-0.
Fans celebrate on Copacabana Beach after Argentina won a World Cup semifinal match against the Netherlands on Wednesday, July 9.
Thousands of soccer fans in Eindhoven, Netherlands, watch a live broadcast of the semifinal on July 9.
Fans of Argentina celebrate after their team defeated the Netherlands in Sao Paulo, Brazil.
Dutch fans in Eindhoven react while watching the semifinal match.
Brazil supporters watch their team play against Germany during a public viewing of the World Cup semifinal Tuesday, July 8, in Rio de Janeiro.
From left, Oona Hodos, Nathalie Dorner and Natascha Cozby celebrate in New York City after a German goal on July 8. Germany defeated Brazil 7-1 to advance to the final.
Fans on Copacabana Beach watch live coverage of the penalty shootout between the Netherlands and Costa Rica on Saturday, July 5. The Netherlands won and advanced to the semifinals.
Costa Rica fans watch the match against Netherlands on a giant screen at Democracy Plaza in San Jose, Costa Rica, on July 5.
Argentina fans on Copacabana Beach celebrate their victory over Belgium on July 5. Argentina advanced to the World Cup semifinals for the first time in 24 years.
Belgium fans watch the Argentina match on a big screen near King Baudouin Stadium in Brussels, Belgium, on July 5.
Brazil fans cheer during the quarterfinal match between Brazil and Colombia on Friday, July 4, in Fortaleza, Brazil.
A Colombia fan cries in Medellin, Colombia, after the team lost to Brazil.
Fans of Germany celebrate at the Brandenburg Gate in Berlin while watching the quarterfinal victory over France on July 4.
A France fan at the stadium in Rio de Janeiro reacts after the match against Germany.
A Belgium fan reacts as she watches the round-of-16 match between Belgium and the United States from a FIFA Fan Fest viewing in Rio de Janeiro on Tuesday, July 1. Belgium won the match 2-1 in extra time.
Fans in Washington react to the United States' loss to Belgium on July 1.
A young soccer fan in Lugano, Switzerland, watches a television screen during the live broadcast of the Switzerland-Argentina World Cup match on July 1.
Argentina fans in Rio de Janeiro celebrate at the end of the Switzerland match on July 1. Argentina won 1-0 to advance to the quarterfinals.
Germany supporters in Rio de Janeiro celebrate at the end of the round-of-16 World Cup match between Germany and Algeria on Monday, June 30. Germany won 2-1 to advance to the quarterfinals.
Disappointed fans of Algeria react during a public screening of the Germany match in Algiers, Algeria.
A Mexico fan shows his dejection at Zocalo Square in Mexico City after the national team lost to the Netherlands 2-1 in a round-of-16 match Sunday, June 29.
A Greece fan in Athens, Greece, reacts while watching the national team take on Costa Rica on June 29.
Costa Rica supporters celebrate in Rio de Janeiro after watching their team's shootout win over Greece.
Fans in Bogota, Colombia, celebrate during the live broadcast of Colombia's World Cup win over Uruguay on Saturday, June 28.
A fan in Rio de Janeiro shows her emotions as she watches the penalty shootout between Brazil and Chile on June 28. Brazil was victorious.
Algeria fans in Curitiba, Brazil, celebrate after a 1-1 draw with Russia on Thursday, June 26, put their team through to the next round of the World Cup.
A Ghana fan reacts during the match in Brasilia, Brazil, between Portugal and Ghana on June 26. Portugal won 2-1, but neither team advanced to the next round.
Spectators in Paris react as they watch the group-stage match between France and Ecuador on Wednesday, June 25. It ended 0-0.
Colombia supporters at the FIFA Fan Fest on Copacabana Beach embrace and celebrate a World Cup win over Japan on Tuesday, June 24.
A Croatia supporter reacts after his team lost to Mexico on Monday, June 23.
Netherlands soccer fans in Rio de Janeiro react after Memphis Depay scored against Chile on June 23. The Dutch won the game to top their group.
Fans in Chicago react after Portugal tied the United States in the final seconds of their group-stage match on Sunday, June 22.
Fans in Rio de Janeiro celebrate after the United States scored a second goal against Portugal on June 22.
Fans of Bosnia-Herzegovina watch in Sarajevo as their team plays Nigeria on Saturday, June 21. Nigeria won the group-stage match 1-0.
Bosnia-Herzegovina supporters in Sarajevo watch their team play against Nigeria.
A fan of Germany watches from Berlin as Germany plays Ghana on June 21. The match ended 2-2.
Switzerland supporters cheer while watching their team play against France on Friday, June 20. France won the match 5-2.
An England supporter in Rio de Janeiro watches a video broadcast as Uruguay scored its first goal against England on Thursday, June 19. Uruguay scored a late goal to win 2-1.
Uruguay fans celebrate after their team's first goal against England.
A Japan supporter cries after her team tied Greece in group play on June 19.
South Korea fans in Seoul react during the 1-1 draw against Russia on Wednesday, June 18.
A Croatia supporter reacts during the game between Cameroon and Croatia on June 18. Croatia won 4-0.
Supporters of Spain watch in Madrid as their team loses 2-0 to Chile on June 18.
Brazil supporters watch the Brazil-Mexico game in Rio de Janeiro on Tuesday, June 17. It was a 0-0 draw.
A Ghana fan cheers before the World Cup game between Ghana and the United States in Natal, Brazil, on Monday, June 16. The United States won the game 2-1.
A Nigeria supporter watches his team play against Iran on June 16. It ended 0-0.
Argentina fans react to their team's first goal against Bosnia-Herzegovina on Sunday, June 15. Argentina would go on to win 2-1.
Supporters of the Costa Rican soccer team cheer before their game against Uruguay on Saturday, June 14. Costa Rica upset Uruguay 3-1.
Fans in Rio de Janeiro react after Chile scored against Australia on Friday, June 13. Chile won the match 3-1.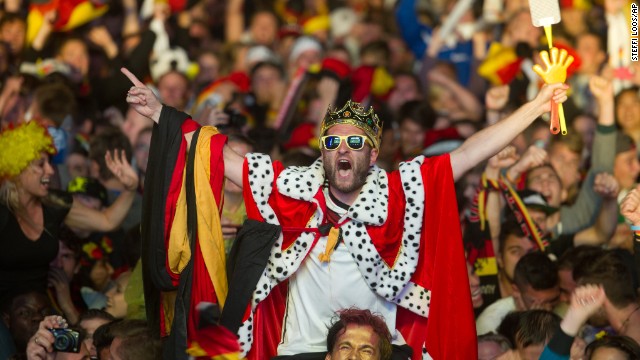 Shock and awe: World Cup reactions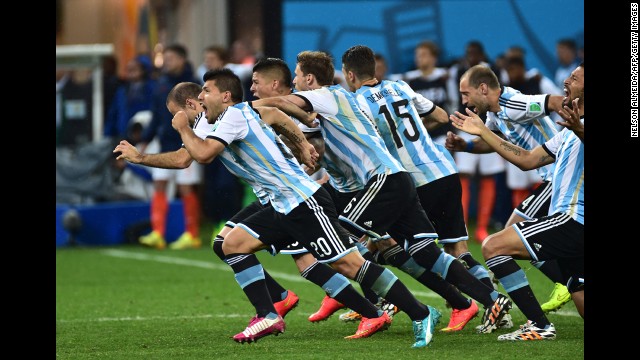 Argentina players run to celebrate their victory after a penalty shoot-out following extra time during their World Cup semifinal match against the Netherlands on Wednesday, July 9, in Sao Paulo, Brazil. Argentina defeated the Netherlands 4-2 on penalties and will go on to face Germany in the final.
Dutch goalkeeper Jasper Cillessen fails to stop a ball during the penalty shoot-out.
Argentina captain Lionel Messi shoots and scores a goal in a penalty shootout.
Daryl Janmaat of the Netherlands challenges Lucas Biglia of Argentina.
The market square in Groningen, Netherlands, is filled with supporters of the Dutch national football team. Despite the rain, 4,500 people gathered to watch the World Cup semifinal match between the Netherlands and Argentina.
Messi gestures as rain falls.
A general view of the stands.
Klaas-Jan Huntelaar of the Netherlands controls the ball against Martin Demichelis of Argentina.
Arjen Robben of the Netherlands is tackled by Martin Demichelis of Argentina.
Argentina midfielder Javier Mascherano receives medical assistance. His head collided with an opponent's in the first half, but he kept playing.
Dutch striker Robin van Persie is surrounded by Argentine defenders.
Messi reacts after a challenge.
Robben, center, heads the ball next to Argentina defenders Martin Demichelis, left, and Ezequiel Garay.
Messi, right, and Dutch midfielder Wesley Sneijder react during the match.
Three Dutch players defend Messi.
Dutch defender Bruno Martins Indi, left, collides with Messi in the first half.
Robben dribbles the ball.
Van Persie controls the ball as Demichelis falls behind him.
Dirk Kuyt of the Netherlands and Marcos Rojo of Argentina go up for a header.
Georginio Wijnaldum of the Netherlands kicks the ball near Mascherano.
Wijnaldum controls the ball in the first half.
From left, Dutch wingback Daley Blind, Argentine midfielder Lucas Biglia and Sneijder compete in the first half.
Before the match, the two teams observe a moment of silence for Alfredo Di Stefano, the soccer legend who passed away this week at the age of 88.
An Argentina fan in the stadium wears a mask of former player Claudio Caniggia.
A Netherlands fan is seen in the stadium prior to the match. See the best World Cup photos from July 8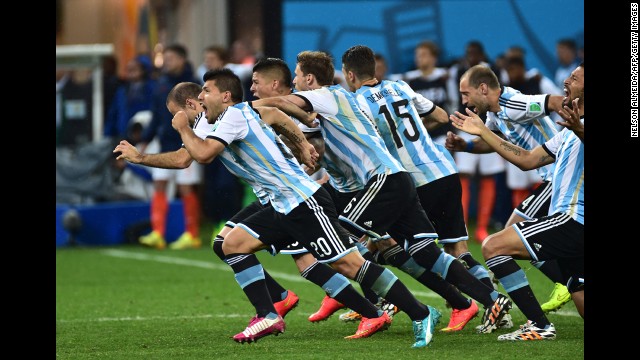 World Cup: The best photos from July 9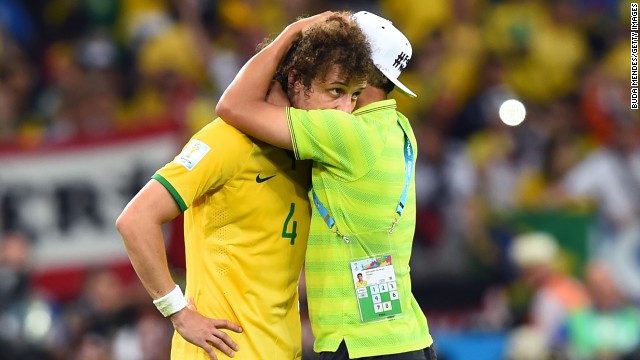 Brazil 1-7 Germany (2014): A whole nation expected its team to at least reach the final on home soil ... but suffered the ultimate humiliation. Brazil, seeking a record-extending sixth World Cup crown, was swept asunder by a rampant Germany team which scored four goals in a mere six minutes to lead 5-0 before the half-hour mark of this totally one-sided semifinal. Oscar got a goal back but it was very much a case of too little too late. It was Brazil's worst World Cup defeat, surpassing 1998's 3-0 final setback against France.
Brazil 1-2 Uruguay (1950): It's not the first time Brazil has suffered such disappointment hosting football's biggest tournament. Brazilian novelist Nelson Rodrigues wrote: "Our catastrophe, our Hiroshima was the defeat by Uruguay in 1950." While perhaps overstating things, it was a huge shock. In a round-robin format World Cup, Brazil took a 1-0 lead in the deciding match and appeared to be cruising to victory only to lose and leave a nation in mourning.
USA 1-0 England (1950): That same tournament -- in the same city where Germany hammered Brazil 64 years later -- a star-studded England team was expected to sweep aside an American lineup of mailmen and school teachers. Joe Gaetjens, a Haitian who was later thought to have been killed by Francois "Papa Doc" Duvalier's death squad, scored the only goal to stun the football world.
West Germany 3-2 Hungary (1954): A Hungarian side led by Ferenc Puskas had trounced the Germans 8-3 in the group stage and so dominant were the "Mighty Magyars" 60 years ago they were expected to do the same in the final. But in the "Miracle in Bern" a team made up of amateurs from post-war-torn West Germany pulled off a monumental shock.
Austria 7-5 Switzerland (1954): The result was not a shock in the sense of the outcome of this quarterfinal match, but merely in the scoreline. A record 12 goals were scored, including a hat-trick by Swiss forward Josef Hugi, to exceed the 11 scored by Brazil and Poland in 1938's 6-5 result.
North Korea 1-0 Italy (1966): North Korea's players were almost denied visas to compete at the 1966 World Cup, but they stunned Italy 1-0 with a goal from Pak Doo Ik and made it all the way to the quarterfinals. Dubbed "The Mystery Men" by the British media, due to the communist nation's secretive policies, the team's unlikely exploits were later turned into a documentary called "The Game of Our Lives."
Yugoslavia 9-0 Zaire (1974): It's the record winning margin in World Cup history, matching Hungary's scoreline over South Korea 20 years earlier. The Zaire players nearly did not take to the pitch after being told they would not be paid before then being threatened by the secret service of ruler Mobutu Sese Seko. Once on the pitch, a rout ensued. Hungary scored 10 goals against El Salvador in 1982, but the Central American side did manage a consolation in reply.
Argentina 0-1 Cameroon (1990): Argentina was defending champion and, inspired by Diego Maradona in midfield, was expected on the opening day of the tournament to ease past a team which had drawn all three previous matches on its only other World Cup appearance. But Cameroon pulled off a remarkable shock as forward Francois Omam-Biyick headed the only goal in Milan, while two of his teammates were sent off.
France 0-1 Senegal (2002): Much like Argentina in 1990, defending champion France got off to the worst possible start as the tournament's opening match ended in a shock defeat. It was the beginning of the end for Les Bleus. Awash with in-fighting, they bowed out after the group stage having not scored a single goal.
United States 1-2 Iran (1998): Relations between the two nations were frayed and it was a contest billed as a global grudge match. The U.S. was hardly a footballing powerhouse but was expected to make light work of Iran -- which had never won a World Cup game, and has not done so since. It sparked a million people to take to the streets of the capital Tehran in celebration.
South Korea 2-1 Italy (2002): Co-host South Korea was not heavily fancied to do anything of note but, under the guidance of Dutch coach Guus Hiddink, made it to the semifinals by beating Spain in a penalty shootout. But its biggest achievement was in the previous round, knocking out Italy -- three times a World Cup champion, with another title to follow in 2006. Ahn Jung-Hwan sparked rapture in the stands with his golden goal -- but his contract was promptly canceled by Italian Serie A side Perugia, where he was on loan.
Australia 31-0 American Samoa (2001): Ok, so this wasn't at the World Cup but it was a qualifying match for the 2002 tournament. Australia, playing at home, was expected to win with ease -- but not quite this easily. American Samoa goalkeeper Nicky Salapu was forced to retrieve the ball from the back of his own net a record 31 times, with Archie Thompson netting an unprecedented 13 goals.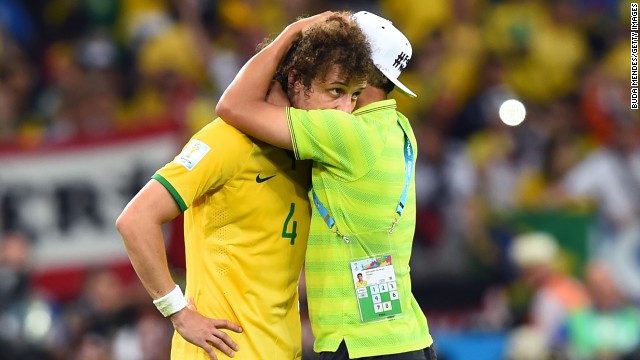 The World Cup's greatest shocks
"I don't remember such feeling of contentment since I was a child and the return of democracy after the dictatorship in 1983 and then again when we won 1986 World Cup," added Perez.
"In a time of economic crises and scandals of corruption in the government, this moment provides a huge relief in the middle of adversity.
"So reaching the final game gives us real happiness and makes the country proud."
Germany represents an almighty challenge for Messi and his team.
This side, which obliterated host nation Brazil 7-1 in Tuesday's semifinal, believes this is the moment its potential is finally fulfilled.
But for Argentina, this opportunity is one it cannot afford to pass up after waiting for so long.
"Brasil, Decime Qué Se Siente" — translated to "Brazil, Tell Me How It Feels" -- is the song that has been sung throughout the tournament by Argentine fans confident of their team's success.
Those words have become more venomous since Brazil's abject exit, and those who had dreamed of a home victory could be about to witness the host country's worst nightmare -- an Argentine World Cup-winning party on the Copacabana.
That is the dream that 40 million Argentines will pray for their footballing prophet to deliver.
Read: Argentina vs. Germany: By the numbers
Read: Alfredo Di Stefano passes away