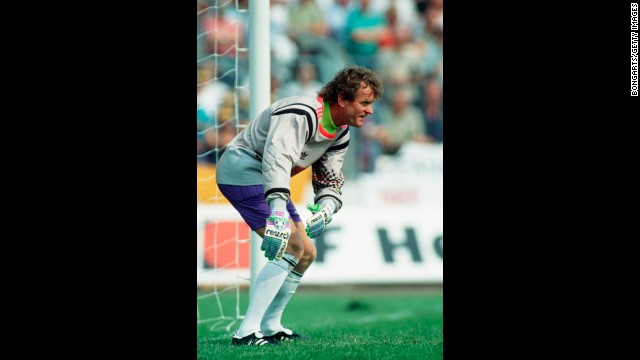 Sepp Maier: Definitely a teufelskerl
Manuel Neuer: Doing the job for the current German team
Berti Vogts: Germany's Wadenbeisser, first as a player then as a coach
Philipp Lahm: Wadenbeisser from the current squad
Jürgen Klinsmann: Dives, goals big hair and some bananenflanken
Toni Kroos: Mittelfeldregisseure
Gerd Müller (left): A World Cup winning goal against the Dutch in 1974
Thomas Müller: Present day torjäger with a torreicher
A who's who of German football terminology
A who's who of German football terminology
A who's who of German football terminology
A who's who of German football terminology
A who's who of German football terminology
A who's who of German football terminology
A who's who of German football terminology
A who's who of German football terminology
STORY HIGHLIGHTS
Do you know your fly catcher from your banana pass?
German success in the World Cup is matched by its creative language
But to be German, winning must be tempered with pessimism, says CNN's Fred Pleitgen
Editor's note: CNN Correspondent Fred Pleitgen has been reporting on the World Cup while proudly wearing his Germany shirt.
Rio de Janeiro, Brazil (CNN) -- You may have watched in wonder as Germany dismantled Brazil on Tuesday. But to really appreciate the art of German football you need to understand the lingo.
The sport has its own vocabulary and, as is common in the German language, most new terms are created by simply lumping several words together to make a 15 or 20 character monster word that would be an entire sentence in many other languages.
So here is our guide to help you become an expert while watching Sunday's final.
1. First, start strong in defense. You need a great goalkeeper or a TEUFELSKERL (Devil's Man). He needs to command the penalty area, be the first to corner kicks and block shots and penalty kicks. German history is rich with great goalies from Sepp Maier to Bodo Illgner and Oliver Kahn all the way to today's man between the posts, Manuel Neuer.
2. If your goalkeeper does not perform he is laughed off as a FLIEGENFÄNGER (fly catcher).
3. Moving on to your defense, which is always the core of a German team. This is the ABWEHRRIEGEL (defensive barrier).
4. Great defenders have to excel at the BLUTGRAETSCHE (blood tackle) to take out attacking opponents. Prototypical German defenders have names like Guido Buchwald and Jürgen Kohler from the 1990 World Cup squad, who struck fear into most opponents.
5. There are also smaller more shifty defensive players who cannot be shaken off by attackers that are called WADENBEISSER (calf-biters), like Berti Vogts from the 1974 squad or Philip Lahm from today's team. Vogts earned the nickname the Terrier, like a little dog who never stops snarling around its enemy.
6. Think of the German midfield and you think of names like Lothar Mathäus, Michael Ballack, Stefan Effenberg or today's squad which is laden with talent including Bastian Schweinsteiger, Sami Khedira, Mesut Oezil, Toni Kroos, and Mario Götze. Great midfielders who lead teams are known as MITTELFELDREGISSEURE (midfield directors).
7. These midfielders must also be able to deliver perfect BANANENFLANKEN (banana passes), usually with the outside of their foot, setting the forwards free on goal.
8. And talking of the forwards, their main job is to score goals. You want a striker on your team who is a TORJÄGER (goal hunter).
9. But in order to be a great TORJÄGER he has to have a great TORRIECHER (goal nose), someone with the instinct to be in the right place at the right time. Germany is fortunate to have had two TORJÄGER with the same last name in Gerd Müller, who scored the decisive goal in the 1974 final against the Netherlands, and Thomas Müller of today's squad who was the top scorer in the 2010 World Cup and has five so far in Brazil. Then there was the current U.S. coach Jürgen Klinsmann who made his mark in the 1990 World Cup.
10. If your forwards and strikers have many chances but never seem to put the ball in the net, they will be dismissed as CHANCENTOD (death of chances). Believe it or not, Germany has had its share of these.
11. If you have your WADENBEISSER and TORRIECHER in your team, good for you. If not your team may be ridiculed as a GURKENTRUPPE (cucumber troop).
12. Or, even worse, a KARNEVALSVEREIN (carnival team). Brazil perhaps.
Ultimately, to be German you need to temper success with pessimism and criticism. After a 7-1 victory over Brazil you have to warn against complacency in the final and you must acknowledge the team still has weaknesses.
People from other countries often cannot understand this. It is why Americans were furious when Klinsmann said that the U.S. had no chance of winning the World Cup.
He was not trying to be mean. He was just being German and guess what, he took team America further than most fans predicted.
So here's to German football strategy, team lingo and pessimism, seeing themselves as the underdog against Argentina even after winning 7-1.
Viel Spass beim Fussball!