Pull up a chair with Paddington Bear: Book benches hit London
July 14, 2014 -- Updated 0553 GMT (1353 HKT)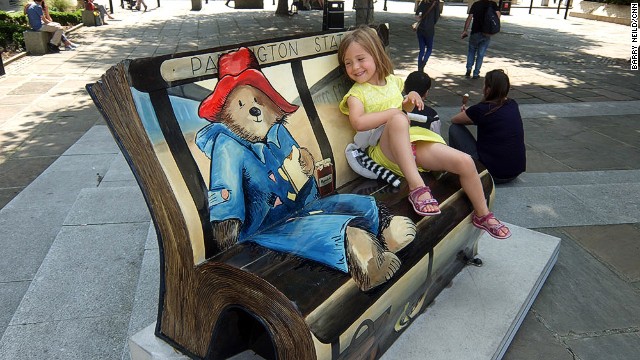 The marmalade sandwich-loving bear from Darkest Peru is celebrated in this bench on the south bank of London's Thames river.
The "Alice in Wonderland" bench near London's City Hallby was designed by surreal cartoonist Ralph Steadman.
Another children's favorite. The "How to Train your Dragon" bench can also be found close to City Hall.
Romantically-confused diarist Bridget Jones features on this book bench in Paternoster Square, in London's City financial district.
There's no obvious London connection here, but "The Cat in the Hat" and other Dr Seuss creations are perennial favorites everywhere. This bench can be found by the river, near City Hall.
Rudyard Kipling's classic jungle-based tales are pictured on this bench positioned by a crossroads in Greenwich Park, the home of London's Royal Observatory.
Visitors should leave this bench tidy if they don't wish to incur the displeasure of London's favorite nanny, Mary Poppins. This one can be found by flying down to St. Paul's Cathedral.
Jane Austen's much-loved tale of marriage and manners, "Pride and Prejudice," gets the bench treatment in Queen Square, Bloomsbury.
H.G. Wells's sci-fi masterpiece "The Time Machine" is depicted on a bench located -- appropriately -- in Greenwich, close to the Prime Meridian which defines Universal Time.
London's literary loungers: Paddington
'Alice in Wonderland'
London's literary loungers
Bridget Jones
Dr Seuss
'The Jungle Book'
Mary Poppins
'Pride and Prejudice'
'The Time Machine'
STORY HIGHLIGHTS
Fifty benches celebrating popular London-linked fiction have been scattered about London
Paddington Bear, Sherlock Holmes and Mary Poppins among literary creations celebrated by the benches
Seating trails will be in place until September after which the benches will be auctioned for charity
(CNN) -- As part of a scheme to encourage reading, 50 benches designed in the style of popular novels or kids' stories have been scattered around London.
Visitors to the city can find the book benches, which mainly celebrate London's rich literary heritage, by following a series of trails around areas with strong links to writing and writers.
Several prominent artists -- including Ralph Steadman, the surreal cartoonist and one-time sidekick of Hunter S. Thompson -- have been involved in creating benches that feature enduring characters such as Paddington Bear, Mary Poppins, Sherlock Holmes and James Bond.
The "Books about Town" trails, launched by two UK charities, the National Literacy Trust and Wild in Art, can be found in London's Bloomsbury, Greenwich, Riverside and City areas until mid-September 2014.
For those who can't get enough of literature-themed loungers, the benches will be auctioned off in October with proceeds going to help fight illiteracy.
MORE: Six ways to celebrate Shakespeare

Part of complete coverage on
September 23, 2014 -- Updated 1007 GMT (1807 HKT)

Which cities provide the most memorable party times? A self-proclaimed "nightlife connoisseur" names his top 10.
September 22, 2014 -- Updated 0344 GMT (1144 HKT)

Whether you're looking for a post-meeting pint or a wild night out, creativity is on the menu at these hot Hong Kong venues.
September 23, 2014 -- Updated 1028 GMT (1828 HKT)

Artists and migrants are moving out as a once-crumbling neighborhood goes upscale.
September 20, 2014 -- Updated 0502 GMT (1302 HKT)

They irrigate our farms, are an important means of transport and a source of eco-friendly power.
September 19, 2014 -- Updated 0828 GMT (1628 HKT)

Open House festivals allow snooping in homes and landmarks normally closed to public
September 19, 2014 -- Updated 0422 GMT (1222 HKT)

Ancient competitions held and yurt town set up to rejuvenate nomadic cultures.
September 19, 2014 -- Updated 0102 GMT (0902 HKT)
Playful sea lions, fearless boobies and the only ocean-going lizards in the world -- these islands offer amazing experiences for naturalists and tourists alike.
September 18, 2014 -- Updated 1200 GMT (2000 HKT)

A foreign language can be the best aphrodisiac, so we traveled the world in search of the hottest accents.
September 23, 2014 -- Updated 0657 GMT (1457 HKT)

Hidden from the rest of the world for decades, Myanmar's Lethwei boxing is experiencing a revival globally.
September 17, 2014 -- Updated 1117 GMT (1917 HKT)

This aging cargo work whale makes more than 60 flights each week, carrying parts for all of the Airbus programs.
September 15, 2014 -- Updated 0026 GMT (0826 HKT)

Former brothels, public toilets and war bunkers now provide eccentric watering holes for those willing to drink deep.
September 12, 2014 -- Updated 0338 GMT (1138 HKT)

Whether filled with electric blue sulfur flames or hissing lava, these mega mountains offer incredible vistas.

Today's five most popular stories