STORY HIGHLIGHTS
Designers build tiny homes in parking spaces to create prototype community
Small homes appeal to younger urban dwellers in cities around the world
Educator: "SCADpads" propose a lifestyle model for sustainable adaptive reuse
(CNN) -- Would you ever consider living in an 8-by-16-foot parking space? Apparently, much of the millennial generation would, says an educator.
Design students in Atlanta have unveiled the SCADpad, named for their school, the Savannah College of Art and Design.
It's the latest development in a global movement that's been growing for years: Small homes can lessen your carbon footprint, simplify your living situation and make you more mobile.
"SCADpad asks the question: how we might reinvent -- how we might model -- an immediate strategy for sustainable, adaptive reuse," says Christian Sottile, dean of SCAD's School of Building Arts. "The greenest building is the one that's already built."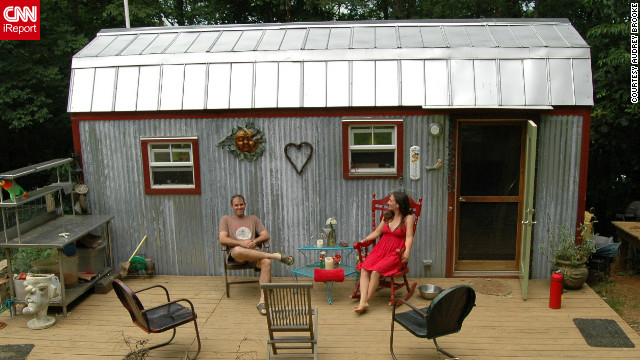 Downsizing from a 1,500-square-foot house to a tiny 168-square-foot dwelling in Floyd, Virginia, Hari Berzins says she loves the freedom when it comes to tiny living. "We live larger on our 3-acre hillside," she said. "We have more time to enjoy each other, tend to our large garden and cultivate a supportive community."
See more photos of their charming home on Hari Berzin's iReport.




Check out more photos of Kristen's humble New York abode on her iReport.
New York City is synonymous with tiny living spaces. And for Kristen Booth, her 214-square-foot East Village studio apartment is no exception. "Living in a small space can prove that we really don't need as much as we think we do," she said. "Rent control is a blessing and a curse!"




Find out more about Art Cormier's tiny home on his iReport.
Inspired to radically downsize once his daughters moved out of his 1,800-square-foot house, Louisiana resident Art Cormier said he doesn't miss the burden of maintaining a large space. "I have found the small house very peaceful and relaxing," he said.




See more photos of the cob cottage on Marcos Grossman's iReport.
For Marcos Grossman, a designer and builder of ecological homes, less is always more. Wanting to live a simple life, he built his cozy cottage nestled in Oaxaca, Mexico, for less than $1,000. "It is possible to live large in a small space as long as the design flows with your life," he said.




Check out more photos of their tiny home on Carrie Caverly iReport.
Having fulfilled their dreams to become environmentally friendly homeowners and free of debt, Carrie Caverly says she and her husband are extremely proud of their tiny space. "I love our home because it is perfectly sized to shelter us comfortably and sustainably," she said.
Realizing that their 2,700-square-foot home was becoming too much of a maintenance burden, Laura M. LaVoie and her partner decided to dramatically downsize to a 120-square-foot home in a remote area of North Carolina. "Tiny house living isn't for everyone," she said. "But living differently will profoundly change you no matter how you do it."




Read more about Rebecca's simplified living on her iReport.
Though her trailer is a challenge to keep warm when it's cold outside, Rebecca Mary Knabe says downsizing has been one of the best decisions she has ever made. "I love the small space!" Knabe told CNN. "It has simplified my life tremendously."




Read more about their voyaging on Jack Donachy's iReport.
Between the months of September and April, Jack Donachy and his wife, Barbra, live in the Eskimo village of Point Hope, Alaska. The couple spends the rest of the year living on a sailboat. "Our home is our ticket to exploring the world," he said. "We hope to make our sailboat, Bandon, our year-round home."




Check out more photos of Brisbin's mobile cottage on his iReport.
Bryce Brisbin says his 192-square-foot house that he built and designed is three times larger than his sailboat. "I am enjoying the extra space," he said. "I really like having my own personal environment and knowing I can take it with me if I choose to relocate."




See more photos of their tiny home and learn about their blog on Andrew M. Odom's iReport.
Andrew Odom and his wife have had several critics when it comes to their tiny lifestyle, but says most are accepting after seeing how passionate they are about it. "I'm just inspired by our involvement in the tiny house community," he said. "It is very tight-knit."
Living in a cozy 200 square foot home in Point Roberts, WA, Jamie Dehner says less is more. "A small space is easy to clean, heat and there's a wonderful coziness about it," she says. "Who would think that such a small space could be an outlet for so much expression?" Learn more about her tiny home experience on Jamie Dehner's iReport.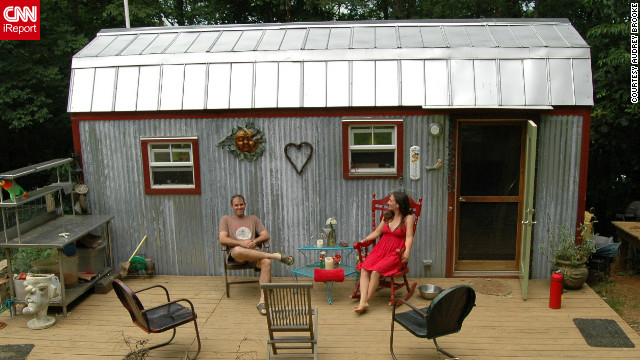 Photos: Living in small spaces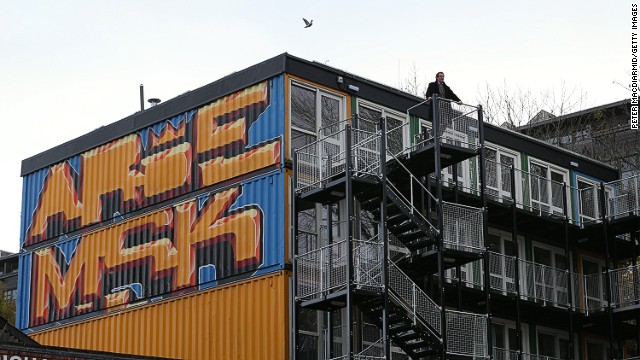 A group of 36 shipping containers has been transformed into urban living space in Brighton, England.
The containers have been retrofitted with kitchens, bathrooms and insulated plasterboard walls. They will be used to house some of Brighton's homeless population.
Ian Kent is the Canadian designer of the Nomad micro-home. The 10-by-10-foot structures can cost as little as $25,000 and be shipped anywhere in the world.
Inside, the Nomad facility contains room for two levels connected by a small stairway. The upper level houses bedroom space while the lower level has kitchen, bathroom and lounge areas.
A number of fresh micro-home concepts have also been designed in other regions of the world in recent years. Tengbom Architects created this 10-square-meter (107-square-foot) housing unit with students at the University of Lund, Sweden, in mind. The compact space offers a sleeping loft, kitchen, bathroom and a small garden with a patio.
These 'pop-up' structures have been designed by architects Levitt Bernstein to occupy redundant garage structures on housing estates in London. The design won the HOME competition run by the Building Trust International.
This micro-home concept was designed by by Dutch firm, Tjep, and features three separate floors, with a solar tree on the roof that helps meet the facility's energy requirements as well as a set of giant opening shutters.
The transportable APH80 home from Spanish firm Abaton takes between six and eight weeks to build and can be transported or moved between destinations by road. Designed as a home for two people, the 27-square-meter (290-square-foot) dwelling has a bedroom, living room and bathroom.
Italian architect Renzo Piano is famed for designing Europe's tallest building (the Shard in London). In 2013 he also put his name on one of its smallest, the 7.5-square-meter (81-square-foot) Diogene, which comes equipped with a foldaway desk, chair, sofa bed, composting toilet, shower plate and a small kitchen unit with built-in sink and refrigerator.
An example of a 325-square-foot apartment at the Museum of the City of New York. The exhibit, called "Making Room," was inspired by a contest to design micro-apartments to help ease the affordable housing shortage.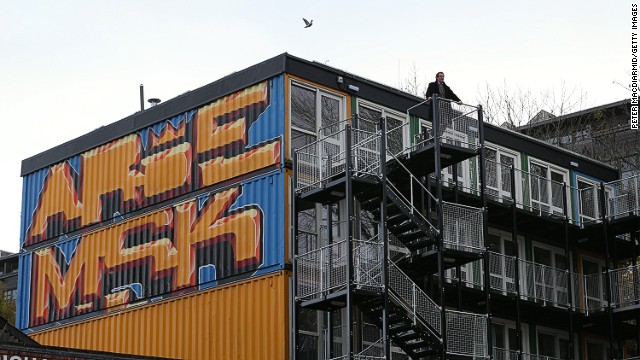 Photos: 'Micro-homes'
Students created a small, experimental prototype community by retrofitting an Atlanta parking deck.
Each home's brightly decorated interior measures 135 square feet and includes areas for sleeping and food prep, a bathroom, and an open space for lounging. "It's not just a generational thing," says Prof. Scott Boylston of SCAD Design for Sustainability. "People all over are looking at a different way of living -- living in smaller spaces and with fewer things."
Large cities have been embracing the concept of small-home living -- some more cautiously than others.
In 2012, New York launched a pilot program to develop a new housing model for the city's growing small-household population.
The program, adAPT NYC, sought to accommodate the need for smaller apartments for some of the roughly 1.8 million households in New York that consist of one or two people.
The New York City Department of Housing Preservation and Development called for construction of self-contained "micro-units" between 275 and 300 square feet, including kitchen and bathroom.
Sometimes antiquated municipal laws and building codes can prevent small-space residents from living in their homes full-time, until local authorities scramble to catch up.
More about the New York program and the tiny home movement
Elsewhere, small homes have gained a foothold in Australia as well. In the town of Lismore, The Container Build Group transforms durable metal shipping containers into comfy little houses for homebuyers.
More about the Australia homes
In England, a shipping container neighborhood of low-cost homes has sprouted in the coastal city of Brighton.
Johannesburg has seen the transformation of an old grain silo into trendy residences, with a top floor made from shipping containers.
More about the Johannesburg project
SCAD's Sottile says the small home movement is largely driven by millennials who want to live in the center of a city.
"They don't mind living in smaller spaces because they really see their home as just a part of their lifestyle," Sottile says. "The city is where they live."
CNN's Emanuella Grinberg, John Defterios and Eoghan Macguire contributed to this report.