Road melts at Yellowstone National Park
July 16, 2014 -- Updated 0159 GMT (0959 HKT)
STORY HIGHLIGHTS
Yellowstone sits on top of one of the world's largest volcanoes
Extreme heat from the volcano's thermal areas damaged the popular road
No volcanic eruption is expected for 1,000 years or more
(CNN) -- The road was melting.
Extreme heat from thermal features at Yellowstone National Park, created by the active volcano below the park, caused oil to bubble on a road surface on July 9 and damage it.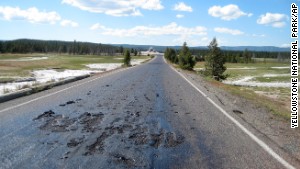 A road in Yellowstone National Park simmers in the heat of underground thermal features.
Park crews had to close and repair the 3.3-mile loop road that takes visitors past White Dome Geyser, Great Fountain Geyser and Firehole Lake.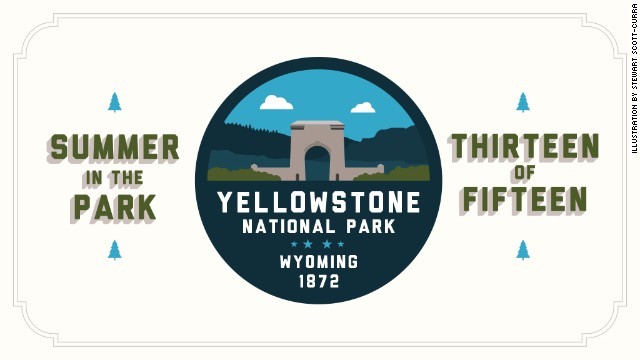 Yellowstone National Park was the nation's first national park, established by the U.S. Congress and signed into law by President Ulysses S. Grant on March 1, 1872. It's predominantly in Wyoming but also touches Idaho and Montana. Check in next week for Arches National Park.
Old Faithful Geyser may be the most-famous "resident" of Yellowstone National Park, but park ranger Dan Hottle says there is much more to see at the 2.2 million-acre park.
Meet our Yellowstone National Park ranger, Dan Hottle, and his 4-year-old son, Calder, shown here at Joffe Lake near the park's headquarters in Mammoth Hot Springs, Wyoming.
Grand Prismatic Spring is Hottle's favorite spring in the park, and it's in Midway Geyser Basin about five miles from Old Faithful. When the light is right, hike up one of the mountains surrounding the spring and you'll see the steam change colors because of the spring's bacteria.
There's a good chance of spotting wolves on the drive to the Lamar Valley, Hottle says. He likes to stop at a pullout about halfway to the valley and hike into the woods, where he can sometimes see a wolf or its pack. (Hottle found this wolf in his backyard.)
Rangers plead with with visitors to pull off the road to shoot pictures of bison (shown here in the Lamar Valley) or other wildlife that call Yellowstone home. Travelers have been known to stop their cars in the middle of the road to look at the view, or worse: look sideways to admire the nature while driving.
In elk mating season, which starts around September, the bulls come down from the mountains and gather up as many cows (female elk) as they can into harems. Shown here is a harem of 27 cows resting in Mammoth Hot Springs near the town post office. Visitors are cautioned to stay at least 25 yards away from the elk, which have been known to ram cars and trap people.
Hottle recommends that hikers travel in groups of at least three, stay on designated trails, carry bear pepper spray and make noise as they hike to avoid surprising bears (mother bears can attack when surprised). He and his family have hiked "every inch" of Electric Peak, a nearly 11,000-foot mountain.
Hottle also loves visiting Glacier National Park in Montana, a nine-hour drive by car. "There's a wildness about Glacier that makes it even more dangerous and adventurous than Yellowstone," he said. Glacier's Wild Goose Island is shown here.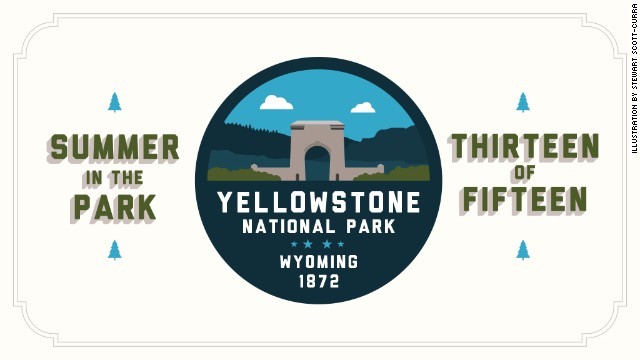 Yellowstone: Our first national park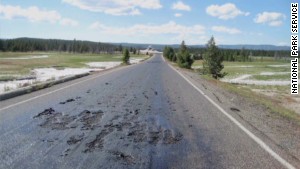 Road melts at Yellowstone National Park
Blame it on the Yellowstone Volcano.
Yellowstone National Park -- a UNESCO World Heritage Site -- sits atop one of the world's largest volcanoes, and some of the thermal spots have damaged the popular Firehole Lake Drive. The park features over 10,000 thermal spots, about half the world's known thermal spots.
Yellowstone: One of the first UNESCO World Heritage Sites
Although the volcano is active -- evidenced by the thermal features and 1,000 to 3,000 earthquakes annually -- park officials don't expect a catastrophic eruption anytime in the next 1,000 or even 10,000 years.
Yellowstone's first supervolcanic eruption occurred 2.1 million years ago, and there were other Yellowstone supereruptions 1.3 million and 640,000 years ago.
The park has instruments monitoring the volcano throughout the park, and there would be plenty of warning -- weeks or even months -- if an eruption were going to occur.
In the meantime, enjoy the park! Maintenance crews quickly repaired the road, and it was reopened to visitors Saturday.
Summer in the park at Yellowstone